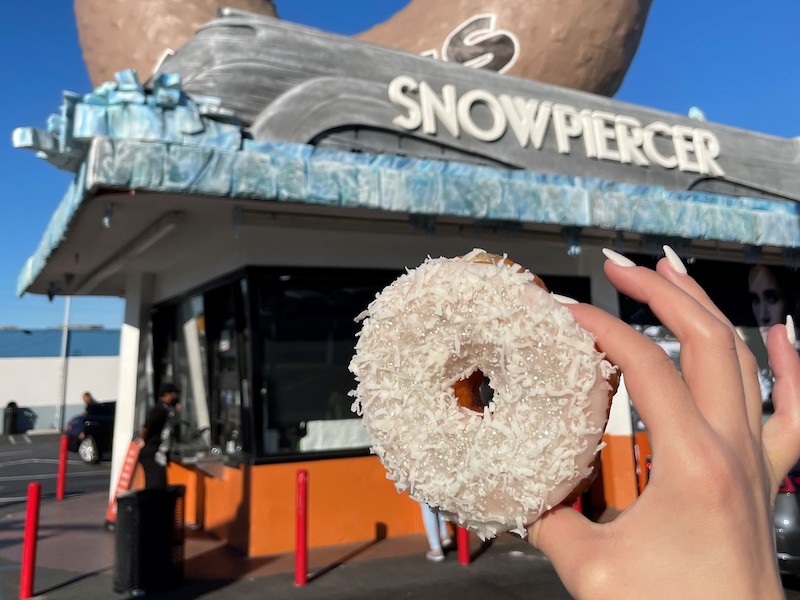 Randy's Donuts has partnered with TNT's Snowpiercer to offer specialty donuts free to the first 100 customers each day now through Jan. 27. These are definitely front-of-the-train desserts and not protein bars of dubious ingredients.
The Snowpiercer takeover is available at Randy's Donuts locations in Inglewood, El Segundo, Torrance, and Downey. For maximum immersion, Jasen Smith and Experiential Supply Co. (the same team behind Haunt'Oween and WonderLAnd) have modified the Inglewood shop to include a train on top, fake snow, and decals on the windows. The Snowpiercer donut is a vanilla raised donut topped with sprinkles and coconut shavings. 
The first 100 customers every day will receive one Snowpiercer donut for free. Otherwise, it'll cost you $2.85.
Snowpiercer is a sci-fi series based on the 2013 film of the same name and the graphic novel Le Transperceneige. The premise is an ice age has forced Earth's survivors to board a train that travels endlessly around the world. The train is divided by class, with the well-to-do in the front and less fortunate in the back, where the quality of life is horrible and guards prevent them from accessing the luxuries of the other cars.
The TV series is set seven years after the ice age and stars Jennifer Connelly as the train's head of hospitality and Daveed Diggs as an ex-detective who is tasked with solving a series of murders while also plotting a revolution against the ruling class. The second season, which drops on TNT on Jan. 25, adds Game of Thrones' Sean Bean to the cast.