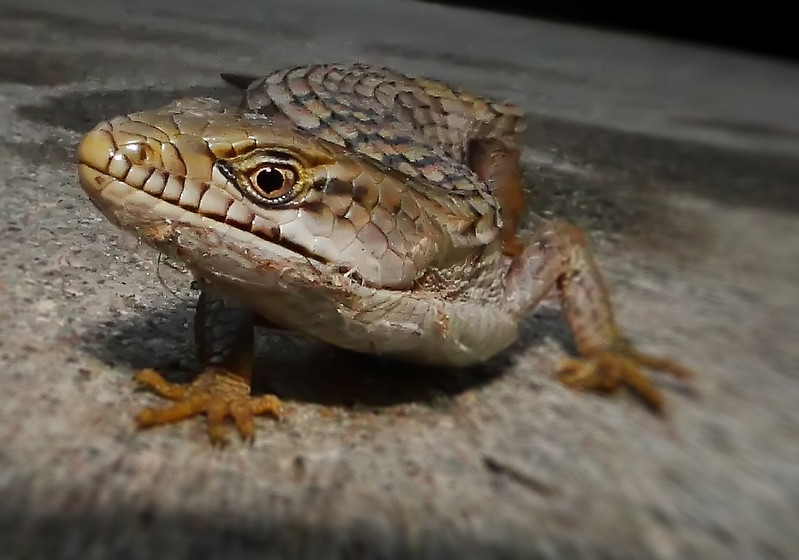 Here's something fun you can do while social distancing. Take a walk around your yard and see if you can spot any lizards having sex. Weird pastime, sure, but the National History Museum is hoping you'll send pictures of these amorous lizards so that scientists can study their breeding habits.
The specific species in question is the Southern Alligator Lizard. These are relatively small lizards, about three to seven inches from nose to tail. They're native to the West Coast, ranging from Washington State all the way down to Baja California. In Southern California, their peak mating season is March 11 through April.
Lila Higgins, senior manager for community science at the NHM of LA County, recently stopped by KCRW to talk about the lizards' odd mating rituals.
"The male will bite the female…on the head or the neck and embrace her, so to speak," Higgins. This may last a couple of hours or a couple of days.
According to NHMLA herpetologist Dr. Greg Pauly, the biting may be a form of "mate-guarding," or making sure another male lizard doesn't try to run off with his mate. However, these lizards are also known to engage in mating threesomes among one female and two males. For more on the details of lizard sex, you can listen to Higgins's interview on KCRW here.
So, where can you find these mating lizards? Well, pretty much anywhere, and they're more likely to wander out into the open when they're mating. You might spot them in your driveway, on your fence, on your lawn, or on the sidewalk—all places you can probably go while maintaining six feet of space from other humans.
If you see them, you can send your photos and videos to [email protected], text them to 213- 663-6632, or use the hashtag #natureinLA on social media. Researchers are very interested in how long this ritual lasts, so feel free to check on the lizards to see if they're still at it. Just don't attempt to touch or interrupt them. That would be rude and, as aforementioned, they bite.
Thanks to civilian vigilance, NHM has collected over 255 observations thus far. You can check out observations of all sorts of local flora and fauna on Instagram via NHM's @natureinla, or global observations on iNaturalist here. This is great because, due to COVID-19, NHM, the La Brea Tar Pits Museum, and William S. Hart Museum are closed until further notice.