The following is a sponsored collaboration between San Bernardino County and We Like L.A.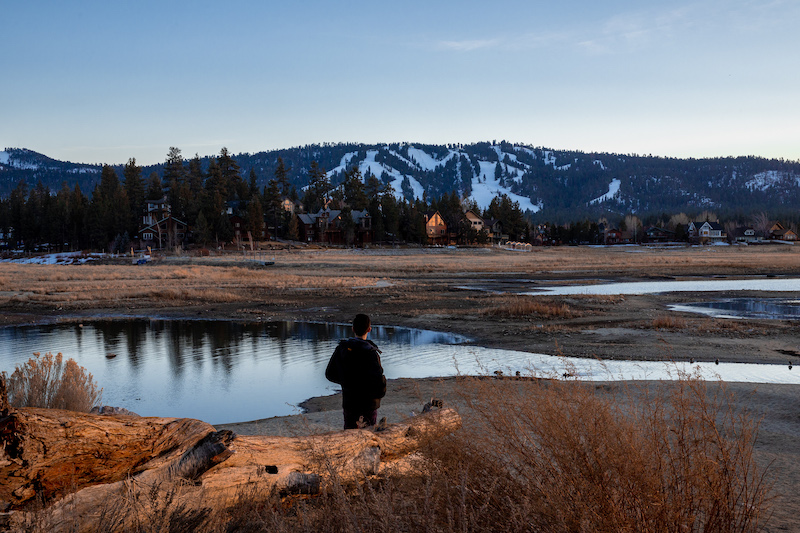 As Southern Californians we sometimes hear phrases like 'from the sand to the snow' meant to suggest extraordinary days spent surfing in the morning and skiing in the afternoon. But who among us has actually lived that experience? How many take advantage of the marvelous geographic diversity that surrounds us? Who even just gets in their car and takes a drive to the mountains?
One of us (Brian) can probably count the number of times he's been in snow on one hand. The other (Christina) has been on a skiing/snowboarding trip exactly once in her life. But when we were offered the opportunity a few weeks back to work with San Bernardino County to create content guides that specifically touched on the mountainous regions of the area, we jumped at the chance.
Our experience both informed and inspired us. Really it was just a lot of fun. We took a skiing lesson, rode horses, learned the history of two massive man-made lakes, walked a natural arboretum, and even hiked to a sacred site of the native Serrano people. And of course there was lots of time in between to find some delicious places to eat!
We visited three destinations in all: Lake Arrowhead, Big Bear, and Wrightwood. Belowe we've created a detailed rundown of our itinerary as a list of things to do, and then supplemented that list with some additional ideas that you may want to add to your own trip.
The notion is that you'll take a look at the myriad activities, see a few that really speak to you, and then decide to plan your own trip. Or maybe you're already in the stages of planning, and this just gives you an added layer of insight into what you might like to do.
With this year's snow fall packing the mountains more than any time in recent memory, now is the time to plan an awesome adventure just a short drive away.
So let's get planning!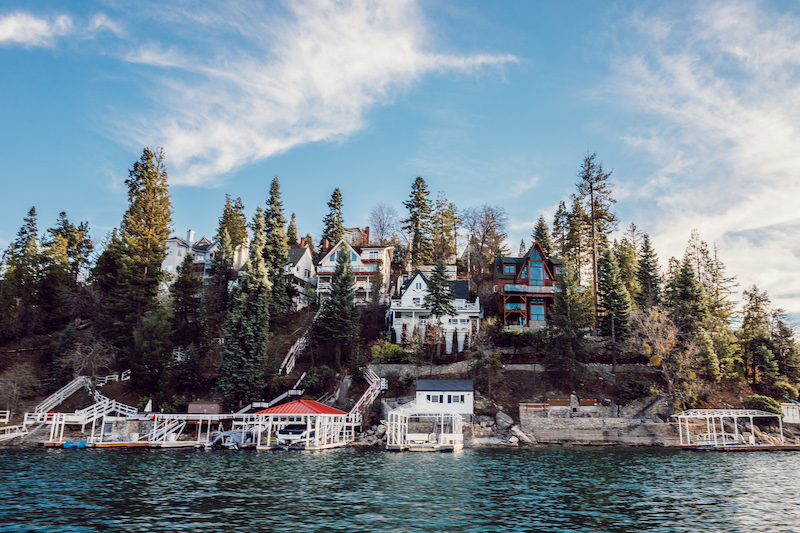 Getting to Lake Arrowhead
It's about a 90-minute drive to Lake Arrowhead from Los Angeles proper, with the most direct route being a straight shot on the 210 to highway 18. If you're like us, you're going to lose phone service at some points along the 18, so either printing directions or saving them to your phone is always a good idea.
Upon arriving in Lake Arrowhead we checked into Arrowhead Pine Rose Cabins, a charming resort known for their festive themed-cabins. There are 20 cabins to choose from each with their own unique decor and names. Large parties can consider the lodge option which fits up to 21 people. All cabins have a kitchen, bbq, fireplace and private outdoor space. There's even a little creek located on the property where you might just catch a glimpse of some early morning deer.
We had about a day and a half to explore after checking in, so there was no time to waste!
Things to do in Lake Arrowhead
Belgian Waffle Works: Breakfast is always a good place to start, and Belgian Waffle Works (open since 1982) located in Lake Arrowhead Village is a wonderful option. They have 17 specialty waffles that range from savory like the Benedict Belgian to sweet like the popular Strawberry-Banana Royal. -> More information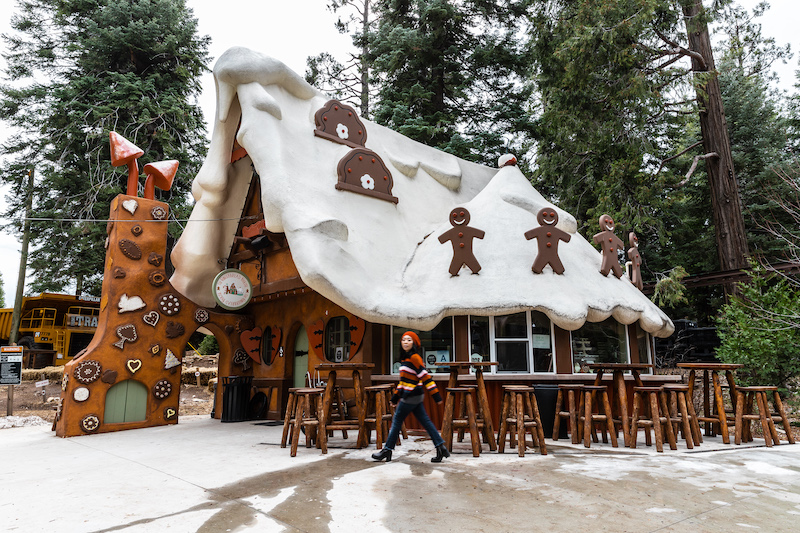 SkyPark at Santa's Village: If you're traveling with kids, this is a must. The whimsical Santa's Village first opened in 1955, just 45 days head of Disneyland. Today it has been updated as an adventure park featuring year round fun including a bike park, simulated ice climbing, zip-line, archery, bungee jumping and more. The park is suitable for all fun loving adults and kids. Of course at the heart of the park is a love for all things Christmas. Food-wise, your day might include sipping coffee at Kringle's coffee shop, enjoying homemade cookies at The Gingerbread House (housed inside an actual gingerbread house) and enjoying handcrafted burgers over at St. Nick's Patio and Grille. –> More information
Heaps Peak Arboretum: Just minutes away from SkyPark at Santa's Village is Heaps Peak Arboretum. Open from dawn to dusk 365 days a year, the roughly 1-mile Sequoia trail is an easy loop that takes 30 to 45 minutes to complete. You'll see six types of pine trees, local birds, forrest animals, oak trees, towering sequoias and wildflowers (when in season around the month of May.) Please note that while it is free to explore, the U.S Forest Service requires all parked cars to have an Adventure Pass while at the Arboretum. Passes can be purchased Tuesday through Sunday at the information booth and at a number of local stores nearby. -> More information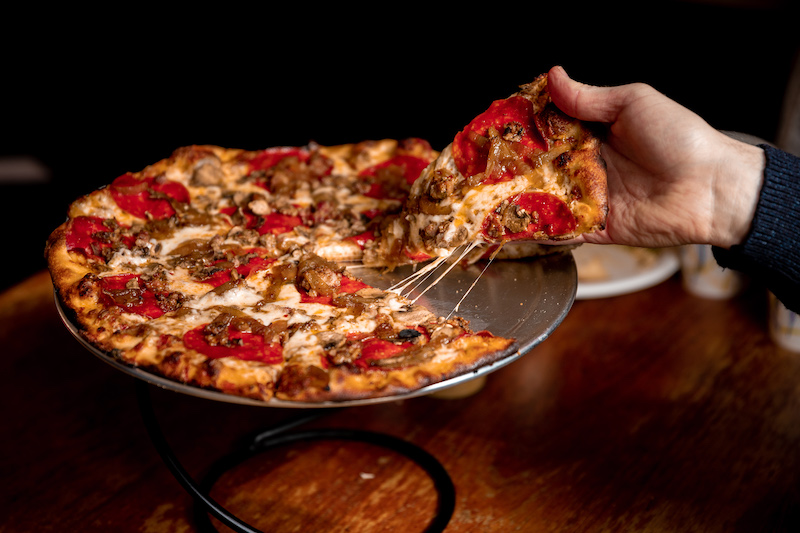 LouEddie's Pizza: LouEddie's hand tossed fire-roasted pizzas are some of the most sought after pies in SoCal. There are over a dozen pizza combinations and ingredients are all locally sourced. When available, order the hand braided garlic knots. Watch out for long lines and wait times during peak hours like the weekends. To avoid lines, we suggest going on a weekday during off times, or maybe opt for lunch instead of dinner, otherwise be prepared to wait (we think it's worth it!). If the weather permits, opt to enjoy your pizza at Willow Woods Park just steps away from LouEddie's. The pizza shop has expanded with a microbrew program as well, and there is a bar located right under the restaurant. -> More information
Lake Arrowhead Village: This is pretty much the town center, so if you're in Lake Arrowhead, you're bound to end up at the village at some point. Get your shopping done, enjoy a meal with a view and feed the happy ducks that reside on the private lake. Children will also get a kick out of Lollipop Park located on the peninsula. -> More information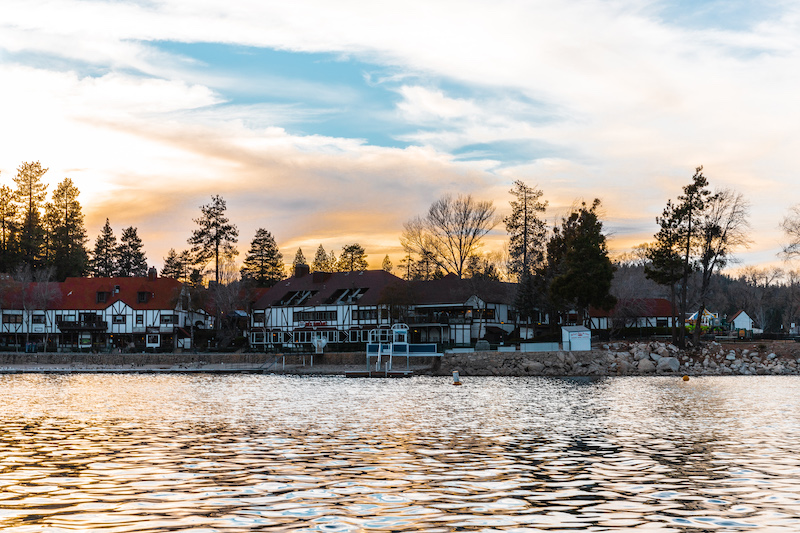 Lake Arrowhead Queen Boat Tour: Maybe the best way to see the sights and learn about Lake Arrowheads storied past is to climb aboard the Lake Arrowhead Queen for a one-hour narrated boat tour. You'll hear some history about the area, get a glimpse of the lakefront homes of the rich and famous and if you're lucky you might spot the elusive bald eagle resting on a secluded island. The Queen sets sail daily on the hour year-round. It is also the only way the public can get on the lake since it is deemed private. -> More information
The Lakefront Tap Room Bar & Kitchen: A boat adventure will work up an appetite, head back into Lake Arrowhead Village for dinner at The Lakefront Tap Room Bar & Kitchen. Pastrami Reuben with champagne sauerkraut, stacked burgers and lots of fried delights like pickle fries and elote street corn tots are just a few things on the menu. Pair your meal with a wide selection of over 20 beers on tap and even more brews rotating, bottled and canned. -> More information
Additional Lake Arrowhead Ideas
Strawberry Peak Fire Lookout Tower: Get a spectacular view of the San Bernardino National Forest while standing on a historic fire lookout. -> More information
Heart Rock Trail: A short and moderate hike with plenty to see before spotting the natural wonder that is a heart carved into a solid rock cliff. –> More information
Wildhaven Ranch: A wildlife sanctuary for endangered and indigenous wild animals. You have to make reservations to visit. –> More information
Tour The Tudor House: A building with a sordid history of underground gambling, brothel and moonshine, The Tudor House host live music, plays, yoga and a Sunday Champagne Brunch. -> More information
Rosalva's Skyforest: Enjoy Mexican cuisine at Rosalva's and save room for dessert because they have something called "ice cream nachos" and some killer sopapillas- a fried dough dessert drizzled in honey. -> More information
Cedar Glen Malt Shop: An old fashioned joint with over the top burgers and delicious milkshakes. -> More information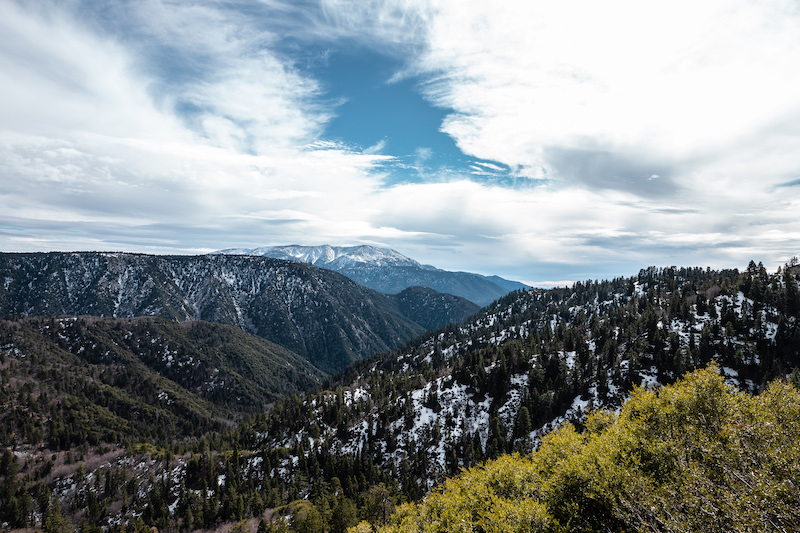 Getting to Big Bear
If you're driving to Big Bear from Lake Arrowhead (this was us) you can continue on Highway 18 through Running Springs and past the Snow Valley Resort. It's a beautiful, scenic drive with plenty of turnout opportunities if you'd like to take a picture or two. If you're coming from L.A. directly, it's going to be a minimum of a two and half hour drive, and you'll either end up taking the 15 to the 18 around the north side of the mountains, or approach from the south via I-10 and Highway 38.
***NOTE: Due to the heavy rains over the past few weeks some routes are closed and under repairs. The current access points to Big Bear Lake are highway 18 through Lucerne and via highway 38. Before you always check current road conditions before you depart!***
Our home away from home in Big Bear was the Big Bear Chateau, a great choice for those who want to maximize their time while up on the mountain (it's literally just down the street from Snow Summit Resort). Complimentary breakfast with waffles, bacon, omelets and a strong wifi is a definite plus.
Overall, we spent about two and a half days and two nights in Big Bear. As you'll see, we did a lot!
Things to do in Big Bear
The Village: At the heart of Big Bear Lake is The Village, a destination for shopping, dining and entertainment. Grab some Big Bear souvenirs, have a meal and be sure to stop by the visitors center. Open daily the visitors center is a helpful place where you can grab brochures, maps of hiking trails and get your questions answered. -> More information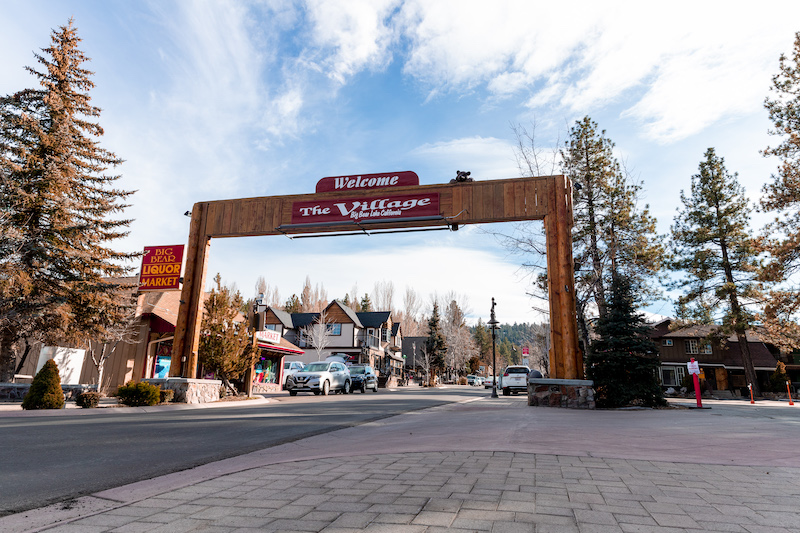 Peppercorn Grille: Located in The Village, Peppercorn Grille is a popular restaurant serving American faire, thick crust pizzas, steak, seafood and more. -> More information
Alpine Slide at Magic Mountain: Nearby The Village, Alpine Slide is the perfect place to let loose snow tubing, tobogganing and taking a ride on The Soaring Eagle. Great place for children and adults. -> More information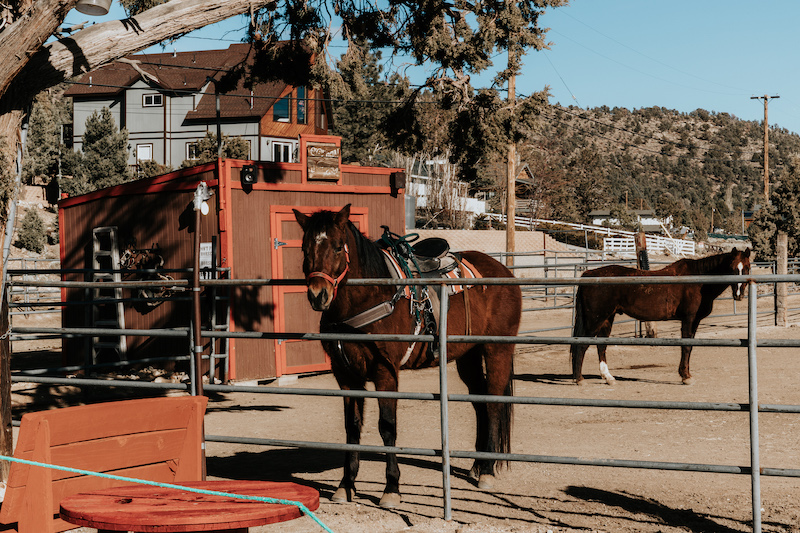 Baldwin Lakes Stables: Head to the east end of Big Bear Valley and visit Baldwin Lakes Stables. The only place in the area that you can take a tour of the surrounding National Forest on horseback. Beginners are welcome and the guides are extremely helpful (and friendly!). Rides come in one or two hour options. Be sure to bring a little cash to tip the guides for their hard work. -> More information
Gaby's Latin Flavors: Delicious Bolivian food in Big Bear Lake can be found at Gaby's Latin Flavors. Popular items include the avocado salad, housemade chips and cheese dip plus a unique Picante baked chicken with a peanut sauce pasta. Order one of the many soups available daily to warm up on a cold day. -> More information
An Ran Ju Gelato & Teahouse: Hot chocolate is the ultimate partner for chilly weather. An Ran Ju makes theirs with lots marshmallows and whipped cream. -> More information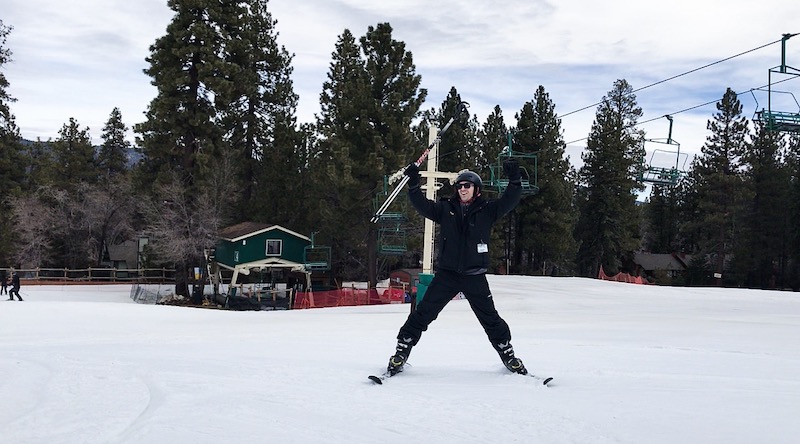 Snow Summit Ski Resort: Snow Summit Ski Resort boasts 240 acres of snowy terrain and 27 trails to suit all levels of skiing and snowboarding. If you're a newbie to snow sports consider taking lessons, it will save you some frustration and possible injury. Snow Summit also has everything you need in the rentals department which is a total plus. The best advice is to arrive early. Less people will be there meaning shorter lines, better parking and fresh snow. -> More information
Nottinghams Tavern: Part of the Robinhood Resort located conveniently in Big Bear Village, Nottinghams Tavern offers casual American faire. On the menu you'll find steaks, burgers, pasta, sandwiches and a full bar. Take a peek around the different dining rooms and you'll spot lots of lively Robinhood references. -> More information
Gems of the West: Right across the street from Nottinghams, and just a few steps outside of The Village, is Gems of the West a wonderland for geology enthusiasts. The employees are full of knowledge and they're happy to share some of the most unique items from the store. We touched a meteor explored different types of crystals and even held petrified dinosaur poop. -> More information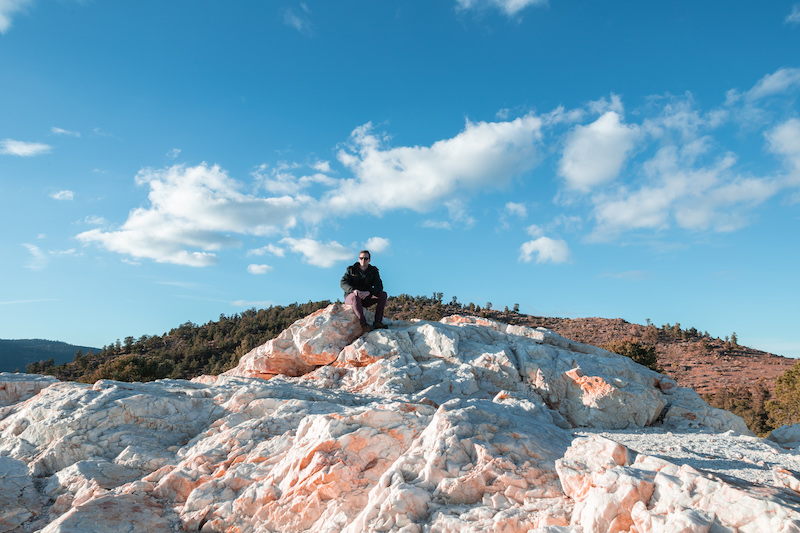 The Eye of God: After striking up a conversation with a couple employees at Gems of the West, we got a tip to visit a hillside dome made up of milky quartz. The site, called 'The Eye of God', is a sacred tribal landmark for the Serrano people who use to live in the region. The Serrano believed the site was the literal eye of their creator Kruktat watching over them. The rocky quartz megalith was once a complete dome, but in the 1940's gold prospectors dynamited the structure (sadly) hoping to strike it rich. Today the public can access the trailhead on Burns Canyon Road. You can hike up to (1.8 mile round trip) or if you have a capable off-road vehicle with four-wheel drive you can skip the hike and make it to a spot within about 300 yards of the site. We opted to go off trail with a Chevrolet Silverado Trail Boss, and it worked out well! -> More information
Alpine Pedal Path: At the end of a full day, unwind with a sunset walk down Alpine Pedal Path along the north shore of Big Bear Lake. It's a beautiful place to take photos and often you'll catch a colorful sky moment right before the sun finishes setting. -> More information
Captain's Anchorage: Celebrate a perfect day of exploring with prime rib, steaks and fine wine. Captain's Anchorage is Big Bear's historic dinner house that dates back to 1946. Known for delicious prime rib the restaurant also has a resident ghost named George. Don't worry though, he's friendly and usually upstairs doing his own thing. -> More information
Additional Big Bear To-Dos
Springtime activities: kayaking, canoeing, paddle boarding on Big Bear Lake. -> More information
Summer activities: wakeboarding (lessons are available), parasailing and jet-ski on Big Bear Lake. -> More information
Big Bear Pirate Ship: A lake cruise aboard a funky pirate ship with live entertainment and pirates. -> More information
Big Bear Coffee Roasting Company: The local coffee shop is a great place for some cold brew and fun lattes like the Almond Joy. -> More information
Big Bear Solar Observatory: Free public tours inside a cozy observatory located right on the lake. Only open on the second Thursday of the month during fall and winter and additionally on the fourth Thursday during summers. Reservations are required. -> More information
Mountain Witch Tea Company: If you're looking for thoughtful gifts, check out Mountain Witch Tea Company. The county store carries locally made items like handcrafted tea, fruit butters, old fashioned candy, knick knacks and other handmade goods. They also bake pies and cobblers for those looking for a sweet treat. -> More information
Castle Rock Hike: A two-mile round trip hike surrounded by granite stones that you can climb up to for a view of the vista. The hike is steep and an Adventure Pass is required. -> More information
Big Bear Lake Brewing Company: Enjoy dozens of craft beer plus an all day menu from breakfast, snacks to dinner. The Original "Avocado Bomb" is their signature dish. It's a honey ale battered avocado stuffed with spicy ahi and crab shrimp cake. -> More information
Big Bear Alpine Zoo: A rehabilitation center for injured, orphaned and in-need animals. 90% of the animals are successfully rehabilitated and released back into their environment. In the zoo it is possible to get a glimpse of an Arctic Fox, American Badger, Black Bear, Flying Squirrels, Screech Owl and much more. -> More information
Lumber Jack Cafe: Grab some sourdough pancakes or waffles plus large breakfast plates over at Lumber Jack Cafe located in Big Bear City. They also have family style breakfast and biscuits & gravy, perfect for large parties. -> -> More information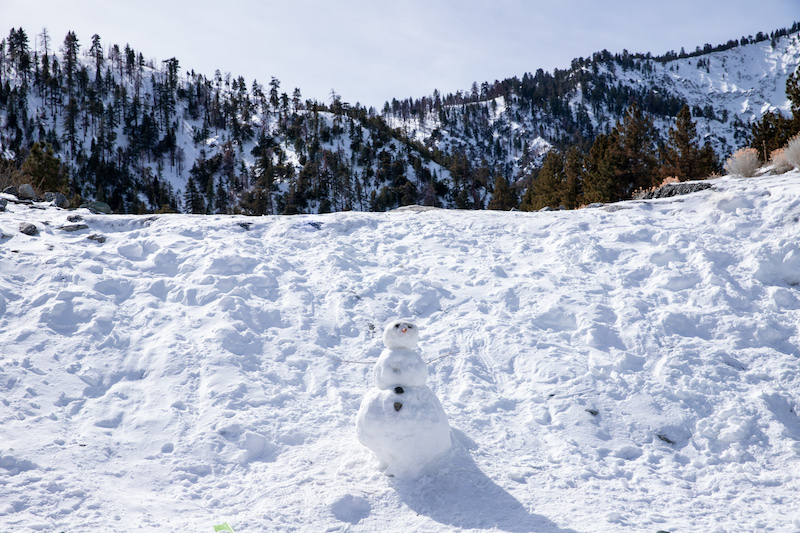 Getting to Wrightwood
Wrightwood ended up being a separate trip for us, in part because it resides in a different part of San Bernardino County. The town is located on the western edge of the county line, nestled in the San Gabriel Mountains. The quickest route is a drive along the 15 to the Cajon Pass where you can hook up with Highway 138. It takes about 70 minutes or so if you're not fighting traffic.
If you want something more scenic, you could also drive Highway 2 through the Angeles National Forest, but that'll add time to your drive, and could be a bit more treacherous depending on the weather conditions (more on that in our notes below). We have heard this is an absolutely stunning drive during the spring.
Because of the close proximity, Wrightwood and the neighboring Mountain High Resort make for a perfect day trip, which is exactly how we planned it!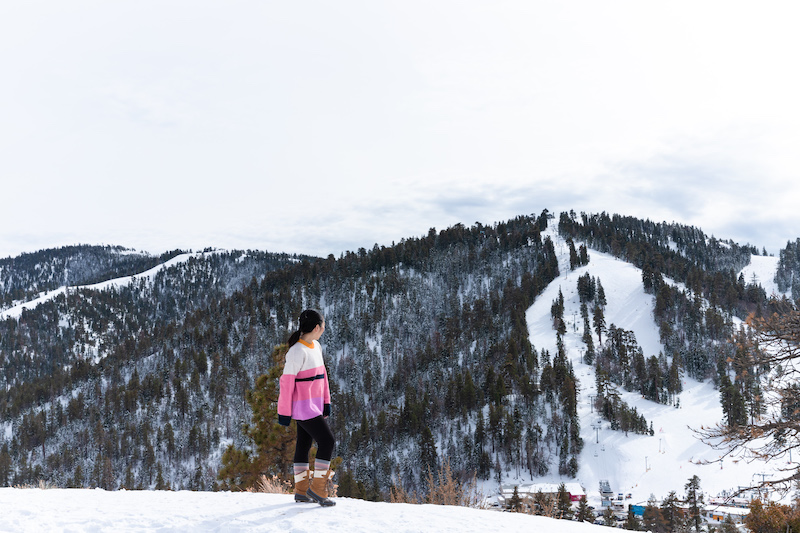 Things to do in Wrightwood
Coffee at The Village Grind: If you arrive in Wrightwood in the morning grab a quick brew at The Village Grind. They serve espresso, coffee, hot chocolate, smoothies and a casual food menu. They also have a wine bar that host tastings and serve microbrews should you find yourself stopping by later in the day. -> More information
Ziplines at Pacific Crest: Now that you're caffeinated, get ready for an adrenaline rush through the San Gabriel Mountains. Ziplines at Pacific Crest will have you soaring heights of up to 300 feet above the forest from tree to tree. -> More information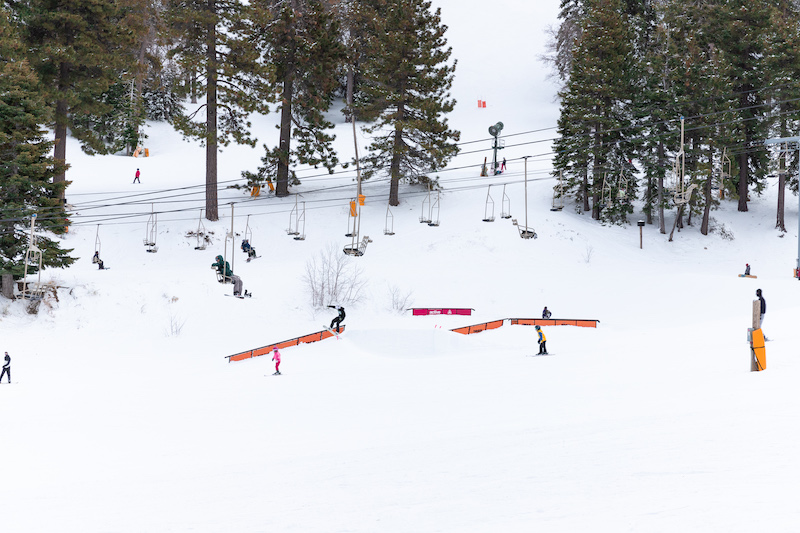 Mountain High Ski Resort: Considered to be SoCal's most visited and closest winter resort Mountain High has deep roots in California skiing history. Known as one of the oldest ski resorts in the country today, they have three locations each offering different winter activities. Take your pick of snowboarding, skiing, snow tubing, snow play, disc golf, night skiing and if you are serious about acing the slopes you can even attend ski school. -> More information
Grizzly Cafe: By the end of the day you've probably built up an appetite. Head over to the Grizzly Cafe for traditional American grub. You'll find several burgers, salads and hot sandwiches on the menu. We enjoyed The Grizzly Bear burger topped with applewood smoked bacon and the straightforward Beef Dip sandwich. -> More information
Additional Wrightwood To-Dos
Applewood Court: An old school sweets shop offering candy, fudge, ice cream and small gifts. -> More information
Wrightwood Vintage Antiques & Oddities: A barn style antique store where you can spend the day searching for unique keepsakes of the past. -> More information
Cinnamons Bakery: A casual spot where you can grab baked goods, sandwiches and breakfast. -> More information
Helpful Reminders
Be extra vigilant about checking the weather before you depart, so you're aware of warnings or alerts. A quick Google search for the National Weather Service forecast for San Bernardino will pay big dividends.
Bring tire chains or cables for your vehicle. Caltrans has a detailed post about requirements for chains and associated driving conditions. If you've never driven in the mountains, it's worth a read. Whenever you're driving in unfamiliar or possibly dangerous conditions, just remember to take it slow.
For your drive… keep your phone fully charged, bring bottled water, snacks and blankets in case you get stuck in traffic or due to weather conditions.
If you're doing a weekend trip into Big Bear (maybe an Airbnb with friends or something) during peak snow season, we suggest loading up on any supplies before you get to town. After speaking to a few locals, it sounds like grocery stores tend to run pretty bare after the first wave of visitors hits to kickoff a busy weekend, so stock up before you arrive!
The snowy season tends to wrap up by the end of March, so if you're thinking you still want to make it for that this year, plan accordingly.
Speaking of crowds, remember that the influx of tourists for snow play or weekends can also affect things like wait times at restaurants, so either plan ahead by making reservations, or prep your group for a little longer wait.
Take your time, have fun!
---
If you'd like to learn more about We Like L.A. sponsored posts and how we work with our partners, you can go here.
---