The following is a sponsored collaboration between Greenbar Distillery and We Like L.A.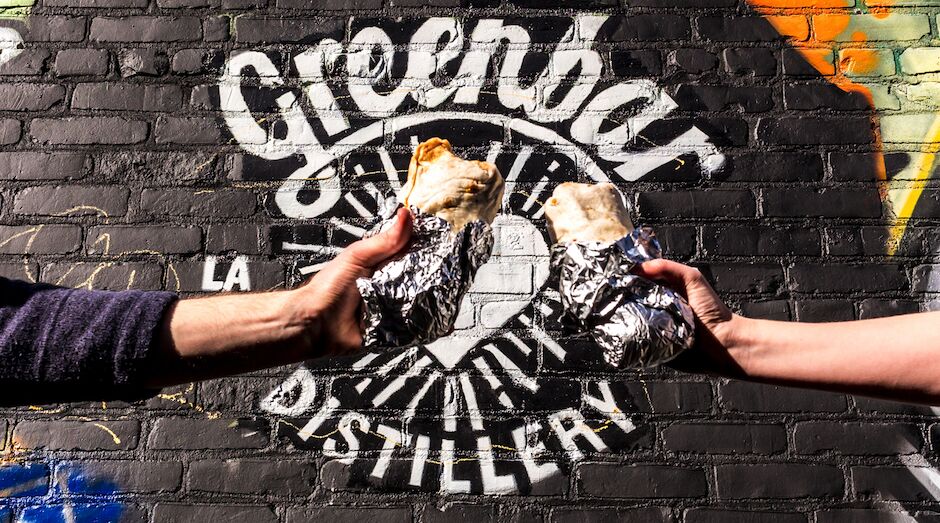 The Burrito Project is a group of people who meet monthly to commune with one another and share quality food with the disenfranchised people of downtown Los Angeles and surrounding areas. Greenbar Distillery knows how important it is to give back. Together these two organizations are teaming up to make a real difference to our community.
Over the coming month Greenbar Distillery will work with The Burrito Project, and a select list of local bars and restaurants, to provide thousands of burritos to those in need in the Los Angeles area. But they need YOU to get involved too. Here's how it works:
Participating establishments around L.A. will feature a brand new CITY Bright gin cocktail and, every time it's ordered, they'll donate a burrito to help the hungry. It's that simple! There are more than two dozens locations where you can order a cocktail to donate, including Baldoria, Cafe Gratitude, Library Bar, Mohawk Bend, The Corner Door, The Virgil, True Food Kitchen, and many more.
The goal is donate a total of 10,000 burritos by the end of spring. Greenbar Distillery is spearheading this campaign because they care about our community, love nutritious burritos, and want everyone to feel a little happier.
As a bonus to guests who participate, anyone who follows @GreenbarDistillery on Instagram can snap a photo of their CITY Bright gin cocktail, then post it to IG with the hashtag #DRINKCITYGIN in order to enter the Ultimate L.A. Staycation contest, with a prize including a stay in Downtown Los Angeles.
For more information on Greenbar Distillery's partnership with The Burrito Project, and for the full list of participating establishments please visit greenbardistillery.com/burritos.