*** The following is a sponsored collaboration between OUE Skyspace and We Like L.A. ***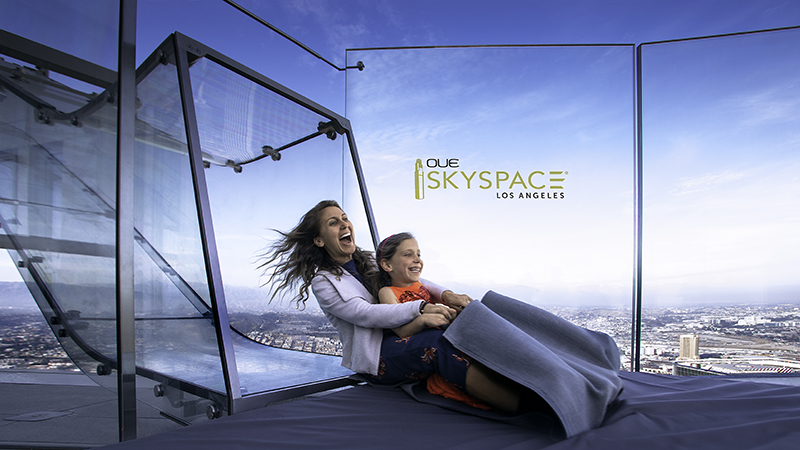 Downtown L.A. is one of the most culturally vibrant, diverse and exciting neighborhoods in all of Los Angeles. As an explorer there's a lot to see, do, and taste. In fact, there's so much packed into such a small area you might wonder… where do I begin?
Well, with a little help from our friends at OUE Skyspace LA we've created a handy guide that clues visitors in to some the best free things to do in the neighborhood, showcases DTLA's unique history, and culminates in the most spectacular view of Los Angeles you could possibly imagine.
[SPECIAL DEAL: Take $5 off a ticket to OUE Skyspace]
Sound like that might be something you're into? Good. Now let's get to it!
Marvel at The Last Bookstore
The Last Bookstore boasts one of the largest collections of and new and used books and records in all of California. It's also one-of-a-kind space that hosts events, talks, and workshops on a regular basis. The main shopping floor is punctuated by massive columns that shoot up towards cloud-high ceilings. On the second level you'll find more genres to browse, plus a whimsical book archway and corridor that's more than a little Insta-worthy.
Stroll over to the Bradbury Building
Go a half block up from the Last Bookstore, take a right on Broadway, walk five minutes and you'll find yourself at The Bradbury Building. With its iron railings, glass ceilings, and unmistakable birdcage elevators, The Bradbury is a living piece of art history that's made cameos in numerous notable films including Blade Runner and 500 Days of Summer. And the best part? The first two floors of The Bradbury are free to explore during normal building hours.
Grab lunch at Grand Central Market
Directly across the street from The Bradbury Building you'll find Grand Central Market, a 30,000 square-foot arcade and marketplace that's been in continuous operation for over a century. Hungry visitors will find dozens of vendors to choose from with options ranging from BBQ and gourmet coffee to oysters, ramen, seafood, and LOTS more. Take your time examining all the options and make it a meal worth remembering.
Take a ride on Angels Flight
Just northwest of Grand Central Market is another historic marvel: Angels Flight Railway. Once billed as "the world's shortest railcar" Angels Flight was original built in 1901 as a practical means to transport Bunker Hill residents to the rest of Downtown south of Hill Street. After periods of on-again, off-again service, Angels Flight is back up and running offering one-way fares for just one dollar. Take a ride and experience life as an early twentieth century commuter on your way to your next location.
Spend an afternoon at The Broad
Downtown's largest art Museum features over 2000 works its collection, including a pair of world famous Infinity installations designed by artist Yayoi Kusama. The Broad offers free general admission, and advance online tickets are distributed for reservation on the first of every month. Although reservations are recommended, same day tickets are available through an onsite standby line with first-come, first-served access.
Enjoy the views at OUE Skyspace
Now that you've had a chance to take in some of the sights up close, there's no better place to marvel at the splendor of it all than at the stunning perch of OUE Skyspace. From nearly 1,000 feet above the city in the iconic US Bank Tower, OUE Skyspace LA is the premiere destination for panoramic, 360-degree views of Los Angeles. Enjoy the thrill of a ride on the world's first ever Skyslide or grab a drink at the all new Skyspace bar. We honestly can't think of a better way to cap the day than with a trip to Skyspace. The view is just the beginning!
And keep in mind there's no better time to visit! Right now, Skyspace is giving away a family fun-day four pack for We Like LA readers. Enter to win by commenting on THIS @WeLikeLA Instagram post. This pass includes unlimited Skyslide rides for kids and access to all levels of the attraction. Also remember that Skyspace is offering a special promo code that gets you $5 off any ticket, so even if you don't win the giveaway, you've still got a great chance to save!
Wherever your adventure takes you, we hope this guide has been a useful tool in helping you plan your own perfect day in DTLA. Mostly we just want you to open your eyes and take a look.
We have a feeling you're going to like what you see.
---
If you'd like to learn more about We Like L.A. sponsored posts and how we work with our partners, you can go here.