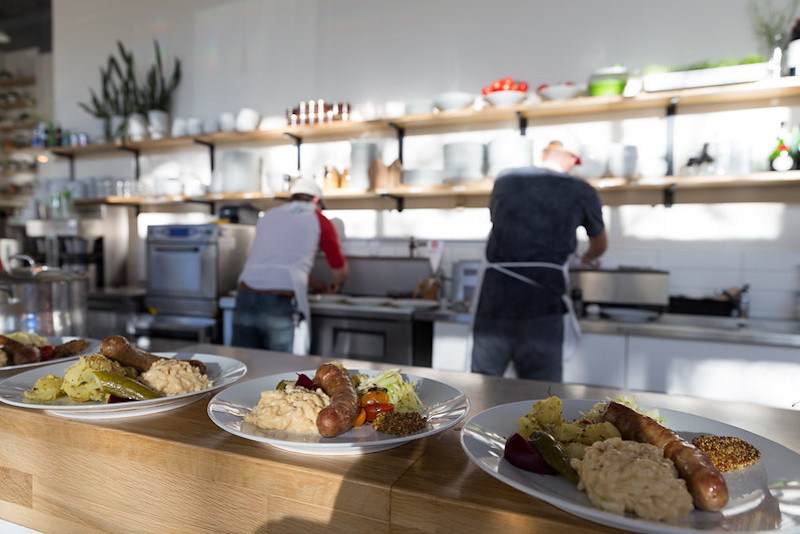 California now has reopening guidelines for dine-in restaurants. While dine-in restaurants aren't approved to reopen statewide yet, counties may move through Stage 2 faster if they self-certify that they meet the state's readiness criteria and are approved to do so. Depending on what county your favorite spot is in, you may not see it again in the near future, but at least you'll know what dining out will look like in our new normal.
The state document covers both dine-in restaurants and bars. However, bars, brewpubs, breweries, distilleries, and wineries can only reopen if they serve sit-down, dine-in meals. If they don't right now, they may be able to partner with a restaurant that does. Customers will only be able to order alcohol in the same transaction as a meal, and these venues are asked to still encourage guests to get takeout or deliver when possible. 
The document lists several rules that pertain to protecting employees and how various areas should be cleaned and disinfected. Some of these new rules are things you're bound to notice. For example, you won't see your tables pre-set with silverware or condiments. Instead, diners will only receive these items as needed or requested. You might see your salt and pepper shakers disappear in lieu of single-serve containers. If you have food you'd like to take to-go, you'll have to box it up yourself. Tableside guacamole or desserts on conveyor belts? Yeah, you won't be seeing any of that for a while. 
You'll also have to practice physical distancing in restaurants. You might be encouraged to sit outside, and you may be able to drink alcohol outdoors in areas you previously couldn't before (if local laws allow it). You might have to wait for your table in your car or down the street, and you might be notified on your phone instead of given a buzzer. You won't be able to sit at the bar, tables will be spread further apart, and there might even be a partition between you and other diners. Communal seating? Nope. 
Basically, going out to eat won't look like it looked before. It won't feel the way it felt before. And with reduced capacity, employees aren't likely to make as much in tips as they did before. As a diner, the best thing you can do is try to follow these rules when restaurants in your county reopen and tip well. 
So, when will your county reopen dine-in service? That depends on a set of criteria that some counties say they won't meet for a long time, including zero COVID-19 deaths in 14 days. (It's not yet clear if some exceptions may eventually be made for more populated areas.)
Today, Gov. Gavin Newsom announced both Butte and El Dorado counties have been approved to move deeper into Stage 2. On average, California has about 239 people per square mile. Butte County has a population of about 134 people per square mile, while El Dorado County has about 106 people per square mile.
By comparison, Los Angeles has about 2,420 people per square mile. During today's Board of Supervisors meeting, L.A. County Dept. of Public Health Director Dr. Barbara Ferrer said the county's Stay at Home orders will likely be extended through July, though some restrictions may ease up. We expect more updates on which restrictions those are soon, and we'll update you accordingly.
Want a recap of L.A. County's five stages of reopening? Click here.