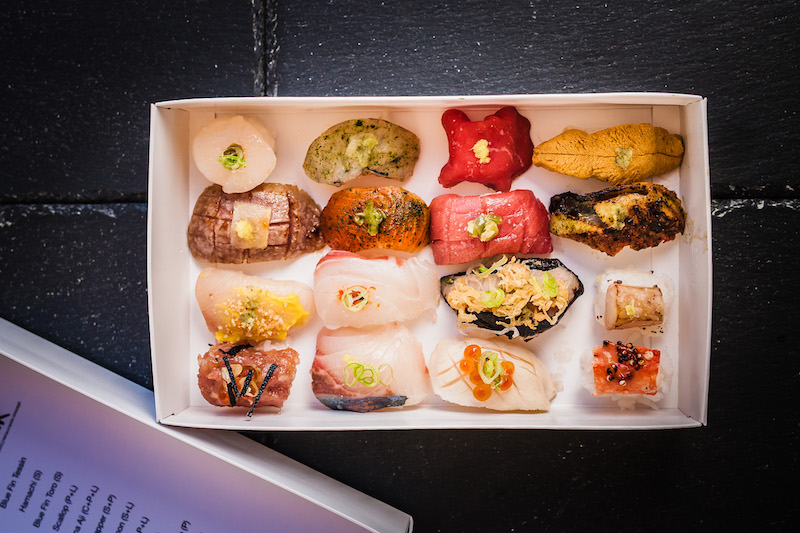 Encino's Sushi|Bar has an inventive way for you to enjoy an omakase meal. Pick up your sushi from the restaurant, then eat it at home along with a video that features Chef Frankland Lee presenting each bite. It's kind of like you're seated at the sushi bar, except you can wear your pajamas. 
The virtual Sushi|Bar experience comes in three white boxes, tied together with a piece of string. The top box contains your edamame and your palate cleaners, including ginger and Japanese pickled cucumbers. The middle box has your sauces, like soy sauce and ponzu, plus a pipette you'll use to add them. The final box consists of 16 different pieces of sushi, which you're encouraged to eat with your hands (a towelette is provided). You'll also get a welcome cocktail—made with Japanese whiskey, sake, ginger, and lime—which you'll pour over ice. 
Once you're comfortable at home, you can fix up your cocktail and load up the accompanying videos. Each one is about a minute long and explains the sushi you'll be enjoying in order.
For example, you start with the "blue fin tessin." According to Lee,"tessin" is the fish's tail, which is ground into a paste and mixed with soy, ponzu, matcha green tea salt, fresh wasabi, lemon, sushi rice, and puffed sushi rice. This mixture is served atop rice, with avocado mousse, salmon roe, scallion, and nori.
Each video will seamlessly transition to the next, but you can hit pause if you want a little time to savor. The videos are shot from the viewer's perspective, as though Lee is preparing each piece for you. He even sets the finished piece on a plate in front of the camera, in a socially distant dining roleplay. He also tells you when it's appropriate to add a sauce or a squeeze of lemon. 

This process continues through all 16 pieces, which include prawn, escolar, sirloin, king crab, eel, and, finally, uni.
Guests can enjoy in-person omakase at Sushi|Bar, where an outdoor table has been set up with the chefs separated from diners by a plexiglass partition. Other sushi bars have flirted with similar concepts, like OMG in Santa Ana. Of course, OMG had to close again when indoor dining was restricted, so now they're doing limited chirashi takeout.
Sushi|Bar's innovative at-home experience allows those who don't feel comfortable dining in to have a safe, yet unique experience that feels personalized. It's also interactive, which allows you to actually focus on your meal instead of just consuming it. And as far as pandemic creativity goes, it's one of the cleverest splurges we've seen yet.
The only caveat would be to make sure you hold your takeout bags upright, otherwise, you risk knocking your meticulously crafted sushi over on the way home.
Virtual Sushi|Bar is available for pickup daily at 5 p.m. It's $95 for one 16-piece sushi meal, plus edamame, accouterments, and a welcome cocktail. A beverage pairing is available for $55, and add-ons including more sushi, cocktails, and sake are available. Order online before 4:30 p.m. for same-day pickup. If you miss that window, give them a call at (818)646-6085. Sushi|Bar's in-person outdoor experience is $125 per person and available by reservation only.
Not in the mood for sushi? Check out our huge list of other takeout and delivery options here.