The end is near! Not of the world, but at least the calendar year.
For foodies looking to ring in the New Year in style we've got a range of options from massive club parties to decadent dinners to local bars with free admission celebrations.
Already over 2016? Check out some of the food-related events happening in January 2017 you might want tickets to ASAP, including a wine festival at Union Station and the return of the Pancakes & Booze Art Show.
Your weekly L.A. food news rundown starts NOW.
Bon Appétit!
Looking for Things To Do on NYE?
Check out our top picks of the best parties, bars and resturants to ring in the New Year. Be safe and enjoy!
The Pancakes & Booze Art Show is Back in 2017
The Pancakes & Booze Art Show returns to Lot 613 in Los Angeles on January 20 and January 21 for an art exhibition featuring 150 L.A. based artist, loads of booze and stacks on stacks of flapjacks in a 10,000 square-foot space.
Uncorked: L.A. Wine Festival at Union Station
Uncorked: L.A. pulls into Union Station on January 21 for an epic wine experience. Over 150 wines will be available to sample plus a champagne bar, and gourmet food trucks to soak it all up.
L.A. Beer & Food Festival at Mack Sennett
L.A. Beer & Food Festival comes to historic Mack Sennett Studios in Silver Lake on Jan. 28 with a sampling of beers from more than 40 independently-owned brewers from around Los Angeles County. Tickets get you unlimited tastings of 100+ beers and free snacks from notable local restaurants.
Still looking for more NYE options?
Bar 10 in West Hollywood will ring in the New Year with a live singing drag concert featuring Peppermint, Billy L'Amour and Anita Procedure. There will be an OPEN Champagne Bar from 9 p.m. to midnight and $10 holiday themed shots. The cherry on top? no cover charge is needed.
Brack Shop Tavern is hosting an 80s New Year's Party complete with a balloon drop and complimentary champagne toast at midnight. Free admission and 80s attire is strongly encouraged.
National Bloody Mary Day!
Celebrate on Sunday, January 1 with our list of the Best Spots for Bloody Marys in Los Angeles.
Nikka Japanese Whisky Showdown
There's a cocktail battle between Baldoria's beverage director Matt Bostick and Big Bar's bar manager Cari Hah Wednesday Dec. 28. The two will be whipping up cocktails with Nikka Japanese Whisky at Baldoria in DTLA to see who makes the best cocktails. Tickets cost $15 at the door and include samples of the creations and bites from 5 to 8 p.m.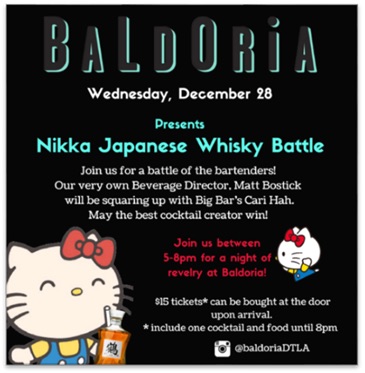 New Years Day Brunch/Recovery Options
It's inevitable most of us will have hangovers the next day, so head to a few of these places for some much needed nourishment…
Baldoria's hangover brunch starts at 11 a.m. with $15 bottomless champagne and a Mrs. Croque Pizza that should cure the most stubborn of hangovers.
The Bellwether will be extending brunch hours hours till 3 p.m. on New Years Day which means guests can enjoy a Mama Betty's Bloody Mary (served with a mini BLT) or the Easy Like Sunday Michelada and some Chili Cheese Fries made with The Bellwether's steak style French fries that take a full three days to prepare, and topped with a fried egg.
All Dog Haus locations will be serving up a Hangover Haus Burger, featuring smoked bacon, haus chili topped with a fried egg, served along a brown-bagged PBR for just $5.99.
Finally, just a quick snapshot of the best thing we've eaten in the past week…
The Taster Plate at Polish restaurant Solidarity in Santa Monica. The plate comes with two kielbasa, two cheese pierogi, two placki and a yogurt cucumber salad.