Lots to cover this week (especially for freebie hunters) so let's dig in!
To start with, Angel City Brewery will host a free beer making class this Thursday, Creamistry will be giving away nitrogen ice cream on Friday and Mexicali will celebrate their 5th year anniversary by gifting tacos to customers on February 15.
But wait there's more!
Among the special new menus and unique items announced this week, Ray's & Stark Bar will celebrate National Pizza Day with a pie and float deal, while Messhall Kitchen rolls out retro TV Dinners and DTLA's Le Petit Paris is set to launch one impressive French style Sunday brunch buffet.
One more thing….
We just did a round-up of the best dim sum spots in L.A. so be sure to check that out too 😉.
Your weekly L.A. food news rundown starts NOW.
Bon Appétit!
Free Tacos at Mexicali!!!
The folks over at Mexicali's Taco & Co. are celebrating their 5th anniversary on February 15 by giving away two free tacos to customers from 11 a.m. to 3 p.m. Unlock the offer by wishing them a happy anniversary 😉
Where is the best dim sum?
In the SGV of course! Sorry… rest of Los Angeles County. Check out our top 8 Spots for the Best Dim Sum in Los Angeles. It's totally worth the drive 😁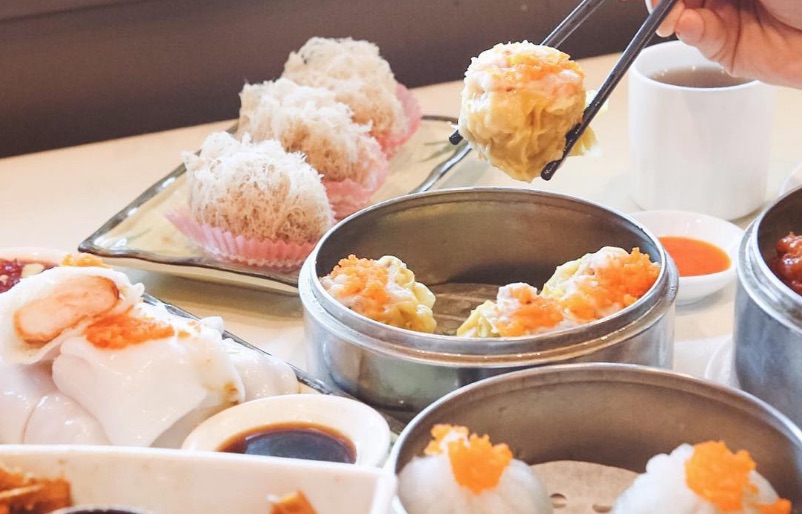 Franklin & Company Movie Nights
Hollywood's Franklin & Company is launching a new weekly Free Movie Night. Every Tuesday the gastropub will play a movie over their TVs and offer a different specialty cocktail, themed to the film for just $6. This week it's Sunset Boulevard.
Cookie Con is coming
On February 18 and 19, the LA Convention Center in DTLA is hosting the 3rd Annual LA Cookie Con. After selling out for two years in a row, Cookie Con is returning as the West Coast's largest baking and pastry expo with samples from over 275 local shops and brands.
Chocolate and art combine
The Chocolate and Art Show comes to The Vortex in Downtown Los Angeles February 17 and 18 for two nights of fine art, tasteful music, and delicious chocolate. Many of L.A.'s rising artists and confection artisans will showcase their work and loads of complimentary chocolate will be given out throughout the evening.
Five days of $1 oysters at Messhall
From February 10 thru Valentines Day (February 14) Messhall Kitchen will be serving $1 oysters during dinner service.
TV Dinners are back!
At least at Messhall Kitchen anyway. Available only on Monday nights, entree includes a Salisbury Steak, Turkey Loaf, Chicken Thermidor, Baby Back Ribs, and Veggie Pot Pie.
Natural History Museum x Angel City Brewery
NHMLA & Angel City Brewery Presents: Citizen Science + Suds an event held at Angel City Brewery to promote civic involvement through a creation of a communal beer! That's just part of the focus of the new series, expect lively conversations about urban planning, marine conservation and civic science in the mix as well. There will be three events taking place until March, the first event is this Thursday.
National Pizza Day at Ray's & Stark Bar
Thursday, February 9 is National Pizza Day so head to Ray's & Stark Bar at LACMA from 3 to 6 p.m. and get a margarita or pepperoni pizza and two root beer floats for just $20. Add a shot of Exquisito dark rum for $7 each 😏
Le Petit Paris Introduces a Sunday Brunch Buffet
Le Petit Paris will launch a Sunday brunch buffet with all the French classics like viennoiseries, crepes, eggs benedict, charcuterie, quiche, a meat carving station and more. There's even a chocolate fondue fountain for dessert! The new buffet brunch cost $49 a person and is available every Sunday from 11 a.m. to 3 p.m.
Free ice cream alert!
Creamistry will grand open in Alhambra this Friday, February 10 ready to serve free made-to-order liquid nitrogen ice cream, prizes and did we mention free ice cream? Get some from 4 to 6 p.m.
Finally, just a quick snapshot of the best thing we've eaten in the past week…
Flower Child in Santa Monica serves breakfast, lunch and dinner with a health focused menu for vegans, vegetarians and meat eaters. Below is a selection from their breakfast and lunch menu!