Who doesn't like free? Over the next seven days Los Angeles businesses are offering some tasty and fun deals you won't want to miss.
Notable freebies this week include free Margherita pizzas at MidiCi in Century City and a Ben & Jerry's ice cream carnival experience. Also mark your calendars for Free Chili Day at Philippe The Original happening on Tuesday, January 23!
Also a quick reminder: Three different restaurant weeks are happening this month including dineL.A., Redondo Beach and Taste of Alhambra. Plan your food bucket list accordingly.
As always, enjoy  all the tasty news bites below, along with the best food events happening this week.
Bon Appétit!
8th Annual Free Chili Day at Philippe The Original
Philippe The Original will once again host their popular Free Chili Day on Tuesday, January 23. Sponsored by Dolores Chili, Philippe will serve the first 500 people a free cup of chili, with or without beans, and all the fixins from 10:30 a.m. to 1 p.m.
Taste of Alhambra Restaurant Week
From January 22-28, food enthusiasts can explore the diverse culinary scene of Alhambra through a variety of lunch and dinner prix-fixe menus. The city of Alhambra is home to some of the best Asian restaurants in Los Angeles but also has a notable Peruvian, Italian, Mexican and American presence. For restaurant week specially priced menus will be broken down to $15 or $30 for lunch, and between $20 to $50 during dinner. Participants include Mancora Peruvian, Budda Belly Modern Kitchen, Charlie's Trio Café, 38 Degrees Ale House & Grill, Sage Bistro 626, Limerick's Tavern, Diner on Main, Bon Appetea Café, Side Bar Grill, Tokyo Table, Big Catch Seafood, Dickey's BBQ Pit Alhambra, and Mahan Indian.
Gourmet Meals On The Go in The SGV
The folks behind the 626 Night Market have a new takeout concept called Chef Box that functions as a creative platform to showcase local chefs. Read all about it and grab a bite there to support local makers. Aspiring chefs can also apply for the program for a chance to be featured in their daily rotation.
Where to dine in Costa Mesa
We recently put out a quick and easy guide of Fun Things To Do in Costa Mesa that includes a profile of the thriving food scene. Discover great beers in the O.C. grab some Cuban bites, fresh seafood, a meal from Top Chef finalist Amar Santana or an epic friend chicken sandwich from The Crack Shack. Find it all in our guide here.
New Happy Hour Alert
Michael's Santa Monica will debut a happy hour menu today. Available Monday through Saturday from 5:30 p.m. to 7 p.m. at the bar + lounge, the menu features elevated takes on classic bar bites like seared deviled eggs ($8), confit chicken wings with fish sauce caramel ($10) and for those looking for more than just a bite, a "Guerrero" burrito ($14) is also available on the menu. Guests will find small production and natural wines as well as specialty cocktails ($8) and beer ($5) on the happy hour menu. There's also a $1.79 cocktail offered from 5:30 p.m. to 6 p.m. as a nod to the year Michael's opened (1979).
New Opening Alert
West Hollywood tapas concept, Chef's Not Here will open its doors for dinner service this Wednesday, January 17. Situated on trendy Melrose Ave., the new spot is owned by chef Ressul Rassallat and will focus on small shared plates influenced by global flavors. It will co-share an intimate rooftop space with the newly opened Sea Salt Poke (also owned by Rassallat) which is open all day. Customers will be able to order from both places during Chef's Not Here's dinner service. See the full menu below.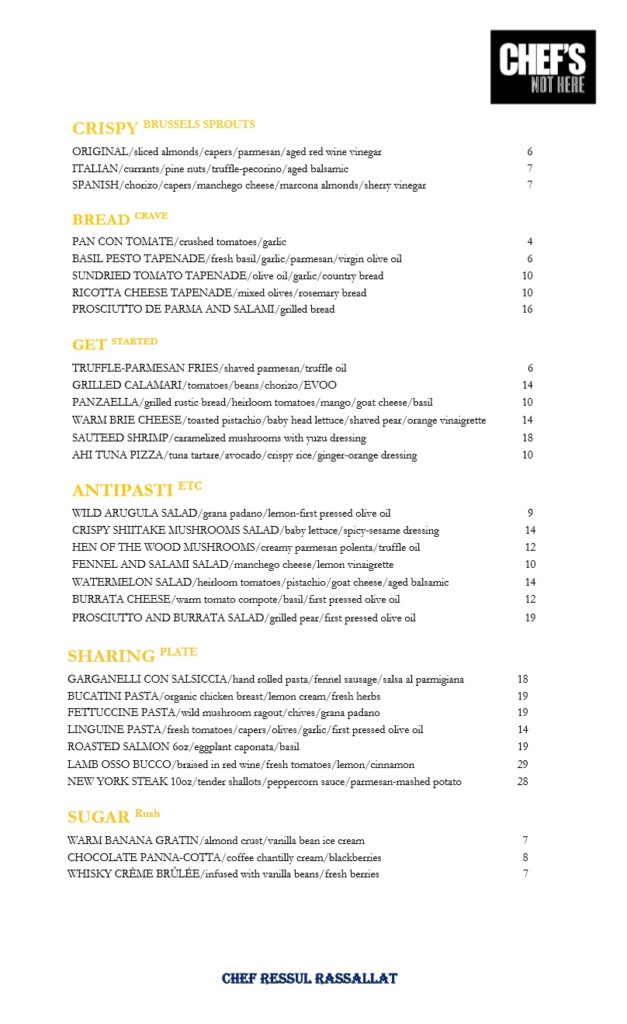 Food Events for this Week in L.A.
Tuesday January 16th, 2018
Ben & Jerry's is throwing a pop-up carnival to announce their newest ice cream flavors. Happening at the corner of Hollywood Blvd. and Vine Street, ice cream lovers will have a chance to partake in carnival games, rides and sample the Pint Slice flavors totally free. FREE
dineL.A. the city's restaurant week (January 12-26) kicks of this Friday with another round of exclusive lunch and dinner menus (and deals!) at a laundry list of the city's finest eateries. Want to know where to eat among the huge list of choices? Start here, with our picks for 20 can't-miss menus.
Get a free Margherita pizza during the grand opening of MidiCi The Neapolitan Pizza Company in Century City. Happening Tuesday and Wednesday from 11 a.m. to 2 p.m. Limit one per guest. FREE
Redondo Beach Restaurant Week is back from January 12 to 26. Dozen of eateries from the beach city's growing food scene will be participating by offering either specially priced prix-fixe lunches and/or dinners, or other Restaurant Week-only special offers
Wednesday January 17th, 2018
Come to the Frogtown Brewery this Wednesday for Beer, Bingo, & Trivia Night.
Thursday January 18th, 2018
Stop by the Skirball for "Mexican Today" a conversation with celebrated chef Pati Jinich who grew up in Mexico City, writes about food for the Washington Post, and has cooked at the White House for President Obama's Cinco de Mayo celebration. The event is free to attend.
Looking to step outside your culinary comfort zone? Savor a five-course meal where each dish features a bug or insect at a EatBugEvents dinner in Culver City this Thursday.
Friday January 19th, 2018
Greenbar Distillery will host their popular cocktail class this Friday. The theme is "Fresh Produce," guests will get to experiment with seasonal fruits, vegetables and herbs along with a variety of Greenbar organic liquors. Must be a member to sign up for classes, membership is free.
Saturday January 20th, 2018
Iron Triangle turns two this Saturday with an epic BBQ Showdown where you decide the winner. $20 gets you a three item plate from competitors Moo's Craft Barbecue and Peaches' Smokehouse & Southern Kitchen, feast and then vote for your favorite. The BBQ starts at 1 p.m. and concludes at 6 p.m. or until the food runs out. Iron Triangle will also have new beers on tap including Sluice Gate IPA, Blasting Cap Vienna Lager, Stock and Trade: English Pub Ale on Nitro and Barrel Aged Jawbone Stout.
Sunday January 21st, 2018
The 3rd Annual Playa Provisions Snow Day is family friendley fun for kids and adults. There will be sledding and other wintery activities going on while the Playa Provisions team grill up hamburgers and hot dogs all afternoon. As for dessert folks can gather around the fire pits to create their very own s'mores.