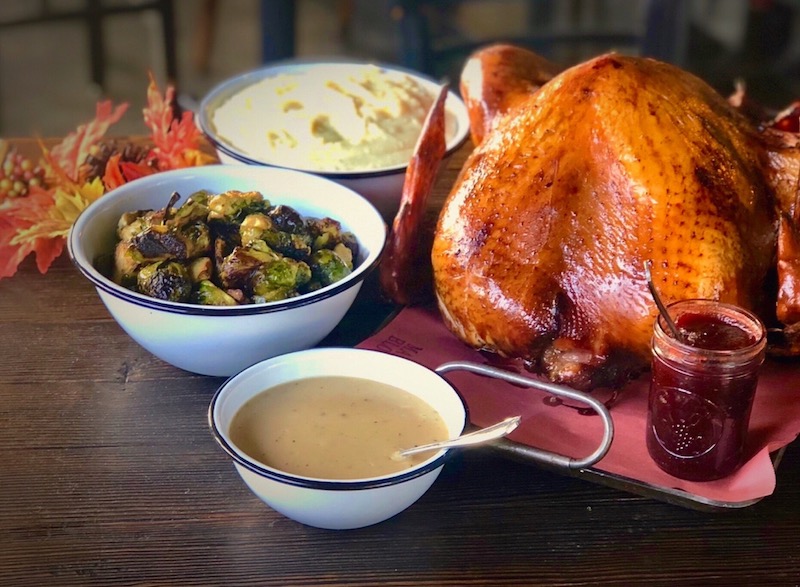 Update, Nov. 22, 4 p.m.: Due to rising COVID-19 numbers, L.A. County Public Health is shutting down outdoor dining for at least three weeks, effective Nov. 25 at 10 p.m. The following pickup and delivery options will still be permitted, but outdoor dining will be unavailable. If you've made a reservation, we'd suggest contacting the restaurant to see if pickup is an option. We'll update this list with what those restaurants are doing as we hear from them.
Though it isn't the ideal time to travel to or host family gatherings, those who celebrate Thanksgiving can still get a hot meal at one of L.A.'s local restaurants. Many are offering outdoor dining on Thanksgiving Day, or take-home meals you can pre-order and pick up. There are many choices for turkey with all the usual sides, as well as some fun options if you're looking for something a little different.
---
The Los Angeles County Department of Parks and Recreation
L.A. County Parks is offering a FREE drive-thru Thanksgiving grab-n-go feast at select parks Nov. 17-24. Participants will receive a grocery store gift certificate for a free turkey, craft supplies, produce, dry foods, and more. You must pre-register in advance and show a copy of your receipt, either printed out or on your phone, upon arrival. One registration per household. No walk-ins. Masks are required.
Maple Block Meat Co. (Culver City)
Maple Block Meat Co. has wood-smoked turkeys and all the fixings for you to enjoy at home. The birds are free-range and antibiotic-free, ranging from $188 for 7-8 pounds of sliced turkey breast up to an 18-20 lb. turkey ($304). Sides are available by the quart or tray, or you can get a sides package that includes buttermilk biscuits, cornbread-sausage stuffing, mashed potatoes, braised greens, and roasted Brussels sprouts for $200 (serves 10-12). Order online for pickup on Thanksgiving Day.
Hop Woo (Chinatown)
In business for 26 years, the family owned restaurant will once again offer a whole roasted turkey with garlic fried rice and gravy for $50. Hop Woo's entire Chinese menu plus party trays are also available for pre-order.
Madre (Fairfax, Torrance)
Both Madre locations will offer a Thanksgiving special Nov. 16-29 (closed Thanksgiving Day) for dine-in, delivery, and takeout. For $28/person, get Pork Tenderloin stuffed with Pechuga de Mezcal (a blend of cinnamon, rice, aniz, orange, plantains, apples, pineapple, almonds, plums, and raisins), topped with coloradito mole; Oaxaca potato sala, and a green salad.
Hotel June (Westchester)
Hotel June's Baja-inspired Caravan Swim Club will be offering a $40 pre-fixe menu of Thanksgiving classics with a South of the border twist. Available for outdoor dining on their terrace or for pick-up the meal comes with an optional wine pairing featuring Purity Natural Wines for an additional $30. Reservations for dine-in can be made via OpenTable and take-out orders can be placed by calling the restaurant directly at (310) 645-0400.
Salazar (Frogtown)
Salazar is offering tamales stuffed with smoked turkey and roasted pasilla chili, then topped with achiote crema and epazote. Available Thanksgiving week for dine-in or takeout. Closed Thanksgiving Day.
Bianca (Culver City)
On Nov. 19, Bianca will host a Friendsgiving meal featuring nine tapas and a seasonal wine cocktail for $62/person. Courses include pumpkin soup, fried yams, turkey mini skewers, veal meatballs, a trio of mini-pies, and more. Reservations required. Parties are limited to six people. Children are welcome and may order off the regular menu. Bianca is also taking pre-orders for pies including apple, chocolate banana, pecan, and pumpkin. Call (424) 603-4353 or visit their website to order.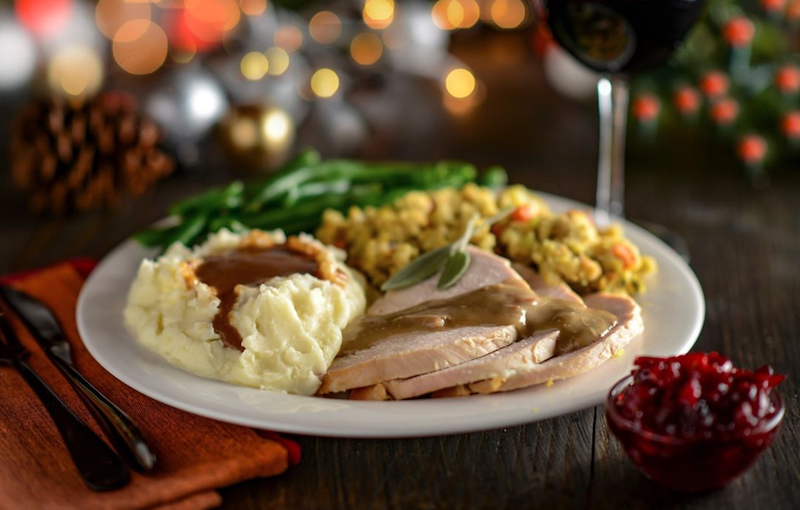 Lawry's The Prime Rib (Beverly Hills)
Lawry's new patio is one of the chicest new outdoor dining options we've seen thus far. For Thanksgiving, you can get a roast turkey breast meal ($41) or two slices each of roast turkey breast and prime rib ($48) that includes spinning bowl salad, mashed potatoes, turkey gravy, stuffing, and cranberry sauce. Apple or pumpkin pie is available for dessert ($9).
Hermanito (Sawtelle)
Hermanito is offering Thanksgiving Meal Kits for four. They include Pacific shrimp ceviche, cilantro-lime rice, quinoa salad, white bean casserole, chips & guacamole, and tres leches cake for $60. Add-ons include proteins like Peking duck with black garlic mole, roasted chicken, and more. Pre-order for pickup on Nov. 25.
Garden Cafe (Arcadia)
The San Gabriel Valley Hong Kong-style cafe is offering Thanksgiving party trays that include a whole roasted turkey stuffed with sticky rice for $65.95.
Cafe Gratitude (Multiple Locations)
Cafe Gratitude's offerings include Cranberry Roasted Butternut Squash & Garnet Yams ($30), Cauliflower Mashed Potatoes with Garlic Confit ($25), Truffled Porcini Gravy ($15), Maple Miso Brussels Sprouts ($35), Pear & Pomegranate Chutney ($15), French Lentil & Butternut Squash Loaf ($35), and Persimmon & Pomegranate Salad ($35). They also have several pies available, including raw and gluten-free Pumpkin Pie, Chocolate Coconut Cream Pie, and Baked Apple Pie. Pre-order on their website.
Calabra (Santa Monica)
The restaurant inside the Santa Monica Proper Hotel will be offering a menu of holiday classics for outdoor dining and to-go family style orders. Guests dining in at Calabra can enjoy a $45 pre-fixe menu of turkey with all of the traditional accompaniments plus dessert. Calabra's holiday to-go menu come with a few more side dishes and cost $135 for two or $250 for parties of four. Take-out orders can be placed via Postmates.
Gracias Madre (West Hollywood)

Gracias Madre has sweet and savory tamales to-go. Offerings include Chile Rojo Tamales and Pineapple Raisin Tamales. Pre-order on its website by Nov. 22.
Great White Rotisserie (Venice)
A four-person Thanksgiving combo from Great White Rotisserie is available for $66. The meal includes a whole rotisserie chicken with herb stuffing, mashed potatoes, gravy, tomato jam, honey nut squash and corn dip, and pita bread. Available for pickup Nov. 19-25 between noon and 8 p.m. Pre-order through Nov. 19 online.
The LINE (Koreatown)
The LINE's Openaire restaurant is offering outdoor dining at its rooftop restaurant on Thanksgiving Day from noon to 8:30 p.m. The menu includes two courses of your choice, several family-style sides, and dessert. Choices include turkey with mushroom apple stuffing, pumpkin soup, diver scallops, prime rib, king salmon, pumpkin cheesecake, and more. It's $85 for adults, $35 for children. A to-go option is also available for $68 for adults, $35 for children. Book online.
Tacos Tu Madre (West Hollywood)
Tacos Tu Madre's West Hollywood location will offer Thanksgiving specials for outdoor dining, takeout, and delivery. The Thanksgiving plate features your choice of two tacos, mashed potato taquitos, a buttermilk-fried turkey taco, and pumpkin spice churros for $40. These items are also available a la carte. This location also serves cocktails, wine, and beer.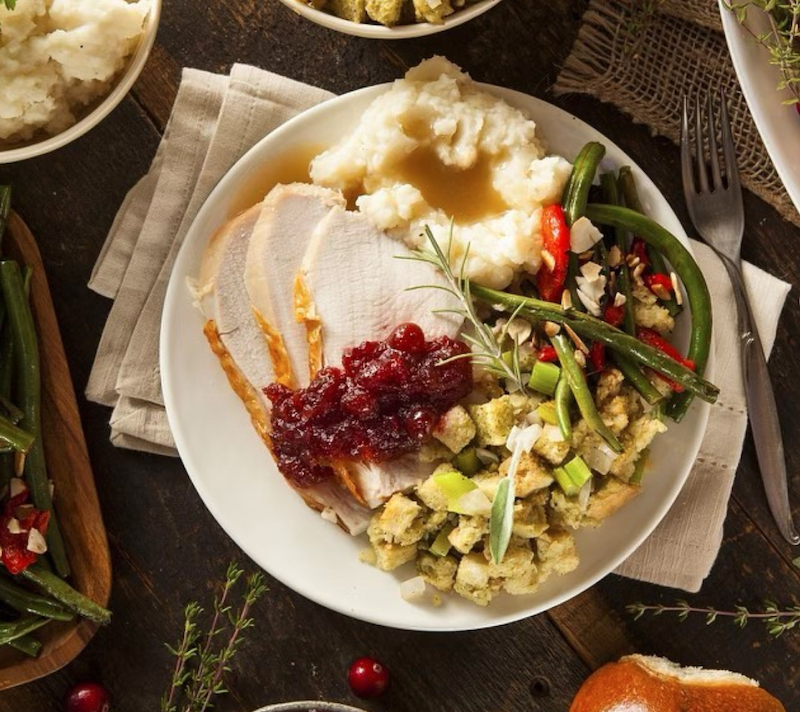 The Original Farmers Market (The Grove)
Du-par's Restaurant and Bakery's Thanksgiving feast is available for dine-in on its patio or to-go. The Whole Turkey Feast comes with a whole turkey (serves 8-10), stuffing, sweet potatoes, green beans, and two whole pies ($255). The Small Feast (serves 4-6) has smaller portion of the same items and includes one pie ($185). Single-person turkey dinners are also available for $29.95 for adults or $17.95 for children 3-11.
British pub Market Tavern offers a three-course prix fixe meal that includes salad and broccoli cheddar soup; your choice of roast turkey, beef, or salmon; and your choice of apple, pumpkin, or pecan pie with vanilla ice cream. Sides for the table include Yorkshire pudding, roast potatoes, mashed sweet potatoes, marshmallow carrots, green beans, and Brussels sprouts. The meal is $65 per person and is only available for dine-in on Market Tavern's outdoor patio.
Urban Plates (Multiple Locations)
The restaurant is open on Thanksgiving Day for patio dining and pick up. Available Nov. 24-26 the Turkey Plate includes herb roasted cage-free turkey breast, mushroom stuffing, gravy, cranberry relish, rustic bread, and a choice of side for $17.95. Those looking to dine at home can order the Turkey Plate or something more substantial like a Turkey Family Meal that serves four for $68 to scratch made sides and desserts.
Tiato (Santa Monica)
Chef Helene "Mama" An's Thanksgiving to-go menu includes Tiato Herb-Brined Turkey with House Made Gravy, An's Famous Secret Kitchen Garlic Noodles, Mama's Sticky Rice Stuffing with Shitake Mushroom, Chinese Sausage & Chestnuts, Turkey Apple Sausage Stuffing with Toasted Baguette & Roasted Leeks, Marshmallow and Miso-Glazed Sweet Potatoes, and Garlic Rosemary Mashed Potatoes. Available for pre-order through Nov. 20. Order by Nov. 13 to receive 10% off. Pick up on Nov. 25, 3-7 p.m., or Nov. 26, 9 a.m. to noon.
Thanksgiving Day Breakfast (Eagle Rock)
Found Coffee, Peri Coffee, and 1810 Argentine Restaurant are collaborating on Thanksgiving Day Breakfast. Get housemade Dulce de Leche Empanadas (frozen) and a 12 oz bag of New Barker Blend Wings coffee (whole beans or ground). It's $49 for 12 empanadas or $35 for six. The coffee is described as a "Medium Dark Roast Blend of Guatemala and Sumatra with a luscious mouthfeel and a lingering brown sugar aftertaste. Tasting notes: Golden apple, brown sugar, walnut, syrupy body." Pre-order here by Nov. 19 for pickup at Found Coffee in Eagle Rock on Nov. 22 & 23 from 7:30 a.m. to 3 p.m.
El Tortito (Multiple Locations)
El Torito's Turkey Dinner Box serves six to eight people and includes a whole Roasted Turkey with all of the fixings, including green beans, mashed potatoes, gravy, cranberry sauce, stuffing, chipotle honey sweet potatoes, El Torito's sweet corn cake, Hawaiian rolls, and a pumpkin pie for $119. Orders can be made online for pickup on Wednesday, November 25 and Thursday, November 26.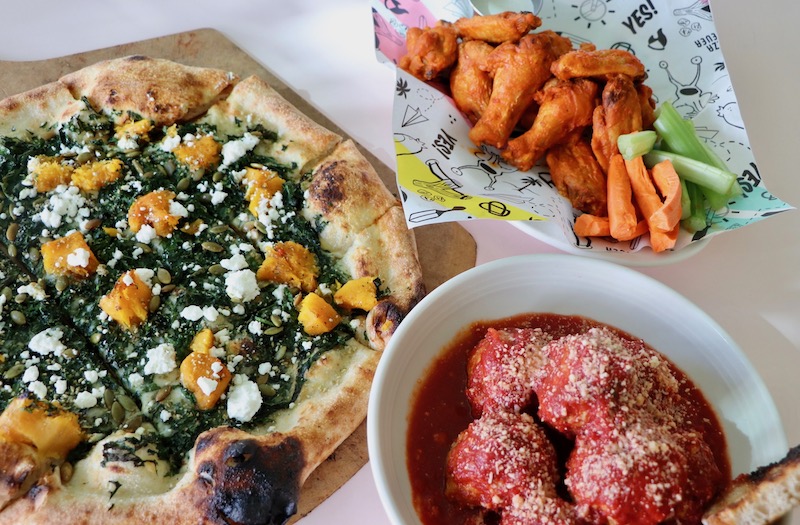 Pitfire Pizza (Multiple locations)
Pitfire Pizza's casual Warm-Up Kit includes turkey meatballs, buffalo wings, and a take-and-bake pumpkin pizza. Prices are $45 for four people, $85 for eight, and $120 for 12. To pre-order for pickup, log into Tock and find your desired location's page from Nov. 23-28. Delivery is also available through Pitfire Pizza's website and mobile app.
Taverna Tony (Malibu)
Taverna Tony at Malibu Country Mart is offering a Greek pre-fixe menu for Thanksgiving, available for dine-in and takeout. The Greek Feast is $52.95 per person and includes 15 specialties, such as tabouli, spanakopita, roasted lamb, orzo, chicken souvlaki, hummus, fried calamari, and more. Minimum two Feasts per order.
L'Antica Pizzeria de Michele (Hollywood)
L'Antica Pizzeria da Michele's Thanksgiving takeout menu includes a whole stuffed turkey ($9 per pound), meat or vegetarian lasagna ($100, serves 6), Italian gravy ($23, serves 16), cranberry sauce ($28, serves 16), herbed mashed potatoes ($38, serves 6-8), and a roasted vegetable casserole ($55, serves 6). Call (323) 366-2408 to pre-order for pickup.
The Abbey (West Hollywood)
The Abbey Food & Bar has a Thanksgiving menu for dine-in, takeout, and delivery via UberEats and Postmates. For $35 per person, enjoy lobster bisque, hickory-smoked turkey breast, truffled mashed potatoes, green bean casserole, brioche stuffing, cranberry sauce, turkey gravy, buttermilk biscuits, and a slice of either pumpkin or apple pie. Family meal options for four people are also available.
The Source Café (Manhattan Beach)
The Source Cafe offers healthy holiday options, including vegan, dairy-free, and gluten-free selections. Catering choices serve 4-6 people and include creamy baked yams ($24), vegetable stuffing ($30), mashed potatoes ($18), pumpkin bread loaf ($20), and whole pies ($55). Stop by or email [email protected] to place your order. Orders must be in by Nov. 23.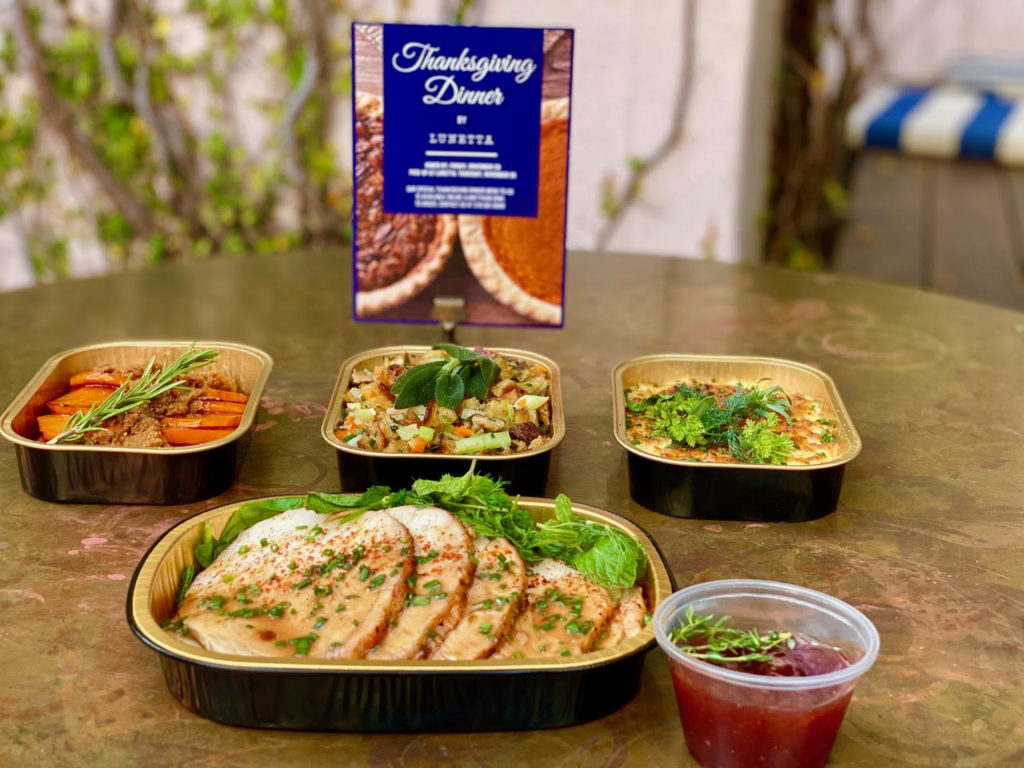 Lunetta (Santa Monica)

Raphael Lunetta is serving his popular Thanksgiving dinner to-go this year. All items will be pre-packaged in oven-safe containers and come with instructions for heating, serving, and storing leftovers. Each dinner comes with starters, your choice of protein (traditional turkey plate, six-hour osso buco, or pan-roasted black bass), and dessert. $78 per person for adults, $38 per child 10 and under. Order by Nov. 20 for curbside pickup on Thanksgiving Day between noon and 5 p.m.
Spire 73 (DTLA)
Spire 73 at the InterContinental Los Angeles Downtown is offering curbside pickup. For $40/person, get butternut squash soup, winter greens and apple salad, thyme and sage roast turkey breast, orange and cinnamon sweet potatoes, fresh corn, and pumpkin pie. Orders of two or more dinners will receive a free bottle of wine. Call (818) 818-8683 by Nov. 25 at 4 p.m. to place an order.
The Front Yard (North Hollywood)
The Front Yard, located at The Garland in North Hollywood, is offering a Thanksgiving feast on its expanded outdoor patio. On Thanksgiving Day from noon to 8 p.m., enjoy a pre fixe menu that includes one entree, three sides, and dessert for $59 per adult and $29 per child 12 and under. Choices include smoked prime rib; buttermilk fried turkey breast with stuffing and gravy; wild mushroom, sweet squash, and porcini farro, and more. Side options include family-style horseradish potato gratin and mascarpone mashed potatoes and desserts like pumpkin pie with candied cranberry and vanilla cream. Tables can accommodate a maximum of six guests. Reservations are required and can be made online.
Huckleberry Bakery & Café (Santa Monica)
Huckleberry is focusing on traditional dishes made with organic ingredients. Options include braised turkey legs, turkey breast and gravy, sweet potato mash, bourbon pecan pies, and more. Call 310-451-2311 to place a catering order before Nov. 19, then pick up on Nov. 26 between 9 a.m. and noon. A limited selection of pies, breads, and other baked goods will be available on Nov. 25, first-come, first-served.
Esters Wine Shop & Bar (Santa Monica)
On Nov. 26 from 9 a.m. to noon, Esters will host its annual pop-up in Huckleberry's back parking lot. Stock up on wines and gift boxes. You can also order Thanksgiving Wine Packs for curbside pickup, local delivery, or national shipping or stop by Esters on Thanksgiving for retail shopping and curbside pickup from 10 a.m. to noon.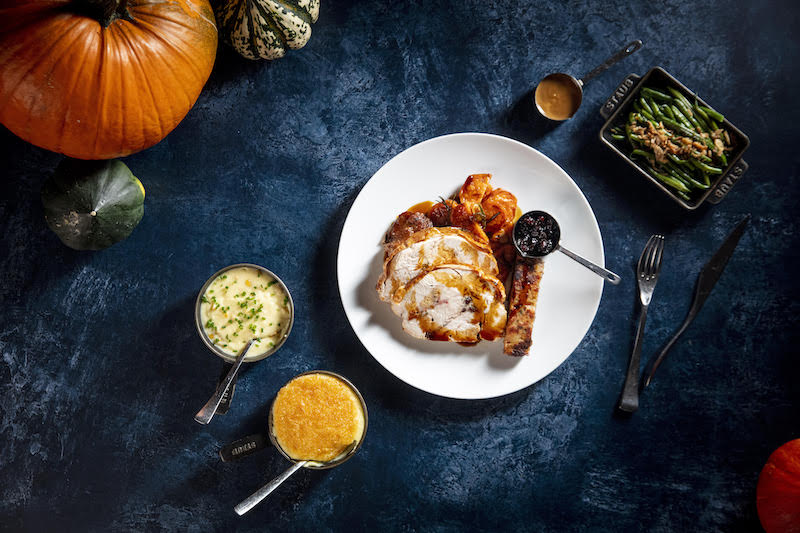 STK Steakhouse LA (Westwood)
STK's Thanksgiving feast is available for outdoor dining, delivery, or pickup Nov. 26-29 from 11 a.m. to 10 p.m. The Roasted Turkey Special includes Chestnut Cornbread Stuffing, Green Beans, Sweet Potatoes, Yukon Gold Potatoes, Old School Gravy, and Cranberry Orange Chutney ($49 for adults, $29 for children 12 and under). Pumpkin pie with Bailey's whipped cream and vanilla ice cream is also available for $12.
Superba (Multiple locations)
Superba Food + Bread in Venice and Superba Snacks + Coffee in Pasadena and North Hollywood have Thanksgiving meals available for pre-order now through Nov. 22. Choose among turkey and ham, glazed sweet potatoes, mac 'n cheese, sausage stuffing, vegan stuffing, breads, pies, and wines (Venice location only). Mains and sides are portioned to serve either 10-12 people or 4-6. Phone ahead for curbside pickup, available on Thanksgiving morning from 8-10 a.m.
Manuela (DTLA)
Manuela's Thanksgiving feast is available for dine-in on its outdoor patio and terrace. The menu includes sunchoke soup, salad, and biscuits for the table to start. Then, choose among turkey, ham, duck breast, scallops, or a vegetarian mushroom and leek pot pie as your main. Family-style sides include mashed potatoes and gravy, cranberry compote, sausage stuffing, green beans, and sweet potatoes. Dessert includes your choice of pumpkin pie, chocolate tart, salted butter pecan soft pretzel, vegan carrot cake, or apple Devonshire pudding. It's $68 per adult, $35 per child 10 and under. Reservations are available between 2:30-8 p.m. on Nov. 26. Thanksgiving takeaway for two is also available for $100. Preorder by Nov. 24 for curbside pickup on Nov. 26 between 2-5 p.m.
Poutine Brothers (Culver City & Food Truck)
Poutine Brothers, the L.A.-based poutine food truck and delivery restaurant, just launched a Thanksgiving Poutine available now through Thanksgiving for pickup, local delivery, or nationwide shipping. It features your choice of hand-cut fries or sweet potato fries topped with Wisconsin white cheddar cheese curds, sliced turkey, cranberry sauce, crispy onions, homemade brown gravy, and chives. You can get poutine for yourself ($16) or prep for a household gathering with a Friendsgiving kit ($50-90, serves 4-12, depending on the kit).
Fig (Santa Monica)
Fig's Thanksgiving To-Go menu is a massive feast for 8-10 people, priced at $375. The lineup includes molasses, sage, and rosemary-brined turkey; prime rib with au jus and horseradish; whipped potatoes; Brussels sprouts; roasted sweet potatoes with spiced marshmallows and almonds; rolls; whole apple and pumpkin pies, and more. Additional sides are also available. Use Tock to pre-order turkey orders by Nov. 20, sides by Nov 25.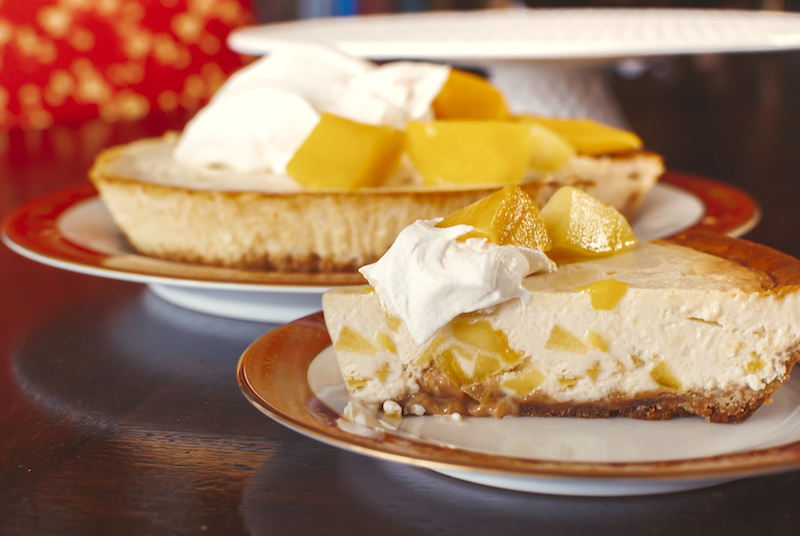 Cake Monkey (Fairfax District)
Cake Monkey's large Thanksgiving pie menu is designed for everyone. The women-owned bakery offers vegan and gluten-free options, plus handpies for people hosting smaller celebrations. Flavors include pumpkin pie topped with toasted marshmallow; pudding pies in butterscotch or chocolate; and for apple pie lovers, a deliciously tart and sweet cider-roasted apple pie with a double cheddar crust. Pre-order by Nov. 21. Select pies are also available for nationwide shipping via Goldbelly.
Sky's Gourmet Tacos (Downtown & Mid-Wilshire)
Barbara "Sky" Burrell's cheesecakes have enjoyed a cult following since 1992. They're all made from scratch and contain no preservatives or animal gelatin. The silky 9-inch cakes come in Caramel Crunch (crushed walnuts pressed into the crust with Sky's creamy filling and drizzles of fresh caramel), Mango or Pineapple (fruit chunks suspended in Sky's creamy filling), and Plain with a homemade graham cracker crust.
Friends And Family (East Hollywood)
Chef duo Roxana Jullapat and Daniel Mattern are offering Thanksgiving meals, biscuits, breads, rolls, and pies. In the pie department, you can find pecan, pumpkin, and apple. If you want to be stray from the classics, go for the chocolate chess pie, a Southern treat that's a cross between a chocolate brownie and pudding. Pre-order by Nov. 21.
Sweet Rose Creamery (Santa Monica)
Sweet Rose has Thanksgiving ice cream pies including apple, vegan pumpkin, and pecan ($48). They're available first-come, first-served from Nov. 16-25 at Brentwood Country Mart. You can also pre-order by calling 310-260-2663 until Nov. 18 for pickup Nov. 23-25. Pints of seasonal ice cream are also available. Flavors include dairy-free pumpkin pie, apple pie, dairy-free cranberry orange sorbet, brown sugar butter pecan, and more.
Milo & Olive (Santa Monica)
Milo & Olive hosts a Thanksgiving Bake Sale on Nov. 25 from 9 a.m. until everything is gone. Expect pies, cakes, breads, rolls, jam, and more.
Tartine ( Multiple Locations)
Tartine's classic Thanksgiving pies are available at all Los Angeles locations Nov. 23-25. Flavors include pumpkin, pecan, and apple. If pies are not your thing, Tartine is also offering pumpkin and lemon-cranberry pistachio loaves. Pre-order by Nov. 21.
Winston (Brentwood & West Hollywood)
Winston is all about pies. For the holidays, they are offering the whole gambit. Pre-order 11-inch or 5-inch whole pies, pie by the slice, handpies, or pie bites in flavors like pecan, pumpkin, apple, funfetti, and Carolina classic cherry. Most pies also offer crust alternatives, like gluten-free and vegan. Reservations are now live on Tock for pie pre-orders, and both locations will have a limited supply for walk-ins. Winston also ships nationwide.
Fat + Flour (DTLA)

Fat + Flour owner Nicole Rucker is L.A.'s pie champ and you really can't go wrong with any one of her creations. Holiday orders are open now for pumpkin caramel, sweet potato, apple, apple crumble, chocolate chess, and key lime ($36-42). They also have biscuits ($12). Pick up on Nov. 25.
Primo's Donuts (West L.A.)
Maybe you just want donuts. If so, Primo's has a host of Thanksgiving flavors including cranberry-filled jelly donuts, cranberry maple bacon Long Johns, pumpkin cake donuts, pumpkin cinnamon rolls, and more. Available in-store daily from Nov. 16 or via delivery on Doordash and Grubhub. Thanksgiving pickup is available with pre-orders. Order online.
Destroyer (Culver City)
Chef Jordan Kahn's Destroyer has several desserts available for pickup Nov. 23-25. Pre-order milk bread pull-apart rolls, all-butter brown sugar pie dough, homemade pumpkin pie kits, wild blackberry and dried peach cobbler, purple sweet potato and black currant cake, pumpkin trifles, or pumpkin taiyaki.