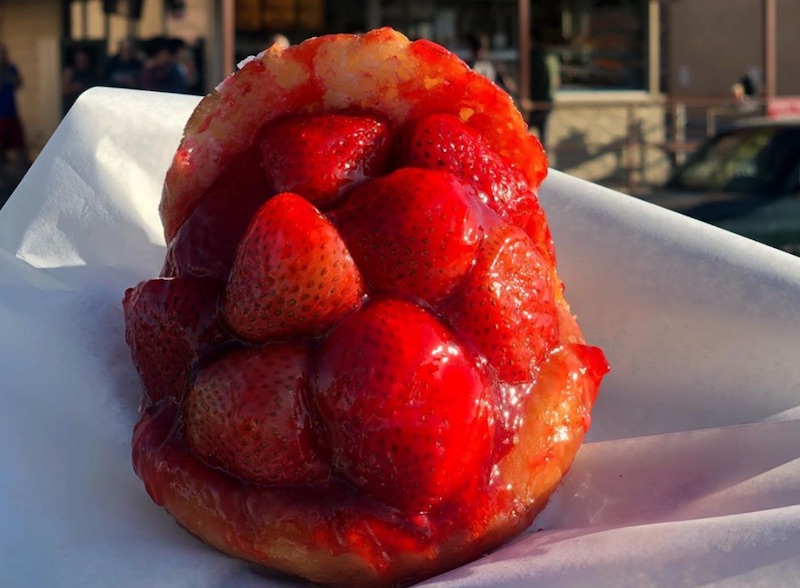 Starting Friday, you'll be able to get The Donut Man's famous strawberry donuts, among other pastries, at Grand Central Market in downtown Los Angeles.
The Donut Man in Glendora has long been a favorite stop for sweets, especially when it comes to its strawberry- and peach-stuffed offerings. Rather than describe the strawberry donut ourselves, let's revisit the legendary Jonathan Gold's 2007 review for L.A. Weekly.
It is an iceberg of a doughnut, a flattened demisphere big enough to use as a Pilates cushion, split in two and filled to order with what must be an entire basket of fresh strawberries, and only in season. The fruit is moistened with a translucent gel that lubricates even the occasional white-shouldered berry with a mantle of slippery sweetness, oozing from the sides, turning the bottom of the pasteboard box into a sugary miasma in the unlikely event that the doughnuts actually make it home.
Donut Man owners Jim and Miyoko Nakano's GCM debut comes amid strawberry season, but if that's not your thing, you can also expect a host of other bakery treats, including cake and glazed donuts, cinnamon rolls, and more.
Friday's ribbon cutting takes place at Grand Central Market at 8 a.m., and the first 100 customers will receive a free sprinkle donut. Free Donut Man T-shirts will be given out while supplies last.
The open-air Grand Central Market has reopened for both takeout and dine-in service, but you'll need to bring your mask for when you're not at your table. Hours are daily from 8 a.m. to 9 p.m.