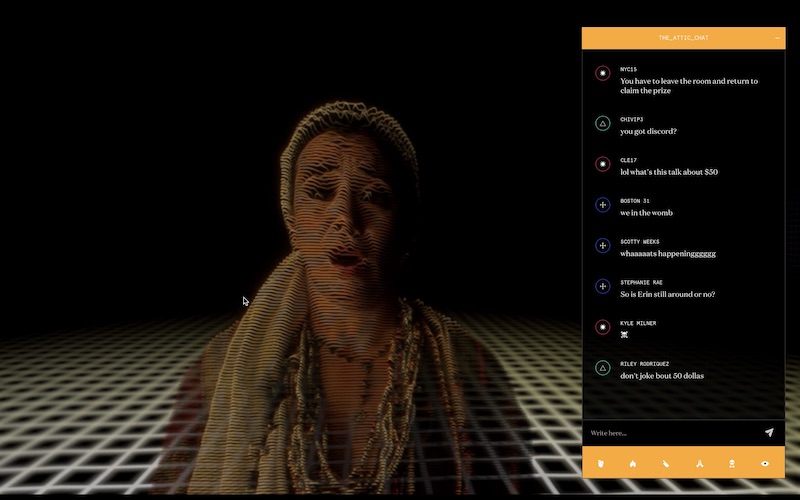 "Welcome to the Blumhouse" is a free, virtual event that takes guests through six floors of a haunted house, each one holding secrets to the locked attic. It's an ambitious undertaking from Little Cinema, a Brooklyn-based company that's been pivoting its live immersive film experiences to an online format due to the pandemic.
"Welcome to the Blumhouse" revolves around four new films debuting this month: The Lie, Nocturne, Black Box, and Evil Eye. 
The Lie is a psychological thriller about a father and daughter attempting to cover up a terrible crime. Black Box is a sci-fi thriller about a father who agrees to an experiment to regain his memory after a car crash leaves him with amnesia. They both dropped on Amazon Prime Video on October 6.
Nocturne follows a twin who finds a mysterious notebook that allows her to finally compete with her talented sister. Evil Eye starts off like a romance, but the protagonist soon beings to suspect her new boyfriend may be connected to her family's past. Those two drop on October 13. 
"Welcome to the Blumhouse" draws from the four films to create its own twisted narrative.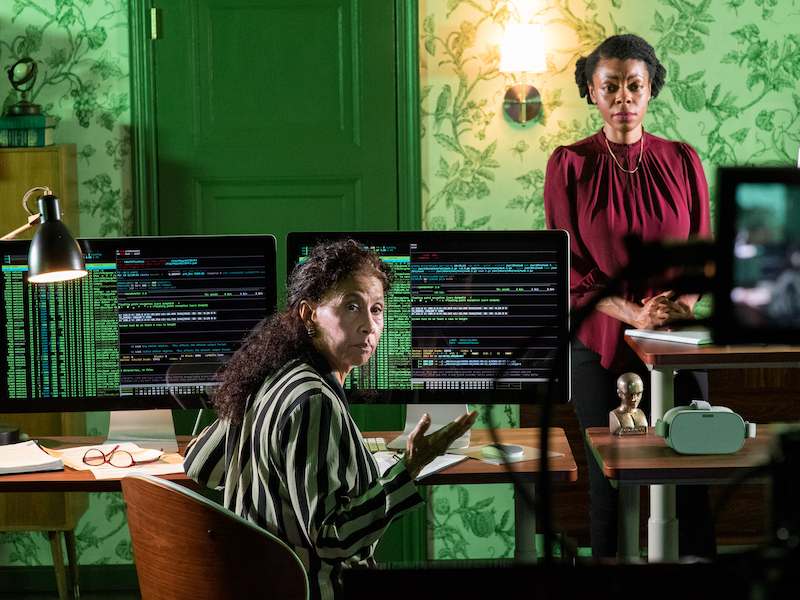 When guests arrive at the online "house," they'll start in the basement, where a DJ will be spinning tracks throughout the evening. The lineup includes DJ Questlove. Though your video and audio will be off, you can interact with performers and other guests through the chat. 
From the basement, guests can select individual floors that correlate to elements of each film. The floors contain different rooms with live performances or interactive scenes. You might find a bartender sharing recipes and secrets, a tarot reader, or a dance performance. In the bedroom of two teenage twins, you can rifle through their diaries to discover ciphers you must decode. If you solve the puzzles, you can unlock the mysterious attic.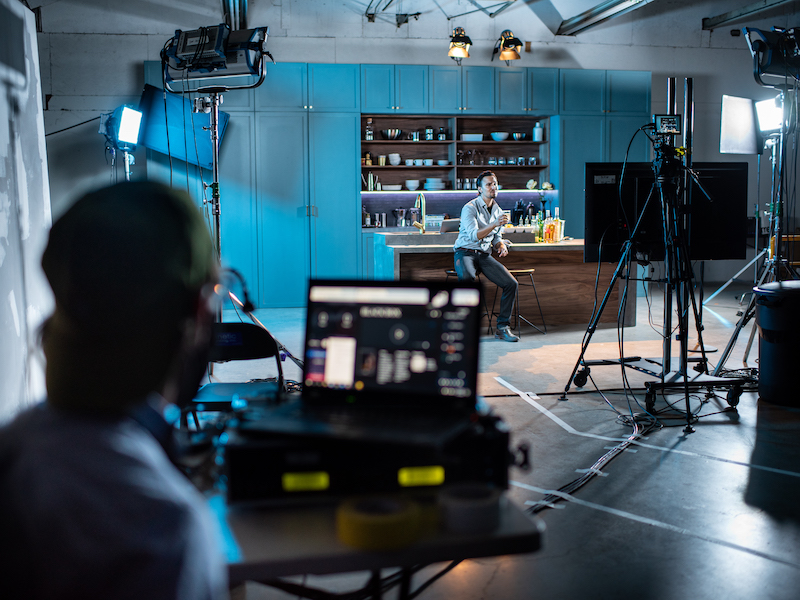 "Welcome to the Blumhouse" is the second interactive promo event I've seen from Little Cinema. The first was for TNT's period crime drama The Alienist. After logging on, I was invited to "explore" different venues, including an opera house and a local watering hole. As I did, I unearthed clues to a whodunit and, at one point, helped a man trapped in a box slowly filling with water solve puzzles to escape. 
I had previously been uninterested in The Alienist, but the experience made me put it on my to-watch list. The same thing happened after attending a pop-up deli promoting The Boys, which has since become one of my favorite shows. That's the power of immersive and experiential entertainment. Someone can walk into a new IP and, by interacting with it, become more intrigued than they might have been had they seen a billboard or trailer. And for existing fans, the opportunity to dive into a property they already know they love is often exciting, whether that's a Stranger Things drive-thru haunt or Disneyland's Galaxy's Edge.
"We live in a society that thrives in experiences," Little Cinema CEO Jay Rinsky told We Like LA. "These events are the perfect extension for networks to attract fans to their new shows as they place the consumer into the story itself and leave them thirsty to find out more. These experiences lead to very strong conversion rates as we place a real 'story hook' into our fans to go discover something new."
But can we still be immersed online? Rinsky says that while virtual events are no replacement for in-person experiences, they are becoming "a field of their own" that will likely continue after social distancing and mask-wearing is over. There are, of course, logistical challenges and learning curves; a virtual world still requires a beta test the way plays have their dress rehearsals. But a clear benefit is the ability to offer experiences to people outside of entertainment hubs like New York and Los Angeles, allowing fans from around the world to find themselves in a chat room with a celebrity, exploring a favorite show or movie.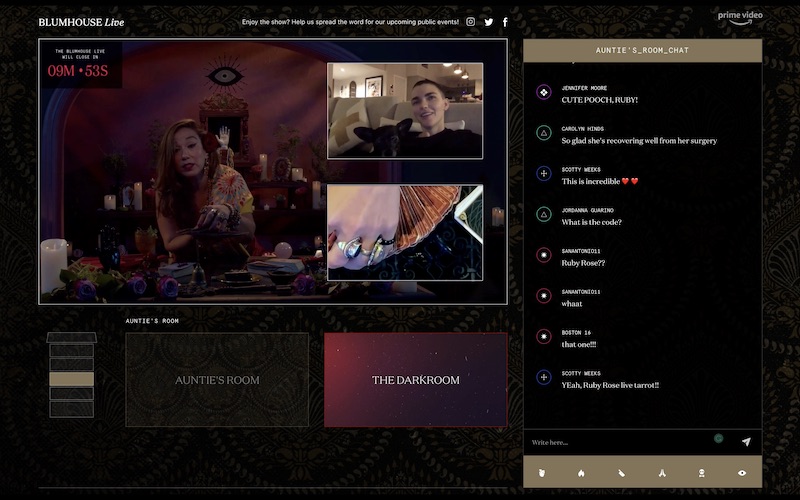 "There is certainly a future for virtual events to continue as a platform to share content globally or to extend the life of an in-person event," Rinsky says. "We recently did an IRL/virtual hybrid premiere event, [in which we] created space for fans to celebrate online along with the stars who were there in person. We feel that virtual events are here to stay and hybrid events will become the new normal." 
Rinsky calls "Welcome to the Blumhouse" one of Little Cinema's "most prized moments," and that includes all the real-life experiences they put together prior to COVID-19.
"The scale of this project was like making a feature film. We shot a lot of original content and built complex tech and livestream environments that allow us to present the content in immersive and engaging ways," Rinsky said. 
Rinsky says he most proud of the Black Box floor and the Attic. But, of course, you can only see the attic if you crack those codes and unravel the mystery.
"Welcome to the Blumhouse" is open October 16 & 17 at 5 p.m. PST and 7:30 p.m. PST. You can RSVP for any of the four shows for free here.