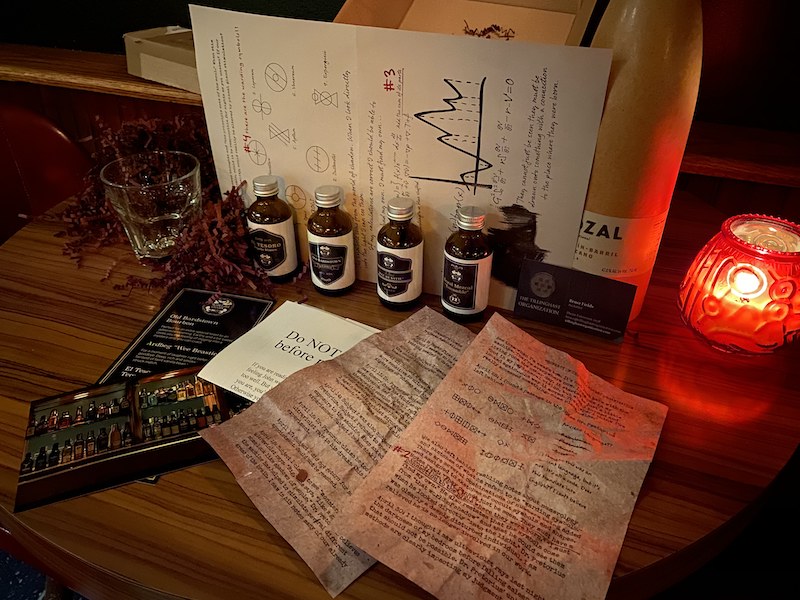 The Roguelike Tavern is a bar for pop culture geeks and fans of immersive entertainment—or, it would be, if it had opened earlier this year as planned. But sometimes you're just not ready for the main quest until you do a few side quests to level up. For now, Roguelike Tavern has soft-opened with food, drinks, and an intriguing puzzle box you can enjoy at home. 
A roguelike video game is typically a dungeon crawler where each time you die, you must start back at the beginning versus your latest save. Another characteristic is that each playthrough is different, featuring a new procedurally generated level. That last part is the idea behind the Roguelike Tavern, where each evening at the neighborhood pub could offer new surprises. 
Owner John McCormick envisioned the bar as "a hub for the SoCal immersive community, which has given me an enormous amount of joy in the decade I've lived in the area." 
On any given night, the Roguelike might host a one-on-one theater experience, like Capital W's Red Flags, in which one audience member finds themselves on a very bad date. Or, an event could take over the entire venue, perhaps for an immersive show, a live role-playing game, or an augmented reality experience. 
"We'll also be offering some immersive takes on bar favorites like karaoke and bar trivia, as well as special interactive theme nights," McCormick said. 
These kinds of venues are popular in Los Angeles. Scum & Villainy, the Star Wars-themed nerd bar in Hollywood, ended up sticking around after its initial pop-up run. Two Bit Circus in the Arts District is a massive arcade, but it's also hosted several immersive events and games and has an augmented puzzle experience baked into its design. Game bars, like Dragon & Meeple or GuildHall, were often packed with friends gathered around a tabletop RPG or boardgame. It's hard to say what will become of these spaces after the pandemic, but we know that when fans of immersive content and gaming can gather, they do, often with a drink in hand.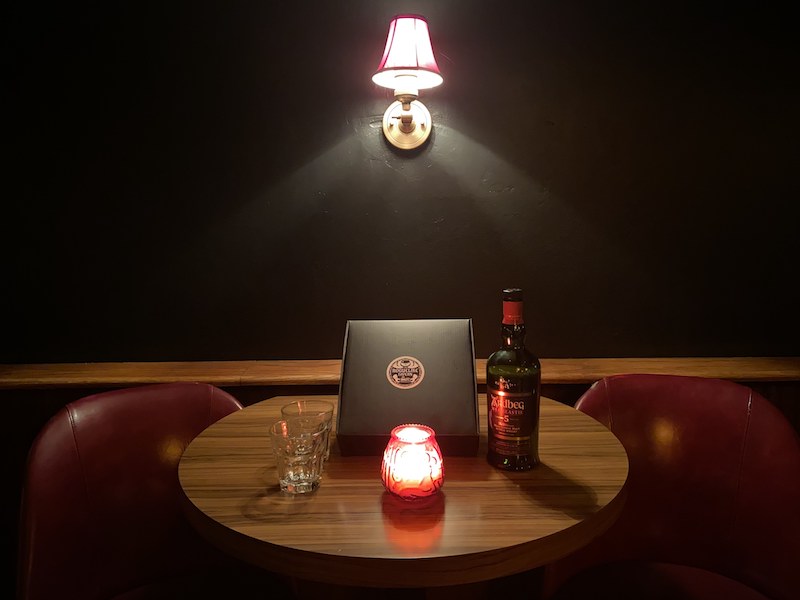 The Roguelike Tavern was meant to join those venues in March. McCormick had finally found the perfect spot for his bar in the fall of 2019. Tucked into a Burbank strip mall, it was most recently known as Crawford's Pass, but you might also remember it as Sardo's, home of the famous Porn Star Karaoke night.
Its broad wooden bar, red leather booths, and dim lighting are great for a bar that draws its name from video games. You can almost imagine bursting through its heavy doors to hear the patrons talking about the wraith that's been picking off villagers in the nearby woods. 
But the same week McCormick planned to throw open those doors, everything else shut down. He's spent the past several months quietly sprucing up the space and thinking of ways to introduce the bar to future regulars.
"When it became clear that we were going to need to open for takeout to stay afloat, it occurred to me that projects like Welcome Home and Vampire.Pizza had yet to be paired with cocktail kits. I figured a project like that would be a good way to generate interest while also staying true to the bar's immersive spirit," he said. 
Vampire.Pizza and Shine On Collective's Welcome Home both offered dinner and a show, but from your house. Each consisted of a box with a story and puzzles, plus a meal, available for pickup or delivery. (Read our coverage of Welcome Home, now available for national shipping with desserts, here.) 
McCormick reached out to Shine On Collective, who helped him come up with The Spirits of Tillinghast. It's a sci-fi/horror tale that casts both The Roguelike and McCormick as characters. McCormick is wondering what happened to his friend Cassidy, a bartender at the Roguelike who recently vanished, seemingly without a trace—except for a mysterious box she left behind that McCormick can neither bear to open or throw away. That's, of course, where you come in.
"Making the story about a fictionalized version of The Roguelike with its own history felt like a fantastic way to virtually welcome people to our family in these difficult times," McCormick said. 
Each box comes with two meals of your choice, a tasting flight of four spirits (enough for two), and the puzzle box. To find out what happened to Cassidy, you'll need to use what's in the box, but also your phone and the internet as pieces unfold through audio and video. Your best bet is to finish dinner, then dive into the box. The liquor tastings are folded into the story, and the whole experience takes about 60-90 minutes, depending on how quickly you solve puzzles.
Current food choices include a chicken katsu sandwich served with tots and a pulled pork poutine that subs curds for burrata and comes smothered in gravy. It is exactly as decadent as it sounds. Vegetarian options include The Mushroom Kingdom portobello burger with tots or vegan poutine. Add on a sauce flight for your tots, which could include cilantro cotija, truffle bleu cheese, or Papa Rogue's garlic sauce, among others. 
Other drinks include bottles of beer and wine, cocktails to-go, cocktail kits, and flights. McCormick recommends the Rogue's Sazerac (1776 Barrel-Proof Rye, Herbsaint, Peychaud bitters, agave) or the Mandragora V (The Botanist Islay Gin, elderflower liqueur, cucumber puree, agave, celery bitters).
After the holidays, Roguelike will expand its to-go menu to include a new portobello sandwich, "a few fun takes on our chicken tenders, and some more options for our tots," McCormick said. Chef Amber McGee is also working on boozy sazerac beignets, which, frankly, sound amazing. A second immersive experience is also coming next year from game designers The Wild Optimists. McCormick called it "an epic RPG cocktail adventure." 

The Roguelike Tavern is located at 259 N. Pass Ave. in Burbank. You can order food or drinks via Toast. For 'The Spirits of Tillinghast' game, call the bar.