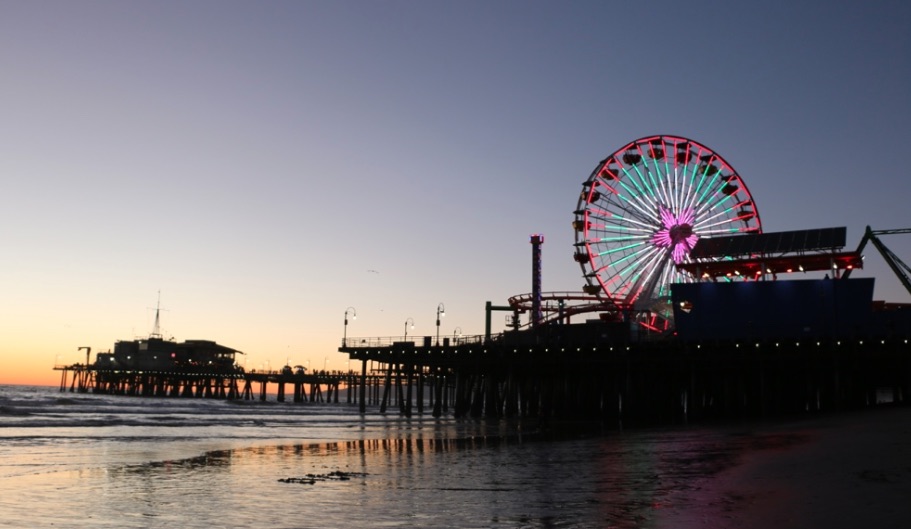 The Santa Monica Pier, once envisioned as a means to eject sewage into the ocean, is 110 years old. And as much as you may think you know about the Pier, there's probably a host of fascinating facts you've never heard before. The Secret Story Tour is a digital puzzle quest to unearth some truly bizarre stories and it helps support the beloved landmark, too.
Juliana Moreno Patel and Ariel Rubin are the co-founders of game design company The Wild Optimists. Since successfully Kickstarting Escape Room in a Box in 2016, they've gone on to create a number of immersive games, including Vampire.Pizza. Patel told We Like LA they met Executive Director of the Santa Monica Pier Corporation Negin Singh at the Immersive Design Summit and knew they wanted to work with her immediately. The idea for the app evolved as they discussed how they could bring the Pier's history to life.
There are two surprising things about Secret Story Quest. The first is that it's not just a digital experience. The puzzles are actually integrated into the Pier. They're subtle enough that you wouldn't notice them if you weren't looking for them—a white X on the ground, images of horses pasted in windows.
"Adding physical puzzle elements was the plan from the very first meeting with Negin. While we needed parts of the game to be on an app, our first love is analog games and we really wanted to encourage people to explore the Pier and see how amazing it is, not just be looking at their phone," Patel said.
The second is that while the app may be family-friendly, the history you learn is fascinating regardless of age. I had assumed I would be less engaged by Secret Story Quest simply because I knew the puzzles would probably be pretty easy for someone like me, who plays puzzles games and fills out crosswords as a recreational hobby—now, in the era of social distancing, more than ever. I'm also someone who is fairly familiar with L.A. history, which made me feel like I wouldn't learn too much I wouldn't already know.
I was wrong. Sure, the puzzles weren't too challenging for my group, but there were so many truly weird things we learned that we did not know before. I don't want to spoil those things for you, but if you like learning about the kinds of things you'd see on Drunk History, this is for you.
The Wild Optimists worked with historian Jim Harris, author of Santa Monica Pier: A Century on the Last Great Pleasure Pier, to choose which stories they'd tell. Harris provided a walking tour of the pier during which he highlighted his top facts, then Patel and Rubin read his book.
"We were also given access to the Pier's incredible archive of historic photos, which we use in the app, and any time we had a question about one, Jim knew the answer," Patel said. "There was so much history we didn't get to include, but our aim was to pick the 12 most fascinating facts and design a way for people to discover them for themselves through puzzles."
Because the entire game takes place on the Pier, it is possible to do right now. You'll just have to wear your mask and remember to practice social distancing. The app also includes the option to take photos with overlays, creating digital postcards you can share later.
If there's any caveat, it's that at $19.99 per download, it's pricier than most apps. But it's also less expensive than your typical escape room or walking tour ($30-50/person), especially considering only one person in a group needs the app for everyone to play. That person will just need to be in charge of reading the clues and history and entering the answer to puzzles. Plus, a Pier gets a portion of each sale, which goes towards keeping it open for everyone to enjoy.
Secret Story Tour is now available to download for iOS or Android.