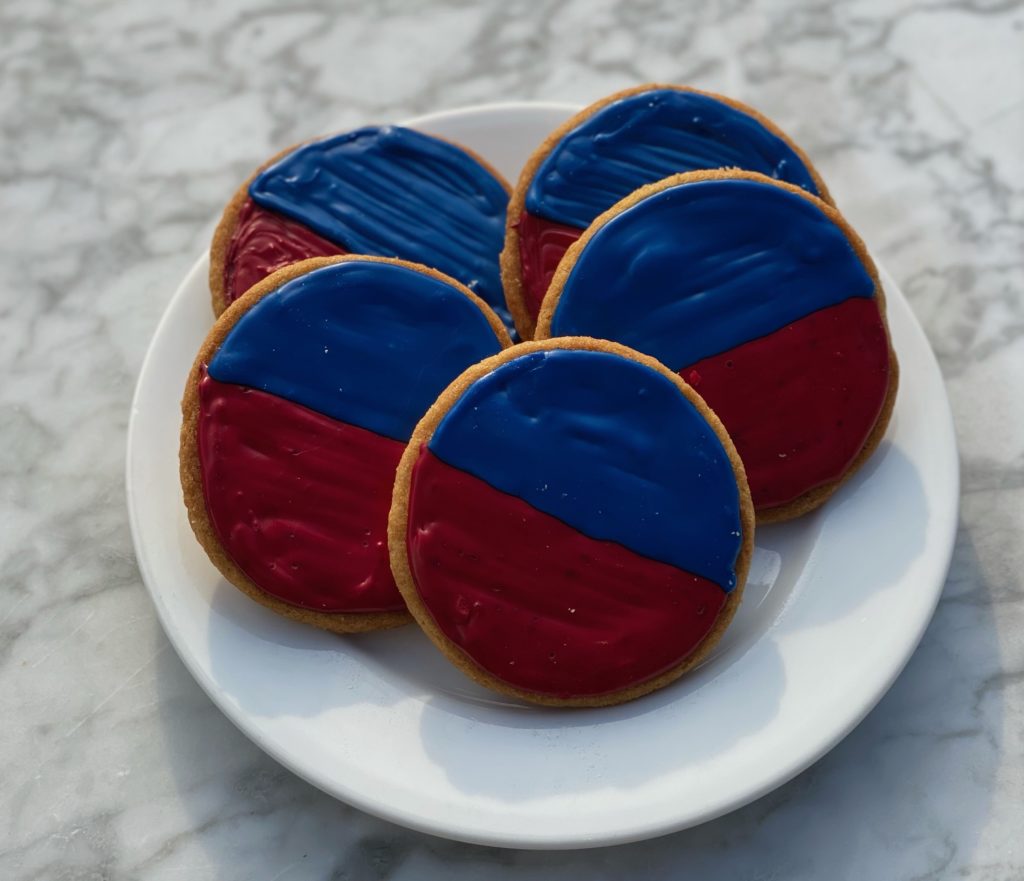 Participating in your civic duty should be incentive enough to vote this year, but a free cookie is cool, too. Between now and Election Day, Nov. 3, several local establishments are offering free treats, cool gear, and even a few virtual and outdoor, socially distant events. Need to make a plan to vote? See our guide here.
We'll add to this list as we find more. And if you have something you'd like to add, drop us a line at [email protected].
---
Voter Freebies
Social Eats — Santa Monica & Hollywood
Show your "I Voted" sticker on Nov. 3 to receive a free order of "Freedom Fries" with a sandwich purchase from either SocialEats' Voltaggio STRFSH or Pop!s Burgers & Shakes while supplies last. Pickup orders and outdoor seating available.
Randy's Donuts — Inglewood
An "I Voted" sticker will net each customer one free raised glazed donut while supplies last. Valid at Randy's Inglewood location.
Jerry's Patio Cafe & Bar — Marina Del Rey
Jerry's will offer free Election Day cookies to anyone with an "I Voted" sticker Oct. 24-Nov. 3. They're mini-black and white cookies, only frosted blue and red instead.
Poppy + Rose — Downtown L.A.
Voters will receive 15% off their bill at Poppy + Rose with an "I Voted" sticker or some other form of voting proof. Valid only for walk-up takeout orders Oct. 27 through Nov. 3.
NORMS — Various Locations
Voters will receive a buy-one-get-one entree with their "I Voted" stickers. Valid on Nov. 3 for dine-in meals at all 20 NORMS locations.
The Albright — Santa Monica
On Nov. 3, guests to this Santa Monica Pier seafood restaurant can order $1 oysters with their "I Voted" stickers. Better yet, the first oyster is free. Valid for dine-in service only.
Hollywood Pantages Theatre — Hollywood
If you cast your vote at the Hollywood Pantages Theatre, you will receive a free HAMILTON "I Voted" sticker. The vote center is located in the theater's Grand Lobby. Hours are 10 a.m. to 7. p.m., Oct. 30-Nov. 2, and 7. a.m. to 8 p.m. on Election Day, Nov. 3. More information is here.
Paulie's Deli — Beverly Grove & DTLA
Now through Election Day, score a buy-one-get-one sandwich with your "I Voted" sticker at Paulie's Deli.
Shake Shack — Various Locations
Feel like voting early? Shake Shack is giving away free fries with any $5+ order on the Shake app or web through Oct. 24. Just use the code FRYVOTED.
Long Beach Creamery

Both of Long Beach Creamery's locations (Bixby Knolls, downtown Long Beach) will offer free scoops of ice cream to the first 100 people who arrive with an "I Voted" sticker or other proof of voting on Nov. 3. Open 3-9 p.m.
59th & Lex Cafe
59th & Lex Cafe, located inside the Sherman Oaks Bloomingdale's on the third floor, is offering voters a free specialty coffee drink or frozen yogurt with the purchase of a meal. Available through Nov. 4, takeout only.
Lime
Thinking about scootering to the polls? On Nov. 3, you can use the code LIMETOPOLLS2020 to receive two free 30-minute rides. The code is valid for all Lime vehicles, including JUMP bikes.
Pizza to the Polls
Pizza to the Polls will send free food to polling centers with long lines. You can report a line here.
Go Get Em Tiger — Various Locations 
All Go Get Em Tiger locations will be handing out free voting-themed sugar cookies while supplies last on Nov. 3. 
Hail Mary Pizza — Atwater Village 
Get a free slice of cheese pizza from Hail Mary on Nov. 3. Valid for everyone with an "I Voted" sticker until they run out. 
The Line — Koreatown 
Get a $1 cocktail from The Line Hotel's Openaire on Nov. 3 with voting proof. Valid for one cocktail from a select menu. 
Brave Robot

Brave Robot, an animal-free ice cream brand, will be giving away samples at various polling locations around L.A. from Oct. 21 to Nov. 4. Check Instagram Stories for locations and updates.
Tacos Tu Madre — Various Locations
All Tacos Tu Madre locations will offer $1 red velvet churros to anyone with an "I Voted" sticker on Nov. 3. Note that the West Hollywood location has a full bar.
Bardonna — Santa Monica
Voters can score $5 off any all-day-brunch order of $20 or more at Bardonna on Election Day.
Counterpart Vegan — Echo Park
An "I Voted" sticker will earn you a $1 "DoNut be Silent" vegan donut at Counterpart Vegan on Nov. 3.
Uncool — Larchmont
Get a free order of fries with any smashburger purchase when you show off your "I Voted" sticker at Uncool on Election Day.
L'Antica Pizzeria de Michele — Hollywood
On Nov. 3, dine-in guests will receive one free, salted chocolate chip cookie with an "I Voted" sticker.
Theía — West Third
On Nov. 3, dine-in and takeout guests with an "I Voted" sticker can receive one free dessert of choice per person with the purchase of an entree. Options include Karithopita, Coffee Baklava, Pistachio Baklava or Le Café de la Place Ice Cream.
Voter Gear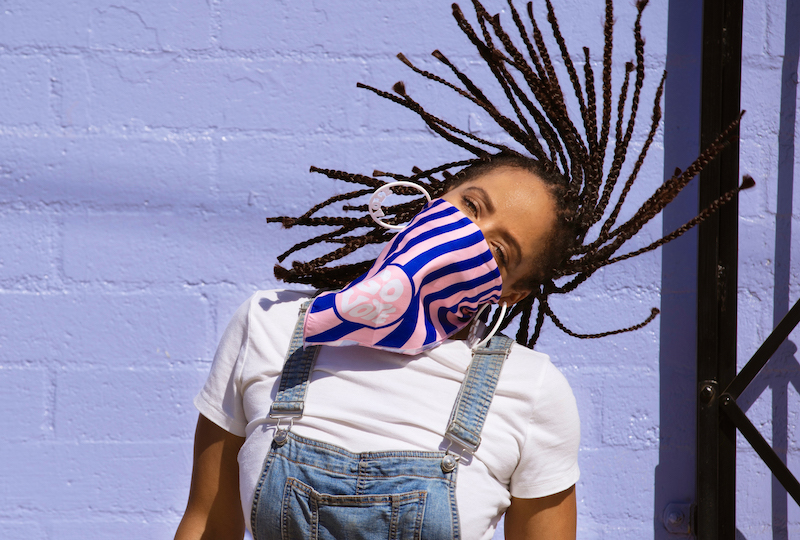 Flaunt the Vote
Flaunt the Vote is a new voting-inspired fashion line by L.A.-based art director Michael Chesler geared to increase voter engagement. Accessories range from $7.50 to $32.50 and include jewelry, bandanas, and pins. 40% of proceeds will be benefit Rock the Vote, Vote.org, and Headcount.
BlueCut
Los Angeles designers Chachi Prasad and Karam Kim design aprons and chef gear for BlueCut and now they make face masks, too. Their VOTE VOTE VOTE face masks are made with two layers of tightly-woven, cotton blend fabric. They're available for $11.99 or choose the buy 1, gift 1 option for $18.99 (you are free to give the second mask to anyone you choose). BlueCut is also launching Planting Change, featuring artwork from artist Alexandra Bowman. Bowman says her illustration shows a community of Black individuals growing and harvesting crops to sustain themselves and the community, and is intended to reclaim the narrative of Black Americans' relationship to land, farming, and food. Read more here. BlueCut will also donate at least 5 aprons to BCAGlobal's network of Black-owned restaurants and will donate 100% of face mask profits to Soul Fire Farm, an AfroIndigenous coalition that empowers BIPOC farmers and growers.
Voter Events
ROW DTLA
On Oct. 24, a new pop-up art installation is coming to ROW DTLA as part of MTV's Vote for Your Life campaign. You can see a new balloon chain from Robert Bose, whose work has been featured at Burning Man, Coachella, and the Governor's Ball, and chalk art from Cece Carpio.
Vote Early Day is Oct. 24. Find resources, information, and more here.
The Official Unofficial Voting Station
From the Skirball Cultural Center comes The Official Unofficial Voting Station, artist-activist Aram Han Sifuentes's version of the perfect online polling place. Per a release: "A wide-open extension of democracy, the playfully designed voting station welcomes everyone to cast a symbolic ballot—regardless of the legal barriers that prevent approximately ninety-two million people in the United States from participating in elections. Make your voice heard online and join an aspirational voting movement from home, with custom "I Voted" stickers and more, all designed by the artist and sent to Skirball participants upon request. Keep an eye on the online tally as Sifuentes counts your ballots through the election season!" On view through Nov. 30.