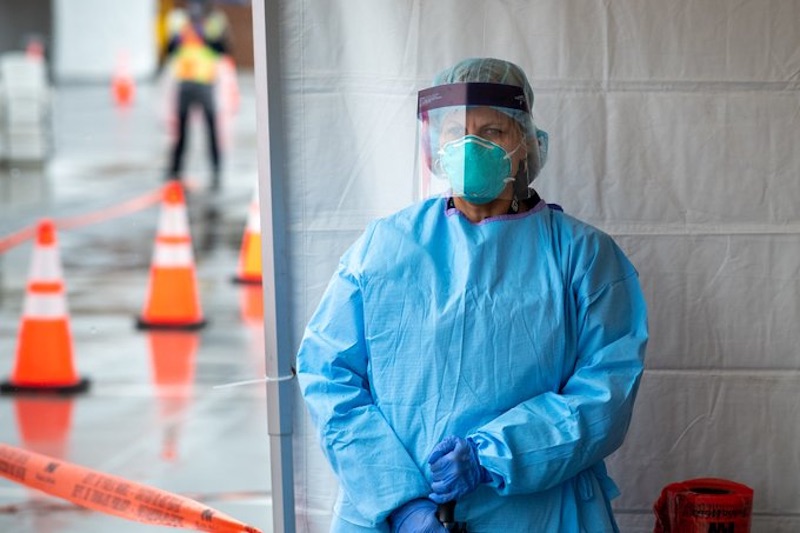 Just a few days ago, Los Angeles was crushing COVID-19 testing with a daily capacity of over 20,000 people per day. On Saturday, however, testing sites closed two hours early in response to police activity and reports of looting and vandalism. Testing sites are always closed on Sundays.
Many people were critical of both the closing of the testing sites and the early shutdown of local public transit systems. In an address to the city, L.A. Mayor Eric Garcetti said the testing sites closed because site volunteers reported feeling unsafe. He said that at least two sites—Dodger Stadium and Kedren Community Health Center—would be open today. We called the Kedren Community Health Center and confirmed that it is open. 
However, some sites are either closed today or will close early. Here's what we know.
These sites are closed today:
AltaMed's 1724 Pennsylvania Ave., L.A.
AltaMed's 972 Goodrich Blvd., Commerce
AltaMed's 8672 Atlantic Ave., South Gate
AltaMed's 1300 S. Sunset Ave., West Covina
AltaMed's 2040 Camfield Ave., L.A. 
AltaMed's 6336 Passons Blvd., Pico Rivera
Long Beach City College
Carbon Health, Echo Park (L.A. City testing site)
Crenshaw Christian Center, South L.A. (L.A. City testing site)
Hansen Dam Recreational Center in Lake View Terrace (L.A. City testing site)
Lincoln Park, Lincoln Heights (L.A. City testing site)
Warner Center, Woodland Hills (L.A. City testing site)
VA Parking Lot 15, West L.A. (L.A. City testing site)
The PIH Health City of Bell Testing site closed at 11 a.m. today
The following OptumServe sites close at 3 p.m.:
Santa Monica Airport
West Jordan High School, Long Beach
Other sites may close depending on curfews. If you're scheduled to get a test at a site that closes, you should be notified by phone or email. To see the list of closed sites and to get any updates, go here.
If you need to register for a test, you may do so here.