We used to tell you about all the things you could go out and do in Los Angeles on a daily, weekly, and monthly basis. Then, the coronavirus pandemic changed life for all of us, in a thousand small and massive ways. For a while, we posted strictly virtual events to keep you entertained and connected from your home. As the state, county, and city slowly reopen, we'll also include a mix of things you can do outside the house while still abiding by local health orders. We'll still offer plenty of online options for those of you who are self-isolating or who've decided to stay at home for the time being. We'll post a new list of options every Thursday morning. We hope they keep you busy, make you laugh, teach you something, or help you feel less alone.
This week, we've got online music and film festivals, outdoor dining pop-ups and music video screenings, new podcasts, drive-in comedy, virtual cooking classes, and more. Have something you want to submit for next week? Hit us up: [email protected].
---
Out-of-the-House Events
MAIDEN LA, an inclusive network of art-related happenings throughout Los Angeles County returns September 1-20. Over 75 L.A. artists, collectives, curators, and organizations will host programs both live and online, interactive and socially distanced. View the list of participants here.
dineL.A.'s Summer Restaurant Week (September 1-18) returns this year with close to 300 eateries hosting exclusive lunch and dinner menus at special prices for dine-in, takeout, and delivery.
The California Botanic Garden in Claremont features the work of five artists in residency, both online and in-person at the garden starting August 28. "Homing: A Group Exhibition" artists include Margaret Gallagher, Hannah Flynn, Miwa Matreyek, Eliza Swann, and John Zappas. See the pieces online through December 1 or check out the installations in-person through October 1.
The Graham Garden at Halo in downtown Los Angeles is now open. Here, you'll find four of artist Robert Graham's bronze fountains. Find more info here.
Sanctuary Fitness has a new outdoor format featuring Saturday HIIT Class and Thursday Sunset Yoga on ROW DTLA's rooftop. Each class costs $15.
Best Bites Food Truck Events stops by Lakewood Center on Friday August 28 from 5-9 p.m. bringing a lineup of sweet and savory food trucks.
Magic Asphalt, a drive-in comedy series taking place in the Magic Castle's parking lot, is back August 27-30. Upcoming performers include Jamie Kennedy, Brad Williams, Sarah Tiana, JJ Whitehead, Justin Martindale, and Kennelia Stradwick. Tickets start at $100 per car (up to five guests).
Here's something new: an outdoor music screening. Musician Trent Park will debut his new video, "Fly," at a socially distant, outdoor happy hour. Guests will sit only with those they came with and receive a free drink before watching the video and a moderated Q&A with just your small group. It's on September 2 with the first screening at 7:30 p.m. Tickets are $10.
ArtCenter Exhibitions presents a series of street-facing window exhibitions titled Up All Night at ArtCenter DTLA and the Peter and Merle Mullin Gallery in Pasadena. The video works feature a diverse range of artists contemplating the conditions of isolation and community. Up through August 31 and free to observe.
Santa Monica Place and SoulCycle now offer SoulOutside, an outdoor spin class that takes place on Santa Monica Place's roof. Bikes are spaced six feet apart and guests must wear masks at all times, including when cycling. Classes are available daily through mid-October for $30 each. Packages available online. More info here.
Spago Beverly Hills presents Glamping on Canon with Veuve Clicquot August 28-30 and September 4-5. The outdoor dining experience includes a Veuve Clicquot retro camper serving unlimited Champagne. You'll get your own table on Canon Drive and a special menu. Tickets can be purchased on Tock and run $125 or $295.
Still Life Ceramics launched Pottery in the Park, a new series of open-air, socially distanced classes held in its "park" designed space. Options include one-time classes on Sundays, a Rosé and Clay session on Fridays, and month-long classes.
Employees Only turned its parking lot into Summer Social Club featuring a roster of weekly, socially distanced events paired with food pop-ups and cocktails. Happening every Wednesday through Sunday in August, events include movie nights, yoga sessions, and even hair cuts via The Barber Truck.
Levity Live's Improv hosts the Improv Live Comedy Drive-in Series through September 5 at the Irvine Spectrum Center. Tickets start at $125 per vehicle. See who's playing this week here.
SugarMynt Gallery in South Pasadena is home to a spooky art gallery located behind the Michael Myers house from Halloween. They host outdoor movie nights Thursdays through Sundays with admission to the gallery. Upcoming films include Monster House and Poltergeist. BYO chairs, blankets, and food. Social distancing will be enforced during the screenings.
The Cat Cafe is currently offering virtual and IRL experiences. You can spend 45 minutes with kitties at the cafe every Friday, Saturday, and Sunday with a reservation.
Eataly LA will host cocktail pop-ups from Ventura Spirits on its outdoor rooftop patio, Terra, every Thursday in August. A portion of the proceeds will go to Restaurants Care, which provided financial relief to restaurant workers throughout California.
YEA! Impact and The Andaz West Hollywood offer "The Sunset Strip Presents Late Night Drive-In," a series of drive-in theater shows that mix comedy, musicians, and movies on Fridays and Saturdays from 7-10 p.m. This Friday, they'll screen "Almost Famous" and on Saturday, Richard Pryor's "Live on the Sunset Strip." More info on the series here.
In the mood for ice cream? Salt & Straw has three new camping-inspired ice cream flavors for August: Buttermilk Blueberry Pancake & Eggs, pancake batter ice cream with griddled blueberry coffee cake pancake bits, Vermont maple syrup swirls, and brown sugar bacon bits; Cast-Iron Cornbread with Huckleberry Jam, salted vanilla coconut ice cream with huckleberries and skillet grilled cornbread; and Salted Hazelnut Praline S'Mores. Available by the scoop or pint for pickup and local delivery through September 10.
Concerts in Your Car is a drive-in music/performance series in Ventura. See this week's full schedule and ticket information here.
Las Palmas is a new Tulum-inspired pop-up from E.P. & L.P. Outdoor brunch reservations are available for parties of four or six on Saturdays and Sundays from noon to 4 p.m. Options include a chorizo breakfast burrito, chicken & churro waffles, shrimp and corn grits, and cocktails like rosemary sangria and Palomas by the glass or pitcher.
At-Home & Online Events
Chef Uyen Kirshenbaum turned her furloughed position as Executive Pastry Chef at M.B. Post, Fishing with Dynamite, and The Arthur J into a successful mail-order cookie service. Kirsh Baking Company offers classic cookie flavors and inventive creations like Rocky Road, Cherry Almond, and Vanilla Lavender. Dairy and gluten-free options are also in the mix. Cookies are hand-baked, individually wrapped, and delivered straight to your door.
Grab some cheese and tortillas and tune into Guided Snack Hour: Quesadilla Consultations on Friday, August 28. Artist Teresa Flores will share her special knowledge of the quesadilla from her project Experimental Quesadilla Lab and work with you to create new snacks.
Get tickets now for Stay-In VaVOOM, a virtual presentation of L.A.'s beloved Mexican wrestling, burlesque, and comedy spectacular. Guests include Donita Sparks of L7, Object as Subject, StarCrawler, Patton Oswalt, Andy Richter, Greg Proops, Drew Carey, Blaine Capatch, KCRW DJ Anthony Valdez, and more. It's on Thursday, September 3 at 7 p.m. Free for KCRW members, $1 minimum donation for nonmembers. Get tickets here.
Join LA Plaza de Artes y Cultura for "Inside the Chicano Moratorium: 50 Years Later with Rosalio Muñoz" on August 29 at 3 p.m. on Zoom. Register here.
The Broad Stage and Red Hen Press present Red Hen Press Poetry Hour on August 27 at 6 p.m. This week's episode is: "The Poetics of Climate Change."
Listen to HappyChillFunTime, a podcast from Holly Atkins that blends stories and meditation to go on 15-minute mental vacations. Check out the latest episode here.
The Elysian Valley Arts Collective hosts free art-play workshops for the whole family on Zoom on August 29 and September 12 & 19. Suitable for ages 3 and up.
Join Latino Theater Company for a reading of "August 29," commemorating the death of journalist Ruben Salazar during the Chicano Moratorium in 1970. It's available on-demand August 28 through September 6.
Skirball Stages presents Gavin Turek and AK Dan Gwang Chil in concert on August 29 at 8 p.m. The free online performance will stream on Skirball's YouTube channel.
Outside Lands is Inside Lands this year, streaming August 28 and 29. The event features both past performances and exclusive live shows, plus interviews, fan testimonials, and more. Catch it on Twitch for free.
Cutwater Spirits is hosting a virtual sensory experience that pairs their alcoholic beverages with small bites. It's on Friday, August 28 at 5 p.m. and you can pre-order your "sensory kits" for $25 here. Pickup and delivery is available August 26-28.
Comedy Quarantine has been keeping us laughing for months now. This Friday's lineup includes Bri Pruett, Francesca Fiorentini, Andy Iwancio, and Babs Gray. Catch them, as always, at 7 p.m on Instagram @comedyquarantine. 
Vinovore's last wine tasting (for now) is on August 30 at noon with Ntsiki Biyela of South Africa's Aslina Wine. 100% of the proceeds from this tasting will be donated to Pinotage Youth Development Academy. Get tickets and bottles here.
Join Zócalo Public Square on August 27 at 6:30 p.m. for "Are We Living in a World Ray Bradbury Tried to Prevent?"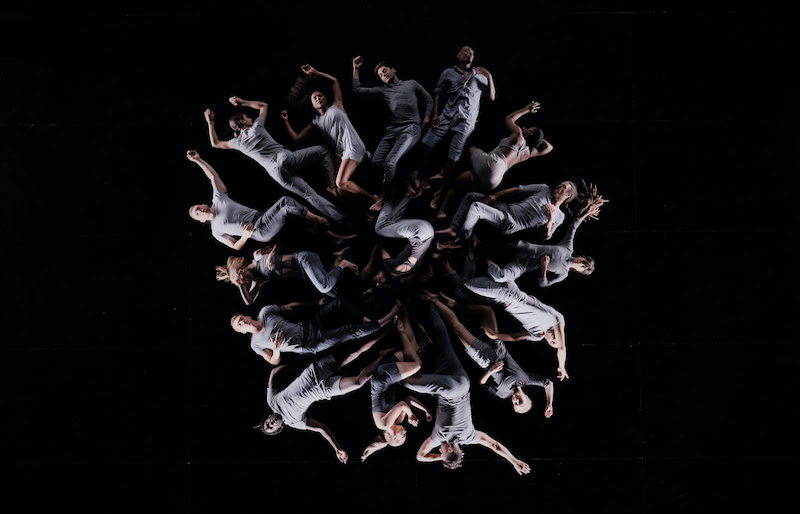 The Getty presents Free Fall for the Camera, a short film from Brendan Fernandes, on-demand August 28 at 8 a.m. through September 1 at 11:59 p.m. Via the Getty: "In Free Fall for the Camera, an ensemble of dancers create kaleidoscopic moments that serve as remembrances of the lives lost in the tragic 2016 mass shooting at Pulse nightclub in Orlando, which targeted the Latinx and LGBTQ+ community. The film evolved from elements in Free Fall 49, a site-specific performance Fernandes presented at the Getty Center in June 2017."
The Whippoorwill Arts Festival of Americana Music takes place virtually this year on August 29 and 30. Log on for music streams, Q&As, workshops, and more.
On August 30 at 3 p.m., the Art Deco Society hosts a virtual tour of the home of former Society president John Thomas and his husband, photographer Chris Launi, which includes over 4,000 Art Deco and Streamline Moderne collectibles. Tickets are $15 for general admission, $10 for members, and benefit the Art Deco Society of Los Angeles.
On August 30, you can catch A Celebration of Black Joy: 10th year of Day of the Ancestors: Festival of Masks direct from Leimert Park via Zoom or YouTube. Take a tour of the park, join a ritual healing with Shine Muwasi, and enjoy performances.
The Los Angeles Museum of the Holocaust hosts the fourth installment of its monthly series, "Building Bridges: Racism, Prejudice, and Antisemitism" on September 1 at 11 a.m. This week features Rosie Arroyo, board chair, HOPE; Julie Bank, board chair, Jewish Center for Justice; Michael Lawson, president and CEO, Los Angeles Urban League; and Nancy Yap, executive director, CAUSE. The suggested donation is $10. Register here.
Outfest Los Angeles LGBTQ Virtual Film Festival is August 20-30. Programming includes both virtual and drive-in screenings. Check out the lineup here.
Leimert Park Jazz Festival goes virtual for 2020. Happening Saturday August 29 on Facebook Live, the free event celebrates jazz, community and the cultural heritage of the historic South L.A. neighborhood.
Laguna Playhouse will hold its annual gala virtually on Saturday, August 29. Get tickets here.
Self Help Graphics & Art presents The Very Very Very Long Day, a virtual group exhibition featuring artists documenting their collective experiences during the COVID-19 pandemic. The exhibition opens virtually August 22 and runs through September 25.
The 24th Annual American Black Film Festival is August 21-30. The entire fest is online this year. Check out programming here.
Remix: The Art of Music is a virtual exhibit of music-inspired art from Gabba Gallery and Adopt the Arts. Check it out here starting August 20 at 11 a.m.
The ever-innovative Alcove/Big Bar folks have several lovely to-go cocktails so you can have date night or Zoom happy hour at home in style. Options include a St. Germain Sprit kit for two (or more); bourbon, scotch, brandy, and agave flights; and individual cocktails. This is on top of their food, bakery, coffee, and pantry options. Order through their website or via Instagram.
For kids!: A Faery Hunt is offering $5 screenings of their children's shows on Saturdays and Sundays at 10:30 a.m. and 2 p.m. Check them out here.
Have you filled out you 2020 Census yet?
The Corey Helford Gallery presents three online exhibitions this Saturday, August 22: Okuda San Miguel's The New Digital Love, Marie Larkin's Birds of Paradise, and Bruno Pontiroli's A Rebrousse-Poil. View the exhibits online afterward here.
The Gourmandise School at Santa Monica Place offers weekly online cooking and baking classes via Zoom. Check out the calendar here.
Salute Your Shorts Film Festival takes place online August 22-29. As the title may imply, it's a curated selection of shorts from around the world. The mantra is "film with an aftertaste." Check out this year's programming here.
The Los Angeles Philharmonic Association and KCRW present World Festival at the Holiday Bowl, a radio broadcast series of previously recorded live concerts. Tune in on Sundays from 6:30-8:30 p.m. through October 11 for a different concert each week. This Sunday, it's Femi Kuti and Janelle Monae Online listeners, here's your link.
Long Beach Food & Beverage presents virtual cooking and cocktail classes. See what's up next here.
Dance with The Music Center through Digital Dance DTLA's online dance sessions, offered Friday nights now through September 4 at 7 p.m. This week, it's Argentine Tango!