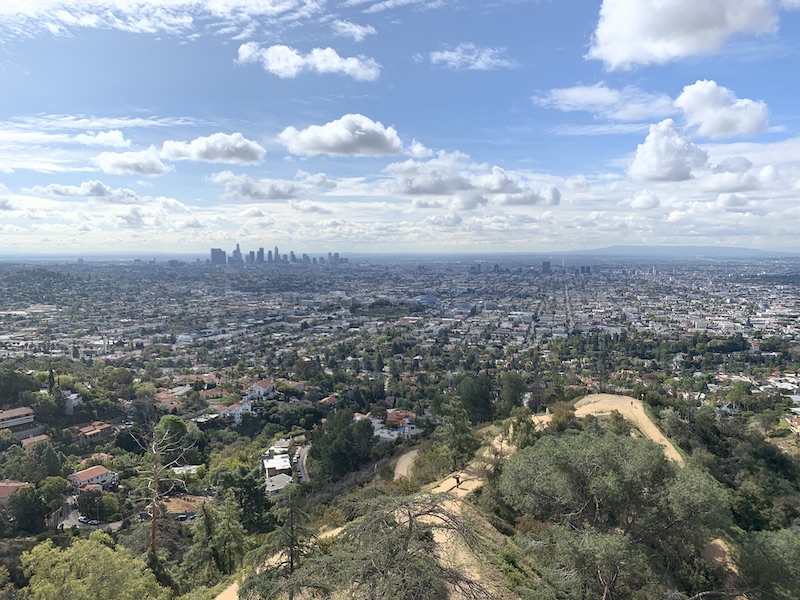 We used to tell you about all the things you could go out and do in Los Angeles on a daily, weekly, and monthly basis. Then, the coronavirus changed life for all of us, in a thousand small and massive ways. Until the pandemic is behind us, we'll post events that adhere to Public Health's current protocols—including plenty of at-home and online events—every Monday and Thursday. We hope they keep you busy, make you laugh, teach you something, or help you feel less alone.
This week, we've got food pop-ups, online MLK Day activities, virtual art shows and concerts, cooking classes, online museum exhibits, workshops for parents, and more. Have something you want to submit for next week? Hit us up: [email protected].
At-Home & Online Events
L.A. Works has a number of free, online activities to celebrate Martin Luther King, Jr. Day on Jan. 18. They include " a virtual exhibit of the historic 1963 March on Washington through the world of Minecraft," and virtual workshops on the intersection of race and homelessness, food insecurity, and criminal justice. Find more info and how to stream events here.
RE:Her's Food Festival, a 10-day event highlighting women-owned restaurants in Los Angeles, is Jan. 21-30. It involves exclusive takeout meals, menu collaborations, special offers, and panel conversations by and for women.
The Geffen Playhouse's Bollywood Kitchen is both a cooking class and a show. You'll receive a box of ingredients, recipe cards, and a shopping list in the mail prior to your show date. Then, Sri Rao, author and creator of the upcoming Netflix series The Actress, will teach you how to cook an Indian meal inspired by the food he ate as a child, interweaving the lesson with stories about his parents' immigration to the U.S. and the joy Bollywood musicals brought his family. Open now through Feb. 20. Tickets start at $40 to view the stream, $175 for the interactive experience.
The Coolest Show is a new Think 100% podcast about environmental and climate justice and solutions from Hip Hop Caucus. Host Rev. Lennox Yearwood, Jr. talks to activists across the country, including Laura Cortez, Co-Director of East Yard Communities for Environmental Justice; Angelo Logan, Director of the Moving Forward Network in Long Beach; Beto Lugo-Martinez, Co-Director of Clean Air Now; Rachel Jefferson, Executive Director of Groundwork Northeast Revitalization Group; Darnell Grisby, Executive Director of TransForm, and others. Listen to episodes here.
CA Craft Beer Week takes place February 12-21, but they're rolling out virtual events, activities, and product offerings now through February in support of the businesses struggling due to the COVID-19 pandemic.
The next virtual Jewish music masterclass with Sephardic music master, guitarist, and singer Gerard Edery is on Jan. 19 at 5 p.m. The masterclass series is presented free of charge by the Lowell Milken Center for Music of American Jewish Experience at the UCLA Herb Alpert School of Music. Register here.
On Jan. 20 at 8 p.m., the Los Angeles Breakfast Club will host a virtual meeting featuring a presentation from author Danny Jensen (Secret Los Angeles, 100 Things to Do in Los Angeles Before You Die). Tickets are $5.
Holocaust Museum LA presents "Inside the Acid-Free Box: Symbols of Hate and the Nazi Propaganda Machine" on Jan. 19, at 4 p.m. This virtual show explores Nazi iconography, including the swastika and the SS skull and crossbones, and how they were used to "promote a notion of racially pure 'Aryan' people, while simultaneously excluding and ostracizing groups they viewed as inferior." A minimum donation of $12 is suggested. Register here.
The Skirball's exhibition "Tightrope: Americans Reaching for Hope" opens online Jan. 21. The free exhibit is based on the New York Times bestselling book by Pulitzer Prize-winning journalists Nicholas D. Kristof and Sheryl WuDunn, and "takes a humane approach to understanding America's most complex problems, including the opioid epidemic, the prison industrial complex, and a lack of affordable healthcare." See it here.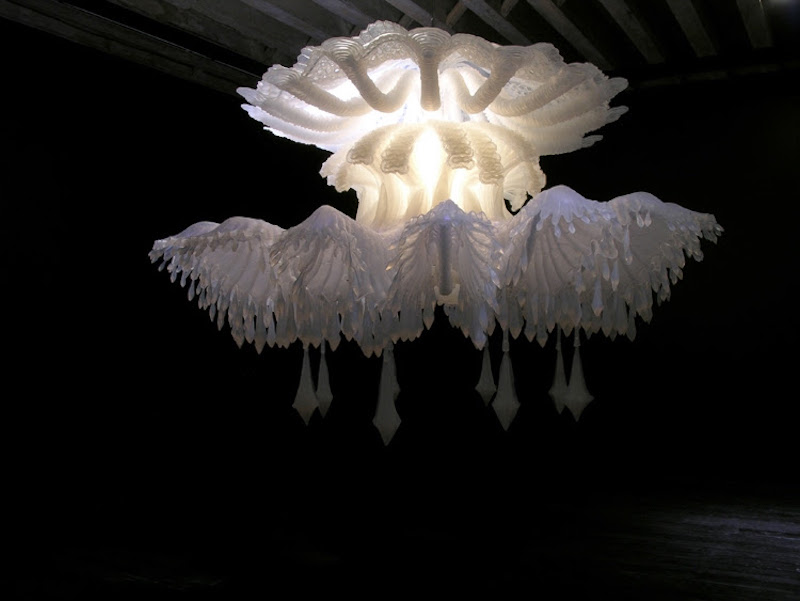 Craft in America's new virtual exhibit Making Waves: Ocean Ecology & Craft features artists whose work explores "various ecological and human-generated threats to our oceans in a variety of media." Select pieces are now on display in the street-facing windows of the Craft in America Center, but you can see them all online. Artists include Christopher Edwards, Linda Gass, Ana Lisa Hedstrom, Timothy Horn, Po Shun Leong, Courtney Mattison, Jennifer McCurdy, Sarah McMenimen, Blue McRight, Joan Takayama-Ogawa, and April Surgent.
On Jan. 19 at 7 p.m., The Groundlings presents "Sh!t My Folks Don't Know," an exploration of childhood secrets from Karen Maruyama (Nip Tuck), Jillian Bell (Bless the Harts), Michael Hitchcock (Crazy Ex-Girlfriend), Jeremy Rowley (Bless the Harts), Gary Anthony Williams (Bless the Harts), Ian Gary (Top Gun: Maverick), and Michaela Watkins (The Unicorn). Tickets are $5.
LA County Library's Parent-Ade is a series of virtual programs to help parents handle distance learning. Programs are offered every Wednesday at 4 p.m. in English and at 5 p.m. in Spanish on Webex. They include topics such as "Socially Distant Adventures," "Staying Connected with Family & Friends," and "Balancing Work and Home." Find more info here.
Take a virtual Art Deco Tour with the Los Angeles Conservancy on Jan. 20. Learn about the '20s and '30s architectural masterpieces that still exist in our city.
On Jan. 21, the Los Angeles City Planning Commission is hosting Equity Day 2021, a listening session for public input where you can share your experiences with planning and development in your neighborhood. The event is from 9 a.m. to 2 p.m. Register here.
Join Danish electronic music composer Trentemøller for a listening session of the artist's hand-picked tracks from his five albums, followed by a Q&A.
Verzuz returns with a battle between two iconic songstresses, Keyshia Cole and Ashanti, streamed live on Verzuz's Instagram on Jan. 21
There's a free multi-course workshop on How to Grow Anything: Food Gardening for Everyone. Access anytime once you create an account.
Storybook Theatre is offering six of its children's shows for free on YouTube. They include musical retellings of popular fairytales like Little Red Riding Hood, Jack and the Beanstalk, Sleeping Beauty, and more.
L.A. County Parks has over 175 virtual classes for all age levels. They include language, arts, computer, health, fitness, and other topics, all accessible from your home so long as you have internet access. Sign up here.
Take in some art this week by logging into a virtual gallery to explore Nancy R. Wise's latest exhibit, Neo Pointillism.
If you've exhausted your current list of recipes, Baketivity offers baking kits for a variety of fun desserts and baked goods, including cake pops, cookies, and cinnamon buns. Kits are available as one-offs or subscriptions.
Board and Brush in Santa Monica helps you complete fun and useful crafts at home. You can browse the online shop to choose from one of dozens of DIY home decor kits, or sign up for an online workshop, ideal for virtual get-togethers with friends.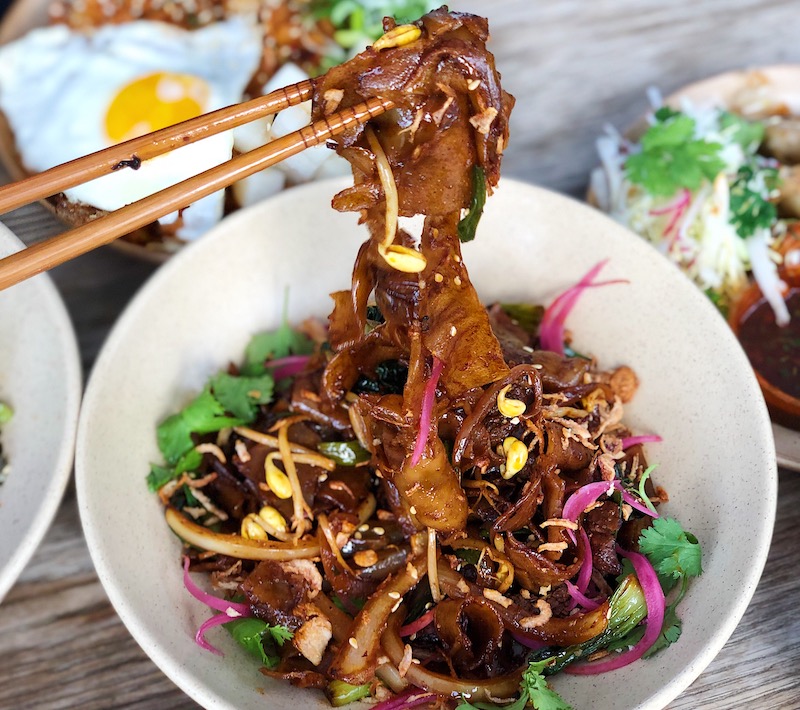 Pickup & Delivery
Saikai Ramen Bar in Koreatown is offering three special bentos. The Egg Salad Sando Bento ($16), Chicken Katsu Sando Bento ($17), and the CLT ($17), a pork belly chashu version of the BLT. All are served with your choice of appetizer, a farmers market salad, pickles, and fruit. Open for takeout.
Brentwood's Baltaire is hosting FLINT by Baltaire's, an eight-week pop-up featuring items from Travis Strickland's coastal Mediterranean restaurant in Phoenix. The menu features a spicy short rib hummus, Moroccan fried chicken, and a selection of wood-fired plates such as wood-grilled lamb chops, roasted chicken, and the FLINT Burger made with smoked bacon jam, white cheddar, and mayo on a poppyseed bun.
Pigeon is a wok cart pop-up at Hermanito in Sawtelle open every Saturday and Sunday in January from noon to 6 p.m. The menu consists of stir-fried Asian-Latin street food, like Kimchi Chorizo Fried Rice $13 (kimchi, Oaxacan chorizo, fried egg, pickled daikon, sesame); Carne Asada Chow Fun $15 (carne asada beef, rice noodles, bok choy, pickled onion, crispy shallot); and Sichuan Tempura Veg Fried Rice $11 (tofu, sweet potato, maitake mushroom, shiitake mushroom, Sichuan seasoning, sesame). Available for pickup.
Through Jan. 27, Randy's Donuts in Inglewood is hosting a Snowpiercer takeover with fun photo ops and a free vanilla raised donut with coconut shavings for the first 100 guests (otherwise, $2.85 each).
Rappahannock Oyster Bar is offering a couple new meal packages priced $35, $75, and $145. The "L.A. Dinner" pack feeds two for $35 and includes oyster tacos, the lil rapp burger, truffle fries, crispy Brussels sprouts, and your choice of either two cans of Tecate or a bottle of wine (additional $10 fee). The "Fancy Comfort Food" pack feeds 3-4 for $145 and includes fresh oysters, shrimp cocktail, lobster mac & cheese, and more, along with a bottle of Cava.
Salt & Straw's new Vegandulgence menu is back, featuring five incredibly rich and creamy dairy-free flavors. They include Peanut Butter Strawberry Crumble, Bourbon & Caramelized Honeycomb, Chocolate Hazelnut Cookies & Cream, Coconut Rice Pudding, and Banana Avocado Sorbet. Available for pickup, local delivery, and nationwide shipping through Feb. 4.
Shiku is now open at Grand Central Market for curbside pickup and takeout of homestyle Korean food and Baroo pantry items.