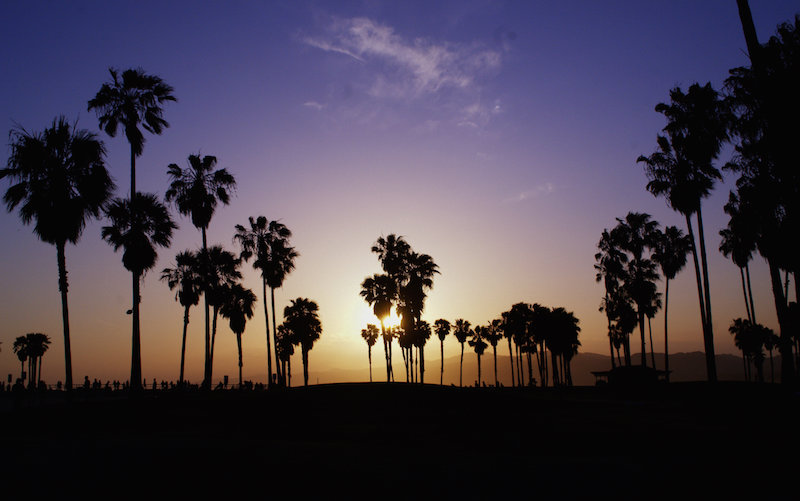 We used to tell you about all the things you could go out and do in Los Angeles on a daily, weekly, and monthly basis. Then, the coronavirus changed life for all of us, in a thousand small and massive ways. Until the pandemic is behind us, we'll post events that adhere to Public Health's current protocols—including plenty of at-home and online events—every Monday and Friday morning. We hope they keep you busy, make you laugh, teach you something, or help you feel less alone.
This week, we've got outdoor art, drive-in dining, an interactive adaptation of a holiday classic, unique to-go dinner specials, and more. Have something you want to submit for next week? Hit us up: [email protected].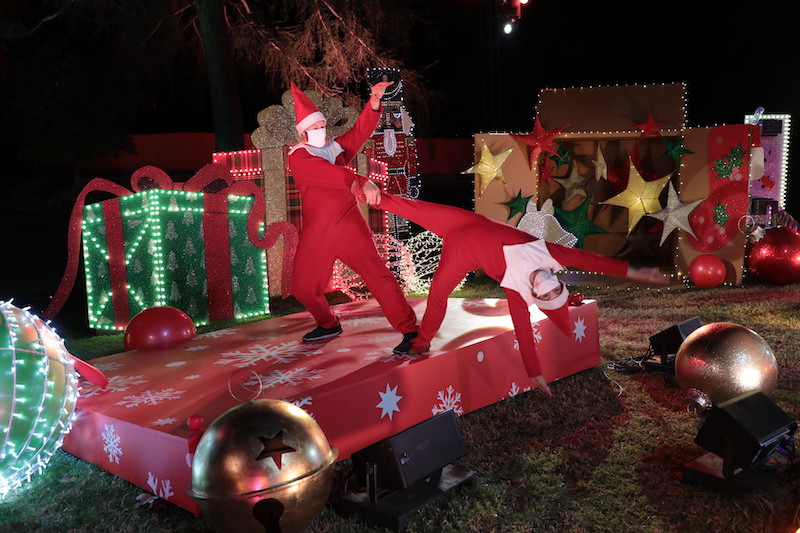 Out-of-the-House Events
Find fun holiday events for the whole family, including drive-thrus, online events, and socially distant gardens in our holiday roundup here.
Grand Park's new public art installation, "Ground Our Present, Dot Our Future," is available to enjoy now through Jan. 25. It consists of 74 quotes, crowdsourced from Angelenos over the past year, that line park walkways. The artwork "reinvents the current floor distancing decal culture by putting the emphasis back on how Angelenos can be socially connected—by gaining knowledge and understanding about the diverse experiences in Los Angeles County from the perspectives of those who live them." It's free to enjoy any time. Just take a walk in the park.
Santa's Cinema at The Grove's Level 8 presented by Citi includes a movie and a curated menu for two, three, or four guests from Picnic Society by Gwen and Bar Verde. On Dec. 14, it will screen How the Grinch Stole Christmas (2000).
L'Antica Pizzeria da Michele Hollywood's new dining experience takes place in your car! Park in the private parking lot adjacent to the restaurant and enjoy TV, films, and iconic Italian football games projected when the sun goes down. Diners can order from the full menu when they get there or in advance online or by phone. Staff will deliver food directly to your car. Space is limited. Reservations through phone or email are highly recommended.
Celebrate the Festival of Lights at LIT, a drive-thru Hanukkah experience at Stephen Wise Temple Dec. 10-20. The event includes a light show, art installations, a screening of animated short The Broken Candle, and an immersive projection tunnel.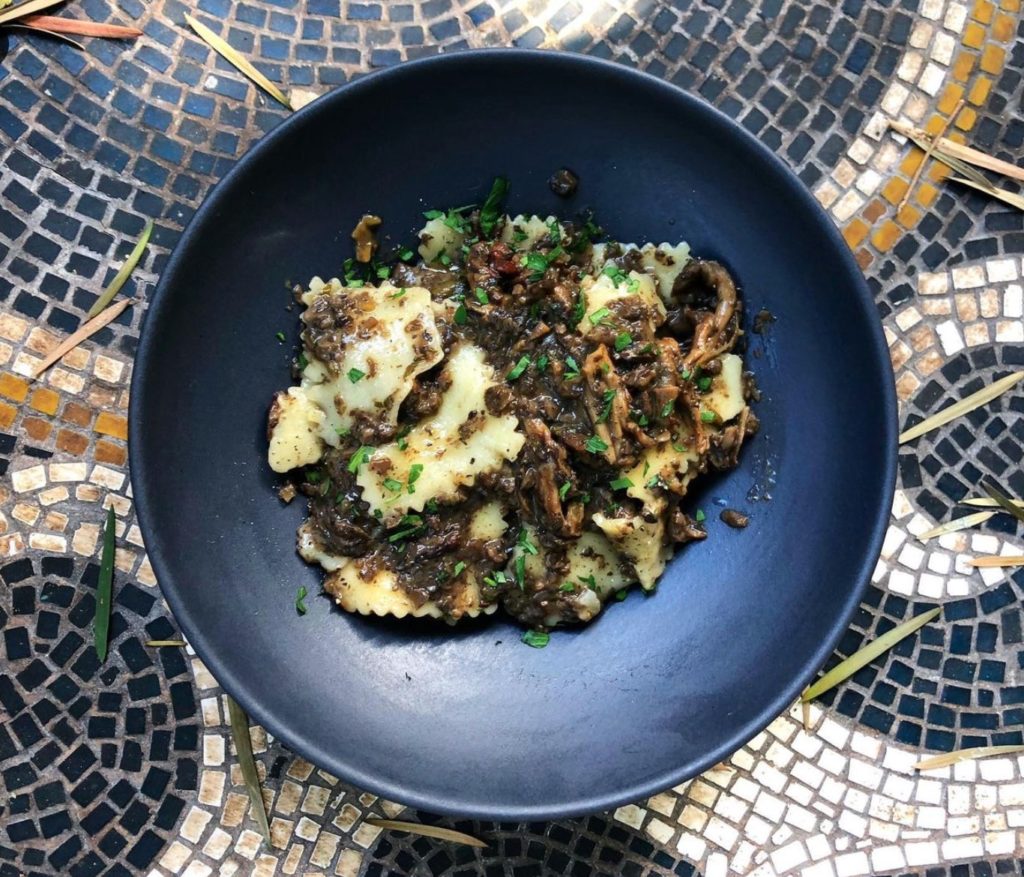 Pickup & Delivery
The Little Tokyo Community Council (LTCC) is relaunching Community Feeding Community (CFC) to provide free meals to those whose jobs were impacted by COVID-19 closures while also supporting small businesses in Little Tokyo. Meals are distributed every Saturday from 2-4 p.m. at 327 East Second Street. The menu rotates weekly and advanced reservations are required for pickup. Reserve a meal online at littletokyola.org/cfc. You can also use that link to donate a meal.
Orso Pasta delivers handmade pasta and gourmet sauces straight to your door. Current seasonal sauces include Saffron Turmeric Buttersauce, Bolognese, and Cacio E Pepe. Choose from Cavatelli, Tagliatelle, Gnocchi, and Maltagliati as pasta options. There is very little prep time. Boiling the pasta and simmering the sauce just takes five minutes, so even novices can look like a pro in the kitchen. Each order serves two and costs around $30.
Los Feliz's Sogo Roll Bar now offers DIY Hand Roll Kits for $38. Each kit includes fresh nori, rice, garnishes, and four signature Sogo fillings of your choice including bluefin toro, crab, spicy tuna, and more. Eleven different add-ons, like fried onion or spicy mayo, are available for an additional fee. Open for pickup or delivery.
Rustic Canyon's new "Grin & Bear It" pop-up offers simple Southern comfort food for takeout and delivery. The menu includes Sour Corn Biscuits, Macaroni & Fancy French Cheese, Half or Whole Honey-Roasted Chicken with hot honey jus, Beef Brisket with Red Eye Gravy, Pork Ribs in Andouille Sauce, Mystery Slices of Pie, and more.
Iki Ramen collaborates with chef Yoji Tajima for a 14-item sushi omakase set with a selection of nigiri and grilled blue shrimp topped with sea urchin and fresh black truffle ($58). Available exclusively on Tock Dec. 14 & 21.
For Hanukkah, Milky Way offers its kosher dairy favorites including a Build-Your-Own Latke Platter for takeout, contactless curbside pickup, and delivery via Postmates. Entree purchases from Dec. 10-17 will include one free order of latkes when customers use code: LATKES20 to redeem via phone order. All orders also include gelt chocolate coins as a special treat for kids.  
Idle Hour in North Hollywood is offering craft cocktail kits all December. The kits include mixes, syrups, and garnishes for Idle Hour's signature margarita ($25), mule ($30), or old fashioned ($20). Spirits are not included in the kits, but customers can add a bottle of vodka or tequila with any kit purchase.
American Beauty and Superba Food + Bread are both offering five-course, takeout Hanukkah dinners. Both are $160 and serve four. From American Beauty, get slow-cooked show rib stew, potato latkes, spiced carrots, roasted artichokes, and sufganiyot. Order on TOCK Dec. 10-18. From Superba, get beef brisket, potato latkes, haricot vert-tahini sauce, beet salad, and sufganiyot. Order on TOCK starting Dec. 10.
Burt Bakman and the h.wood Group's bbq concept SLAB are offering a Hanukkah Package that feeds four for $195. The feast includes half a brisket, latkes, salad, matzo ball soup, and roasted green beans. Available for pre-order (24 hours in advance) Dec. 10-18 for pick-up at 8136 W. 3rd Street.
Sixteen local chefs have collaborated on a Holiday Cookie Tin with proceeds benefitting the campaigns of Raphael Warnock and Jon Ossoff, two Democratic candidates for the Georgia Senate. Treats include Roxana Jullapat's Pepperkakor, Sherry Yard's famous Chocolate Almond Cookie, Genevieve Gergis' Classic Spritz, Isa Fabro's Date Walnut Blondie, Sherry Mandell's Tehachapi Rye Chocolate Crinkle, and Shannon Swindle's Fig and Cranberry Rugelach. The tin is $75. Sales open on Dec. 14 at noon. You can then pick your cookies up at a.o.c. or Friends and Family on Sat., Dec 19 between 11 a.m. and 3 p.m. or get delivery through DoorDash. Just make sure to place your order on the a.o.c. website here.
Cake Monkey recently launched a budget-friendly Pie Gram service. For $6.75, send friends mini-pies with customizable messages on the box. Flavors include Cider Roasted Apple in Double Cheddar Crust or Brown Butter Pecan with Toasted Cocoa Nibs. Pick them up at the Beverly Grove shop or North Hollywood kitchen. Local delivery is also available.
Maple Block Meat Co. has a new drive-in and pickup lot. Guests can stay in their car and enjoy free popcorn while they wait for their order to be brought directly to their car. Items include sandwiches, salads, BBQ, daily specials, and family meal packages. For $83, get a whole smoked chicken dinner with pickles, biscuits, salad, and a side (serves four).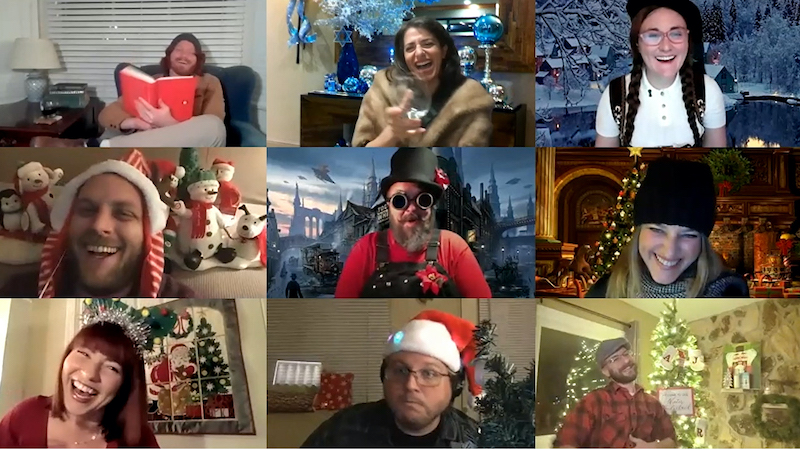 At-Home & Online Events
Immersive theater company The Speakeasy Society presents Ebenezer, a virtual adaptation of their real-life adaptation of A Christmas Carol. Guests can explore the digital world of Dickens's famous characters in several ways: have a beer with Bob, play games with Scrooge's nephew, or perhaps get weird with a ghost or two. Show dates are Dec. 18 and 19 at 7 p.m. Tickets are a suggested donation of $10-$20 and will benefit Mutual Aid LA. Get them here.
The Israel Film Festival is ongoing through Dec. 27, featuring several nights of Israeli cinema that you can watch from your home. Tickets are $12 for a single film, with deals on bundles of screenings. If you want to watch every film and Q&A, an all-access pass is available for $130.
The Theatre Raymond Kabbaz Young French Cinema film fest is Dec. 16-18, featuring a diverse lineup that includes a documentary, shorts, and features in French with English subtitles. You can see a single night's programming for $10 or see all five films for $25.
On Weds., Dec. 16, Los Angeles Performance Practice presents eight L.A. artists in a virtual exchange of ideas, knowledge, and inspiration. Participants include Chloë Flores (homeLA), Daniela Lieja Quintanar (LACE), Dorothy Dubrule (Pieter), Elizabeth Cline (The Industry), John Burtle (Human Resources LA), Mandy Harris Williams (Women's Center for Creative Work), Miranda Wright (Los Angeles Performance Practice), and Patricia Garza (Network of Ensemble Theaters). Milka Djordjevich will moderate. RSVP here.
Check out the above video from The Kollection, "Dear Los Angeles." The short was filmed over the last year and highlights key moments, including and pandemic and BLM protests. It features projection mapping by Nate Mohler, narration from Spider Loc, and an original score by Austin Brown of Hablot Brown.
Rogue Artists Ensemble's "Storage Run" is an immersive holiday show where you can choose what happens. Part One kicks off on Dec. 18 at 7 p.m., while Part Two and Three post on Dec. 25 and Jan. 1, respectively. All three parts will remain online through Jan. 31. Synopsis: "With just a few weeks remaining until the holidays, Mike becomes trapped and alone in a tangled web of Rogue storage — or so it seems. Boot up and plug into a story of computer age connection and holiday whimsy, and help Mike on a quest to send a message to the world. Will you help? Y/N? Your choices build a singular and unlikely friendship and unlock a "holiday-tastic" adventure, all from the safety of your computer." Tickets are pay-what-you-can with a suggested price of $20.
Antaeus Theatre Company's The Zip Code Plays: Los Angeles is a series of virtual, interactive tours that highlight landmarks and small businesses. Each episode is narrated by a member of the Antaeus Theatre Company and includes a map illustration from Cynthia Jacquette Art + Design. The Zip Code Plays are set in 90011 (South Central Los Angeles), 90012 (Downtown L.A.), 90024 (Westwood), 90403 (Santa Monica), 90272 (Pacific Palisades), and 91352 (Sun Valley). Listen for free at www.antaeus.org.
Age Before Beauty is an online exhibition of LeRoy Neiman's sketches from the set of the Rocky, featuring 25 sketches staged throughout the historic Gleason's Boxing Gym in Brooklyn.
MASH Gallery hosts "Saffa," a new online photographic exhibit from Adel Yaraghi. Per a release: "Curated by MASH Gallery's Haleh Mashian, Yaraghi's momentous photographic series tells the story of the women rice farmers of the coastal regions of Northern Iran. Yaraghi documents it all—the families who farm together, the multi generations of women minding the fields, the songs that the women sing as they work—a matriarchy that is the backbone of the land." See it now online through the end of the year here.
From Zombie Joe's Underground Theater comes a spooky 22-minute personal visit from The Ghost of Jacob Marley, the first of many spirits Scrooge sees in A Christmas Carol. Zombie Joe himself will play Jacob Marley as he Zooms you to make sure your change your ways or whatever it is Marley is up to these days. From Dec. 16-30, you can book your personal ghost consultation for $25 at ZOMBIEJOES.COM.
After Hours Theater Company is offering a virtual show with drinks. A Christmas Carol Cocktail Spectacular takes guests back to the 1950s with an interactive online retelling of A Christmas Carol. The ghosts of past, present, and future each bring its own cocktail, which you'll make along at home thanks to a kit you'll receive in the mail. Performances are Dec. 11, 12, 18, 19, and 22 at 7. p.m Tickets are $78 for two guests, and include the live-stream and ingredients to make three cocktails (alcoholic or non-alcoholic available).
"Breathe." Is a live-streamed multimedia interactive theater event from artist Philicia Saunders, in which she'll play 20 characters. Per a release: "Breathe. is based on the life-changing personal journey towards activism after a chance trip to a Civil Rights monument during a civil rights tour in Alabama and mentorship by a luminary of activism, Sweet Alice Harris, one of Watts' most beloved community organizers and whose Parents of Watts organization was created as a result of the Watts unrest of 1965." It streams Dec. 11-18. Find tickets and times here.
The Groundlings Annual Holiday Show goes virtual this year with three weekends of original sketches and interactive improv every Friday and Saturday from Dec. 4-19.
The 53rd Annual Holiday Look-In Home Tour presented by the Women's Committee of the Pasadena Symphony is online this year. The tour "showcases the architecture and gardens of four magnificent Pasadena homes decorated for the holidays in festive floral regalia." The event is narrated by Pasadena Symphony music director, David Lockington with music from the Pasadena Symphony Youth Orchestras. Available Dec. 5-31. Free with registration here, though donations to the Pasadena Symphony Youth Orchestras and the Pasadena Symphony will be graciously accepted.