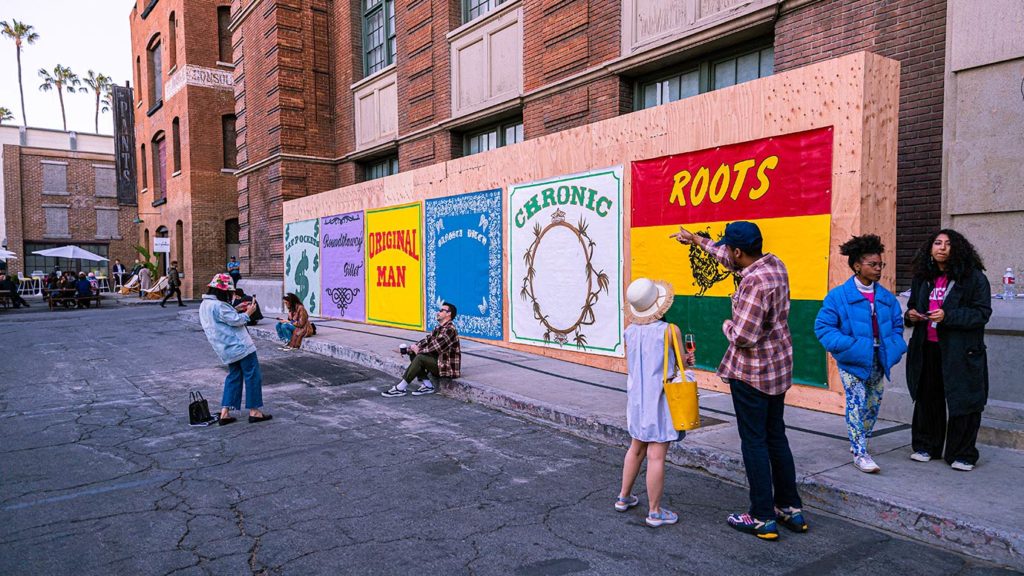 We used to tell you about all the things you could go out and do in Los Angeles on a daily, weekly, and monthly basis. Then, COVID-19 changed life for all of us, in a thousand small and massive ways. Until the pandemic is behind us, we'll post events that adhere to Public Health's current protocols—including plenty of at-home and online events—every Monday and Thursday. We hope they keep you busy, make you laugh, teach you something, or help you feel less alone.
This week, we've got tons of drive-in movie options, Fat Tuesday food specials, digital art festivals, virtual trivia and lectures, and more. Have something you want to submit for next week? Hit us up: [email protected].
In-Person Events
The Rose Bowl is hosting a Drive-Thru Fair Foodie Fest Feb. 12-28 featuring fair foods like turkey legs, deep-fried Oreos, and doughnut cheeseburgers. Admission is free, but you'll have to pay per item. Register online in advance to receive a free mini funnel cake.
The Gastro Garage returns to the W Hollywood Hotel for a night of blowtorch-powered dining. Upcoming dates include Feb. 19, 20, 26, and 27. Tickets are $100 per person and include multiple courses like buffalo blue chips, maple-glazed carrot pops, Japanese marinated short rib, salmon skewers, and more.
Street Food Cinema pivots to a drive-in format starting Friday Feb. 19 with movie screenings all weekend long at the Santa Monica Airport. Friday's slate includes Toy Story and Who Framed Roger Rabbit.
Through March 15, Downtown Santa Monica, Inc. will recognize Black History Month with a series of art installations by Black artists including Tiayrra Bradley, Shplinton, and Mira Gandy. All three pieces can be found on the Third Street Promenade. Exact addresses and more info here.
Hollywood Legion Theater at Post 43's drive-in cinema will screen Nomadland Friday through Sunday. Open seven days a week, reservations include popcorn, soda, and candy for each guest. Tickets start at $65 for two people.
Glendale's Electric Dusk Drive-In will be screening an array of popular films this week. The Secret Movie Club Cult Classic kicks things off with a screening of Wild at Heart.
WE Drive-Ins in Santa Monica is screening Minari all week long. The film follows a Korean-American family's move to an Arkansas farm in search of their own American dream.
The Marina Drive-in's weekend (Feb. 19-20) offerings include Up and Charlie and the Chocolate Facotry. All screenings begin at 6:30 p.m. with doors an hour earlier. Tickets are $20 per car. Nearby restaurants are open for outdoor dining and takeout if you're looking for a meal to enjoy beforehand or in your car.
At-Home & Online Events
Frieze goes digital this year with a three-day (Feb. 17-19) broadcast that brings together some of the leading voices in art and culture for in-depth discussions, performances and much more. Access the Anniversary Sessions: 30 by becoming member for $50.
Via Arena Cinematheque, Tony-Award winning director George C. Wolfe will discuss his film, Ma Rainey's Black Bottom, with award-winning actor Courtney B. Vance on Feb. 18 at 6 p.m. Register here.
The Venice Art Crawl will celebrate love and art with an Instagram livestream on Feb. 18 at 6 p.m. The program features music, readings, demos, DJs, painting, studio tours, workshops, and more. Check out the lineup and schedule here.
Join the California African American Museum on Feb. 18. as they host Quincy Troupe and Erin Aubry Kaplan for a conservation on the life and music of trumpeter Miles Davis. Free to RSVP.
El Capitan Theatre hosts El Cap Throwback: Movie Trivia on Feb. 18 at 6:30 p.m. This month's theme is Black History Always and celebrates Black stories and heroes in film. Registration is $10.
LA Plaza de Cultura y Artes presents "Redlining: Housing Inequality in L.A. with Lawrence Ross, Author, Lecturer, Writer" on Feb. 17 at 7 p.m. Per a release: "Redlining is a government-mandated discriminatory practice that puts financial and other services out of reach for residents of certain areas based on race or ethnicity. Join us on Zoom and Facebook Live as author, lecturer, and writer Lawrence Ross presents a historical overview of redlining and its impact on Blacks, Latinos, and Asian Americans in South Los Angeles." Register here.
In celebration of Black History Month, check out a screening of Hair Love followed by a conversation with creator Matthew A. Cherry. The event takes place on Feb. 18. Free with registration.
Caltech's next Watson Lecture features Mansi Kasliwal, Assistant Professor of Astronomy on "What Cosmic Fireworks Unveil About the Universe." Per a release: "In her lecture, Kasliwal will explain how astronomers discover these cosmic fireworks with robotic telescopes and how they have undertaken a global follow-up campaign to characterize these energetic and ephemeral events. She will also discuss how astronomers combine information from multiple cosmic messengers—light, neutrinos, and gravitational waves—to gain a more comprehensive understanding of our universe." The event is on Feb. 17 at 5 p.m. Free, but you'll need to register for the Zoom link in advance.
Japan House LA presents its next virtual exhibition, "NATURE/SUPERNATURE: Visions of This World and Beyond in Japanese Woodblock Prints" on Feb. 15. The exhibit includes three sections. Woodblock Printing goes over the history and process of the art form. Nature depicts landscapes from Japan. Supernature depicts supernatural beings. View online through May 31 here.
Impastiamo is highlighting Black-owned businesses this month with online cooking classes led by incredible chefs and entrepreneurs. On Feb. 17 join Natalia Pereira live from Woodspoon Restaurant for a Caipirinha and Croquetas de Yuca class. Tickets cost $25.
On Feb. 16 at 11 a.m., Holocaust Museum LA presents "Racial Stress & Trauma: A Conversation About Social Justice & Resilience." The online panels will focus on the relationship between mental health and social justice. Register here.
Truth in Photography is an open-ended online forum to talk about photography and social change that launches on Feb. 19. Per a release: "This interactive project questions the singular truth of photography by presenting multiple points of view, featuring a diversity of curators, photographers, critics, and historians, integrating vernacular photography, photojournalism, and fine art photography. Truth in Photography interrogates the nature and intentions of the medium and examines the relationship between the photographers and their subjects." The launch also includes three curated exhibitions on view for Winter of 2021.
Brandon Raman's "I Can't Indian Good" streams via Whitefire Theatre on Feb. 16 at 7 p.m. The one-man show "explores the universal struggle of understanding how you fit into this world, the expectation of what you're supposed to be, and finding the value in who you really are." Tickets are $15.99 and include on-demand access for 48 hours. Buy tickets at www.whitefiretheatre.com or by calling 818-687-8559.
California Craft Beer Week officially kicks off on Feb. 12 featuring virtual events including panels on bold beer pairings, the resurgence of the IPA, homebrewing, and more. Other online tastings and pop-up events are happening across the state, so definitely check out the full lineup here.
On Feb. 17 film collector and founder of The Museum of Interesting Things Denny Daniel leads a visual journey through the world of magician-turned-film director Georges Méliès. A pioneer in the use of special effects, Méliès is best known for his 1902 film A Trip to the Moon, which is consider to be the first ever science fiction film. The Zoom webinar is free with registration.
The Hammer Museum takes its 30-minute Mindful Awareness Meditation series online via Zoom on Feb. 18 at 12:30 p.m.
New York-based gallery Arcade Project Curatorial's latest online art show California Lite brings together 26 multicultural artists living in California to present their interpretations of light and life under the California sky. Free to view. Runs Feb. 10 through March 17.
Grand Park's Lovers Rock is a two-week digital festival this year, focused on music and food, "rooted in the Reggae sounds of the 1970s and in Caribbean nightclubs in London." Viewers can enjoy on-demand entertainment and vegan recipes on Grand Park's digital channels Feb. 12-28. Guests include The Wailers' Aston Barrett., Jr., Morning Becomes Eclectic host Novena Carmél, DJ Rashida, Storm the DJ, and more. Recipes come via Angela Means Kaaya, founder of Jackfruit Cafe.
Modernism Week, Palm Springs' premier midcentury architecture and design event, is virtual this year (Feb. 1-28) with an array of online experiences you can stream safely at home.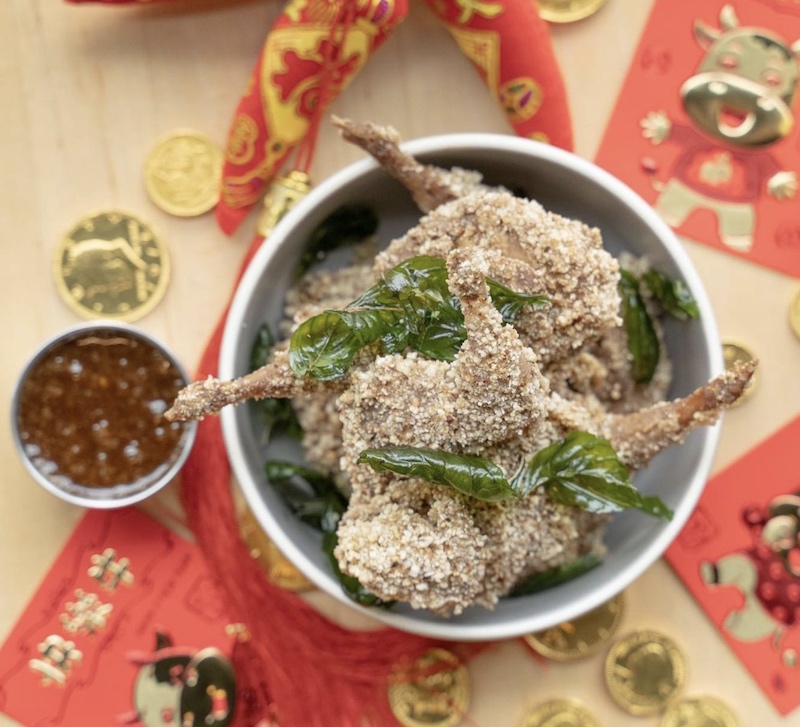 Pickup & Delivery
Spielberg family-owned kosher restaurant The Milky Way celebrates their anniversary on Feb. 18 by gifting patrons who dine in or take out a bounce back gift certificate in the amount they spend on that day for future use.
Georgia's Restaurant at the Long Beach Exchange will transport diners to the French Quarter with a Hurricane for Two ($15), "Nana" Gretchen's Jambalaya ($14.95) and other delicious eats. Open on Mardi Gras and Fat Tuesday for outdoor dining, takeout and delivery from 11:30 a.m. to 7:30 p.m.
Maple Block Meat Co.'s brisket ramen will be available for pickup or outdoor dining Feb. 18-21. Each bowl features housemade 30-hour "Tonkotsu" broth, pit-smoked shoyu seasoned egg, black garlic, hand-carved peach wood smoked brisket in your choice of "fatty" or "lean" ($19). Pre-order online by Feb. 15 for pickup. For dine-in, call the restaurant directly or reserve a table via Resy with the note that you're coming for ramen.
Mar Vista's Little Fatty has a few Lunar New Year specials to celebrate the year of the Ox. The menu is available Feb. 11-17. Dishes include popcorn quail, oxtail and beef curry, beef chow fun, a specialty cocktail called "oxblood julep" made with beet-infused bourbon, and more.
Angelenos can get a taste of NOLA with a number of Mardi Gras specials from vendors at the Original Farmers Market from Feb. 13-16. Specials include a family feast from The Gumbo Pot, King Cake at French bakery Michelina Artisan Boulanger, and a beignet pop-up on the Market Plaza where guests can enjoy made-to-order beignets and authentic chicory coffee.
We're in the midst of a historical moment as Donald Trump becomes the first president in U.S. history to be impeached twice. If this makes you feel like you need a drink, local distillery AMASS has launched Impeachment, a new peach-flavored vodka. It's available for pre-order now and will ship in early March. A portion of sales will go to the Restaurant Workers' Community Foundation. If this makes you feel like a drink but you don't drink, AMASS also makes Riverine, a non-alcoholic spirit made with a blend of regional botanicals.
Little Dom's celebrates Mardi Gras on Tuesday, Feb. 16 with fried shrimp & oyster po'boys, fried soft shell crab po'boys, seafood gumbo, king cake, and more. You'll also find Little Dom's booze truck onsite from 2-6 p.m. with frozen, bagged cocktails and beer from Louisiana brewery Abita. On Monday, Feb. 15, they'll also offer a New Orleans-themed, three-course menu for $25/person that includes a cup of chicken and Andoullie sausage gumbo, a shrimp & oyster po'boy, a bag of Zapps chips, and apple and golden raisin bread pudding.
---
Need more delivery and takeout options? Check out our latest comprehensive guide here.