We used to tell you about all the things you could go out and do in Los Angeles on a daily, weekly, and monthly basis. Then, the coronavirus pandemic changed life for all of us, in a thousand small and massive ways. For a while, we posted strictly virtual events to keep you entertained and connected from your home. As the state, county, and city slowly reopen, we'll also include a mix of things you can do outside the house while still abiding by local health orders. We'll still offer plenty of online options for those of you who are self-isolating or who've decided to stay at home for the time being. We'll post a new list of options every Thursday morning. We hope they keep you busy, make you laugh, teach you something, or help you feel less alone.
This week, we've got online art shows and wellness classes, a lecture on the Tongva, outdoor workouts, cocktail pop-ups, a tea and wine celebration, drive-in comedy and dance, and more. Have something you want to submit for next week? Hit us up: [email protected].
---
Out-of-the-House Events
Barry's brings its high-energy cardio and strength interval training moves to the Beverly Center starting this week. Classes will take place in the valet parking lot on the first floor of Beverly Center. Participants will all be eight feet apart. Headphones will be provided for a silent disco soundtrack. The space and materials are deep-cleaned with hospital-grade, EPA registered disinfectant for each class.
L.A. County Parks is creating scenic routes for families to enjoy walking, biking, scootering, and skateboarding. They're available in various areas on Thursdays between 5-8 p.m. and on Saturdays from 9 a.m. to noon.
Every Thursday in September from 5-9 p.m., Madre Oaxacan & Mezcaleria will host a cocktail pop-up at Terra, Eataly's rooftop lounge. Cocktails are $15 each and a portion of proceeds benefits Restaurants Care. Reservations required.
"To Protect & Serve? Five Decades of Posters Protesting Police Violence" is now on display through October 2 at the 18th Street Arts Center (Airport Campus). Open by appointment only, but you can see lots of content online, too.
Magic Asphalt, a drive-in comedy series in the Magic Castle's parking lot, is back this weekend. Performers include Bill Burr, Kennelia Stradwick, Michael Rappaport, and Iliza Shlesinger.
Chinatown tea purveyor Steep will celebrate its one-year anniversary on Saturday, September 12 with an afternoon tea and wine experience in the Mandarin Plaza courtyard. The event includes tea-infused refreshments, bubbly, a platter of assorted dim sum, cold shrimp noodles, and delicate sweets. Guests will also leave with a milk tea kit made with Minor Figures Oat Milk. Tickets are $50 a person. There are three time slots for the event, and each party is allowed four guests per table. All tables will be spaced six feet apart. Reservations are available at www.steepla.com.
L.A. Dance Project is hosting a series of drive-in dances. They happen in a parking lot in DTLA, so you can roll up, park, and watch live dance from the socially distant comfort of your car. The first performance series, Solo at Dusk, kicks off on September 10. Tickets start at $75/car for members and subscribers, $100/car for everyone else.
Employees Only turned its parking lot into Summer Social Club featuring a roster of socially distanced food and cocktail pop-ups. Happening every Tuesday through Sunday.
Still Life Ceramics at ROW DTLA launched Pottery in the Park, a new series of open-air, socially distanced classes held in its "park" designed space. Options include one-time classes on Thursdays, a Rosé and Clay session on Fridays, and month-long classes.
dineL.A.'s Summer Restaurant Week (September 1-18) returns this year with close to 300 eateries hosting exclusive lunch and dinner menus at special prices for dine-in, takeout, and delivery.
MAIDEN LA, an inclusive network of art-related happenings throughout Los Angeles County returns September 1-20. Over 75 L.A. artists, collectives, curators, and organizations will host programs both live and online, interactive and socially distanced. View the list of participants here.
The Montalban has a rooftop screening series underway. It's socially distant and not a drive-in! Upcoming films include The Greatest Showman, Straight Outta Compton, and L.A. Confidential.
Head to The Mermaid Bar with your dog for Yappy Hour Sundays from 5-8 p.m. Special cocktails, food, and doggy treats will be available. The bar has expanded into Honda Plaza's outdoor dining space in Little Tokyo.
You can schedule timed, one-hour appointments now to see "Ed Clark. Expanding the Image" at Hauser & Wirth. New appointments will be released weekly. Register here.
The California Botanic Garden in Claremont features the work of five artists in residency, both online and in-person at the garden starting August 28. "Homing: A Group Exhibition" artists include Margaret Gallagher, Hannah Flynn, Miwa Matreyek, Eliza Swann, and John Zappas. See the pieces online through December 1 or check out the installations in-person through October 1.
The Cat Cafe is currently offering virtual and IRL experiences. You can spend 45 minutes with kitties at the cafe every Friday, Saturday, and Sunday with a reservation.
YEA! Impact and The Andaz West Hollywood offer "The Sunset Strip Presents Late Night Drive-In," a series of drive-in theater shows that mix comedy, musicians, and movies on Fridays and Saturdays from 7-10 p.m. More info on the series here.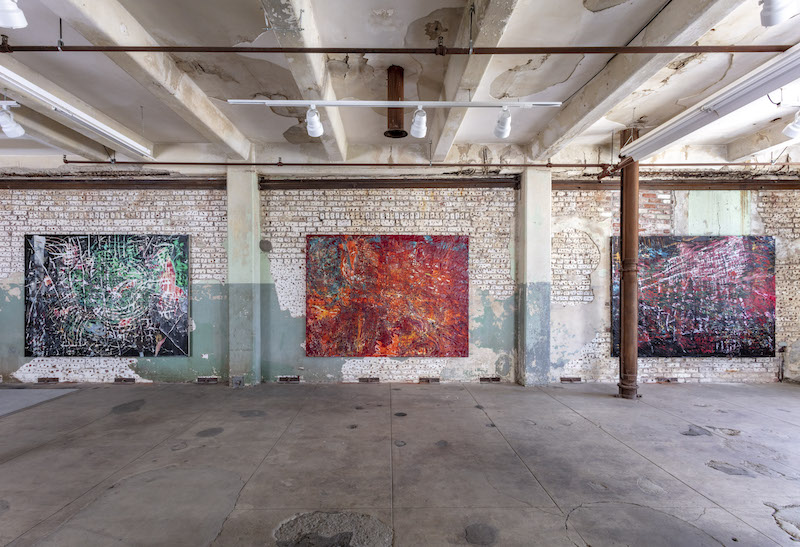 At-Home & Online Events
The 27th Long Beach QFilm Festival streams September 10-13. This year, the LGBTQ film fest picks include Welcome to Chechnya, Changing the Game, Ahead of the Curve, and more.
Via The Robey Theatre Company, actor James Cromwell will discuss the current and future state of theater on September 11 at 6 p.m. Join on Zoom.
The 3rd annual Urban Tech Connect is virtual this year, September 15-17. Per a release: "The three-day event will equip tech company founders from African American and LatinX communities in Los Angeles and beyond with the knowledge and expertise to build competitive and successful tech enterprises and platforms." More info here.
UCLA's Center for the Art of Performance (CAP UCLA) presents Constance Hockaday's "Artists-In-Presidents: Fireside Chats for 2020″ September 14 through November 13. A group of diverse artists, writers, musicians, and performers have each written and recorded a "State of the Union Redress" describing their vision for the future with the help of retired presidential speechwriters.
"Hershey Felder as George Gershwin Alone" explores the life of composer George Gershwin. You can watch it via The Wallis, live-streamed from Florence, on September 13 at 5 p.m. Tickets are $55 per household.
The Ocean Institute's Virtual Maritime Festival is September 11-13. Learn how a three-masted topsail cargo schooner transports coffee through the Costa Rican jungle, see marine life on a livestream, sing a shanty with San Francisco Maritime National Historical Park, and more.
On September 13 at noon, Holocaust Museum Los Angeles presents a virtual concert with Cracow Duo. The suggested donation is $10.
The 12th Annual Hola México Film Festival takes place virtually September 11-20. It includes the opening film Chicuarotes. To watch, you'll need to be a Pantaya subscriber.
Join a Virtual Garden Talk to help plan your Fall vegetable planting strategy. On September 12, guests will learn what fruit and vegetables do well in the Fall, how to prepare the soil, and how to nurture the plants until harvest.
The Elysian Valley Art Collective hosts a free online art workshop with illustrator and artist Kait Walsh on Zoom. The whole family can work with Walsh to create collages. Log on September 12 at 10:30 a.m.
From Zocalo Public Square comes another great discussion on September 16 at 6 p.m. This one's "Why Don't Women's Votes Put More Women in Power?" featuring Johns Hopkins University historian Martha S. Jones, author of Vanguard: How Black Women Broke Barriers, Won the Vote, and Insisted on Equality for All; Institute for Women's Policy Research president C. Nicole Mason; and California State Senator Hannah Beth Jackson, author of the California Fair Pay Act. Register here.
Juliette Jeffers's play "Judgment Day" streams this month via the Whitefire Theatre. The solo show questions, "What if God was held responsible for all the injustices African Americans have had to endure since they were first brought to America as slaves in 1619?" Attend a livestream on Saturday, September 12 at 6 p.m. followed by a talk-back or catch it on demand through September 14. Tickets are $15.99.
Slauson Ventures is a platform for business owners of color to connect and collaborate. Join a virtual launch event on September 11 at 6 p.m. Register here.
Latino Theater Company will stream an archival recording of the play "La Victima" September 15-24. Synopsis: "A groundbreaking look, infused with humor, music, and dance, at the history of Mexican-U.S. immigration from the intimate perspective of two families."
The Garrison Brothers Distillery and The Palm Restaurant will host virtual bourbon dinners in Beverly Hills and DTLA September 16 & 30. You'll pre-order your dinner and cocktail pairings in advance, pick them up the day of the event, then log on at 7 p.m. for live programming. Tickets for the meal on the 16th are $85 and include an old-fashioned kit, a 6 oz filet beef Wellington meal with a bourbon cherry glaze, and a virtual bourbon 101 class.
"Bohemia, Bombay, Bloomington: The Musical Exile of Walter Kaufmann" is an online conversation between Los Angeles Opera director James Conlon; Director of the Colburn School's Ziering-Conlon Initiative for Recovered Voices Robert Elias; and Artistic Director of The Royal Conservatory of Music's ARC Ensemble Simon Wynberg. The event also includes recorded performances from the ARC Ensemble and students from the Colburn Conservatory of Music. Log on Tuesday, September 15 at 5 p.m.
On September 15 at 7 p.m., the City of Los Angeles and Councilmember Monica Rodriguez host ¡El Grito!, a virtual telethon to raise money for Angelenos impacted by COVID-19. The event will feature musical performances and a re-enactment of the Cry of Dolores. More info is here.
Eric Nash's "Streets of LA" is a new exhibit of charcoal on paper art at KP Projects. You can view online starting September 12 or in-person with social distancing through September 19.
The Brand Library and Brand Associates presents its 48th annual 'Works on Paper' show online this year. It opens on September 12 at 2 p.m., and includes 108 pieces selected from over 900 submissions.
Grand Park's Easy Mornings focus on personal wellness. The online presentations take place on Saturdays from 10-11 a.m., September 12 through October 3. Log on for stretching exercises, photography tips, coloring sessions, performances, and weekly features on local artists and food trucks. See more here. Watch on YouTube (@GrandParkLosAngeles) or Facebook Live (@GrandParkLosAngeles).
Indigenous archaeologist and Tongva tribe member Desireé Martinez, M.A. will explore the history and influence of the Tongva/Gabrieliño on September 16 at 5 p.m. The virtual lecture is free. Register here.
Get to know the eight Burbank City Council candidates via a virtual town hall on Saturday, September 12 at 4 p.m.
The Pasadena Symphony and POPS 2020 Moonlight Sonata Virtual Fundraising Event is September 12 at 6 p.m. The livestream will feature performances from Pasadena Symphony and POPS artists, a live auction, and more. Interactive content will launch online starting September 10. More info here.
On September 11 at 5 p.m., the Fowler Museum presents an online screening of Soy Cubana, a short documentary about a Cuban female a cappella quartet.
KCET Cinema Series presents a virtual screening of Blackbird followed by a Q&A with director Roger Michell and actors Bex Taylor-Klaus, Lindsay Duncan, and Anson Boon on September 15 at 7 p.m. Tickets are $10.
A + D Museum hosts "The View From Here," a series of video conversations with Black American designers and artists about how the environments they grew up in impacted their creative vision. The project is designed to spark conversation around topics like gentrification and identity in built environments. New videos will be uploaded this month.
Every Friday, join Dynasty Electrik for a free Crystal Sound Bath & Astrology session. The astrology discussion and meditation will be followed by a relaxing ceremonial blessing with crystal singing bowls.
Beverly Hills' Plastic Gallery hosts a virtual Kobe Bryant exhibit featuring photographer Michael Muller's portraits of the late basketball legend from the past decade.
Fantasy Escape Games offers two, hour-long, online escape room games. Be a wizard in "The Dark Tower" or a ghost trying to avoid being exorcised from the home you haunt in "Ghosts of Craven Manor." Tickets are $14-15 per player.
"Claws" is a play that takes place over the phone. You're on a call with Danny, who has a monster in his closet. Over the course of 30-40 minutes, you'll help Danny decide what to do next. Tickets are $31.20.
Creepy Kingdom's Halloween@Home offers two straight months of Halloween programming including livestreams, how-tos, writing prompts, and more. They're also fundraising for The Actors Fund and The Trevor Project.
The GRAMMY Museum continues to offer free digital programs. Upcoming programs feature Faouzia, Elizabeth Cook, a Count Basie exhibit, and more.
Every week, the Annenberg PetSpace hosts virtual events designed to deepen the bond between you and your pet. See the full schedule here.
Self Help Graphics & Art presents The Very Very Very Long Day, a virtual group exhibition featuring artists documenting their collective experiences during the COVID-19 pandemic. The exhibition runs through September 25.
Enjoy an LGBTQ+ virtual mindfulness-based wellness session every Wednesday. Each week features guest wellness speakers and a new guide to practicing mindfulness.
The Los Angeles Chamber Orchestra is streaming concerts from Colburn School's Zipper Hall for free. The next concert is on Saturday, September 5 at 5 p.m.
Have you filled out you 2020 Census yet? You only have until September 30 and it's super important to make sure California gets the federal funding and political representation it needs based on its population!
The Gourmandise School at Santa Monica Place offers weekly online cooking and baking classes via Zoom. Check out the calendar here.
The Los Angeles Philharmonic Association and KCRW present World Festival at the Holiday Bowl, a radio broadcast series of previously recorded live concerts. Tune in on Sundays from 6:30-8:30 p.m. through October 11 for a different concert each week. This Sunday, it's St. Vincent and Cibo Matto. Online listeners, here's your link.
Long Beach Food & Beverage presents virtual cooking and cocktail classes. See what's up next here.