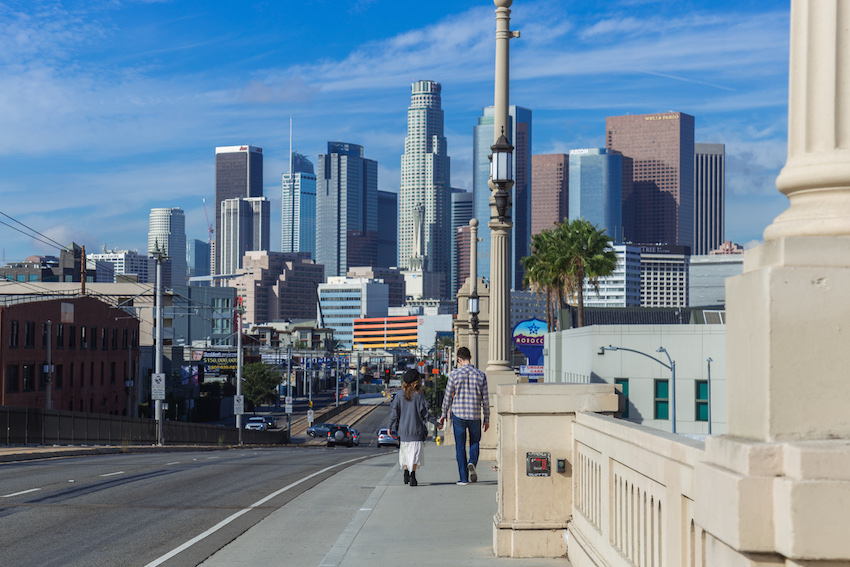 We used to tell you about all the things you could go out and do in Los Angeles on a daily, weekly, and monthly basis. Then, the coronavirus changed life for all of us, in a thousand small and massive ways. Until the pandemic is behind us, we'll post events that adhere to Public Health's current protocols—including plenty of at-home and online events—every Monday and Friday morning. We hope they keep you busy, make you laugh, teach you something, or help you feel less alone.
This week, we've got a drive-thru festival, online quests and variety shows, the Japanese American National Museum's virtual Oshogatsu Family Festival, and more. Have something you want to submit for next week? Hit us up: [email protected].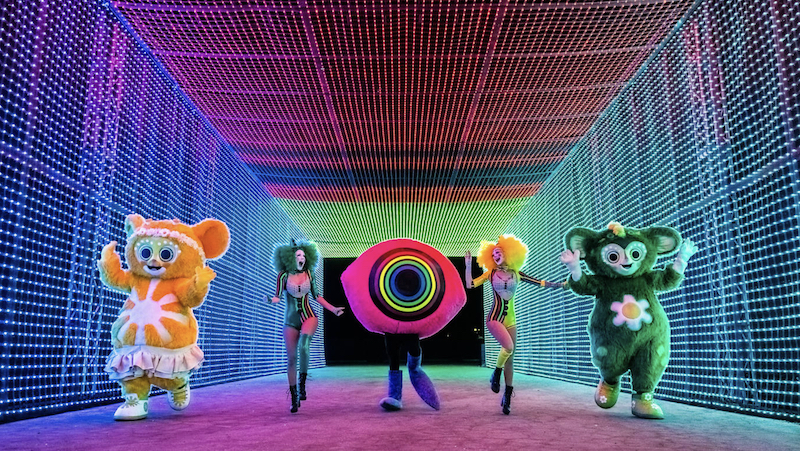 Out-of-the-House Events
Insomniac presents Electric Mile, a drive-thru festival experience inspired by the unique worlds of signature events including EDC, Beyond Wonderland, Nocturnal Wonderland, Escape, and Countdown. The event takes place at Santa Anita Park on Jan. 1-10 and will feature music, a warehouse rave, 5 million lights, installations, and more.
Glendale Arts invites the public to add their wishes for 2021 to the Alex Theatre Wishing Wall, a new installation on the historic Alex Theatre's gates in downtown Glendale. The project is inspired by Yoko Ono's Wishing Tree project and encourages participants to share their hopes for the future. You can grab a wish tag in-person or submit your wish online, where staff will write and hang it for you. The Wishing Wall will be on view at the theater through Jan. 8 before moving around Glendale for the next year.
Grand Park's new public art installation, "Ground Our Present, Dot Our Future," is available to enjoy now through Jan. 25. It consists of 74 quotes, crowdsourced from Angelenos over the past year, that line park walkways. The artwork "reinvents the current floor distancing decal culture by putting the emphasis back on how Angelenos can be socially connected—by gaining knowledge and understanding about the diverse experiences in Los Angeles County from the perspectives of those who live them." It's free to enjoy any time. Just take a walk in the park.
Pickup & Delivery
Vita Coco is partnering with Postmates to bring free limited-edition hangover recovery kits right to your doorstep on National Hangover Day, otherwise known as Jan. 1. The kit includes a breakfast sandwich, Vita Coco coconut water, socks, ear plugs, Banila skincare, one free month of Obé Fitness, and more. Order for contact-free delivery through the Postmates app starting at 11 a.m. on Jan. 1, while supplies last. Choose the Vita Coco National Hangover Day Recovery Kit when ordering.
Q Sushi, well-known for its high-end omakase experience, is now offering takeout boxes. A premium omakase sushi box for two is $400 and includes 20 pieces of nigiri and sashimi per person. Order on Tock.
Bardonna in Santa Monica is offering handcrafted chocolate bombs ($8 or 2 for $15). Each globe is filled with hot cocoa and marshmallows. You drop them into a cup of hot milk and watch them explode into a delectable mug of hot chocolate, perfect for chilly nights at home.
Roguelike Tavern in Burbank hasn't been able to actually open, given the pandemic. However, they are currently soft-open for takeout food, cocktails, beer, wine, and spirits. Starting Dec. 29, they're offering a puzzle box experience that comes with two meals, a flight of quality spirits, and a mystery for you to solve. Order online here.
At-Home & Online Events
Thickett Quests are interactive stories that feature live actors, performances, and hidden pathways. Players use an online portal to navigate an animated world, similar to a video game, interacting with characters and objects along the way. You'll pick up items, solve riddles, chat with players, and explore. (Watch the video above to see how it works.) A holiday edition is on Jan. 3, though there are also quests on Jan. 1 and Jan. 2. Tickets are $20-$25.
Take your wine knowledge to the next level with Wine LA's Wine Camp on Jan. 3. Enjoy a two-hour crash course on all things wine, including how wine is made, how to describe vino like the pros do, and what foods pair well with wine. The class is on Zoom and comes with wine flights.
Enjoy a laugh during the virtual edition of L.A.'s very own Chocolate Sundaes Comedy Show on Jan. 3. The show is donation-based and money raised goes to the staff and comedians of the legendary Laugh Factory.
From LACMA@Home: "Color in these free, printable artworks, taken from the Kurt J. Wagner, M.D. and C. Kathleen Wagner Collection of art nouveau posters that were generously donated to LACMA's Prints and Drawings department in the 1980s."
Celebrate the Year of the Ox virtually during the Japanese American National Museum's Oshogatsu Family Festival Jan. 3-8. Activities include a peek inside the museum's collection, storytime, crafts, and a conversation around traditional Oshogatsu foods with local Japanese restaurants.
Esotouric invites you to embark on a virtual exploration of Pershing Square on Jan 2. According to some, Pershing Square is one of "America's most hated urban parks." The tour explores the park's origin, its golden age, how everything went wrong, and its future. The lecture is packed with rare photos and videos. Tickets are $10 and include a Q&A.
The Rose Parade's New Year Celebration will be reimagined as a two-hour television special on New Year's Day at 8 a.m. on ABC, Hallmark, KTLA, NBC, RFT-TV, and Univision. The show will feature musical and marching band performances, celebrity guest appearances, special Rose Bowl Game football highlights, spectacular floats from years past, and more.
The Robey Theatre Company recently held a competition in which playwrights submitted ideas for a play surrounding Kwanzaa. On Jan. 1 at 6 p.m., seven short scenes will air over Zoom and the public is invited to offer input that will influence which play Robey develops, produces, and premieres in 2021. Register for tickets here. The suggested donation is $10. 
The Dave Hill Goodtime Hour is hosting a watch party for the 1982 Bollywood film Disco Dancer on Jan. 2 at 4 p.m. The film will broadcast on Twitch via an Amazon Prime Watch Party. Afterward, there will be a Q&A with Dave Hill, Anuvab Pal, and Shonali Bhowmik. 
On Friday, Jan. 1 at 7 p.m., Fire Emoji is a comedy & strip variety show featuring comics Alison Stevenson, Dewayne Perkins, Ashley Ray, Dana Donnelly, Emily Whittemore, Anya Volz, and Becca O'Neal, plus dancers Onyx Black, Cera Byer, Penelope, Syn, Naomi, and Amaya J. Tickets are $10 with RSVP and will benefit the Black SW Relief Fund.
Watch Angel City Chorale's first virtual concert free on YouTube until Jan. 7, 2021.
Tycho kicks off 2021 with Sunrise Solo Ascent, a solo performance on Jan. 1 at 7 a.m. from the wooded hills of Northern California. The stream will be available to rewatch for 48 hours following the initial broadcast.
Let chef Kuniko Yagi of Pikunico teach you how to bring a Japanese twist to a typical meal. The three-episode series is part of the Japanese Food Lab program hosted on the JAPAN HOUSE Los Angeles YouTube Channel.
See "A Time of Questioning," a group exhibition curated by arts writer Shana Nys Dambrot, online. Artists include Alexa Druyanoff, L. Aviva Diamond, Carl Shubs, Jeannine Chanin Penn, Julie Ascher, Justin Prough, Kevin Mischler, Leslie Barton, Sharon Koppelman, and Snezana Saraswati Petrovic.
Take a pre-recorded Architectural Legacy Tour from Pasadena Heritage. Each tour offers a peek at architectural gems including craftsman bungalows, The Freeman House, and buildings along South Grand Avenue. Tickets start at $15 for non-members. Available now through Jan. 3.
Name a baby condor! The L.A. Zoo's condor conservation program recently hatched a baby chick currently known as LA127. The Zoo is currently accepting donations for the California Condor Recovery Program (CCRP) through Jan. 7. Any amount will grant you to the opportunity to cast a vote for one of four names. Appear on the Zoo's website starting at donations of $5, with other benefits at higher levels.
Rogue Artists Ensemble's "Storage Run" is an immersive holiday show where you can choose what happens. Part One kicks off on Dec. 18 at 7 p.m., while Part Two and Three post on Dec. 25 and Jan. 1, respectively. All three parts will remain online through Jan. 31. Synopsis: "With just a few weeks remaining until the holidays, Mike becomes trapped and alone in a tangled web of Rogue storage — or so it seems. Boot up and plug into a story of computer age connection and holiday whimsy, and help Mike on a quest to send a message to the world. Will you help? Y/N? Your choices build a singular and unlikely friendship and unlock a "holiday-tastic" adventure, all from the safety of your computer." Tickets are pay-what-you-can with a suggested price of $20.