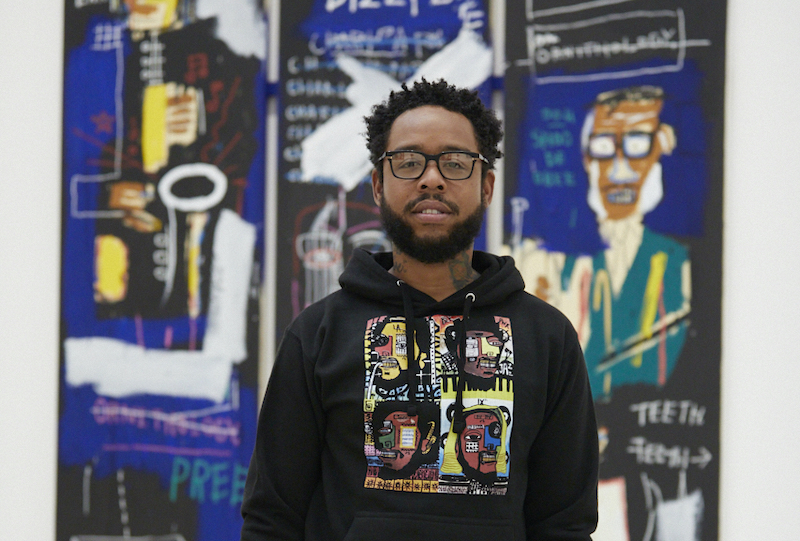 We used to tell you about all the things you could go out and do in Los Angeles on a daily, weekly, and monthly basis. Then, the coronavirus changed life for all of us, in a thousand small and massive ways. Until the pandemic is behind us, we'll post events that adhere to Public Health's current protocols—including plenty of at-home and online events—every Monday and Thursday. We hope they keep you busy, make you laugh, teach you something, or help you feel less alone.
This weekend, we've got a women-focused food fest, a video art & music series, fantastical tours, movie trivia, virtual concerts, and more. Have something you want to submit for next week? Hit us up: [email protected].
At-Home & Online Events
The Broad's new three-part video series Time Decorated: The Musical Influences of Jean-Michel Basquiat explore the artist's connection to genres including Jazz, Bebop, Punk, No Wave, and Hip-Hop. The first episode, Jazz and Bebop, launches Jan. 21 and features L.A. jazz musician Terrace Martin and Quincy Jones. Check it out here.
RE:Her's Food Festival, highlights over 100 women-owned businesses in Los Angeles and beyond from Jan. 21-30 through exclusive takeout meals, dozens of menu collaborations, special offers, and panel conversations by and for women. View a list of events here.
Join LA Walking Tours on Jan. 24 for an exploration of the city's botanicals and learn the history, biology, and cultural relevance of some of Los Angeles's most beloved plants.
The Catalina Island Museum hosts "You've Got Mail: Catalina Island's Mail Carrier History" on Jan. 23 at 11 a.m. on Zoom. Per a release: "Written on the island and mailed to Ipswich, Massachusetts, the virtual event will share the history of the first known letter carried from the West Coast to the East Coast via Cape Horn and explore how it relates to the United States and Mexican history and a brief background about the use of carrier pigeons on the island. A special guest will share information about training pigeons and the Post Mistress of Avalon's Post Office will share how even today the island is unique in the way its mail delivery is handled." Tickets are $5 for members, $10 for non-members.
Fantastic Negrito performs a concert streamed live from The Downtown Theater in Fairfield, CA on Jan. 23 at 6:30 p.m. Tickets are available for $9.99 through Frazier Trager Presents here.
The Museum of Unnatural History in Chicago presents The Kingdom of Slovenia, a virtual tour through a fantastical world populated by sentient foods. Described as "part theme park ride, part role-playing game," groups of 4-8 will explore the land's agricultural and mythical history and make choices that impact their tour guides and Slovenia's citizens. Tickets are available on a sliding scale from $1-$15 here. Open Fridays through Sundays through Feb. 21.
Vidiots Virtual Movie Trivia with MUBI is on Jan. 24 at 5:30 p.m. Test your film knowledge with guest host Drea Clark in teams of up to four players. Donations of $5-$10 accepted to cover production costs. RSVP here.
The Diasporic Vietnamese Artists Network (DVAN) presents ACCENTED: Dialogues in Diaspora, an online series that features writers, poets, artists, actors, filmmakers, scholars, and other cultural producers from the Vietnamese and Southeast Asian diaspora. The next episode is on Jan. 22 at 7 p.m. and features filmmakers Carol Nguyen (No Crying at the Dinner Table) and Bao Nguyen (BE WATER), hosted by author Viet Thanh Nguyen. Tickets are $5 here.
Monthly film festival NewFilmmakers Los Angeles (NFMLA) returns Jan. 23 for a Zoom fest spotlighting perspectives through the lens of aging characters. Tickets are $10 per film or $30 for an all-access pass.
The Skirball presents the Tightrope: Americans Reaching for Hope Jan. 21–May 31. The online exhibit is based on the New York Times bestselling book by Pulitzer Prize–winning journalists Nicholas D. Kristof and Sheryl WuDunn and features images of America's most complex problems captured by photojournalist Lynsey Addario.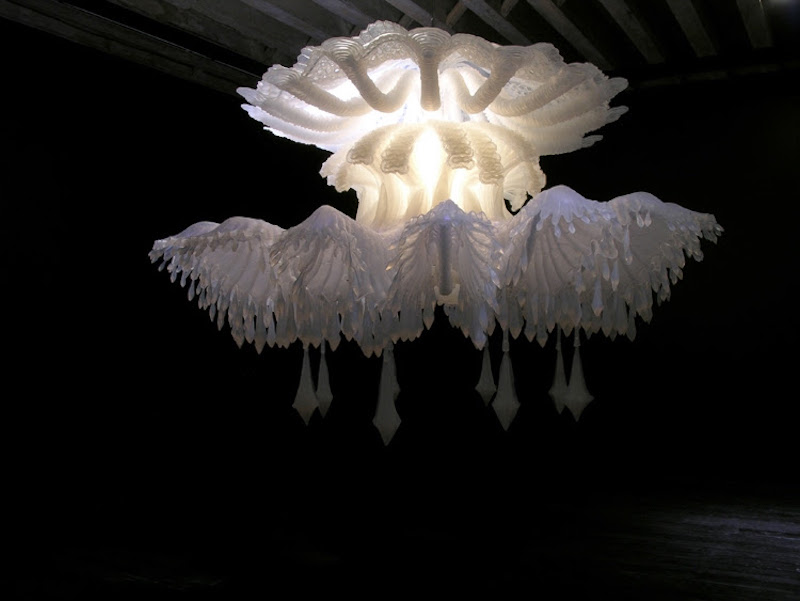 Craft in America's new virtual exhibit Making Waves: Ocean Ecology & Craft features artists whose work explores "various ecological and human-generated threats to our oceans in a variety of media." Select pieces are now on display in the street-facing windows of the Craft in America Center, but you can see them all online. Artists include Christopher Edwards, Linda Gass, Ana Lisa Hedstrom, Timothy Horn, Po Shun Leong, Courtney Mattison, Jennifer McCurdy, Sarah McMenimen, Blue McRight, Joan Takayama-Ogawa, and April Surgent.
The Coolest Show is a new Think 100% podcast about environmental and climate justice and solutions from Hip Hop Caucus. Host Rev. Lennox Yearwood, Jr. talks to activists across the country, including Laura Cortez, Co-Director of East Yard Communities for Environmental Justice; Angelo Logan, Director of the Moving Forward Network in Long Beach; Beto Lugo-Martinez, Co-Director of Clean Air Now; Rachel Jefferson, Executive Director of Groundwork Northeast Revitalization Group; Darnell Grisby, Executive Director of TransForm, and others. Listen to episodes here.
CA Craft Beer Week takes place February 12-21, but they're rolling out virtual events, activities, and product offerings now through February in support of the businesses struggling due to the COVID-19 pandemic.
LA County Library's Parent-Ade is a series of virtual programs to help parents handle distance learning. Programs are offered every Wednesday at 4 p.m. in English and at 5 p.m. in Spanish on Webex. They include topics such as "Socially Distant Adventures," "Staying Connected with Family & Friends," and "Balancing Work and Home." Find more info here.
L.A. County Parks has over 175 virtual classes for all age levels. They include language, arts, computer, health, fitness, and other topics, all accessible from your home so long as you have internet access. Sign up here.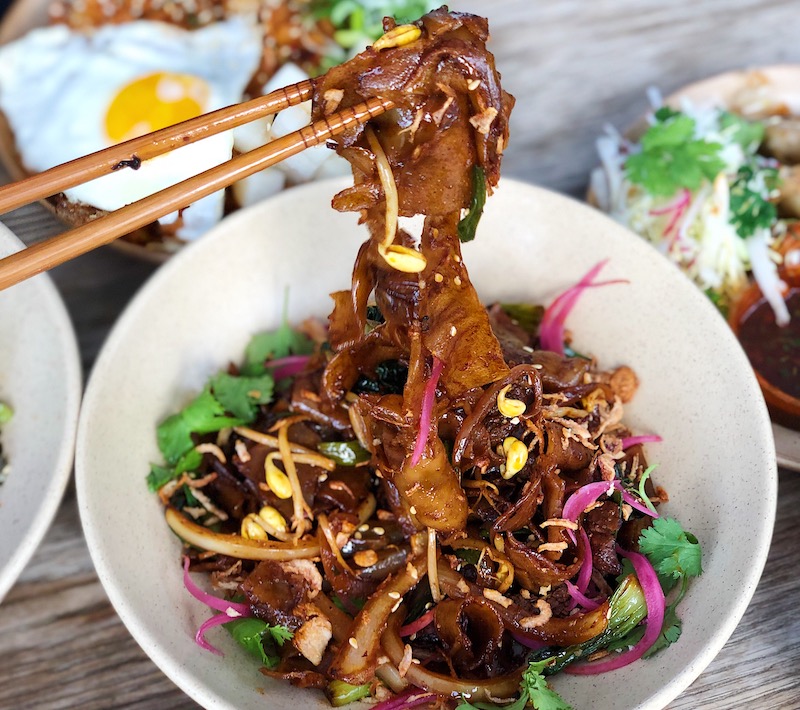 Pickup & Delivery
Apollonia's Pizzeria's off-menu square pizzas are now available to reserve online for takeout. The signature pie is surrounded by a crown of crispy cheese and topped with goods like pepperoni and squash blossoms.
Chinatown's Steep LA is offering two Boa Bae specials for pickup on Jan. 23. The Black Pepper Bun (胡椒餅) comes in a set of two, and is a toasted flaky sesame bun filled with beef and spices. Juicy soup bao Sheng Jian Bao (生煎包) comes in a set of four and is filled with pork. Reserve one or both online and pair it with the tea shop's limited edition Spring Orchid Oolong Cold Brew, also available online.
French restaurant Pasjoli will host a virtual wine & dine Zoom event on Jan. 23 at 6:30 p.m. The meal includes a ready-to-heat two-course dinner of mushroom and charred cauliflower tartare and veal breast blanquette with leeks and hazelnut, plus four individually sized wine pairings. Tickets are $105 per person, available on Pasjoli's Toast app page.
Chef Jordan Kahn released a new "Vespertine At Home" experience, placing emphasis on atmosphere. The eight-course menu includes organic roasted chicken, velvet white carrot soup, and hand-rolled cinnamon buns with woodruff and dried peach. Chef Kahn has also curated an Atmospheric Box that will accompany each order. The box includes items like flatware, linens, incense, and other elements to provide guests with a unique Vespertine experience in their own homes. Each package is $245 and serves two people. Available Friday through Sunday from Jan. 22 through Feb. 7. Order on Tock for pickup from Vespertine in Culver City.
Saikai Ramen Bar in Koreatown is offering three special bentos. The Egg Salad Sando Bento ($16), Chicken Katsu Sando Bento ($17), and the CLT ($17), a pork belly chashu version of the BLT. All are served with your choice of appetizer, a farmers market salad, pickles, and fruit. Open for takeout.
Brentwood's Baltaire is hosting FLINT by Baltaire's, an eight-week pop-up featuring items from Travis Strickland's coastal Mediterranean restaurant in Phoenix. The menu features a spicy short rib hummus, Moroccan fried chicken, and a selection of wood-fired plates such as wood-grilled lamb chops, roasted chicken, and the FLINT Burger made with smoked bacon jam, white cheddar, and mayo on a poppyseed bun.
Pigeon is a wok cart pop-up at Hermanito in Sawtelle open every Saturday and Sunday in January from noon to 6 p.m. The menu consists of stir-fried Asian-Latin street food, like Kimchi Chorizo Fried Rice $13 (kimchi, Oaxacan chorizo, fried egg, pickled daikon, sesame); Carne Asada Chow Fun $15 (carne asada beef, rice noodles, bok choy, pickled onion, crispy shallot); and Sichuan Tempura Veg Fried Rice $11 (tofu, sweet potato, maitake mushroom, shiitake mushroom, Sichuan seasoning, sesame). Available for pickup.
Through Jan. 27, Randy's Donuts in Inglewood is hosting a Snowpiercer takeover with fun photo ops and a free vanilla raised donut with coconut shavings for the first 100 guests (otherwise, $2.85 each).
Shiku is now open at Grand Central Market for curbside pickup and takeout of homestyle Korean food and Baroo pantry items.