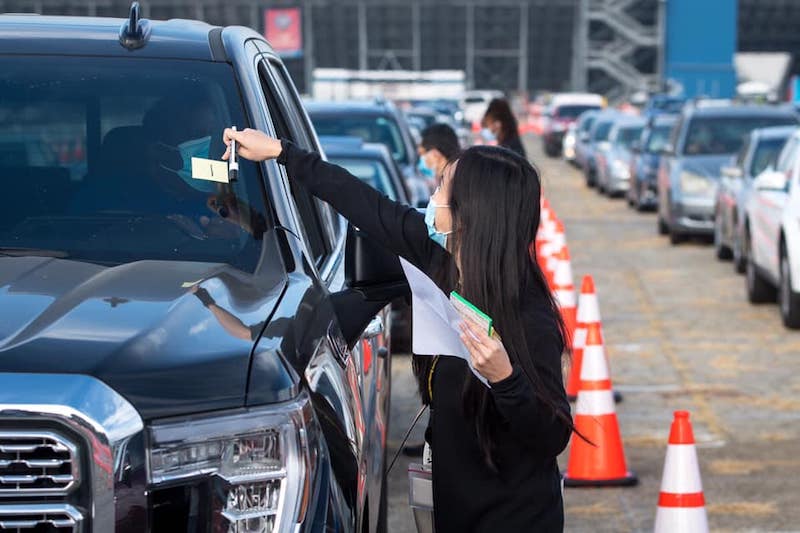 Update, March 24: While things have certainly gotten easier for car-free Angelenos as vaccine supply has increased and expanded to local pharmacies, we wanted to let you know about one other option. You can now take the MetroLink train from Union Station directly to the Cal State LA vaccination hub. According to Metrolink, you can take the elevator or stairs from the train platform to the university transit center, then follow signs to Structure A. From there, a shuttle will take you to the walk-up site. Adult Metrolink tickets are currently $4 roundtrip on weekdays. You can also purchase an unlimited $10 Metrolink pass on the weekends. It takes about 10 minutes to get from Union Station to Cal State LA via Metrolink. Learn more about this partnership here.

L.A. County recently opened five large vaccination hubs, each capable of vaccinating 4,000 people per day. The catch? They all require recipients to come by car. So does Dodger Stadium, the City of Los Angeles's largest vaccination center. As a carless Angeleno myself, I embarked on a surprisingly winding quest to discover how exactly my fellow transit users and I might get vaccinated. Please join me on this journey, which, just like taking a Metro bus, took much longer than it should have. (TL;DR? Here's the map I made and the county's registration site.)
I first tried emailing the L.A. County Department of Public Health on Jan. 15, who confirmed that at all five vaccination hubs—The Forum, Six Flags Magic Mountain, the L.A. County Office of Education in Downey, Cal State Northridge, and the Pomona Fairplex—you need a vehicle. "We are working on ways to allow other means of entry," the email said.

That same afternoon, Paul Simon, MD, MPH, Chief Science Officer, Los Angeles County Department of Public Health, held a media briefing. I asked him what car-free options were available. He said that while officials initially imagined vaccination centers would primarily be walk-up sites, there were some concerns over things like the weather that led them to believe drive-thrus might be safer.
He said that while he didn't have an answer at that moment, "I think we have to be prepared to offer some flexibility, particularly for folks that use public transit."
You may be thinking, 'Weather concerns? In L.A.?' But those weather concerns were echoed by Kenichi Haskett, a Public Information Officer with the L.A. County Fire Department, who I spoke with on Jan. 19. That day, high wind and Red Flag conditions across Southern California had led SoCal Edison to cut power to thousands of residents, and you could hear the wind whipping during the County's press conference at the vaccine site in Pomona.

Haskett said strong enough winds could knock over the sites' porta-potties, tents or tables, or even trees.
"We had injuries on the staff today from debris," Haskett said.

The winds were so strong that Orange County shut down its vaccination site at Disneyland on Jan. 19, anticipating what the National Weather Service called "damaging" winds of up to 50 mph, and again on Jan. 20. The Hansen Dam vaccination site, which opened on Dec. 30 to serve healthcare workers, also closed on Jan. 19 due to high winds and moved its appointments to Dodger Stadium.
Weather conditions hindered plans to incorporate walk-ups into the five mega-pods on opening day, Haskett said, but that will hopefully happen sometime soon. In the interim, Haskett said people could call an Uber or Lyft to drive them, at which point they could get vaccinated from either the front or backseat. Obviously, you'd have to have a phone with the app downloaded and you'd have to pay for the ride. There's also something dystopian about paying a driver to wait in line with you to get a vaccine, but who can't get one themselves.

Haskett later sent an email highlighting two walk-up sites managed by Public Health that you can access on foot right now: the Balboa Sports Complex in Encino and the El Sereno Recreation Center. The County's Facebook Page is now promoting both sites with the caption "No Car? No Problem." Neither are near major transit hubs. From Central L.A., both would take me over an hour by bus, and the latter's Google-recommended route ends with nearly a mile-long walk. Doable for me, but what about seniors or people with mobility issues?
"The goal for L.A. County is to open more walk-up vaccination clinics," the email said.
That's great, but even this message was complicated by the town hall L.A. County held over its Facebook, Twitter, and YouTube channels that same evening, during which residents had been able to submit questions. One resident wrote in, "I don't have a car and it takes forever to get around on the bus. Where can I get the vaccine and how are you making it easy for people who don't have cars or depend on public transportation?"
Panelist Dr. Eloisa Gonzalez, Director, Cardiovascular and School Health, LA County Department of Public Health, responded that while that the hubs are set up as drive-thrus "to minimize exposure to all the individuals that are going to be arriving, we do realize that not everyone has a car. So people can use any form of transportation if it's a bus or an Uber…to get to one of the mega-pods, but once they're there, they can be served on a walk-up basis as well to make it easy for them to be able to receive the service."

But can they? Because the County's website says no, Public Health PIOs told me not yet, and there's been no press release indicating that change has occurred.
Dr. Seira Kurian, director of Public Health's Division of Medical Affairs, also responded to the question at the town hall, noting "there are some sites also available on our website [that] are not purely a drive-up sort of situation. So, there are sites where folks can actually go to more a clinic-type setting to get vaccinated. So it's not completely necessary that you have a vehicle to get vaccinated."
Okay, so what are those? Well, the County's list is right here. You'll find the Encino and El Sereno sites, plus several that the L.A. City Fire Department runs. Dodger Stadium is drive-up only, but you can arrive via public transit or on foot to the following sites:
Crenshaw Clinic (1261 W 79th Street Los Angeles)
Hansen Dam Recreational Center (11798 Foothill Blvd., Lake View Terrace)
The San Fernando Clinic (208 Park Ave., San Fernando)
The Lincoln Park Clinic (3501 Valley Blvd., Los Angeles)
Additionally, there are also several community clinics and hospitals listed. Again, not a single one of them would take me less than an hour to get to by train or bus from my very centrally located Koreatown apartment, but they do exist. Some are full, others aren't taking registrations yet, and some had long hold times when I called, but I confirmed with both the Kedren Community Health Center and One Medical's site in Culver City that they are walk-ups.

There are also several pharmacies and grocery stores on the County's list, though none appear to be accepting appointments for the COVID-19 vaccine. Ralphs lists several other vaccines, but not that one. The Vons and Albertsons locations I looked at had no available appointments on their calendars.

Here's the County's map of all those sites. Keep in mind, the yellow and red sites have no appointments yet, and some of the purple sites are drive-ups.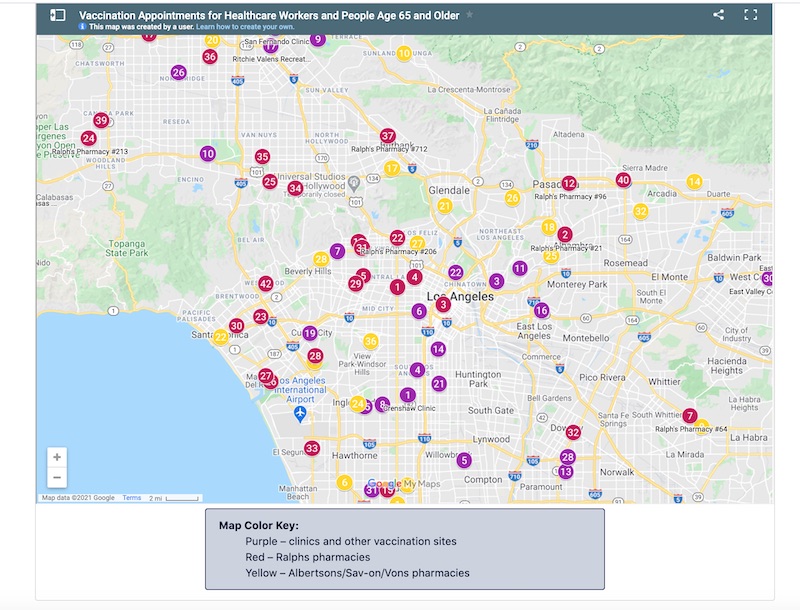 I made my own map that lists only walk-ups, hospitals, and clinics. I included the mega-pods in yellow, which may have walk-up availability at some point. Again, much of Central L.A., not to mention several other areas, are empty.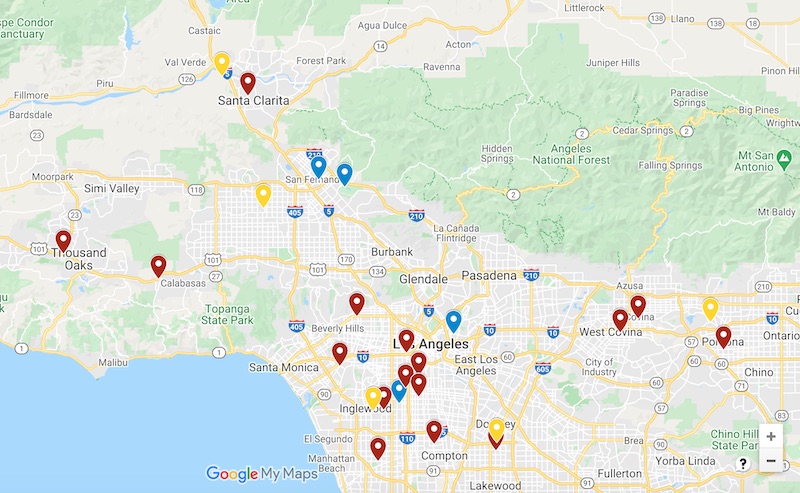 During a briefing on Jan. 19, County Supervisor Hilda Solis said that in the coming weeks, the County would "open more vaccination sites so people can get vaccinated in their neighborhoods, locally, and in places they're familiar with, like school and other locations. But in the meantime, I want to urge patience."
Patience is something of a luxury, considering how many L.A. County residents have already died—over 14,000 people—and those mourning them.
However, assuming the listed grocery stores and pharmacies do open as vaccine sites once vaccine supply increases, those would offer walkable options in several additional neighborhoods. LAUSD Superintendent Austin Beutner has requested vaccines become available at the district's over 1,400 campuses, which would add even more.

This is important because many transit riders may be reluctant to sit on a bus or train for an hour or more—even to get a vaccine—if they can avoid it. Mask-enforcement on public transit has been virtually nonexistent in my admittedly anecdotal experience, but Metro is also reporting 800 bus operators—35% of its drivers—out with COVID-19 or another illness. Those still at work are exhausted, logging six-day weeks.
To be fair, vaccination in L.A. County is a massive undertaking. Simon called the vaccine hubs "highly complex operations that require close coordination" among the team and staff. That includes people who help collect medical histories and forms, the doctors and nurses who administer the vaccine, the staff that monitors the vaccine to ensure it's handled properly and is maintained at the right temperature, and staff that observes people after vaccination to make sure there are no adverse reactions.

There are also 10 million people in L.A. County, all of whom must currently receive two doses of the vaccine. (The Johnson & Johnson vaccine is one dose, but hasn't been approved yet.) Of those, 1.3 million are seniors 65 and older.

Thus far, the county has only received 853,650 doses total since the first shipment on Dec. 14 and has called the vaccine supply "extremely limited." During a media briefing on Jan. 20, Public Health Director Dr. Barbara Ferrer said that it's also difficult to predict in advance how much we'll get.
This and other distribution issues have led to hours-long wait times at vaccination hubs. The sign-up website crashed on Tuesday, and many residents expressed frustration securing appointments for themselves or older relatives. As it stands, it may take until June to finish vaccinating seniors. Ferrer expressed hope that the new federal administration would bring more transparency as far as allotments, but right now, officials don't know when supply may increase.
But it's not just the vaccination sites that are proving difficult for people without cars. Many of the city's largest testing sites throughout the pandemic have been accessible by car only with walk-up sites few and far between.
The city does list a handful of walk-up sites here, and Union Station's testing site provided at least one Metro-accessible option. However, all of them are run by Curative, which L.A. County decided to stop using due to FDA concerns over false negatives. The City of Los Angeles will still allow Curative testing at some sites, but the Union Station site appears to have no future dates available.
If you go to L.A. County's site for finding a testing site and select walk-up, you'll see the following map. Note how there's not a single one that pops up in Koreatown, Hollywood, DTLA, or several other rent-dense neighborhoods where many residents do not have cars. Considering this is the County's map, you might think there would be city-run central L.A. sites.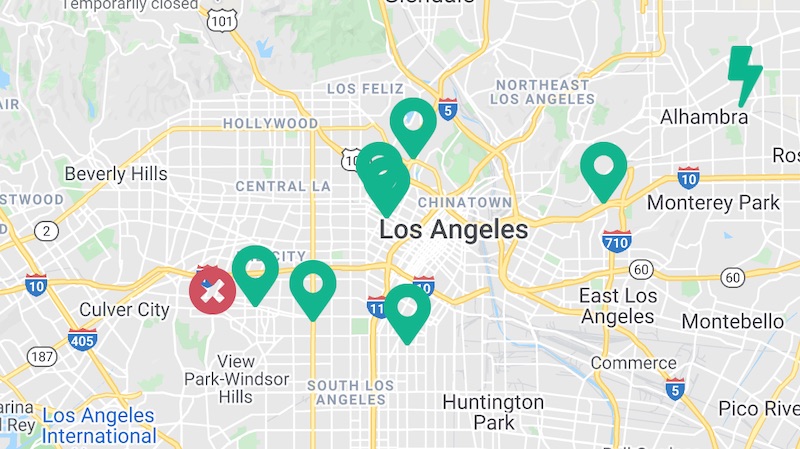 When you try to arrange a test through the City of Los Angeles's testing portal, it sends you back to Curative. Here's Curative's map, as of Jan. 20. The grayed out sites and some of the blue sites have no current or future appointments—again, including Union Station. I reached out to Curative about the status of the Union Station testing site. I did not hear back.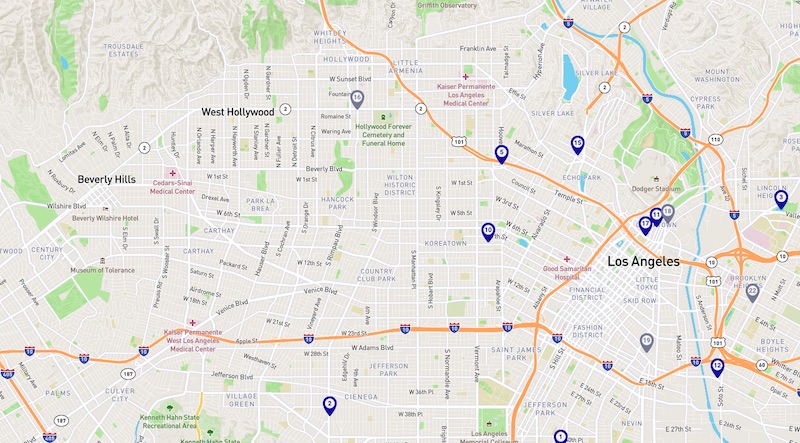 As local officials hope for transparency from the Biden administration, it's transparency, both federally and locally, that would help us be patient. Over the past week, I've asked several carless Angelenos if they knew where they could get a vaccine, yet no one had a clear idea. Some people weren't worried because it isn't their turn yet, and some guessed they'd eventually use an LAUSD or college campus or take an Uber somewhere.
The initial messaging surrounding vaccine distribution should have included plans for those without cars, even if it was to say those sites were forthcoming. It shouldn't take numerous emails, phone calls, and calling into briefings to get a simple answer, followed by more mixed messages. That same consideration goes for other accessibility issues, too, instead of tacking it on as an afterthought only when someone asks.
Due to severe astigmatism, I haven't driven a car for about five years now. For the most part, I enjoy not driving. It's nice to read a book or listen to a podcast on the bus or train without worrying about parking.
I've noticed, however, that the needs of those who don't drive are rarely considered, to the point where many Angelenos are surprised anyone would choose to live without a car. They perceive relying on public transit as a burden or punishment, and it's because of things exactly like this.

I'm sure by the time I'm eligible for my vaccine, I'll have a plan—even if it requires me to walk a mile or sit on the bus for an hour. My best guess? The closest Ralphs, about .8 miles away. It's just unfortunate that, just like taking Metro, we need to "expect delays" for simple information.