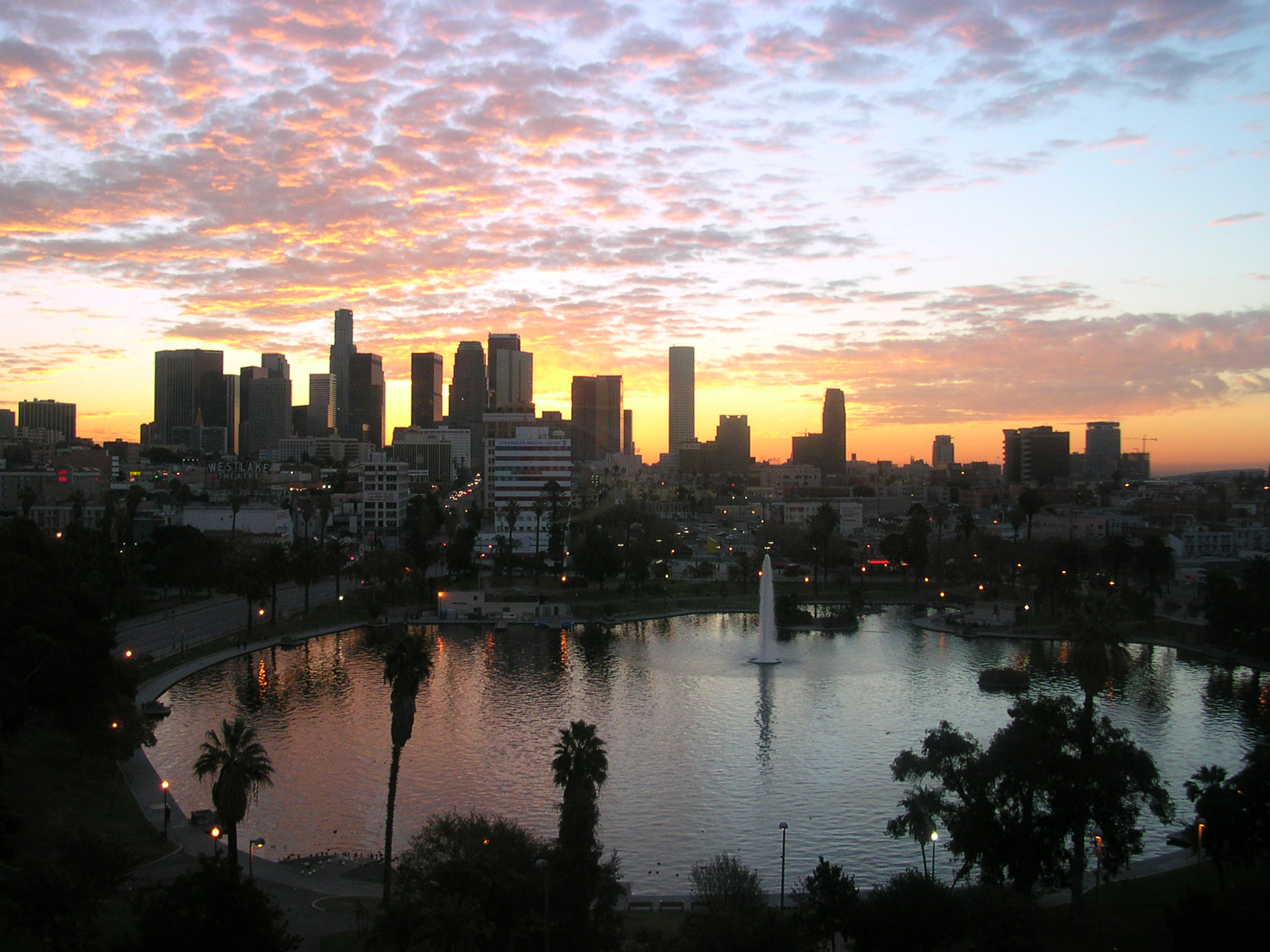 We used to tell you about all the things you could go out and do in Los Angeles on a daily, weekly, and monthly basis. Then, the coronavirus changed life for all of us, in a thousand small and massive ways. Until the pandemic is behind us, we'll post events that adhere to Public Health's current protocols—including plenty of at-home and online events—every Monday and Friday morning. We hope they keep you busy, make you laugh, teach you something, or help you feel less alone.
This weekend, we have a Home Alone pizza pop-up, interactive online concerts and theater, outdoor art, a new sushi spot, and more. Have something you want to submit for next week? Hit us up: [email protected].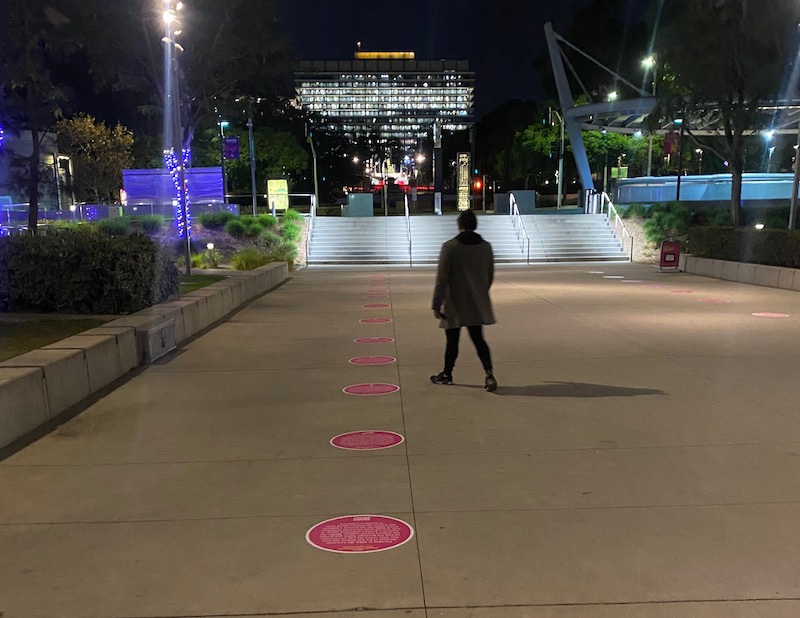 Out-of-the-House Events
Find fun holiday events for the whole family, including drive-thrus, online events, and socially distant gardens in our holiday roundup here.
CVT Soft Serve has partnered with LBK Pizza in Studio City to recreate Little Nero's from the Christmas classic Home Alone. For one weekend only (Dec. 18-20), Angelenos are welcome to stop by "Little Nero's Los Angeles" to grab a pizza with brand-appropriate boxes made by artist Jesse Wilson. A red delivery hatchback and other themed Home Alone key moments will be displayed at LBK Pizza as well. UberEats, DoorDash, GrubHub, and Postmates are also making deliveries this weekend for those staying in.
The Alhambra is hosting an outdoor holiday stroll featuring lights and music Dec. 17-19 from 6-8 p.m. You can walk through the development's central courtyard and encounter deer, snowmen, polar bears, penguins, a decorated fir tree, and other seasonal sights. Children may drop off pre-written letters to Santa in the mailbox. Free parking is available in the visitor lot. Social distancing and masks required. 
Barco Uniforms, a manufacturer of healthcare apparel, has commissioned artist Samir Evol to paint a mural honoring healthcare workers on the front lines of the pandemic. Evol will paint the mural at 2010 Wilshire Blvd. in Santa Monica every day through Dec. 31, 9 a.m. to 5 p.m. If you're in the area, you can check out how it's going so far.
Odd Market's Los Feliz Drive-In will screen Elf on Saturday, Dec. 19. The movie starts at 7:15 p.m. Their weekly outdoor flea market is free to attend from 11 a.m. to 4 p.m. every Saturday as well.
Grand Park's new public art installation, "Ground Our Present, Dot Our Future," is available to enjoy now through Jan. 25. It consists of 74 quotes, crowdsourced from Angelenos over the past year, that line park walkways. The artwork "reinvents the current floor distancing decal culture by putting the emphasis back on how Angelenos can be socially connected—by gaining knowledge and understanding about the diverse experiences in Los Angeles County from the perspectives of those who live them." It's free to enjoy any time. Just take a walk in the park.
Celebrate the Festival of Lights at LIT, a drive-thru Hanukkah experience at Stephen Wise Temple Dec. 10-20. The event includes a light show, art installations, a screening of animated short The Broken Candle, and an immersive projection tunnel.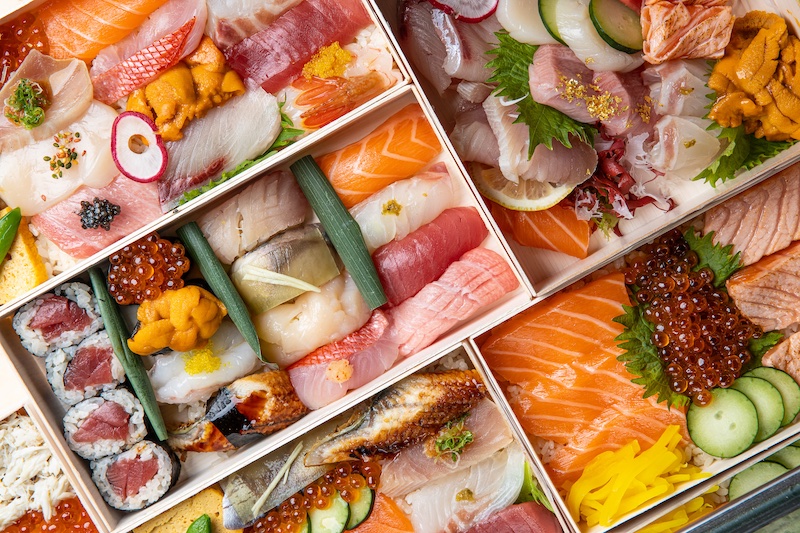 Pickup & Delivery
Ichijiki in Highland Park has opened a sister location in Silver Lake called Sunset Sushi. It offers carefully crafted omakase boxes, chirashi, sashimi, and kaisen don. At the helm are Tokyo-born chefs Kazuhiro Yamada and Yoshi Matsumoto, who apply traditional Edomae techniques to uniquely cure select fish on the menu including golden eye snapper and bluefin tuna. For now, the debut menu is available for take-out and delivery. You can also add on bottles of sake, canned highball cocktails, and an assortment of Japanese and local craft beers.
Gigi's in Hollywood offers a special bucket of fried chicken for takeout every Sunday between noon and 8 p.m. You can either stop by the restaurant or pre-order on Toast. Also pick up sweets, cheese, cocktails, and wine. 
The Little Tokyo Community Council (LTCC) is relaunching Community Feeding Community (CFC) to provide free meals to those whose jobs were impacted by COVID-19 closures while also supporting small businesses in Little Tokyo. Meals are distributed every Saturday from 2-4 p.m. at 327 East Second Street. The menu rotates weekly and advanced reservations are required for pickup. Reserve a meal online at littletokyola.org/cfc. You can also use that link to donate a meal.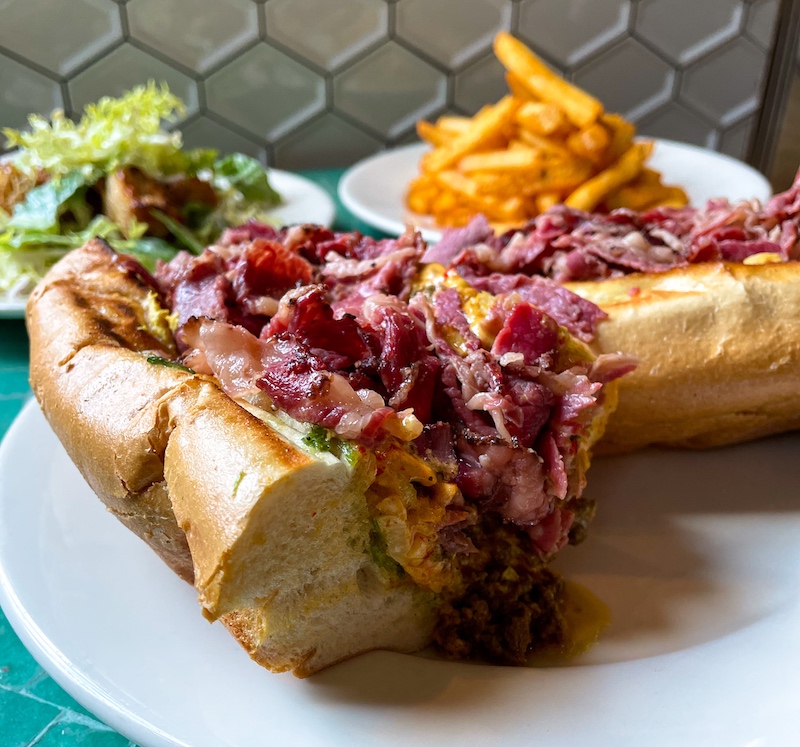 Chef Bryant Ng's critically-acclaimed Southeast Asian Brasserie Cassia has a brand-new special, exclusively available for takeout through Tock Dec. 16-30. The Cassia Pastrami Hoagie comes on a garlic-scallion roll with brown mustard, provolone and swiss cheese, thousand island dressing, coleslaw, and curried ground short rib, served with a small Caesar Salad and fries dusted with Vietnamese-Cajun seasoning for $39.
Orso Pasta delivers handmade pasta and gourmet sauces straight to your door. Current seasonal sauces include Saffron Turmeric Buttersauce, Bolognese, and Cacio E Pepe. Choose from Cavatelli, Tagliatelle, Gnocchi, and Maltagliati as pasta options. There is very little prep time. Boiling the pasta and simmering the sauce just takes five minutes, so even novices can look like a pro in the kitchen. Each order serves two and costs around $30.
Los Feliz's Sogo Roll Bar now offers DIY Hand Roll Kits for $38. Each kit includes fresh nori, rice, garnishes, and four signature Sogo fillings of your choice including bluefin toro, crab, spicy tuna, and more. Eleven different add-ons, like fried onion or spicy mayo, are available for an additional fee. Open for pickup or delivery.
Cake Monkey recently launched a budget-friendly Pie Gram service. For $6.75, send friends mini-pies with customizable messages on the box. Flavors include Cider Roasted Apple in Double Cheddar Crust or Brown Butter Pecan with Toasted Cocoa Nibs. Pick them up at the Beverly Grove shop or North Hollywood kitchen. Local delivery is also available.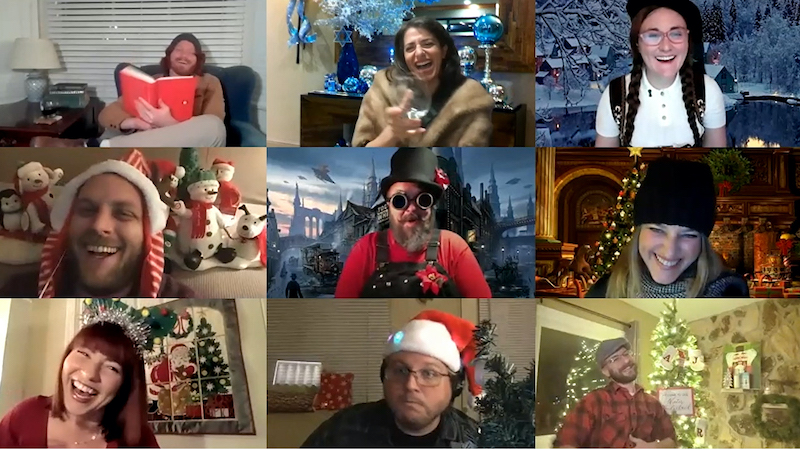 At-Home & Online Events
On Saturday, Dec. 19, Brian Thomas Smith (Big Bang Theory) and DJ Kooleo will host the 12th Annual Santa Monica Pub Crawl. This year, it's a two-hour virtual holiday party with music, games, bingo, costume contests, trivia, and home scavenger hunts. Prizes will be awarded including hotel staycations, restaurant gift certificates, and canned cocktails autographed by The Chainsmokers. Proceeds benefit local bars, restaurants, and the Westside Food Bank. Tickets are $20-$55. Some ticket levels include canned cocktails to enjoy at home. 
The Ballet Spot presents a series of virtual ballet fitness classes including cardio, barre, pilates, and more taught by professional dancers. Classes cost $10 a session and new clients can take advantage of a special two-for-one promotion.
On Saturday, Dec. 19 at 7:30 p.m., Moth Virtual StorySLAM presents a night of virtual storytelling that anyone can join. The theme is "after-hours," inspired by artist Alex Prager's installation at LACMA, "Farewell, Work Holiday Parties." RSVP to just listen or to share your own five-minute story here. Prager's exhibit, which satirizes the holiday office party, is on view at the Smidt Welcome Plaza through Jan. 3.
The City of West Hollywood presents a free WeHo Sounds concert on Fri., Dec. 18 at 6 p.m. Farofa blends genres like rock, jazz, contemporary classical, and deep African rhythmic tradition with their Brazilian roots. Register to watch the free show here.
Los Angeles Tourism is bringing back "Magic Hour," its live-streamed sunsets. Each presentation includes a view of downtown Los Angeles and music and conversation from local artists starring at 4:15 p.m. Dec. 18 features Nancy Sanchez with a mariachi performance. Dec. 19 is Strauss Shi on violin and erhu. On Dec. 20 is Kimiko Daniels, a jazz pianist who will play both original music and covers. More info here.
On Friday, Dec. 18, El Patio Tecate returns with a final night of hip-hop and R&B music from Latin artists. This virtual concert features Miguel, D-Smoke, Bo Bundy, Krystall Poppin, and MC Magic. Stream it for free starting at 6 p.m.
Martha, Lucy, and Rufus Wainwright present their annual holiday show, "A Not So Silent Night," online on Dec. 20. Unlike in years past, where the family assembled on the same stage, they'll now stream performances from their respective locations with household members serving as guest musicians. Watch it live on Veeps.com starting at noon. Tickets are $20 in advance and $25 day-of-show.
Immersive theater company The Speakeasy Society presents Ebenezer, a virtual adaptation of their real-life adaptation of A Christmas Carol. Guests can explore the digital world of Dickens's famous characters in several ways: have a beer with Bob, play games with Scrooge's nephew, or perhaps get weird with a ghost or two. Show dates are Dec. 18 and 19 at 7 p.m. Tickets are a suggested donation of $10-$20 and will benefit Mutual Aid LA. Get them here.
The Israel Film Festival is ongoing through Dec. 27, featuring several nights of Israeli cinema that you can watch from your home. Tickets are $12 for a single film, with deals on bundles of screenings. If you want to watch every film and Q&A, an all-access pass is available for $130.
The 13th annual LACLA Student Film Festival presented by the Latin American Cinemateca of Los Angeles (LACLA) is on Dec. 18 at noon, featuring a selection of short films from middle and high school students in Los Angeles. Check it out here.
Author Danny Jensen leads a virtual tour of downtown L.A.'s recently renovated Hotel Figueroa, a historic property with a fascinating past, on Dec. 18 at 6:30 p.m. The tour will include a peek at the hotel's renovations, concluding a few hidden rooms and other surprises. Tickets are $10. 
Rogue Artists Ensemble's "Storage Run" is an immersive holiday show where you can choose what happens. Part One kicks off on Dec. 18 at 7 p.m., while Part Two and Three post on Dec. 25 and Jan. 1, respectively. All three parts will remain online through Jan. 31. Synopsis: "With just a few weeks remaining until the holidays, Mike becomes trapped and alone in a tangled web of Rogue storage — or so it seems. Boot up and plug into a story of computer age connection and holiday whimsy, and help Mike on a quest to send a message to the world. Will you help? Y/N? Your choices build a singular and unlikely friendship and unlock a "holiday-tastic" adventure, all from the safety of your computer." Tickets are pay-what-you-can with a suggested price of $20.
Los Angeles Ballet's annual fundraiser is on Sunday, Dec. 20 at 11 a.m. in the form of Clara's Nutcracker Tea Party. The online event invites attendees to an interactive tea party with the famous ballet's protagonist. It includes dance performances, magic, music, crafts, and more. Tickets start at $39.99.
The Elysian Valley Arts Collective presents "Postmarked with Love," a free workshop over Zoom on Dec. 18 at 4 p.m. Families will learn how to make their own greeting cards and felt roses with artist Kait Walsh of Sealed with a Kait. The nonprofit Marked by COVID will send the cards to those who have lost love ones due to the pandemic. The roses will become part of the Rose Red Memorial installation, each rose marking someone killed by the virus. Families can send these items out after the workshop but use what they learned to make their own cards and roses in the future. RSVP online.
Antaeus Theatre Company's The Zip Code Plays: Los Angeles is a series of virtual, interactive tours that highlight landmarks and small businesses. Each episode is narrated by a member of the Antaeus Theatre Company and includes a map illustration from Cynthia Jacquette Art + Design. The Zip Code Plays are set in 90011 (South Central Los Angeles), 90012 (Downtown L.A.), 90024 (Westwood), 90403 (Santa Monica), 90272 (Pacific Palisades), and 91352 (Sun Valley). Listen for free at www.antaeus.org.
Red Bull is highlighting Latinx musicians from cities around the country through a series of livestreams called Estados Unidos de Bass. Dec. 18-19 will feature L.A. musicians Kali Uchis, Tomasa del Real, Bianca Maielli, Kinky, and more.
From Zombie Joe's Underground Theater comes a spooky 22-minute personal visit from The Ghost of Jacob Marley, the first of many spirits Scrooge sees in A Christmas Carol. Zombie Joe himself will play Jacob Marley as he Zooms you to make sure your change your ways or whatever it is Marley is up to these days. From Dec. 16-30, you can book your personal ghost consultation for $25 at ZOMBIEJOES.COM.
After Hours Theater Company is offering a virtual show with drinks. A Christmas Carol Cocktail Spectacular takes guests back to the 1950s with an interactive online retelling of A Christmas Carol. The ghosts of past, present, and future each bring its own cocktail, which you'll make along at home thanks to a kit you'll receive in the mail. Performances are Dec. 11, 12, 18, 19, and 22 at 7. p.m Tickets are $78 for two guests, and include the live-stream and ingredients to make three cocktails (alcoholic or non-alcoholic available).
The 53rd Annual Holiday Look-In Home Tour presented by the Women's Committee of the Pasadena Symphony is online this year. The tour "showcases the architecture and gardens of four magnificent Pasadena homes decorated for the holidays in festive floral regalia." The event is narrated by Pasadena Symphony music director, David Lockington with music from the Pasadena Symphony Youth Orchestras. Available Dec. 5-31. Free with registration here, though donations to the Pasadena Symphony Youth Orchestras and the Pasadena Symphony will be graciously accepted.
The Soraya's annual Christmas Eve concert Nochebuena En Casa featuring mariachi, ranchera, and ballet folklórico performances will be held online this year on Dec. 18 for free via the Northridge theater's website.
Beatles tribute band Abbey Road will livestream Christmas with the Beatles from the Belly Up Tavern in Salona Beach, California on Dec. 18, featuring Christmas classics and Beatles songs. Tickets are $12.