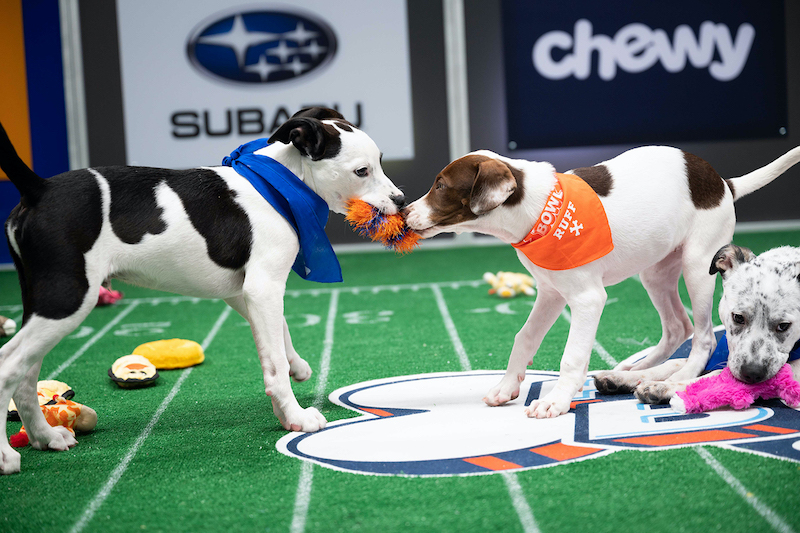 We used to tell you about all the things you could go out and do in Los Angeles on a daily, weekly, and monthly basis. Then, COVID-19 changed life for all of us, in a thousand small and massive ways. Until the pandemic is behind us, we'll post events that adhere to Public Health's current protocols—including plenty of at-home and online events—every Monday and Thursday. We hope they keep you busy, make you laugh, teach you something, or help you feel less alone.
This weekend, we've got Super Bowl-themed takeout specials and cooking classes, the Puppy Bowl, film and literature discussions, art activities for kids, and more. Have something you want to submit for next week? Hit us up: [email protected].
At-Home & Online Events
Talented artists and renowned icons will join LA Phil's Gustavo Dudamel and the orchestra on Feb. 6 for Icons for Inspiration, a star-studded benefit filled with behind-the-scenes moments and intimate conversations between Dudamel and special guests. The event is free to view and proceeds will sustain the ongoing work of the Los Angeles Philharmonic and its musicians.
KCRW Virtual Cinema presents a free advance screening of Judas and the Black Messiah followed by a Behind the Screens conversation with KCRW host Elvis Mitchell and director Shaka King on Feb 6 at 5 p.m. Free with RSVP.
Pups from Wallis Annenberg PetSpace will be featured in this year's Puppy Bowl. Tune in on Animal Planet or the discovery+ app on Sunday, Feb. 7 at 11 a.m.
Giant Robot hosts an online reception of artist Godeleine de Rosamel's Dark Forest on Feb. 6 at noon on Instagram Live. The exhibit will remain on view at Giant Robot 2 through Feb. 24. More info here.
On Feb. 7, Andre Aciman, author of Call Me By Your Name, winner of the 2007 Lambda Literary Award for Gay Fiction, will join Franco Mormando, Professor of Italian Literature at Boston College, for a live Zoom conversation about the LGBTQ themes in Aciman's work. Tickets are $12.
The Institute of Culinary Education is hosting two Super Bowl-themed cooking classes this weekend. On Feb. 6 at 11 a.m., join Super Bowl Sweets for Parents & Kids, a fun class for the whole family that teaches you how to make crackerjack and sweet and salty brownies. On Feb. 7, Chef Chris Arturo will host Game Day in Your Kitchen at 10 a.m. Learn to make a Frito Pie with bison chili, buffalo cauliflower, and lamb corn dogs all paired with Micheladas. Check out the full schedule here.
The Music Center has a trove of "Artivity" videos for "young people and the young at heart" that teach fun art skills you can master at home. Learn how to create a play with toys, do improvised dance, and more.
Join LA Plaza de Cultura y Artes, host Dan Guerrero, and special guest Cheech Marin for a virtual happy hour on Feb. 5 at 7 p.m. Marin will discuss his love of Chicano art and the forthcoming Cheech Marin Center of Chicano Art, Culture & Industry. Register here.
On Feb. 6, Arena Cinematheque hosts a live Q&A with John Patrick Shanley, director of romance Wild Mountain Thyme, and star Jon Hamm. RSVP here.
The Natural History Museum's popular First Fridays returns virtually on Feb. 5 featuring lively discussions with experts, DJ sets, and music. Free to attend with advance registration.
In celebration of Black History Month, The Groundlings Theatre and School will host a series of online performances and panels exploring diversity and inclusion in comedy and entertainment. Special events include a collaboration with The Amazing Grace Conservatory, webinars, and more. The month-long celebration kicks off on Feb. 3. See the full schedule here.
Paruzal Games' online escape rooms are a great way to reconnect with friends while solving a puzzle together. A live game master will connect with you over Zoom, taking you through illustrated worlds full of clues and secrets. While many escape rooms tilt towards horror or suspense, Paruzal's adventures are light-hearted and fun, such as opening a pizza shop, sprucing up a coffeehouse, or sneaking backstage to try to meet Bruce Springsteen. Tickets are $15/person. Or, if you're looking for something more bespoke, you can also ask them to create a custom game for a special occasion.
Escape Room L.A. has a new virtual escape room called The Four Elements. It's adapted from their in-person room, The Alchemist, and allows you to go on a 360-degree exploration of the space as you discover and interact with the clues inside. Tickets are $23.50 per person.
View L.A.-based conceptual artist and CalArts educator Charles Gaines's Multiples of Nature, Trees and Faces, his first solo exhibition at Hauser & Wirth London, here.
Dan Savage's sex and body positive HUMP! Film Festival will be a livestream event this year from Jan. 30 through March 6. Watch indie erotic films made by real people for real people from the comfort of your home. The festival kicks off with a viewing party with Dan.
Chunky Paper is hosting a pop-up in Chinatown from Jan. 25 through Feb. 15, just in time for Chinese New Year (Feb. 12). Discover seriously adorable, handmade red envelopes in the shape of boba tea, Dodgers baseball caps, and more. Stop by the pop-up or shop online.
The Music Center and dublab present A Quiet Scene: L.A., a free film competition and screening initiative. Anyone can submit a short film that is "an authentic reflection of Los Angeles during current times," which must be paired with and filmed in duration to one of the seven tracks featured on the Roger and Brian Eno EP Luminous. Submissions are open at filmfreeway.com/AQuietSceneLA from Jan. 22 through Feb. 21.
From The Wallis' Sorting Room Sessions comes Jacob Jonas The Company's Films.Dance, a collection of 15 short dance films shot throughout the pandemic. The first launched on Jan. 25 and the rest will roll out weekly.
LACMA and LA County Library have partnered on several online programs for teens and kids. They include storytelling and art workshops, plus info on how to pursue a career in museums.
The Morrison Hotel Gallery's latest online exhibition, The American Sound, pays homage to picket lines, peace signs, and progenitors that defined American politics, movements, and culture.
The Museum of Unnatural History in Chicago presents The Kingdom of Slovenia, a virtual tour through a fantastical world populated by sentient foods. Described as "part theme park ride, part role-playing game," groups of 4-8 will explore the land's agricultural and mythical history and make choices that impact their tour guides and Slovenia's citizens. Tickets are available on a sliding scale from $1-$15 here. Open Fridays through Sundays through Feb. 21.
The Skirball presents the Tightrope: Americans Reaching for Hope Jan. 21–May 31. The online exhibit is based on the New York Times bestselling book by Pulitzer Prize–winning journalists Nicholas D. Kristof and Sheryl WuDunn and features images of America's most complex problems captured by photojournalist Lynsey Addario.
Pickup & Delivery
Madre in Palms, Torrance, and West Hollywood have a Super Bowl Package that feeds four. It includes eight tacos, chips, guacamole, salsa, mole, Cocktelito, and your choice of a Margarita or Michelada that serves eight for $125. Order in advance or day-of via ChowNow, Tock, or by calling the restaurant.
Guerrilla Tacos' Super Bowl Menu includes chile butter garlic wings, shrimp tostadas, "masa-rella sticks," and cheeseburger tacos. These items are available all week long. Or, pre-order a Pocho Taco Kit that includes shells, pocho meat, cheese, pico, creme, and rice & beans for pickup Feb. 5-7. Choose small ($65, eight shells) or large ($100, 16 shells).
Umami's Ultimate Game Day Feast ($40) includes two double cheeseburgers, two BBQ bacon burgers, cheesy tots, thin fries, sweet potato fries, and onion rings. Order for delivery or pickup here (available February 1-7).
Du-par's Restaurant & Bakery is offering Super Bowl To-Go Platters that include chicken wings, fries, onion rings, and fried seafood.
Sam's Crispy Chicken locations are offering a Big Game Spread for $35 that includes an Original Sam's Crispy Chicken Sandwich, The Classic sandwich, a Sam's Chicken and Waffle Sandwich, three orders of waffle fries, and a dozen chicken tenders with two slices of Texas toast, 10 pickles, and two classic sauces. Order for delivery or pickup here (available February 1-7).
SOL Mexican Cocina in Playa Vista is offering a Taco & Margarita Party Pack ($65, serves 3-5 people) that includes six street tacos with your choice of two proteins (grilled chicken, carnitas, or black bean sweet potato). Naked guacamole, TJ chicken Caesar salad, and a 750 ml bottle of SOL's House Margarita (serves 5-6 margaritas) are also included in the pack.
Little Dom's Super Bowl menu features meatball six-packs with your choice of Little D's plant-based, classic, or grilled chicken meatballs for $18. Pre-order is open now via Caviar and Door Dash. Pickup is on Super Bowl Sunday between 11 a.m. and 6 p.m.
The Banh Mi Shop by Piccalilli has banh mi sandwich platters ($49) and Nam Prik wings ($14) for Super Bowl weekend. Pre-order for game day offerings is available now until Feb. 6 at noon with pickup available from noon to 3 p.m. on Super Bowl Sunday. Order by phone or online here.
Tiago Coffee Bar + Kitchen in Hollywood has partnered with TIYYA Foundation to recognize Black History Month with a limited edition bag of Ethiopian coffee beans. A portion of the proceeds will support families of refugees, immigrants, and displaced indigenous communities. The coffee beans are available all month at Tiago in-store, online, and through delivery apps. You can also find them at Guerrilla Cafecito in the Arts District or at Flavors From Afar.
Need more delivery and takeout options? Check out our latest comprehensive guide here.