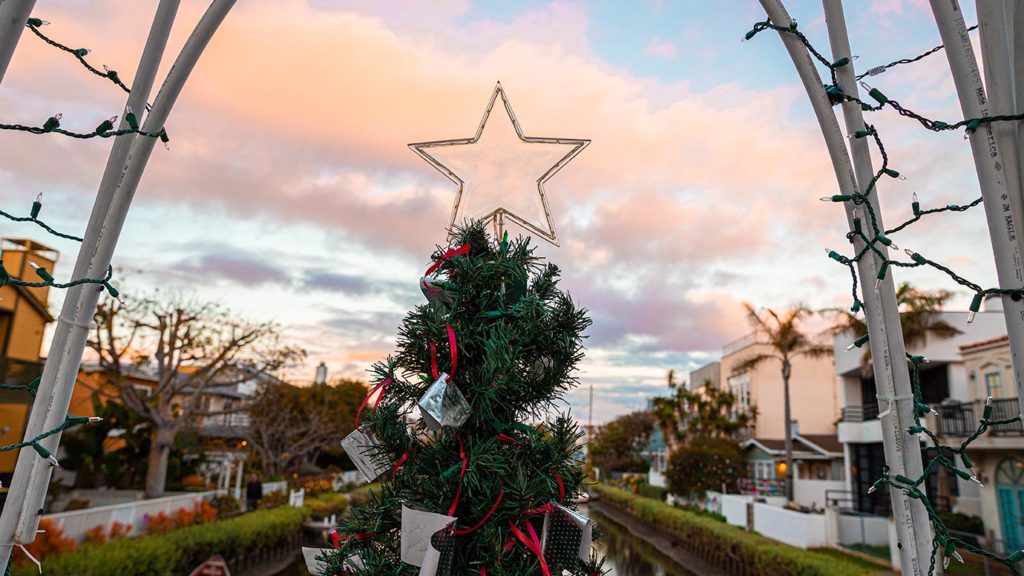 We used to tell you about all the things you could go out and do in Los Angeles on a daily, weekly, and monthly basis. Then, the coronavirus changed life for all of us, in a thousand small and massive ways. Until the pandemic is behind us, we'll post events that adhere to Public Health's current protocols—including plenty of at-home and online events—every Monday and Friday morning. We hope they keep you busy, make you laugh, teach you something, or help you feel less alone.
This week, we've got fun food specials for pickup and delivery, outdoor art, virtual celebrations, and more. Have something you want to submit for next week? Hit us up: [email protected].
Out-of-the-House Events
Find fun holiday events for the whole family, including drive-thrus, online events, and socially distant gardens in our holiday roundup here.
Glendale Arts invites the public to add their wishes for 2021 to the Alex Theatre Wishing Wall, a new installation on the historic Alex Theatre's gates in downtown Glendale. The project is inspired by Yoko Ono's Wishing Tree project and encourages participants to share their hopes for the future. You can grab a wish tag in-person or submit your wish online, where staff will write and hang it for you. The Wishing Wall will be on view at the theater through Jan. 8 before moving around Glendale for the next year. 
On Dec. 25, Cinelounge Drive-in in Hollywood presents Wonder Woman 1984. Enjoy this brand new film from Patty Jenkins from the comfort of your vehicle, and maybe with a bag or two of Cinelounge's flavored popcorn. Tickets are $25/person and must be purchased, along with any refreshments, online in advance.
Grand Park's new public art installation, "Ground Our Present, Dot Our Future," is available to enjoy now through Jan. 25. It consists of 74 quotes, crowdsourced from Angelenos over the past year, that line park walkways. The artwork "reinvents the current floor distancing decal culture by putting the emphasis back on how Angelenos can be socially connected—by gaining knowledge and understanding about the diverse experiences in Los Angeles County from the perspectives of those who live them." It's free to enjoy any time. Just take a walk in the park.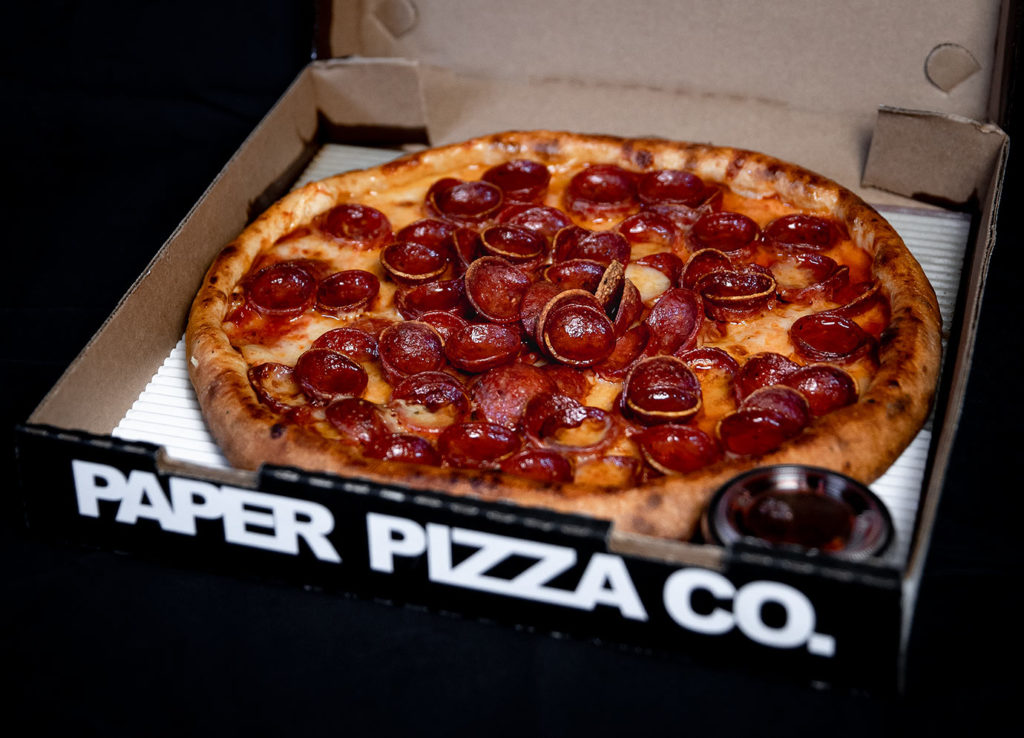 Pickup & Delivery
Newcomer Paper Pizza Company in Downey makes thin-crust pies with 00 Italian wheat flour topped with generous portions of deliciousness. The Lil More Pep is loaded with 8 ounces of mini pepperonis and comes with a side of Hawt Honey Sauce for a sweet and spicy kick. Other pizzas include the Piggy Smallz topped with Calabrese Hot Salami and the Truffle Shuffle with black truffles and lemon. Make sure to have some napkins on standby because Paper Pizza's signature garlic butter is drizzled on every pie. Order the spaghetti and pepperoni meatballs to complete your Italian meal.
Little Tokyo's Far Bar is doing a "Beer Tour of Japan" kit for takeaway. It features five different Japanese beers, a map to guide you on your tasting journey, a bowl from local gift shop Bunkado filled with bar snacks, and trinkets for luck from nearby Koyasan Temple. The kit costs $55 and can be purchased by filling out an online form.
Lanea Cocktail Bar in Santa Monica's "Thirst Trap" canned cocktails are a great deal if you're looking for a quality cocktail you don't have to make yourself. Current specials include a four-pack for $20; the 12 Days of Christmas Pack featuring 12 cocktails and a bag of Takis for $58; and the Happy New Year's Party Pack featuring four cocktails, a bottle of bubbles, at-home party favors, and two bags of Takis for $50. Closed on Christmas Day. Available for pickup or delivery.
Chef Jeff Meyer's Element29 Deli in Culver City will be open during the holiday weekend. Offerings include the full-stack pastrami paired with coleslaw and swiss cheese on marble rye; a brisket melt with brisket dry-rubbed in African 'ras el hanout' spices, then smoked for 18 hours, and corned beef made in-house with pickling spice, then slow-simmered for four hours.
Chef Mario Christerna of recently-opened Brooklyn Ave. Pizza Co. in Boyle Heights is reimagining a traditional holiday dish in the form of a pizza. The Chile en Nogada pizza ($13) is a white pie with creamy mozzarella, ricotta, roasted poblanos, and pomegranate seeds. Available now through Christmas.
The Little Tokyo Community Council (LTCC) is relaunching Community Feeding Community (CFC) to provide free meals to those whose jobs were impacted by COVID-19 closures while also supporting small businesses in Little Tokyo. Meals are distributed every Saturday from 2-4 p.m. at 327 East Second Street. The menu rotates weekly and advanced reservations are required for pickup. Reserve a meal online at littletokyola.org/cfc. You can also use that link to donate a meal.
At-Home & Online Events
Santasia – A Holiday Streaming Special is available to stream via the Whitefire Theatre through Dec. 27. Brothers Brandon and Shaun Loeser's musical sketch comedy show includes "Broadway musical parodies, heartfelt sentiment, and classic Rankin and Bass inspired  Claymation movies" for the "perfect blend of Yuletide snark and sentiment." Tickets are $30.
The Groundlings Annual Holiday Show will be available to stream online Dec. 23-Jan. 1 through Vimeo On Demand. The show is $10 for a 48-hour rental. All proceeds will support The Groundlings Theatre & School, which is a non-profit organization.
On Dec. 28 at 4:30 p.m., comedian Mike Birbiglia will host "Nowhere Comedy," an online comedy set you can watch from home. Tickets start at $25 and Birbiglia will also be shouting out Dynasty Typewriter, an L.A. venue raising funds to stay afloat while they're closed.
From [email protected]: "CEO and Wallis Annenberg Director Michael Govan and artist Roni Horn discuss how her work functions historically in an encyclopedic collection, and how it provides a window into the challenges and joys of art-making. In conjunction with View From Here: Recent Acquisitions." Watch here.
If you have an Oculus, you can use the app VRChat to virtually visit the Austrian Alps to learn all about the Krampus. Perhaps more than you wanted to know? Runs through Dec. 27. Tickets to Krampusnacht are $20. 
Instead of Christmas cheer, what about some Christmas horror? The Residence is a live, 30-minute dark storytelling experience that takes place over Zoom on Christmas Day. Each show is about 30 minutes long and features different stories, so you can sign up for more than one. Tickets are $10 per show.
Hearts of Crane is an online performance in which co-creator Manatsu Tanaka uses origami as a meditative experience for one audience member at a time. Shows take place over Zoom through Dec. 29. Tickets are pay-what-you-can, but the suggested donation is $25. You will need paper and something to write with.
Pasadena PlayhouseLive presents an inside look at the development of a new musical starring Megan Mullally, Nick Offerman, Adam Devine, and Laura Bell Bundy. Iceboy! is about a 10,000-year-old Neanderthal who is thawed out in New York and adopted by a Broadway star only to become an acting sensation himself. Activate your free PlayhouseLive account to watch.
From Zombie Joe's Underground Theater comes a spooky 22-minute personal visit from The Ghost of Jacob Marley, the first of many spirits Scrooge sees in A Christmas Carol. Zombie Joe himself will play Jacob Marley as he Zooms you to make sure your change your ways or whatever it is Marley is up to these days. From Dec. 16-30, you can book your personal ghost consultation for $25 at ZOMBIEJOES.COM.
The 53rd Annual Holiday Look-In Home Tour presented by the Women's Committee of the Pasadena Symphony is online this year. The tour "showcases the architecture and gardens of four magnificent Pasadena homes decorated for the holidays in festive floral regalia." The event is narrated by Pasadena Symphony music director, David Lockington with music from the Pasadena Symphony Youth Orchestras. Available Dec. 5-31. Free with registration here, though donations to the Pasadena Symphony Youth Orchestras and the Pasadena Symphony will be graciously accepted.
Take a pre-recorded Architectural Legacy Tour from Pasadena Heritage. Each tour offers a peek at architectural gems including craftsman bungalows, The Freeman House, and buildings along South Grand Avenue. Tickets start at $15 for non-members. Available now through Jan. 3.
From The Wallis comes Estrella Scrooge, a musical theater retelling of A Christmas Carol that blends theater, film, and animation. It stars Betsy Wolfe as Estrella Scrooge, a descendent of Ebenezer. Per a release: "Estrella is a "modern-day Wall Street tycoon with a penchant for foreclosing. A hotelier in her hometown of Pickwick, Ohio has defaulted on his mortgage and Estella fancies the idea of lowering the boom personally. Arriving at Harthouse on Christmas Eve, Estella discovers that the defaulting party is her childhood friend Pip Nickleby (Duncan). A good and generous soul, Pip has transformed the property into a refuge for the sick, dispossessed and homeless. A freak snowstorm forces Estella to take refuge. That night, just as it happened to her ancestor Ebenezer, she is haunted by three visitations…and oh, what uninvited houseguests they are!" Available on-demand Dec. 21-Jan. 3. Tickets start at $29.99 per household.
Name a baby condor! The L.A. Zoo's condor conservation program recently hatched a baby chick currently known as LA127. The Zoo is currently accepting donations for the California Condor Recovery Program (CCRP) through Jan. 7. Any amount will grant you to the opportunity to cast a vote for one of four names. Appear on the Zoo's website starting at donations of $5, with other benefits at higher levels.
The Israel Film Festival is ongoing through Dec. 27, featuring several nights of Israeli cinema that you can watch from your home. Tickets are $12 for a single film, with deals on bundles of screenings. If you want to watch every film and Q&A, an all-access pass is available for $130.