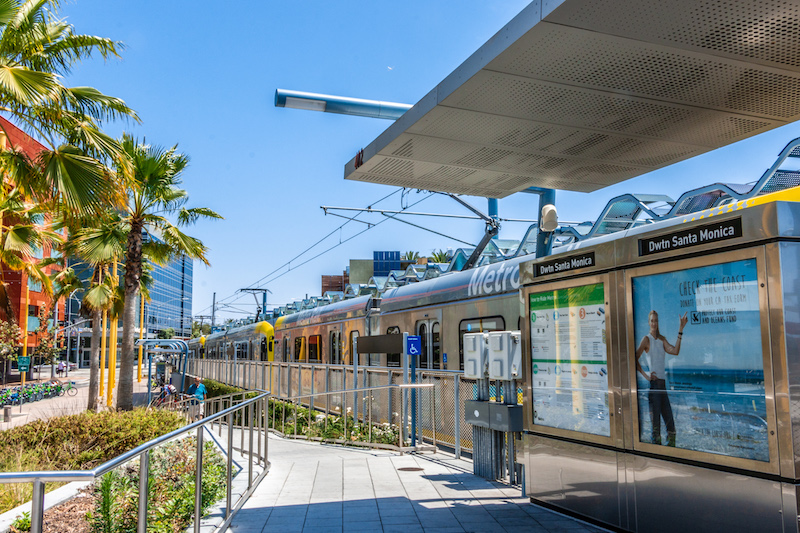 Got plans for the weekend?
This April 22-24 in Los Angeles, you'll find free rides on Metro, the L.A. Times Festival of Books, Seeding the City, Record Store Day, Jackalope Arts, a new McQueen exhibit at LACMA, dog walking hours at South Coast Botanic Garden, and more. Get started with our list below, and as always, enjoy the weekend!
Things to Do
Free Metro Rides on Earth Day -> This Friday, Metro continues its Earth Day tradition of free rail, bus, and bike-share rides for the entire day. And remember if your travels take you outside the county, regional rail provider Metrolink is also offering free service for the day. Find all the details on Metro's The Source blog.
Your (Un)natural Garden -> A new installation experience created by artist Adam Schwerner is now open daily at Descanso Gardens. Your (Un)Natural Garden offers colorful, interactive pop-up works and installations located inside the Sturt Haaga Gallery, Boddy House. Touching the art is definitely encouraged. Runs through Jan. 8, 2023. Included with garden admission. More info here.
LA Phil Gen X Festival -> The Los Angeles Philharmonic's Gen X Festival kicks off this weekend with Voices of a Generation a night of music curated by composer ThomasAdès at The Walt Disney Concert Hall on Friday, April 22. The festival continues Saturday and Sunday with Corigliano and Norman where guests will be treated to a performance of John Corigliano's landmark work Symphony No. 1 paired with music by Andrew Norman and Jonathan Bailey Holland. The Gen X Festival takes place April 22 through May 14 with a genre-spanning line-up of artists and programming both ticketed and free. Highlights include a Liz Phair concert with special guests Ben Gibbard, Bethany Cosentino and more; a queer dance party at Zebulon; an LA 80's through 90's food discussion at Second Home; and a 1980's Horror Film Marathon at the Aero Theatre. More info here.
New at Skirball –> Two new exhibitions are now open at the Skirball Cultural Center, both firmly rooted in the immigrant experience. "I'll Have What She's Having": The Jewish Deli traces the Jewish immigrant experience in America through the lens of the delicatessen, while Talking Back to Power: Projects by Aram Han Sifuentes centers on stories of immigrant garment workers in the United States. Skirball is open Tuesday through Sunday. General admission is $12, and free on Thursdays. You can find a photo preview of the new exhibitions here.
Pan African Film & Arts Festival –> The 30th annual Pan African Film & Arts Festival runs from April 19 to May 1, with a lineup featuring more than 190 films originating from over 40 countries, with tickets for individual screenings starting at $12. Programming for this year's PAFF also includes an ArtFEST featuring over 100 artists and craftsmen taking place today (Thursday) at the Baldwin Hills Crenshaw Mall, along with free Children's Festivals on April 23 and April 30. Get more info on the entire schedule here.
Santa Monica Bead & Design Show -> Starting Friday, The Fairmont in Santa Monica hosts a three-day (April 22-24) event featuring an array of artisans showcasing jewelry, artwear, and antiquities, as well as being a source for makers and designers with artisan suppliers selling gems, beads and more. Tickets are $8, or $10 at the door. More info here.
Record Store Day -> The nationwide, annual celebration of indie record stores returns this Saturday with a day of deals, discounts, special product and exclusive vinyl and CD releases. Check for participating records stores and get more info here.
Cherry Blossom Festival -> This Saturday, celebrate the arrival of the cherry blossom season at Plaza West Covina with an afternoon of unique vendors, dance performances, martial arts demos, and Japanese cuisine. Free to attend. More info here.
Earth Day River Clean Up -> L.A. Waterkeeper is inviting the public to register for a clean up along the L.A. River on Saturday April 23 at 9 a.m. The meetup spot is North Atwater Park and participants will be picking up and documenting plastic waste through geo-tagging photos while using the Litterati app. Litterati is the largest community powered crowd-sourced data app on the topic of litter ever assembled. The day will end at Golden Road Brewery in Atwater Village where participants are treated to a complimentary drink. Register here.
Greenbar Distillery Tours -> After a pandemic hiatus, Greenbar Distillery (DTLA Arts District) is officially booking public tours again starting with this Saturday. $15 gets you in for the tour of the distillery, expert knowledge on the distilling process, and a few tasters (capped at 1.5oz per person). More info here.
Jackalope Pasadena -> Jackalope brings its artisan market back to Central Park in Old Pasadena this Saturday and Sunday to showcase over 200 local vendors selling indie goods, clothing, jewelry, home decor, housewares, art, photography, and food. Outdoors. All-ages. Free to attend. Get more info here.
Seeding the City -> Landscape designers and thinkers from throughout Los Angeles descend on Helms Bakery in Culver City this Saturday for a daylong slate of workshops, talks, demos, and popups, all geared toward helping Angelenos get in touch with their greener side. Programs run from 11 a.m. to 5 p.m. More info here.
L.A. Times Festival of Books -> The 27th Los Angeles Times Festival of Books returns to the campus of USC this weekend for a two-day event (Saturday + Sunday) featuring 250 book and merchandise exhibitors, 8 outdoor stages and activity areas, dozens of expert panels, performances, demos, poetry readings, and more. The event is free to attend, with advanced ticket packages available for indoor conversations and parking. More info here.
Día de los Niños -> On Sunday, LA Plaza de Cultura y Artes hosts a free afternoon of family-friendly programming highlighted by arts, culinary, and garden demonstrations (including one on the history of comic books!), plus ballet folklorico provided by Las Palmas Grupo Folklorico, Mexico Aztec Grupo Folklorico and Ballet Folklorico Xochipil. Runs from noon to 4 p.m. More info here.
Lee Alexander McQueen: Mind, Mythos, Muse -> The first west coast display of the iconic fashion designer's works heads to LACMA starting on Sunday, April 24. Mind, Mythos, Muse examine McQueen's artistic legacy through a display of garments from the Collection of Regina J. Drucker alongside artworks from LACMA's permanent collection. Runs through Oct. 9. More info here.
Dog Walking Hours at South Coast Botanic Garden -> On select Sundays the South Coast Botanic Garden you can bring rover for a morning garden stroll. Adult tickets are $15, and dogs are $5 each. More info here.
Santa Monica Mountains Visitor Center Art Show -> This Sunday at the Santa Monica Mountains Visitor Center at King Gillette Ranch, 20 local artists associated with the Allied Artists of the Santa Monica Mountains will showcase their works in a group art show, with portions of the proceeds to benefit the Western National Park Association, National Park Service, National Wildlife Fund and Save LA Cougars. Free to attend. Reception runs 10 a.m. to 4 p.m.More info here.
Adult Sex Ed -> This Sunday, the Dynasty Typewriter hosts Adult Sex Ed, a comedy show hosted/created by Dani Faith Leonard that weaves historical segments, storytelling, and deep dives and into a highly informative (and hopefully provocative) evening. Guests for the April 24 show include Atsuko Okatsuka (The Late Late Show with James Corden), Leah Bonnema (The Late Show with Stephen Colbert), Jermaine Fowler (Coming 2 America), and Jeena Bloom (Comedy Central). Online tickets are $20 (or $25 day-of). Get more info here.
DakhaBrakha at Ace Hotel -> Ukrainian quartet DakhaBrakha comes to the Theatre at Ace Hotel this Sunday for a performance that fuses old Ukrainian folk styles with cabaret, jazz, and hip-hop. Tickets are $50. Show starts at 7 p.m. More info here.
[Do you read the We Like L.A. newsletter? Every Monday and Thursday we send the best things to do in Los Angeles straight to your inbox! Sign-up here.]
Dining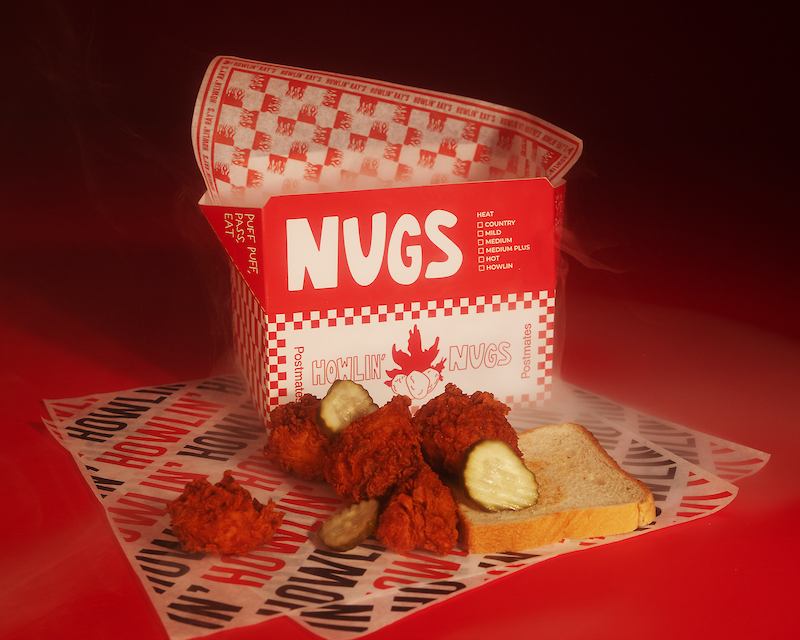 Howlin' Ray's Launches Nuggets For a Limited Time -> Howlin' Ray's newest menu addition, called Nugs, is available exclusively on Postmates April 20-24. Fans can munch on five Howlin Ray Nugs, with pickles and white bread on the side delivered in a special munchies themed box for $11. Only 400 boxes of Nugs will be available daily in Los Angeles.
Button Mash Reopens with Tacos 1986 Collab -> Popular arcade bar Button Mash in Echo Park reopened this week introducing a new food partnership with Tacos 1986.
Free Coffee at Verve -> On Earth Day (Friday, April 22), Verve will be pouring complimentary batch brew to all guests who bring in their own reusable mug. The offer is available at all Verve Coffee locations from open to close.
Free Donuts -> Season three of HBO's Barry premieres this Sunday, and as part of the promotion a roving food truck will hand out free donuts all weekend long. The truck will be parked outside the Melrose Trading Post on Sunday and locations for Saturday has yet to be revealed, follow HBO, HBO Max, and Fooji Twitter for up to date info.
Earth Day Party at nomoo with The Gentle Barn -> Vegan fast food joint nomoo | new american burgers will host an Earth Day event in partnership with The Gentle Barn on Friday April 22 from noon to 3 p.m. Guests are invited to stop by for vegan eats, partake in tie dying a shirt and enjoy live music on the lawn. 100% of the proceeds from The Gentle Barn Shake (Cookie Monster Shake) will be donated to The Gentle Barn and go towards their work to rescue barn animals and provide them with a healing home.
Van Leeuwen Earth Day Fundraiser -> Van Leeuwen has teamed up with Trees for the Future for a special promo on Earth Day. For every scoop of vegan ice cream sold, Van Leeuwen will donate $1 to the Trees for the Future organization. All Van Leeuwen scoop shops are participating.
Rare Coffee Tasting at goodboybob -> goodboybob will host a rare coffee tasting in collaboration with Cup of Excellence this Saturday, April 23 at 10 a.m. at the coffee shop's Santa Monica location. Free to attend, guests will enjoy a tasting of three Cup Of Excellence coffees from Ethiopia, Guatemala, and Colombia while sitting in on an intimate discussion about the rare coffees.
---
Any notes or corrections? Want to suggest an event we should add to an upcoming list? Hit us up at [email protected].