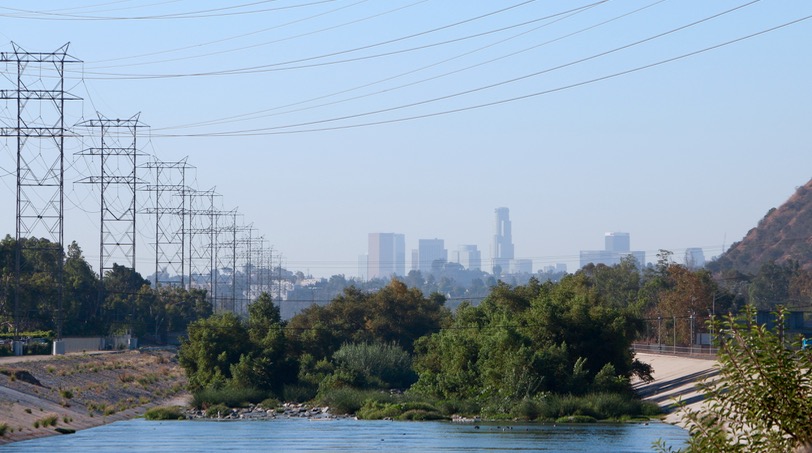 Every week in Los Angeles there are tons of great things to do (even before the weekend gets started) that we think you ought to have on your radar. With that in mind, we put together a list every Monday through Friday morning to keep you in the know about what's happening in the city you love (or maybe just like).
This week, from Monday, May 20 to Friday, May 24, features Meet the Grunion, Autry After Hours, One City One Pride LGBTQ Arts Festival, Taste of Boyle Heights, a new wing at the Aquarium of the Pacific, RuPaul's DragCon and MUCH more.
Remember you can always go to our L.A. events calendar page to get an updated rundown of what's happening around the city.
Hope you find the rundown useful and, as always, enjoy your week!
---
Keep in mind that while we retain complete editorial control of our content, for some of the ticketing options provided we utilize affiliate links and receive a commission if you purchase through our links.
---
Monday May 20th, 2019
1. Meet the Grunion with the folks at Cabrillo Marine Aquarium in San Pedro. Learn about these silverly fish during a short program then head over to the beach to observe their interesting mating nighttime ritual which brings the small fish onto the shores for a brief moment before the waves take them back into the ocean.
2. FLAX (French Los Angeles Exchange) Drive-In Theater returns to Tin Flats for another season of double features taking place on the last Monday of every month from April to October. Local artists are selected to screen their work as well as an additional film that inspires them. An informal discussion with the artists follow the screenings. Only eight spots are available for cars, so reserve in advance. No reservation is required for open seating area outside of cars. FREE
3. WE RISE, a free 10 day pop-up festival (May 18-27) will honor Mental Health Awareness Month through artists presentations, creative programming, workshops, activism, panels and more – all focused on supporting a call to action for mental health as a civil right. FREE
4. Astronomy on Tap hosted by Caltech Astronomy happens once a month at Der Wolf in Pasadena. Professionals will give informal talks about a variety of topics while enjoying German beers with the public.
5. There's a Cosmic Musings Presentation at The Griffith Observatory focused on "Understanding our Big, Messy Existence" led by Dr. Paul Sutter. Come find out how our experience here on earth fits into the grand scheme of things.
6. Stop by Idle Hour from 3-10 p.m. for dollar wings and $5 Elyx Martinis. The martini special can only be accessed with a code word to be posted today in the link provided.
7. E.P. & L.P. in West Hollywood continues their stylish cinema series Melrose Rooftop Theatre with several screenings this week including Coming to America, Clueless and more.
8. Rooftop Cinema Club returns to the rooftops of LEVEL in DTLA and NeueHouse in Hollywood with multiple screenings this week that include Back to the Future, Bohemian Rhapsody Sing-a-long and more.
Tuesday May 21st, 2019
9. Walt Disney Concert Hall welcomes The BTHVN on tour exhibition to BP Hall from May 17-26 during the LA Phil's Beethoven concert series. The BTHVN is a global touring exhibit highlighting Beethoven's life, original objects like the viola and original scores along with some interactive elements. The exhibit is free and open daily from 9 a.m. to 5 p.m. There will be ticketed LA Phil concerts during this period of the exhibit.
10. POP SK8 brings a pop-up outdoor roller-skating rink to the Westfield Valencia now through May 27.
11. The Human Fountains will give a sneak peek of their performance coming to the Hollywood Fringe Festival this Tuesday. As seen on America's Got Talent, The Human Fountain's hilarious choreographed water spitting routines accompanied by classical opera music is truly a one-of-a-kind sight.
12. Museum of Illusions has recently launched a brand new experience. Guests can walk through eye popping 3D exhibits inspired by cartoons, art, current events, pop culture and more. The museum is open daily. Check for discounted tickets before your purchase. DISCOUNTED (via Goldstar)
13. Down some tacos, drink some locally brewed beers and test your trivia skills this Tuesday during Tacos & Trivia night at Angel City Brewery in DTLA.
14. Free museum days: Los Angeles County Arboretum,South Coast Botanic Garden, Descanso Gardens (rsvp tickets are required in advance for the garden)
Wednesday May 22nd, 2019
15. Autry After Hours presents We Love L.A. celebrating our city by highlighting the work of local poets, DJs, and artists. There will be food and cocktails available for purchase and select museum galleries will be open for exploration.
16. Ace Hotel is hosting a Late Night Nosh from 7 to 11 p.m. at Upstairs, their DTLA rooftop in collaboration with jewish comfort food purveyors Freedman's. The special menu includes their infamous crunchwrap dogs alongside cocktail specials. DJ Alex Pasternak will man the turntables making this one heck of a munchies party.
17. On Wednesday Friends of the LA River (FoLAR) will search for bats with biologist Tom Ryan. Ryan will meet with participants at Frogtown Brewery and then lead a walk to "unveil the mysteries lives of the LA River bats." Afterwards, come back to the brewery to grab a beer and discuss the findings. This event has been cancelled due to possible rainy conditions! No word on rescheduling as yet.
18. One City One Pride LGBTQ Arts Festival is a 40 day celebration through mostly free art events and exhibits between May 22 through June 30. This Wednesday they'll kick things off with a free reception and a staged reading of Dear Harvey with Celebration Theatre. FREE
19. The Spare Room welcomes back Evening of Tiki a one night collaboration with the best and brightest cocktail talent from around the world . Happening once a month from May through September, beverage director Yael Vengroff will work alongside each guest bartender to create an over-the-top tiki-inspired menu. The Spare Room will also have a food menu, DJs and special guests for each night.
20. Shopify will host an evening Merchant Mentor Session with Brain Dead on how to get the most out of your business. FREE
21. As part of the Los Angeles Times Food Bowl, The Wiltern presents Chef's Fable: Where Food and Film Come Together an evening with Chef Gaggan Anand of Gaggan restaurant, voted Asia's No. 1 restaurant 4 years and Chef's Table show creator David Gelb as they screen and discuss Gaggan's episode of Chef's Table.
22. Cirque du Soleil's AMALUNA heads to the L.A. Waterfront in San Pedro for a magical evening that takes the audience through a journey loosely based on Shakespeare's The Tempest. Check for discounted tickets before your purchase. DISCOUNTED (via Goldstar)
23. Head into Lunetta in Santa Monica for a night of social dining over large pots of seafood bouillabaisse prepared by Chef Raphael Lunetta as part of the Los Angeles Times Food Bowl.
24. Take an afternoon yoga class in beautiful Grand Park. The 45 minute workout is complimentary to the public. FREE
Thursday May 23rd, 2019
25. The 8th Annual Taste of Boyle Heights happening at Casa Del Mexicano is a yearly community fundraiser for the East LA Community Corporation featuring food and live music from local establishments, vendors and more.
26. Pasta Masters: A Progressive Pasta Experience at the Authentic Italian Table comes to Mr. C Beverly Hills on Thursday as part of the Los Angeles Times Food Bowl for a pasta-centric culinary experience with top chefs, unlimited bites of their pasta creations, hor d'oeuvres, beer, wine and more.
27. Night Market is back on the hilltop of the iconic Yamashiro restaurant every Thursday all summer long. Angelenos can enjoy boutique vendors, food vendors, a concert series, cocktails at Yamashiro's Pagoda Bar and an unbeatable view of Hollywood. This event is also kid friendley. Please note this year the organizers are charging $10 to park at the shuttle location. Shuttles are free and so is admission.
28. LA Plaza de Cultura y Artes and Mezcal Los Javis present a screening of Agave: The Spirit of a Nation with a post screening tasting of mezcal with guest speaker Jaime Mateo, CEO of Mezcal Los Javis.
29. 260LA will host a 3.1 Philip Lim sample sale from May 23-26 in their Beverly Hills location.
30. If Halloween and horror movies are your favorite topics then I Like Scary Movies Experience will be just what you're looking for. Guests can expect to see, hear, feel, and smell recreations of iconic moments from IT (2017), Beetlejuice, The Shining, The Lost Boys, and A Nightmare on Elm Street. There won't be costumed actors jumping out trying to startle but there will be multi-sensory surprises along your winding path. The pop-up experience runs April 4 through June 16 Thursday through Sunday. Check for discounted tickets before your purchase. DISCOUNTED (via Goldstar
31. Free museum days: MOCA Grand & MOCA Geffen (from 5 to 8 p.m.), Skirball Cultural Center (noon to 5 p.m.), USC Pacific Asian Museum (5 to 8 p.m.), Japanese American National Museum (from 5 to 8 p.m.), Long Beach Museum of Art (3 to 8 p.m.) and Museum of Latin American Art (5 to 9 p.m.)
Friday May 24th, 2019
32. The Aquarium of the Pacific in Long Beach has just completed a major expansion called Pacific Visions featuring stunning interactive exhibitions, a state-of-the-art immersive Honda Pacific Visions Theater, an art gallery designed to transport visitors under the ocean, and live animal exhibits. The new wing officially opens to the public this Friday.
33. RuPaul's DragCon Los Angeles 2019 comes to the Los Angeles Convention Center May 24 – 26 for three days of art, pop culture, and all things drag. The convention features panels, photo ops, meet and greets, shopping, and much more.
34. Grand Central Market hosts Friday Night Flights this Friday starting at noon. The special includes a flight of drinks or bites from GCM vendors and a round trip ticket on the historic Angels Flight Railway right across the street for $15.
35. Westfield Century City will host "Come See" a free movie night taking place at The Atrium. All attendees will receive complimentary movie bites and snacks before the show. A VIP package is available for preferred seating, swag and credit towards dinner. This Friday they will screen Mean Girls.
36. Annenberg PetSpace hosts Pet Encounters this Friday allowing their adoptable pets to socialize with people. Stop by and interact with some adorable dogs and support the community space. Registration is required.
37. Hershey Felder returns to the Wallis Annenberg Center for Performing Arts with Hershey Felder: A Paris Love Story. Playwright and performer, Hershey Felder will take audiences on a journey into the life and music of Impressionist composer Claude Debussy. The show runs May 24 through June 9. Check for discounted tickets before your purchase. DISCOUNTED (via Goldstar)
38. 4th Fridays on 4th Street activates the "Retro Road" business district in Long Beach on the fourth Friday of every month from 6 to 10 p.m. through extended hours, dining specials, discounted merchandise, pop up shops, art shows, live music, double decker bus rides and more.
39. Tacotopia presented by Cholula Hot Sauce is a taco centric playground with thirty something taco inspired art installations. Guests can also enjoy a Cholula hot sauce bar, a taco curtesy of Azule Taqueria and a bottle of Jarritos. The expereince runs everyday from May 24 through July 7.
40. Los Angeles County Museum of Art hosts free jazz performances on Fridays through November. Concerts take place at the main entrance. FREE
Food Pick for the Week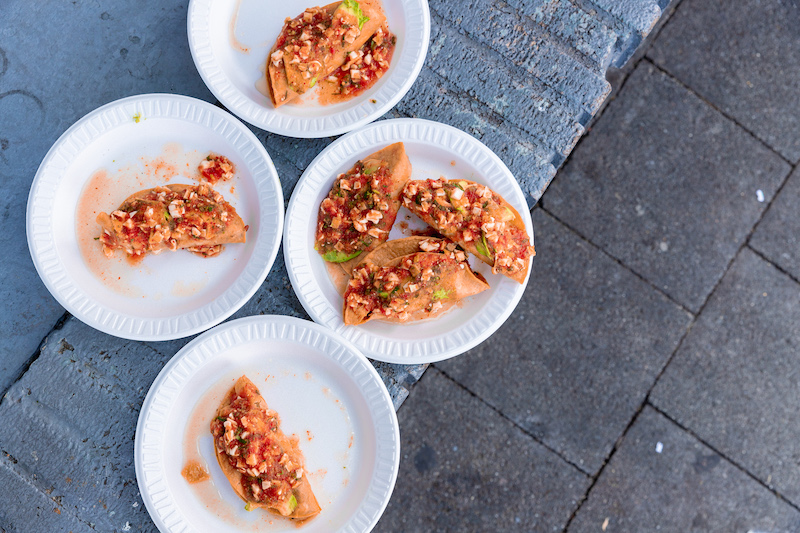 This week's pick by Christina Champlin, Co-Founder of We Like L.A.
This week bite into Mariscos Jalisco's legendary taco de camaron. It's a fried taco stuffed with shrimp, smothered in tomato salsa and topped with a slice of avocado. Mariscos Jalisco started as a food truck in 2002 and built a cult following for their crispy taco. Dubbed a "National Treasure" by food critic Jonathan Gold, Mariscos Jalisco has gone on to win countless accolades including recently "Best in Show" at L.A. TACO's Taco Madness event.
For a modest price of $2.25 the taco de camaron is one of the best deals in town. Order at least two, maybe three if you're in starvation mode. Make sure to top them off with some Tapatío and a dash of their in-house habanero sauce (a little goes a long way). Dress it quickly to eat it while it's still hot. Bite into the shell and feel the satisfying crunch reverberate to the back of your ears. Steam comes out of the fried taco revealing large pieces of shrimp swimming in an orange salsa. A sliver of avocado cools down the hot sauce you undoubtedly poured too much of. You'll finish the taco in just a few short bites but you'll be thinking about it for the rest of your day.
Mariscos Jalisco also serves a variety of vibrant seafood items including oysters topped with chopped seafood, coctel, aquachile and several ceviches. A popular pick from the ceviche options is the Poseidon, a mix of traditional ceviche flavors and ingredients but topped off with spicy red aguachile. Prices range from $3.75 for a fish ceviche to $8.75 for the Poseidon, $18 for a dozen oysters and up to $21 for the Botana a seafood platter with a little bit of everything.
Below are all four locations of Mariscos Jalisco. The best way to stay updated on their hours, locations and menu is to follow their Instagram.
---
Want to get our to-do lists straight to your inbox every week? Sign up for our email program. Have an upcoming event you'd like suggest for listing? Drop us a line at [email protected]