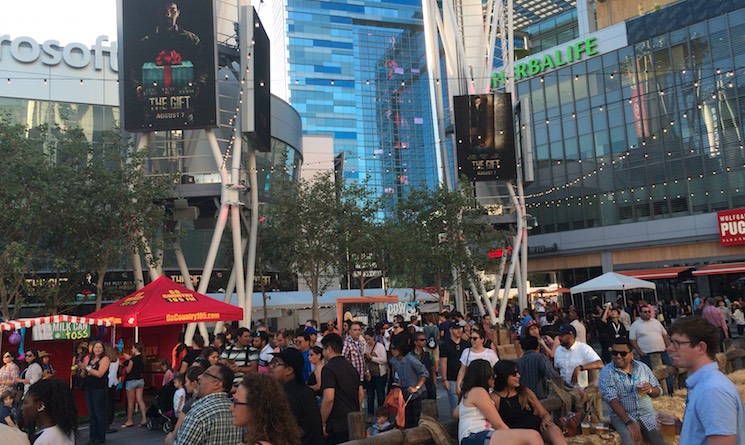 Every week in Los Angeles there are tons of great things to do (even before the weekend gets started) that we think you ought to have on your radar. With that in mind, we put together a list every Monday through Friday morning to keep you in the know about what's happening in the city you love (or maybe just like).
This week, from Monday, May 27 to Friday, May 31, features Memorial Day events, Fiesta Hermosa, Females Who Fry Chicken, Lummis Days, Barnsdall Art Park's Friday Night Wine Party Series, Skirball Cultural Center late-night celebration and MUCH more.
Remember you can always go to our L.A. events calendar page to get an updated rundown of what's happening around the city.
Hope you find the rundown useful and, as always, enjoy your week!
---
Keep in mind that while we retain complete editorial control of our content, for some of the ticketing options provided we utilize affiliate links and receive a commission if you purchase through our links.
---
Monday May 27th, 2019
1. USS Iowa will host their annual Memorial Day Remembrance party featuring live music, a veteran owned business exhibit, food trucks, beer, military vehicles on display and more. FREE
2. Fiesta Hermosa happening May 25-27 is a free annual beach party featuring local vendors, food, beer gardens, games and live music right in the heart of Downtown Hermosa Beach. FREE
3. The 46th annual Topanga Days Country Fair returns May 25 – 27 for its iconic, bohemian fundraiser in the Santa Monica Mountains. This family-friendly three-day festival includes musical acts on two stages, old school contests and games, local artisans, craft vendors, food and an annual Memorial Day parade.
4.The Queen Mary will offer free admission to all U.S. active and retired military personnel during Memorial weekend May 25-27. The ship will have reenactments, demonstrations, appearances by historical figures, and lectures.
5. The 46th Annual Valley Greek Festival comes to Saint Nicholas Greek Orthodox Church from May 25-27 for food, dancing, and fun in true Greek fashion. Highlights include traditional Greek music, traditional food and family-friendly activities.
6. All Forest Lawn locations will host a Memorial Day event offering veterans and the public a day of observance and activities. Each location will have their own unique list of activities some include riffle & cannon salutes, food, giveaways, special speakers and much more. FREE
7. Santa Anita Park will transform into a carnival for Memorial weekend May 25-27. The family friendley event will feature carnival rides, games, food and more. Check for discounted tickets before your purchase. DISCOUNTED (via Goldstar)
8. Sky Bar at The Mondrian will host a Memorial Day party by the pool called Wicked Paradise featuring a DJ set by Classixx and other acts.
9. Celebrate Memorial Day by getting down to great jazz and reggae music at the JazzReggae Festival at UCLA's Sunset Recreation Center.
10. WE RISE, a free 10 day pop-up festival (May 18-27) will honor Mental Health Awareness Month through artists presentations, creative programming, workshops, activism, panels and more – all focused on supporting a call to action for mental health as a civil right. FREE
11. POP SK8 brings a pop-up outdoor roller-skating rink to the Westfield Valencia now through May 27.
12. E.P. & L.P. in West Hollywood continues their stylish cinema series Melrose Rooftop Theatre with a screening of The Devil Wears Prada.
13. Free museum days: LACMA is free for the Memorial Day Holiday.
Tuesday May 28th, 2019
14. Fried Chicken lovers can head to Females Who Fry Chicken happening at Pacifique this Tuesday. The evening will bring together Chefs Danielle Sobel of Pacifique, Kuniko Yagi of Pikunico, Nyesha Arrington and Kat Turner of Highly Likely for a meal featuring their own twists on fried chicken.
15. Hershey Felder returns to the Wallis Annenberg Center for Performing Arts with Hershey Felder: A Paris Love Story. Playwright and performer, Hershey Felder will take audiences on a journey into the life and music of Impressionist composer Claude Debussy. The show runs May 24 through June 9. Check for discounted tickets before your purchase. DISCOUNTED (via Goldstar)
16. Rooftop Cinema Club returns to the rooftops of LEVEL in DTLA and NeueHouse in Hollywood with multiple screenings this week that include Cruel Intentions, Aquaman and more.
17. Museum of Illusions has recently launched a brand new experience. Guests can walk through eye popping 3D exhibits inspired by cartoons, art, current events, pop culture and more. The museum is open daily. Check for discounted tickets before your purchase. DISCOUNTED (via Goldstar)
Wednesday May 29th, 2019
18. Taste of Downtown Long Beach happening May 29-30 will allow the public to experience taste sized bites from local restaurants and enjoy live music and family friendly activities. Admission is free and tasting tickets cost $1 each.
19. Native Voices 25th Annual Festival of New Plays happening at The Autry May 29-30 highlights native playwrights through public staged readings.
20. The Hammer will host Flux a celebration of short films and music videos from around the globe as part of the spring addition of this series. FREE
21. The Edison presents an Evening of Salsa with guest band Son Mayor. Dance instructor Charlene Rose will give free salsa lesson at 8 p.m. and the band plays at 9 p.m. There's a $5 cover at the door.
22. Non-profit The Cat Cafe has a new popup kitchen lounge called Tiny Beans, where guests can interact with adoptable kittens for a fee. The sad fact is that many shelters do not have the capacity to care for kittens and that can result in euthanizing them. Tiny Beans aims to spread the word to help save as many kittens as possible all summer long.
23.. JAPAN HOUSE Los Angeles will host a Summer Flower Arranging workshop in celebration of the gallery's latest exhibition, KESHIKI: The Landscape Within.
Thursday May 30th, 2019
24. There's an All Female Comedy Show happening at Hotel Figueroa this Thursday. Zainab Johnson seen on All Def Comedy, Last Comic Standing, MTV's Acting Out, and BET's Comic View will headline the show.
25. Night Market is back on the hilltop of the iconic Yamashiro restaurant every Thursday all summer long. Angelenos can enjoy boutique vendors, food vendors, a concert series, cocktails at Yamashiro's Pagoda Bar and an unbeatable view of Hollywood. This event is also kid friendley. Please note this year the organizers are charging $10 to park at the shuttle location. Shuttles are free and so is admission.
26. If Halloween and horror movies are your favorite topics then I Like Scary Movies Experience will be just what you're looking for. Guests can expect to see, hear, feel, and smell recreations of iconic moments from IT (2017), Beetlejuice, The Shining, The Lost Boys, and A Nightmare on Elm Street. There won't be costumed actors jumping out trying to startle but there will be multi-sensory surprises along your winding path. The pop-up experience runs April 4 through June 16 Thursday through Sunday. Check for discounted tickets before your purchase. DISCOUNTED (via Goldstar)
27.Free museum days: MOCA Grand & MOCA Geffen (from 5 to 8 p.m.), Skirball Cultural Center (noon to 5 p.m.),  USC Pacific Asian Museum (5 to 8 p.m.), Japanese American National Museum (from 5 to 8 p.m.). FREE
Friday May 31st, 2019
28. The 14th Annual Lummis Days returns May 31 through June 2 for a celebration that gathers the community to honor the arts, history and ethnic diversity of Northeast Los Angeles through a number of educational and cultural events. FREE
29. Spend the season sipping wine during sunset hour at Barnsdall Art Park's Friday Night Wine Party Series. Happening on the lawn of architectural gem the Hollyhock House the evening features a fine selection of wines curated by Silverlake Wine, a live DJ and tours of the house. The series happens every Friday evening till September 6.
30. L.A. Pride Week returns to Los Angeles May 31 – June 9 for community-oriented events designed to support the LGBTQ+ community from West Hollywood and beyond. This year's events include the LGBT Night at Dodger Stadium on May 31, the 3rd Annual LA Pride Night at Universal Studios Hollywood on June 1, and the 2019 Trans Brunch on June 2.
31. On Friday the Skirball Cultural Center will host a late-night celebration of the exhibitions Fearless Fashion: Rudi Gernreich and Black Is Beautiful: The Photography of Kwame Brathwaite. The evening will include after-hours access to the galleries, a set by Hello DJ, food trucks, a cash bar, and more.
32. The Whisky Extravaganza: Los Angeles comes to City Market Social House for an indulgent evening of whisky tasting from over 100 of the world's best whiskies. Whisky inspired bites, cocktails and masterclasses will also be in the mix.
33. Head to L.A. LIVE for a country street party presented by Absolut called Round Up. Guest will enjoy outdoor activities including cornhole, live music, line dancing, country-themed vendors, abeer garden and $5 food & drink menus at participating L.A. LIVE restaurants.
34. Grand Central Market hosts Friday Night Flights this Friday starting at noon. The special includes a flight of drinks or bites from GCM vendors and a round trip ticket on the historic Angels Flight Railway right across the street for $15.
35. Hola Mexico Film Festival, the largest Mexican film festival outside of Mexico happens May 31 through June 8 in various venues around Los Angeles. Opening night includes LAS NIÑAS BIEN (THE GOOD GIRLS) at the Montalbán Theatre in Hollywood. The festival also host exclusive parties and outdoor concerts. Find the full schedule here. Check for discounted tickets before your purchase. DISCOUNTED (via Goldstar)
36. Head to Dodger Stadium to see the Boys in Blue take on the Philadelphia Phillies and stay for the Friday Night Fireworks Show. (DISCOUNTED) via Goldstar
37. On the last Friday of each month the California Market Center hosts a public sample sale with hundreds of showrooms offering men, women and children fashion as well as gift and home items at below-retail prices.
38. The Greens at the Rose Bowl (the grounds surrounding the stadium) hosts Final Fridays a family friendly event happening on the last Friday (4-8 p.m.) of every month where food trucks, life-size games, stadium tours and so more are offered.
39. Cirque du Soleil's AMALUNA heads to the L.A. Waterfront in San Pedro for a magical evening that takes the audience through a journey loosely based on Shakespeare's The Tempest. Check for discounted tickets before your purchase. DISCOUNTED (via Goldstar)
40. Tacotopia presented by Cholula Hot Sauce is a taco centric playground with thirty something taco inspired art installations. Guests can also enjoy a Cholula hot sauce bar, a taco curtesy of Azule Taqueria and a bottle of Jarritos. The expereince runs everyday from May 24 through July 7.
Food Pick for the Week
This week's pick by Christina Champlin, Co-Founder of We Like L.A.
LUCKYRICE's first Los Angeles Night Market of the Future will transform Grand Central Market into a one-of-a-kind food exploration with over 20 stalls serving innovative street food that blurs the definition of Asian cuisine. The participating chefs were all asked to peer into the future and predict what we all will be eating next. The roster includes Perry Cheung of Phorage, ASAP Phorage and Dumpling Monster. He'll be serving MY Vietnamese Rice Cakes with Langoustine. Chef Tin Vuong of Abigaile will whip up a Prawn Dumpling & Fresh Egg Noodle dish with caramelized duck, pork confit, salted cabbage, bean sprouts, mushroom X.O. and celery leaf. Anne Chen and Cindy Pao of bling bling dumpling will serve Danzi Noodles a light pork broth stew, with thin noodles, minced pork topped with a prawn. Other chefs include Johnny Lee of Chicago's Rakki Cafe and Pearl River Delta opening soon in Los Angeles, Andy Ricker of Pok Pok in Portland and Erwin Tjahyadi of Bone Kettle in Pasadena. See the full list of chefs and what they will be serving here. Guests will also be treated to a curated selection of fine wines, craft beers, Rémy 1738 cocktails, Champagne Collet and Kikori Whiskey tastings. Tickets cost $125 per person. The event takes place this Thursday, May 30 from 7 to 9 p.m. More information can be found on the official site, linked here.
---
Want to get our to-do lists straight to your inbox every week? Sign up for our email program. Have an upcoming event you'd like suggest for listing? Drop us a line at [email protected]