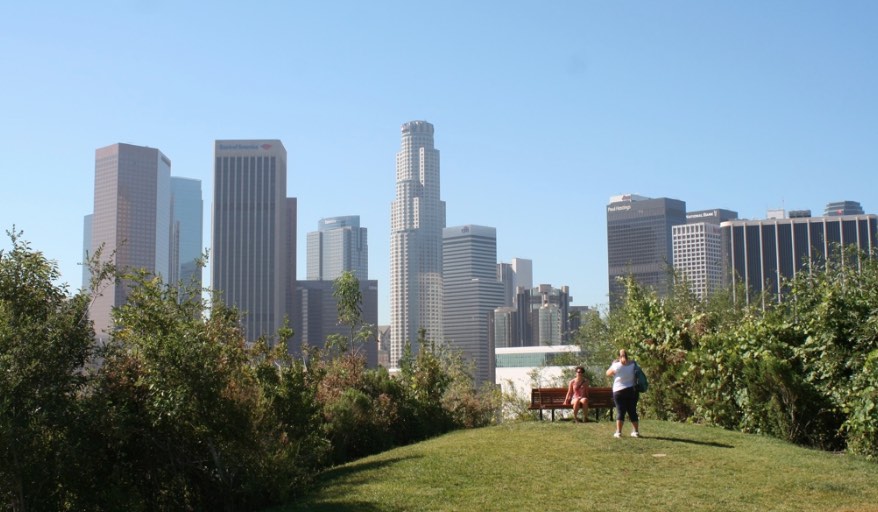 Los Angeles provides no limit of things to do, some awesome and some not so awesome. Since time is precious in this fast paced city we curate a list of things to do in Los Angeles for every weekend that'll help you decide how you want to spend your limited supply of attention (not to mention dollars!).
This MLK weekend in L.A. from Friday, January 17 to Monday, January 20, features dineL.A., Women's March Los Angeles, The Asian American Expo, Martin Luther King Jr. celebrations, a sour beer party at Angel City Brewery and more!
Remember you can always go to our L.A. events calendar page to get an updated rundown of what's happening around the city.
Hope you find the rundown useful and, as always, enjoy your weekend!
---
Keep in mind that while we retain complete editorial control of our content, for some of the ticketing options provided we utilize affiliate links and receive a commission if you purchase through our links.
---
Friday January 17th, 2020
1. Angel City Brewery will throw a hush hush can release party for their Eastside Series this Friday. Stop by the brewery and pay attention to the clues given around the Public House area for a secret word-of-mouth password that will gain you entry into a speakeasy inside the Beer Hall. Party starts at 6 p.m. with performances by Toil and Trouble Burlesque and Vignes Rooftop Revival.
2. dineL.A. returns Jan. 17-31 for two weeks of exclusive lunch and dinner menus at a laundry list of the city's finest eateries.
3. The Huntington Gardens welcomes the Los Angeles Chamber Orchestra for a Baroque Brass program at the Rothenberg Hall.
4. Dance The Odyssey Theatre celebrates the art form of dance this weekend with performances by Tethering Dance Company.
5. Don't Tell Comedy pops up in Culver City this Friday with some of the biggest names in comedy. Performers are kept under wraps and the location will be emailed to all ticket holders. BYOB!
6. USC Pacific Asia Museum located in Pasadena is recognized as Southern California's only museum devoted exclusively to art from Asia and the Pacific. For their first 2020 exhibition the museum presents Oscar Oiwa: Dreams of a Sleeping World. On view from January 10 – April 26, 2020 guests walk into a dome that transports them inside a 360° dreamscape fantasy world. The site-specific piece was drawn with 120 Sharpie permanent markers and reveals hints of existential threats to the environment. Oiwa's surreal paintings and a video documenting the creation of the mural dome greets guests before they embark into the dome.
7. Get up close and personal with sharks at the Aquarium of the Pacific during Shark Lagoon Nights. Guests will have the opportunity to touch bamboo sharks and view large sharks in an after hours setting. FREE
8. Skyspace Nights returns with a special night with contemporary instrumental group Katalyst and access to all three floors of the space. Your first drink is free with admission!
9. Looking to LOL with a crowd of improv fans? The Groundlings has packed their best sketches into one hilarious comedy show called Mix Tape. The show runs Friday and Saturday.
Saturday January 18th, 2020
10. The Asian American Expo returns to the Fairplex in Pomona on January 18-19 for two days of celebrating the Lunar New Year through food, art, and an immersive cultural experience.
11. The Fourth Annual Women's March Los Angeles returns to Pershing Square in Downtown L.A. on January 18 for an opportunity to stand up and let your voices be heard! Like the years before, expect special keynote speakers and performers at the march.
12. Blushcon 2020 aims to help beauty lovers discover indie asian beauty brands and connect with micro-influencers. The convention will take place during the Asian American Expo at the Fairplex in Pomona.
13. Fusing the world of anime and video games, Anime Impulse will feature celebrity appearances, esports, artist alleys, Kawaii fashion, and cosplay, all at the Fairplex in Pomona. Happening January 18 and 19.
14. The Skirball will host a Martin Luther King Jr. Day Celebration Concert featuring the Inner City Youth Orchestra of Los Angeles and their Community Chorus. The performance will include uplifting numbers, like an orchestral and choral version of Dr. King's 1963 speech "I Have a Dream." The performance is free with an rsvp and admission to the museum.
15. On Saturday Hennessey Ingallas Bookstore hosts Susan. A. Phillips in conversation with Gershon Weltman, along with Sally and Jerry Romotsky (who co-authored the book Barrio Calligraphy). Phillips new book, The City Beneath: A Century of Los Angeles Graffiti, explore the history of L.A. through the lens of marginalized groups who have used graffiti and tagging as a form of communication and cultural expression. FREE
16. Celebrate Martin Luther King Jr. Day with a service and community event at Baldwin Hills Crenshaw Plaza. In honor of the beloved civil rights figure, Baldwin Hills will host a day of giving back with a variety of free services for individuals and families. FREE
17. The second annual Bulldog Derby is happening at Santa Anita Park this Saturday. SoCal's fastest English and French bulldogs will sprint off in a friendly racing competition and there will be contests, giveaways, photo ops and more going down at this dog lovers event.
18. Hollywood Performance Marathon returns for the twenty-fifth year for an all-day-all-night event featuring dozens of performers and an eclectic mix of performances including comedy, dance, music and monologues. The event starts at 3 p.m. and ends "the sun comes up." The event takes place at Theatre of NOTE.
19. The Santa Monica Mountains National Recreation Area will host two MLK Day of Service events to restore parts of Franklin Canyon and the Rancho Sierra Vista/ Satwiwa. FREE
20. The Third Annual Riverfest hosted by Mohawk Bend will support Friends of the Los Angeles River (FOLAR) by tapping over 20 beers (including Kern River Brewing, Russian River Brewing, and Dry River Brewery) while throwing a fun party giving the proceeds to FOLAR.
21. The American Cinematheque and Netflix presents A Tribute to Noah Baumbach on Saturday and Sunday at the Aero Theatre in Santa Monica. There will be a screening of Noah Baumbach's latest film, Marriage Story, followed by a post-screening discussion on Saturday and a double feature of The Squid and the Whale and Kicking and Screaming both in 35mm on Sunday, with a discussion between films.
22. The International Printing Museum located in Carson presents Benjamin Franklin's Electric Birthday Celebration a day of honoring the life of one of the famous creator and thinker in history.
23. The Ninth Annual Chinese New Year Celebration at Saban Theatre in Beverly Hills will include a variety show, photo exhibition, cultural heritage crafts and more.
24. OUE Skyspace host Yoga in the Sky a morning yoga class 1,000 feet above the city. Class begins at 7 a.m. and is taught by SoHo Yoga. Unlimited Skyslide rides and light refreshments will follow the class. Guests must bring their own mats.
25. The Altadena Library District will host a Chinese New Year-themed crafts event. Activities include making rat finger puppets and paper lanterns. All ages are welcome. FREE
26. The Art Theatre Long Beach will host a screening of Wasted! The Story of Food Waste a documentary executively produced by the late Anthony Bourdain.
Sunday January 19th, 2020
27. Comedian, actor, and filmmaker Whitmer Thomas stops by The Satellite with a few of his pals for some stand up and sing songs this Sunday.
28. Pucker up for Sour to the People, a sour beer celebration going down at Angel City Brewery in DTLA this Sunday. Sip on vintage barrel aged sours nosh at food trucks, partake in funky activities like Flavor Tripping and more. The event is free to attend. 
29. Southern California Slack Key Festival and Island Marketplace returns to the Redondo Beach Performing Arts Center with some of the best Hawaiian musical performers, Hawaiian food and island vendors.
31. There's a San Fernando Valley Audubon Bird Walk taking place at Malibu Creek State Park this Sunday. FREE
32. San Gabriel Mission Playhouse welcomes back the Silent Sundays series with live Wurlitzer organ accompaniment. Two films with comic Buster Keaton will be screened, the 1922 two-reel short Cops followed by 1924's Sherlock, Jr!
33. Pasadena Comic Con returns to the Pasadena Convention Center for a special day of cosplay and art featuring more than 75 comic book and toy vendors along with artists, creators and celebrity guests.
34. Get into the winter spirit when ICE at Santa Monica returns with a 8,000 square foot ice skating rink. Running November 1, 2019 through January 20, 2020.
35. Free museum day: Museum of Latin American Art and Craft and Folk Art Museum (pay what you can) FREE
Monday January 20th, 2020
36. Celebrate Martin Luther King Jr. through a day of art, culture, and community at the California African American Museum. Activities will include special art workshops as well as recitations of King's speeches. FREE
37. California SOL is an MLK Day soiree and rooftop pool party featuring DJ sets from Motown on Mondays LA and Subsuelo.
38. The 35th annual Kingdom Day Parade kicks off at 10 a.m. this Monday. The parade route heads west on Martin Luther King Jr. Blvd, turning south on Crenshaw and finishing at Leimert Park Plaza. This year's theme is "Equality For All Humanity, Our Next Step." FREE
Food Pick for the Week
This week's pick by Christina Champlin, Co-Founder of We Like L.A.
Bar Caló is known for introducing small independently owned mezcal producers to the neighborhood of Echo Park. They also have a brunch menu designed for cocktail aficionados. On weekends groups of fashionable eaters stroll into the blush colored bar to munch on chilaquiles tossed in Oaxaca mole sauce, pipping hot mini churros dipped in Mexican chocolate, and sweet potato fries topped with chorizo. It's exclusive, in a sense that seating options are confined to the nine seat bar or wraparound couch dotted with small circler tables. The ambience is casual. The pace is slow and deliberate. In between bites I sipped on not-so-standard brunch cocktails like the Bloody Maria infused with mezcal, tequila, and a splash of grapefruit juice. This is the kind of place where, if you're hanging out with friends, time seems to lose all meaning. Before I knew it three hours had passed. Close to the end we tried to order the Savory Corn Pancakeitos but were told they had sold out. We'd waited too long and missed our chance. Oh well, at least now I have a reason to come back.
Brunch at Bar Caló runs Saturday and Sunday noon to 4 p.m. Bar Caló is located at 1498 West Sunset Boulevard, Los Angeles, CA 90026
---
Want to get our to-do lists straight to your inbox every week? Sign up for our email program. Have an upcoming event you'd like suggest for listing? Drop us a line at [email protected]