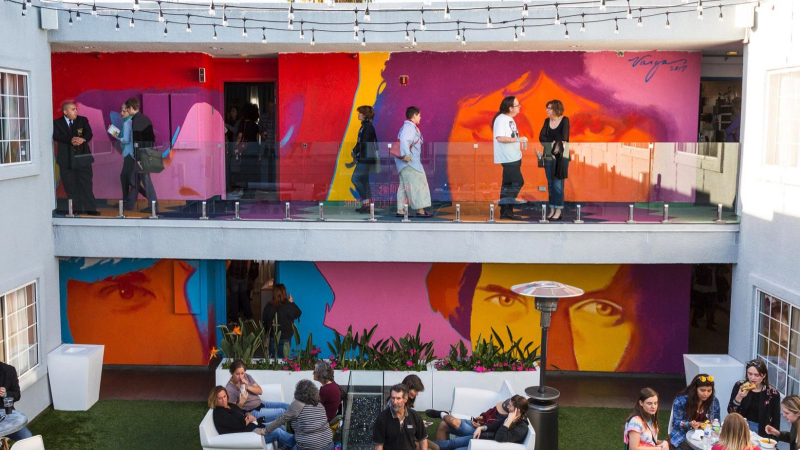 Los Angeles provides no limit of things to do, some awesome and some not so awesome. Since time is precious in this fast paced city we curate a list of things to do in Los Angeles for every weekend that'll help you decide how you want to spend your limited supply of attention (not to mention dollars!).
This weekend, from Friday, February 15 to Sunday, February 17, features the stARTup Art Fair, the ScotsFestival, a Broken Hearts Circus, Modernism Week in Palm Springs, and MUCH more.
Remember you can always go to our L.A. events calendar page to get an updated rundown of what's happening around the city.
Hope you find the rundown useful and, as always, enjoy your weekend!
---
Keep in mind that while we retain complete editorial control of our content, for some of the ticketing options provided we utilize affiliate links and receive a commission if you purchase through our links.
Friday February 15th, 2019
1. Frieze Los Angeles comes to Paramount Pictures Studios in Hollywood February 15-17 to showcase 70 contemporary art galleries from Los Angeles and all across the world. This three-day art fair focuses on contemporary art, the dynamic culture of Los Angeles, and its global contributions to the visual arts. Curated program of talks, site-specific artists' projects, and film will also be part of the event.
2. stARTup Art Fair comes to Kinney Venice Beach hotel February 15 – 17 for an art exhibition that bypasses the traditional gallery system by featuring 60 artists works inside individual hotel rooms. In addition to art, there will be music, performances, food and drink. Check for discounted tickets before making your purchase. DISCOUNTED (via Goldstar)
3. SPRING/BREAK Art Show will head to Los Angeles from February 15 – 17 with its first-ever exhibition outside the New York Metropolitan area. Taking place at ROW DTLA, expect 40+ curated exhibitions each housed inside 800 and 200 square foot metal stalls that can and will also spill out onto the surrounding lot spaces.
4. Art Los Angeles Contemporary comes to Barker Hangar in Santa Monica February 13-17. The five-day event features top established and emerging galleries from all across the world, with an emphasis on Los Angeles galleries.
5. Wisdome Art Park is an art focused immersive experience spread among a series of domes in an Arts District lot. The current exhibition, Samskara, takes guests on a journey that includes paintings, optical illusions, virtual reality, and one very trippy video projection. Happening all weekend. Check for discounted tickets before making your purchase. DISCOUNTED (via Goldstar)
6. Odd Nights At The Autry feature a collection of vendors, gourmet food trucks, children activities, guest DJ's, a full bar and access to The Autry Gallery until 9 p.m. Happening every third Friday of the month until October 2019.
7. Celebrate the Year of the Pig at Universal Studios Hollywood with some of your favorite characters. Check out Po's Village and savor Asian delights at Mr. Ping's Noodle Shop. Meet Illumination's Minions in traditional Chinese attire and a Mandarin-speaking Megatron from TRANSFORMERS. The Lunar New Year pop-up will run till February 18.
8. Head to Angel City Brewery to score some free samples of their latest brews, including the all new Sunbather and learn about beer from ACB reps.
9. February 15 is Singles Awareness Day and Figueroa Philly located in Downtown Los Angeles will gift singles onion rings with the purchase of any cheesesteak or sandwich.
10. The Pan African Film Festival (PAFF) returns to Los Angeles February 7-18. Now in its 27th year, the 12-day festival is the largest black film festival in America.
11. This Friday Caltech's Stargazing and Lecture series returns to Pasadena for a night of outer worldly discussions and some stargazing. FREE
12. 260LA will host a J Brand sample sale from February 13-17 in their Beverly Hills location.
Saturday February 16th, 20191
13. This Saturday come to Hauser & Wirth Los Angeles for the public opening of 'Annie Leibovitz. The Early Years, 1970 – 1983: Archive Project No. 1,' an extension of the 2017 survey of the same title presented by the LUMA Foundation at the festival Rencontres d'Arles, France. FREE
14. Esotouric Bus Adventures hosts four-hour luxury coach tours and their twice-annual bus and walking tour "Boyle Heights & the San Gabriel Valley: The Hidden Histories of L.A.'s Melting Pot" is happening this Saturday. Tour includes fascinating stories about the two cities with plenty of fun stops in between. Check for discounted tickets before making your purchase. DISCOUNTED (via Goldstar)
15. All Visual LA heads to Union Station for a digital slideshow spectacular featuring snapshots of architecture, street life and other public spaces. Happening from 8:30 to 9:30 p.m. at the station's ticketing hall. FREE
16. The Los Angeles Travel & Adventure Show comes to the Los Angeles Convention Center February 16 – 17 for an opportunity for Angelenos to explore endless vacation options from over 350+ destinations from around the world. Check for discounted tickets before making your purchase. DISCOUNTED (via Goldstar)
17. Queen Mary's ScotsFestival & International Highland Games returns February 16-17 with an array of authentic Scottish activities, athletics, dancing, entertainment, drinks and cuisine.
18. The Chinatown Firecracker Run/Walk and Bike Ride happening February 16-17 will have participants and attendees scouring the streets and hills of Chinatown and Elysian Park celebrating the Year of the Boar.
19. The San Gabriel Lunar New Year Festival taking place in the San Gabriel Mission District will feature a street food fair, a marketplace, carnival games, a chalk art contest, live music, and a kids' zone. FREE
20. From February 4 through March 1 The Grove will host "Award Nominated Date Night" in honor of awards season. Guests will enjoy an award-nominated film and a three-course dinner at The Grove, as well as valet parking for the evening for $70. This promo is available everyday.
21. Celebrate the Year of the Boar during Lunar New Year at Santa Monica Place. Enjoy cultural performances, a Chinese lion dance, traditional dough artists and more. FREE
22. The St. Valentine's Day Speakeasy Party & Pie Fight hosted by Roaring 20's Street Jams is a throw back extravaganza with music, dance, cocktails, a staged reenactment of the historic St. Valentine's Day Massacre and one epic pie fight to close out the night.
23.Long Beach Comic Expo, a celebration of comic books and pop culture, returns to Long Beach Convention Center on February 16-17. Check for discounted tickets before making your purchase. DISCOUNTED (via Goldstar)
24. Saved By The Max, the Saved By The Bell Pop Up Shop Diner & Bar will transform into Malibu Sands & Zack's Room as part of the "final semester" of the pop up experience wrapping up in April.
25. Desert X returns for its bi-annual public art show February 9 through April 21. Spread throughout the Coachella Valley in various locations, artists are commissioned to use the desert landscape as their canvas with breathtaking results.
26. Palm Springs Modernism Week returns February 14-24 to celebrate all things midcentury modern including architecture, art, interior landscape design and vintage culture.
Sunday February 17th, 2019
27. Latin Jazz Sunday kicks off at The Autry Museum in Griffith Park this Sunday at 7 p.m. with live music from the UCLA Latin Jazz Ensemble. In addition to the performance, the Autry offers access to select galleries and light refreshments from the cash bar.
28. Angel City Brewery's festival for the lovelorn, the Broken Hearts Circus, returns to Downtown Los Angeles for a lively post Valentine's Day bash. Enjoy stilt walkers, snake charmers, roaming magicians, wire walking, music performances, food vendors, live comedy and more. FREE
29. Walt Disney's Carolwood Barn is open to the public on the third Sunday of each month (weather permitting) from 11 a.m. to 3 p.m. The museum houses Walt Disney's personal artifacts including work benches, tools and items that showcase his love of trains. FREE
30. The Grove and The Original Farmers Market will host a Lunar New Year celebration on Sunday unveiling a handmade pig statue in honor of the zodiac symbol, followed by a Kung Fu demonstration, a magic show, acrobatics performances, traditional lion and dragon dances, and a live performance from singer Katherine Ho known for Crazy Rich Asians. There is no admission fee for this event.
31. Friendship Buddies a free stand-up comedy show taking place at the Verdugo Bar back patio features some of the best comics in Los Angeles and beyond. Show starts at 8p.m. FREE
32. Everyone from all backgrounds are welcome to spend their Sunday celebrating African American history in America at Historical Leimert Park Village. The event will include guest speakers, engagement workshops, fashion show, art exhibitors, live music, food vendors and craft vendors. FREE
33. Every third Sunday of each month The Autry presents a Western Music Association Showcase from noon to 3 p.m. where musicians and cowboy poets perform stories and songs of the Old West, the open range and the all American cowboy. This event is free with your admission to the museum.
Food Pick for the Week
This week's pick by Christina Champlin, Co-Founder of We Like L.A.
Did you know there's a Sake School of America in Los Angeles? Fans of the Japanese rice wine can head to JAPAN HOUSE in Hollywood this Saturday for a sake tasting and light food pairings. The course cost $25 per person and includes a guided tasting of six different styles of sake from prominent brewing regions along with small bites pairings and a Q&A session with Sake Sommelier and Wine & Spirits Education Trust (WSET) certified sake instructor, Sachiko Miyagi.
Want to get our to-do lists straight to your inbox every week? Sign up for our email program. Have an upcoming event you'd like suggest for listing? Drop us a line at [email protected]