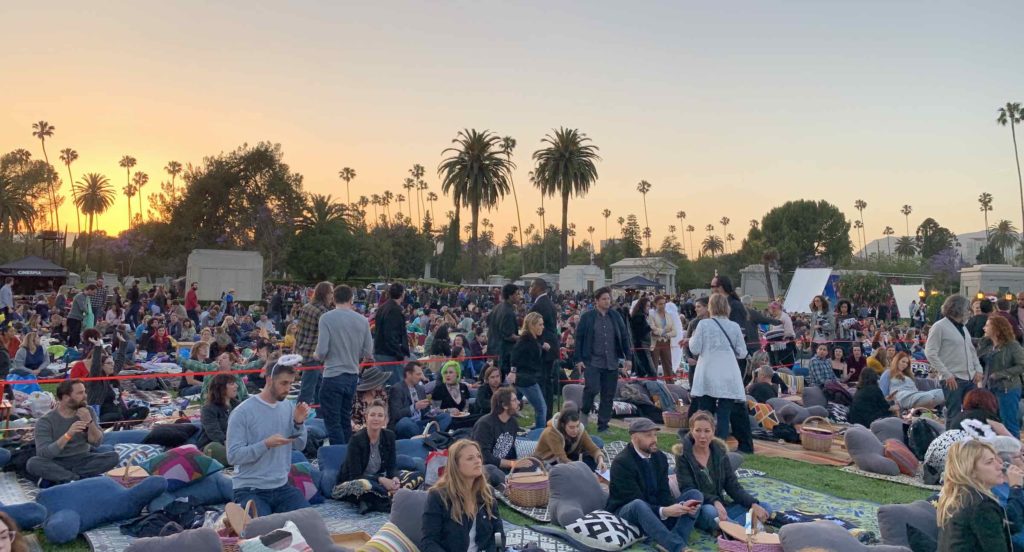 Los Angeles provides no limit of things to do, some awesome and some not so awesome. Since time is precious in this fast paced city we curate a list of things to do in Los Angeles for every weekend that'll help you decide how you want to spend your limited supply of attention (not to mention dollars!).
This Memorial weekend, from Friday, May 24 to Monday, May 27 features Fiesta Hermosa, Valley Greek Festival, Topanga Days, L.A. Zinefest, free admission at LACMA, a number of Memorial Day remembrance events and MUCH more.
Remember you can always go to our L.A. events calendar page to get an updated rundown of what's happening around the city.
Hope you find the rundown useful and, as always, enjoy your weekend!
---
Keep in mind that while we retain complete editorial control of our content, for some of the ticketing options provided we utilize affiliate links and receive a commission if you purchase through our links.
---
Friday May 24th, 2019
1. The Aquarium of the Pacific in Long Beach has just completed a major expansion called Pacific Visions featuring stunning interactive exhibitions, a state-of-the-art immersive Honda Pacific Visions Theater, an art gallery designed to transport visitors under the ocean, and live animal exhibits. The new wing officially opens to the public this Friday.
2. RuPaul's DragCon Los Angeles 2019 comes to the Los Angeles Convention Center May 24 – 26 for three days of art, pop culture, and all things drag. The convention features panels, photo ops, meet and greets, shopping, and much more.
3. Grand Central Market hosts Friday Night Flights this Friday starting at noon. The special includes a flight of drinks or bites from GCM vendors and a round trip ticket on the historic Angels Flight Railway right across the street for $15.
4. Walt Disney Concert Hall welcomes The BTHVN on tour exhibition to BP Hall from May 17-26 during the LA Phil's Beethoven concert series. The BTHVN is a global touring exhibit highlighting Beethoven's life, original objects like the viola and original scores along with some interactive elements. The exhibit is free and open daily from 9 a.m. to 5 p.m. There will be ticketed LA Phil concerts during this period of the exhibit.
5. Westfield Century City will host "Come See" a free movie night taking place at The Atrium. All attendees will receive complimentary movie bites and snacks before the show. A VIP package is available for preferred seating, swag and credit towards dinner. This Friday they will screen Mean Girls.
6. Annenberg PetSpace hosts Pet Encounters this Friday allowing their adoptable pets to socialize with people. Stop by and interact with some adorable dogs and support the community space. Registration is required.
7. Hershey Felder returns to the Wallis Annenberg Center for Performing Arts with Hershey Felder: A Paris Love Story. Playwright and performer, Hershey Felder will take audiences on a journey into the life and music of Impressionist composer Claude Debussy. The show runs May 24 through June 9. Check for discounted tickets before your purchase. DISCOUNTED (via Goldstar)
8. WE RISE, a free 10 day pop-up festival (May 18-27) will honor Mental Health Awareness Month through artists presentations, creative programming, workshops, activism, panels and more – all focused on supporting a call to action for mental health as a civil right. FREE
9. 4th Fridays on 4th Street activates the "Retro Road" business district in Long Beach on the fourth Friday of every month from 6 to 10 p.m. through extended hours, dining specials, discounted merchandise, pop up shops, art shows, live music, double decker bus rides and more.
10. POP SK8 brings a pop-up outdoor roller-skating rink to the Westfield Valencia now through May 27.
11. Tacotopia presented by Cholula Hot Sauce is a taco centric playground with thirty something taco inspired art installations. Guests can also enjoy a Cholula hot sauce bar, a taco curtesy of Azule Taqueria and a bottle of Jarritos. The expereince runs everyday from May 24 through July 7.
12. Los Angeles County Museum of Art hosts free jazz performances on Fridays through November. Concerts take place at the main entrance. FREE
13. Rooftop Cinema Club returns to the rooftops of LEVEL in DTLA and NeueHouse in Hollywood with multiple screenings this week that include Coming to America, Spice World, La La Land and more.
Saturday May 25th, 2019
14. Fiesta Hermosa happening May 25-27 is a free annual beach party featuring local vendors, food, beer gardens, games and live music right in the heart of Downtown Hermosa Beach. FREE
15. The 46th Annual Valley Greek Festival comes to Saint Nicholas Greek Orthodox Church from May 25-27 for food, dancing, and fun in true Greek fashion. Highlights include traditional Greek music, traditional food and family-friendly activities.
16. The 46th annual Topanga Days Country Fair takes over Topanga Community Club May 25 – 27 for its iconic, bohemian fundraiser in the Santa Monica Mountains. This family-friendly three-day festival includes musical acts on two stages, old school contests and games, local artisans, craft vendors, food and an annual Memorial Day parade.
17. Eat|See|Hear returns for 2019 with a screening of Coming to America at The Autry Museum. Check for discounted tickets before making your purchase. DISCOUNTED (via Goldstar)
18. Electronic composer Kaitlyn Aurelia Smith will host an hour long meditation at the Getty Museum's Central Garden. Set to the sounds of her new album Tides: Music for Meditation and Yoga, the event starts at 6 p.m. and guests are encouraged to bring their own mats. FREE
19.The Queen Mary will offer free admission to all U.S. active and retired military personnel during Memorial weekend May 25-27. The ship will have reenactments, demonstrations, appearances by historical figures, and lectures.
20. Head to Cinespia at the Hollywood Forever Cemetery for screenings of films modern, cult, and classic. This Saturday they'll screen Legally Blonde and on Sunday, Hitchcock's thriller Rear Window.
21. The Simi Valley Cajun & Blues Festival is set to take over Rancho Santa Susana Community Park this Memorial Day weekend May 25-26 with live music, Cajun-Creole food, a Mardi Gras Parade, kid friendley activities and more.
22. Every fourth Saturday of the month, Skyspace hosts Sunrise Yoga taught by SoHo Yoga, with music by Bender, Reiki Healing by Celia Gellert and guests also get unlimited Skyslide rides. Please bring your own mat.
23. Santa Anita Park will transform into a carnival for Memorial weekend May 25-27. The family friendley event will feature carnival rides, games, food and more. Check for discounted tickets before your purchase. DISCOUNTED (via Goldstar)
24. Street Food Cinema returns this weekend with a screening of Back to the Future at Victory Park and Goodfellas at Exposition Park. (DISCOUNTED) via Goldstar
25. One City One Pride LGBTQ Arts Festival is a 40 day celebration through mostly free art events and exhibits between May 22 through June 30. This Saturday and Sunday, New Stages presents "I Do," a musical based on the life stories of, and performed by, LGBTQ seniors. FREE
26. Cirque du Soleil's AMALUNA heads to the L.A. Waterfront in San Pedro for a magical evening that takes the audience through a journey loosely based on Shakespeare's The Tempest. Check for discounted tickets before your purchase. DISCOUNTED (via Goldstar)
Sunday May 26th, 2019
27. The 8th annual L.A. Zine Fest comes to Helms Bakery in Culver City with over 200 zinesters in attendance plus activities including readings, talks, workshops, and zine libraries. FREE
28. The 2nd Annual Corgi Nationals comes to Santa Anita Park for a corgi-centric, family-friendly day in the sun. Highlights include carnival rides, food, drinks, corgi races and more.
29. Heritage Fest at Angel City Brewery is an annual celebration of the brewery. The day includes food, live music, live mural painting, an art tour, educational tastings and tours of the brewery, a "museum of Old Angel City Stuff" and lots more. FREE
30. Drag Queen of the Year Pageant comes to the Richardo Montalban Theatre this Sunday uniting performers from around the world for a day of competition. Criteria includes presence, energy and stunningness to name few.
31. Smorgasburg LA's Burger Day will feature some of the best local burger vendors in town together in one place. The Travel Channel's host of Burger Land and author of Hamburger America, George Motz will also make an appearance serving his famous Oklahoma Fried Onion Burger.
32. MAINopoly a Monopoly themed neighborhood party with food samples and drink specials from participating restaurants will takeover Main street in Santa Monica.
33. Killer Shrimp presents the 8th Annual Killer Rides show this Sunday in Marina del Rey. Check out awesome hotrods, classics, exotics and bikes. FREE
34. Non-profit The Cat Cafe has a new popup kitchen lounge called Tiny Beans, where guests can interact with adoptable kittens for a fee. The sad fact is that many shelters do not have the capacity to care for kittens and that can result in euthanizing them. Tiny Beans aims to spread the word to help save as many kittens as possible all summer long.
35. Museum of Illusions has recently launched a brand new experience. Guests can walk through eye popping 3D exhibits inspired by cartoons, art, current events, pop culture and more. The museum is open daily. Check for discounted tickets before your purchase. DISCOUNTED (via Goldstar)
36. If Halloween and horror movies are your favorite topics then I Like Scary Movies Experience will be just what you're looking for. Guests can expect to see, hear, feel, and smell recreations of iconic moments from IT (2017), Beetlejuice, The Shining, The Lost Boys, and A Nightmare on Elm Street. There won't be costumed actors jumping out trying to startle but there will be multi-sensory surprises along your winding path. The pop-up experience runs April 4 through June 16 Thursday through Sunday. Check for discounted tickets before your purchase. DISCOUNTED (via Goldstar)
37.Free museum days: Museum of Latin American Art and Craft and Folk Art Museum (pay what you can)
Monday May 27th, 2019
38. USS Iowa will host their annual Memorial Day Remembrance party featuring live music, a veteran owned business exhibit, food trucks, beer, military vehicles on display and more. FREE
39. Sky Bar at The Mondrian will host a Memorial Day party by the pool called Wicked Paradise featuring a DJ set by Classixx and other acts.
40. All Forest Lawn locations will host a Memorial Day event offering veterans and the public a day of observance and activities. Each location will have their own unique list of activities some include riffle & cannon salutes, food, giveaways, special speakers and much more. FREE
41. Head to Dodger Stadium for a game this Monday and see the Boys in Blue take on the New York Mets. (DISCOUNTED) via Goldstar
42. Celebrate Memorial Day by getting down to great jazz and reggae music at the JazzReggae Festival at UCLA's Sunset Recreation Center.
43. E.P. & L.P. in West Hollywood continues their stylish cinema series Melrose Rooftop Theatre with a screening of The Devil Wears Prada.
44. Free museum days: LACMA is free for the Memorial Day Holiday.
Food Pick for the Week
This week's pick by Christina Champlin, Co-Founder of We Like L.A.
There are a couple of awesome food events happening just in time for Memorial Weekend. Check below for a few tasty ideas:
West Hollywood's Katana will once again host their annual Red Sun BBQ, kicking off on Sunday May 26 on the restaurant's patio. Guests will enjoy a table-side Robata Yaki menu and tropical summer drinks while a DJ spins tunes. Red Sun BBQ will occur every Sunday from 6 to 11:30 p.m. all summer long until Labor Day.
Atrium in Los Feliz will host a three-day weekend brunch in honor of Memorial Day. From Saturday through Monday from 10 a.m. to 4 p.m. Chef Hunter Pritchett will roll out specials like Crispy Pork Short Ribs and Fried Chicken, Waffles and Caviar. To keep the party going, Atrium will offer a Brunch Punch that serves up to four people, plus Bottomless Aperol Spritz and more.
INKO NITO located in Downtown Los Angeles will transform their patio into an American/Japanese fusion bbq party. From Saturday May 25 through Monday May 27 guests can enjoy a bbq platter for $45 per person. The platter includes a rack of Gochujang BBQ Pork Ribs with spicy sesame glaze and scallions; Corn On The Cob with smoked chili butter; Bone Marrow with garlic toast; Baked Sweet Potato with yuzu kosho sour cream and crispy garlic; and more. The restaurant will also offer guests a selection of Maker's Mark cocktails for $8. Sunday will feature a DJ on the patio from 3 to 8 p.m.
---
Want to get our to-do lists straight to your inbox every week? Sign up for our email program. Have an upcoming event you'd like suggest for listing? Drop us a line at [email protected]