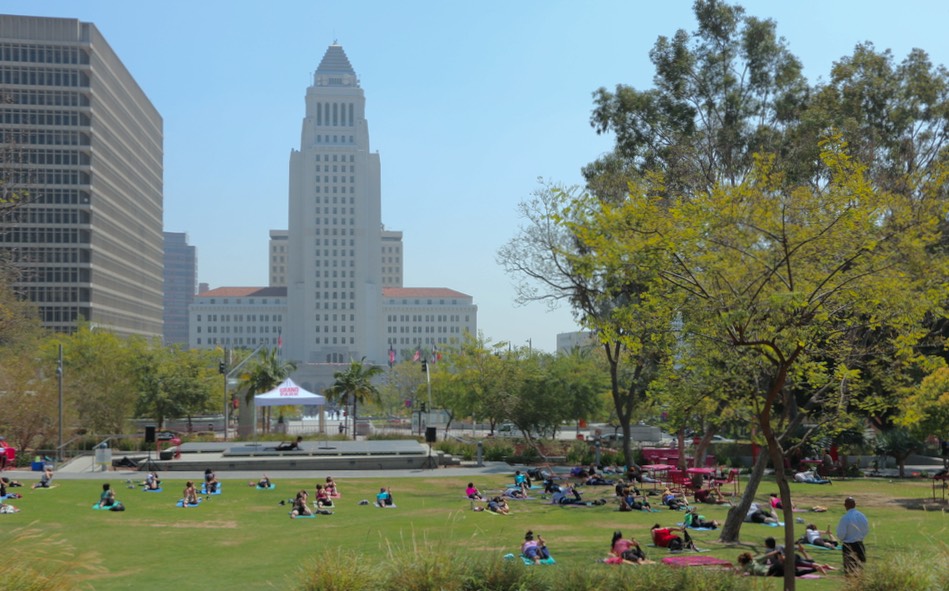 Alright. Your last weekend of the month (and maybe of the summer). Let's make it a good one.
From August 26-28 in Los Angeles, check out Open Stage at The Elysian, 626 Night Market, Off the 405 at The Getty, an End of Summer Bash in Pasadena, the El Segundo Art Walk, the Leimert Park Jazz Festival, DTLA Proud at Grand Park, Getty 25 in Watts, and more.
Things To Do This Weekend
Open Stage at The Elysian -> This Friday, The Elysian Theater in Frogtown offers an open invite for performers looking to workshop their ensemble (meaning two or more people) material to a live audience. And even if you're not a performer, you can attend for free to see what weird/inventive/hilarious stuff locals have been working on. Plus, there will be free pizza for all who perform/attend. Event runs 6 to 9 p.m. Get more info and RSVP here.
Dance DTLA -> Free weekly dance parties continue at The Music Center's Jerry Moss Plaza through September 2. This Friday, catch an evening of Bachata led by instructor Leslie Ferreira. For each event, you'll learn easy-to-follow steps, allowing everyone to get into the groove right from the jump. Very family-friendly and always free. No reservation required. More info here.
Regeneration: Black Cinema 1898–1971 -> The latest exhibition at The Academy Museum highlights the culture of Black Cinema, from its beginnings at the turn of the century to the period following the civil rights movement of the 1960s. In tandem with the exhibition, a film series will screen rare prints and groundbreaking features at the David Geffen Theater now through September 29. Get info here.
626 Night Market -> This Friday to Sunday, The 626 Night Market returns to its flagship location in Arcadia with over 300 food, merch, and craft vendors at Santa Anita Park. Pre-sale tickets are $5, or it's $6 at the door. More info here.
Shakespeare in The Park -> ISC's Shakespeare in The Park continues in this month with performances of Macbeth in Griffith Park on Wednesdays to Sundays through September 4. The productions are free to attend, but donations are strongly encouraged. More info here.
Fourth Fridays on 4th Street -> Retro Row in Long Beach comes alive on the fourth Friday of the month with special pop-ups, live performances, and extended store hours from shops on 4th St between Temple and Cherry. The event runs 6 to 9 p.m. Get more info here.
Jazz at LACMA -> This Friday at 6 p.m., the Los Angeles County Museum of Art hosts a performance by Mz Val at Smidt Welcome Plaza as part of the ongoing Jazz at LACMA series, which continues on Friday evenings through November. Admission is free, however seating is limited and first come, first served. More info here.
Nintendo Switch Roadtrip -> Nintendo's traveling, nationwide showcase of new games heads to Universal CityWalk this Thursday to Sunday, with demos available to play for new titles including Nintendo Switch Sports, Kirby and the Forgotten Land and Mario Strikers: Battle League. Free to attend, but spots will be limited. Get more info and pre-register to attend here.
D*Face at Corey Helford Gallery -> A new solo U.S. exhibition from world-renowned London-based artist D*Face is now open at Corey Helford Gallery. Painting Over the Cracks feature over 70 new works and installations over two spaces in the gallery, and will be on view through September 10. Gallery hours are Thursday to Saturday from noon to 6 p.m.
Off the 405 at The Getty -> This Saturday, The Getty concludes its summer of live music with a performance by Standing on the Corner. Free tickets will be released starting on August 13. Event runs from 6 to 9 p.m. Parking is extra. More info here.
End of Summer Bash -> On the last Saturday of August, One Colorado in Old Pasadena marks the end of summer with a special afternoon event featuring carnival games, a photo booth, live music, and a beer garden. More info here.
The Broad: Now We're Here -> The Broad's summer music series, Now We're Here, continues on August 27 with a headline performance Grammy-winning artist Fantastic Negrito, plus spoken word from Kelly Cabellero of the Tongva Nation, and rap and hip hop from Jessa Calderon of the Chumash and Tongva Nation. Tickets are $25 per person. More info here.
818 Night Market -> Every second and fourth Saturday of the month, 818 Night Market pops up on Devonshire Street in Mission Hills with an assortment of local vendors featuring food, collectibles, toys jewelry, and more. Free to attend. Runs 4 to 10 p.m. More info here.
San Fernando Outdoor Market -> The San Fernando Outdoor Market is a monthly night featuring over 80 vendors plus music, classic cars, food and entertainment. This Saturday, the market runs 6 to 10 p.m. Free to attend. More info here.
Grand Performances -> This Saturday at California Plaza, Grand Performances syncs up with dublab and The John & Alice Coltrane Home to host a tribute concert to celebrate the 85th birthday of Alice Coltrane. The free concert features performances by Miguel Atwood-Ferguson and Surya Botofasina starting at 6 p.m. Get more info here.
Hungry Neko -> This Saturday's Hungry Neko Food Festival highlights nine local establishments and their unique food and drink items. Taking place at the Venice Japanese Community Center, the lineup includes Sonoko Sakai, Kogi BBQ, Buttery Popcorn Co, 8E8 Thai Street Food, Kai Kai Dumplings, Fuyuko's Kitchen, Kuramoto Ice, The Plant Lab, and Sunny Blue. Free to attend.
Leimert Park Jazz Festival -> On Saturday catch over 8 hours of Jazz sets plus an arts pavilion, kids zone, wine lounge, and food trucks at the Baldwin Hills Crenshaw Mall. Admission is free, but VIP packages are available including shaded seating, drink tickets, and a meal. More info here.
Summer Happenings at The Broad -> The Broad's summer programming continues this Saturday with a headlining performance by GRAMMY-winner Fantastic Negrito, supported by spoken word from Kelly Cabellero, rap and hip hop from Jessa Calderon, experimental electronic music from Lu Coy, a performance by Renée Petropoulos, Yvonne Rainer's Trio A with Flags dance piece, and a vocal and electronic performance from Davia Spain. Doors open at 8 p.m. Tickets are $25 per person. Get more info here.
El Segundo Art Walk -> This Saturday's El Segundo Art Walk is a self-guided art tour featuring over 50 business and works from 60 individual artists. Expect live music, art installations, a beer garden, and more. Runs 3 to 8 p.m. Free to attend. This More info here.
Prosperity Market Pop-Up -> Prosperity Market, in collaboration with Council District 10, hosts a pop-up market at the Obama Sports Complex this Saturday, August 27. Free to attend, guests can expect over 30 businesses and farms at the market including Bridgetown Roti, All Chill Ice Cream, California Coffee Company, and Farmer Ken. A live DJ and remarks from Los Angeles City Council District 10 Deputy Chief of Staff Kimani Black will also be part of the day. More info here.
Getty 25 in Watts-> This summer, The Getty celebrates its 25th anniversary via a series of free pop-up community festivals held throughout Los Angeles County. Each event highlights curated experiences reflective of the host community, including interactive workshops, live music and performances, an artisan marketplace, food trucks, giveaways, photo booths, and more. The final event in the series pops up this Saturday and Sunday Watts Labor Community Action Committee Phoenix Hall. Both days run 11 a.m. to 6 p.m. More info here.
Festival Chapin -> Saturday and Sunday at Lafayette Park, the 6th annual Festival Chapin returns for a two-day celebration of Guatemalan culture and community. Catch performances by comedians and musical artists while enjoying traditional Guatemalan cuisine and shopping crafts from on-site vendors. Runs 10 a.m. to 10 p.m. both days. Get more info here.
DTLA Proud -> This Saturday and Sunday at Grand Park, DTLA Proud returns for two days of community fun, with the entertainment slate to include family-friendly games and dance lessons, a queer mercado, drag story time, and staged performances. Tickets are $25 for single-day entry. More info here.
Valley Cultural Foundation Events -> This weekend, the Valley Cultural Foundation continues its summer programming with a screening of Jungle Cruise on Saturday followed by a performance from Earth, Wind & Fire cover band Kalimba on Sunday. Both events take place at Warner Ranch Park, and both are free to attend. More info here.
KCRW Summer Nights -> KCRW's ongoing series of summer shindigs heads to Orange County this Sunday for an evening at The Bowers Museum. Expect extended gallery hours, kids activities, a pop-up bar, and DJ sets from KCRW's own José Gavlán and Francesca Harding. Event starts at 6:30 p.m. Free to attend. More info here.
Topanga Vintage Market -> Happening on the fourth Sunday of every month the Topanga Vintage Market is packed with close to 200 sellers from antiques to vintage clothing and local artisan goods.
Dining & Drinking
Txotx Cider Party at Benny Boy Brewing -> After two months of barrel-aging, Benny Boy Brewing's Spanish-inspired Sidra cider is ready to be tapped. To celebrate the occasion they're throwing a Txotx party on Saturday August 27. A northern Spain tradition, the Txotx party prompts guests to fill up their own glasses of cider from a continuous stream right out of the barrel. Baserriko Peppers will serve up a Spanish/Basque menu, and Rolling Dough will offer wood-fired pizzas later in the evening. Tickets are available online for $35, walk up tickets are available while supplies last.
Smorgasburg LA's BBQ Day -> This Sunday Smorgasburg's annual BBQ Day returns for its 6th year with local barbecue vendors smoking and grilling up some deliciousness all afternoon long. A special guest appearance by Chef Matt Horn from Northern California's Horn Barbecue will also be part of the mix offering his west coast style 'que to Angelenos just for the day.
Pinky's Late Night Outdoor Satellite Bar -> Every Friday and Saturday from 10:15 p.m. to 1:15 a.m., the patio of Atrium in Los Feliz transitions to "Lil' Pinky's". This late night party features an exclusive al fresco menu featuring crushed ice tumblers, rotating cocktails and music curated by Alex Rodriguez, who owns one of the largest vinyl collections in the world.
Ayara THAI Breaker 18th Anniversary Celebration -> Ayara Thai in Westchester celebrates 18 years of success this week with a culinary battle between four members of the Asapahu family. Guests will get a front row seat to observe Ayara Thai founders Chef Anna and Chef Andy (aka the parents) artfully cook up classic Thai dishes alongside Chef Vanda and Chef Cathy (the daughters) new interpretations of Southeast asian cuisine. The five course dinner taking place August 25 and August 26 will be served family style and cost $260 for a seating of four guests. The experience is a belly busting feast that includes two old school dishes, two new school dishes, one dish prepared by Team Ayara and dessert. Thai Hom Mali rice will also be served throughout the dinner. Sponsored by Thaan Charcoal and Ghost Tequila, expect special cocktails and perfectly grilled items to make an appearance on the menu. At the end of each meal, diners will rate the dishes, declaring a winner for each night. Find more information and purchase tickets here.
---
Want to get the best things to do in L.A. sent straight to your inbox? Join over 60,000 Angelenos who subscriber to our twice weekly email newsletter!
By subscribing, you agree to our terms of use and privacy policy and consent to receive emails from We Like L.A. about news, events, offers, and partner promotions.