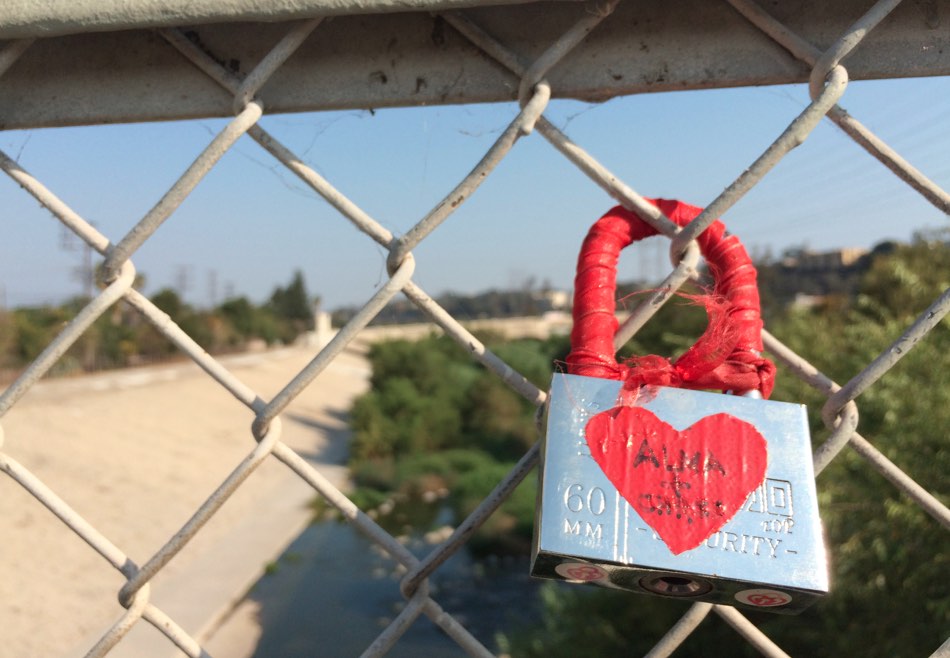 When it comes to matters of the heart, it's the thought that counts. Right? Right…?!? Well, sort of. As long as that thought leads to some unforgettable moment/date/evening which in turn rocket ships your romance into the stratosphere of love. No big thing.
Now, on the one hand, I'm assume our dear We Like L.A. readers to be expert planners who need little assistance architecting the perfect romantic outing for their sweetie. But, on the off chance you do need some ideas (*wink-wink*) or you waited until the last minute (*cough-cough*), then I'm here to help.
Below you'll find Valentine's Day to-dos that cover a broad range of interests. Here we have compiled a nature walk with a lustful slant, an educational affair for animal lovers, poetry and performances and public spaces to walk in. There's a comedy show based on breakup texts, a masked wrestling match, and yes, plenty of obligatory romantic movie screenings.
Among this misfit bag of to-dos there has to be at least one that'll be right for you. Right? Absolutely.
Things to do on Valentine's Day in Los Angeles, 2020
**NOTE: Some of the events listed below are one or two days before Valentine's Day, and a couple occur the day after. Just be sure to double-check the dates are you're making your plans**
1. Everyone's favorite collision of Mexican masked wrestling, burlesque and comedy returns for Valentine's week with a two-night spectacle at the Mayan Theater Feb. 12-13. For the 2020 edition they're calling it Pin Ups & Pin Downs, and If you want to take your love to an event like he/she/they has probably never seen before, this would be it. GA tickets start at $40.
2. How to Break Up by Text is a live show where comedians analyze and act out screenshots of breakup texts sent in by the audience members. On Thursday, Feb. 13 the show will perform a special Valentine's edition featuring host Allison Goldberg plus guests Olivia Harewood (The Late Late Show w/James Corden), Craig Low (Comedy Central, MTV), and Alex Kruger (Comedy Store, Hollywood Improv). Tickets are $16 online, or $20 at the door.
3. Lovers Rock transforms Grand Park into Valentine's Day haven, perfect for couples who want to do the romantic walk thing on a budget. The park will be dressed with moody lighting while curated music sets the ambience.
4. The California African American Museum celebrates Valentines's Day Palentine's Day with a night of performance and poetry featuring poet Danez Smith. There will be a DJ set and and libations to follow at the after-party
5. Street Food Cinema is hosting a Valentine's Day screening of La La Land at The Million Dollar Theatre. The evening of entertainment features music by DJ Ivy, a Valentine's Day photobooth, and specialty cocktails. Tickets starts at $23.
6. If you're single and love animals, this one might be for you. On Feb. 14 The Wallis Annenberg Petspace presents a special event called The Mating Game hosted by Director and animal love expert, Dr. Donna Fernandes. Guest will learn more about courtship and mating in the animal world, plus take part in games and activities. It's billed for both couples and singles. Tickets are $10. Wine and light refreshments will be provided. 21+ only.
7. Cinespia is doing their annual Valentine's Day screening at the Los Angeles Theatre. The evening includes live music, a DJ dance party, a photobooth and of course the big screen presentation of The Wedding Singer. Tickets start at $35.
8. Who wants to know about ficus sex? Or maybe you'll interested in the botanical origins of the birth control pill? Well, have I got the event for you. The L.A. Arboretum is hosting a pair of educational night hikes over Valentine's weekend where guests will "discover the fascinating botany of love and lust." If that sounds intriguing you'll want to reserve a spot in advance. The hike will take place on both Friday, Feb. 14 and Saturday, Feb. 15 starting at 7:30 p.m., and lasting about 90 minutes. Tickets for non-members are $25.
9. Single or not single, Valentine's Day seems to be an ideal excuse opportunity to sip vino. Hence: Be Wine Valentine at OUE Skyspace Los Angeles. The Feb. 14 event features a quintet of wine tastings set against one of the most breathtaking views in the entire city. $45 gets you in and that includes wine, trap passed appetizers, and a Skyslide ride. DJ-spun dance tunes to follow the wine tastings. Couples can get two tickets for $80 (save $10).
10. Ok, this one doesn't exactly scream romance… but the price is right! The Oscar-winning film Moonlight screens at The Hammer Museum on Valentine's Day night beginning at 7:30 p.m. Free tickets are required and available at the box office one hour before the program. Parking is $7 flat rate after 6 p.m. Get there by public transit if you can. Save money for something sweet after the movie.
11. The Wonderland Ball at Clifton's Republic is an Alice in Wonderland-themed soiree promising cocktails, desserts, and curiosities for the eyes to behold. The event takes place on Feb. 14, but as of publication of this article tickets are still "coming soon" and the details are a little vague. Still, it's worth keeping an eye on to see what the price point ends up being. File this under TBCL (to be considered later).
12. For Valentine's Day The Natural History Museum of Los Angeles is hosting a night of unrequited love centered around a screening Creatures from the Black Lagoon. The movie will be presented in consideration of the recently launched Natural History of Horror exhibit, which showcases stories of classic Hollywood monsters and the science that inspired their creation. The Feb. 14 evening of activities will include access to the exhibition, rare museum collection displays, special effects makeup artist demonstrations, hands-on workshop, a special performance, and a pre-film discussion with Mallory O'Meara, author of The Lady from the Black Lagoon and artist and filmmaker Micheline Pitt. Tickets are $15 for non-members.
13. If you like your romance in classic, bittersweet doses, head to the Aero Theatre for a V-Day evening screening of Casablanca. $12 for non-Aero members. Movie starts at 7:30 p.m.
14. Riding a Ferris wheel as the pinnacle of romance? Yes, a cliche. But maybe it's so cliche that it's not even a cliche anymore. Plus if you head to the Santa Monica Pier, the folks at Pacific Park are adding a bonus this year: Pony up for a ride on the Pacific Wheel and you'll be serenaded by the sweet sounds of viola player Daniel Morris. Plus, you have to admit the view from the top of that wheel is pretty killer. The serenades run from 6 to 9 p.m. Expect crowds at the pier in general. Public transit strongly encouraged.
15. Single on Valentine's Day and looking for a night out? The Belamar Hotel in Manhattan Beach is hosting a Mix and Mingle event featuring an interactive dating game, appetizer stations including a slider bar, and a specialty cocktail. The kicker: There will be a giant voodoo doll on hand for the sole purpose of attendees pinning a photo of their ex on it (do people still even have physical photos?!?!) $35 gets you admission, one cocktail, and food.
16. The annual Broken Heart Circus at Angel City Brewery comes one day after Valentine's Day proper. The Feb. 15 event will feature roaming magicians, contortionist, stilt walkers, wire walking and snake charmers, aerialists, and sword swallowers. 21+ only.
---
Obviously one thing I didn't focus on in the above list is food options and special menus for Valentine's Day. My partner in crime Christina Champlin will have a go at that in this Monday's Week To-Do round up, to be published on Feb. 10. If you're not already, you can subscribe to our free newsletter to make sure that round-up is sent straight to your inbox.