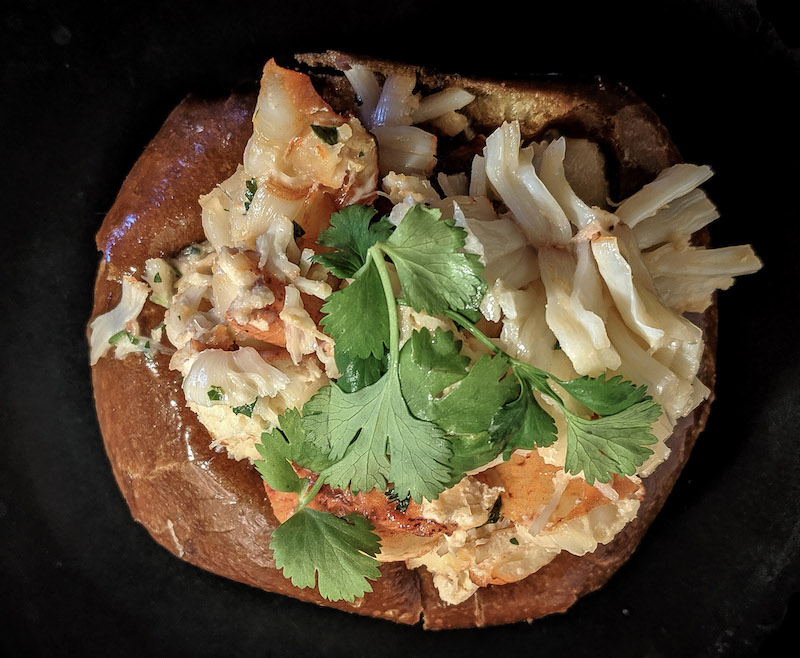 Angie and Daniel Kim's story is not much different, initially, than many others who follow the so-called American dream. After years of working in the food and coffee industries, the couple decided to start their own restaurant. They found a spot in Santa Monica, not far from the ocean, in the fall of 2018. Construction and permitting took longer than expected—about 16 months—but they were finally ready to celebrate their grand opening on March 21. Except just two days prior, Gov. Gavin Newsom issued the statewide Stay at Home order in response to the COVID-19 pandemic, shutting down dine-in service at all restaurants. 
"It happened very quickly," Angie Kim recalls. "We decided to postpone the grand opening and take two weeks to regroup and then strategize and make a new plan for what was to come."
The Kims reached out to friends in South Korea who had already gone through similar issues related to the pandemic, which only served as a sobering reminder that this wouldn't be over in a matter of days or weeks. For Interstellar to continue safely, they'd have to figure out how to pivot to delivery and pickup only.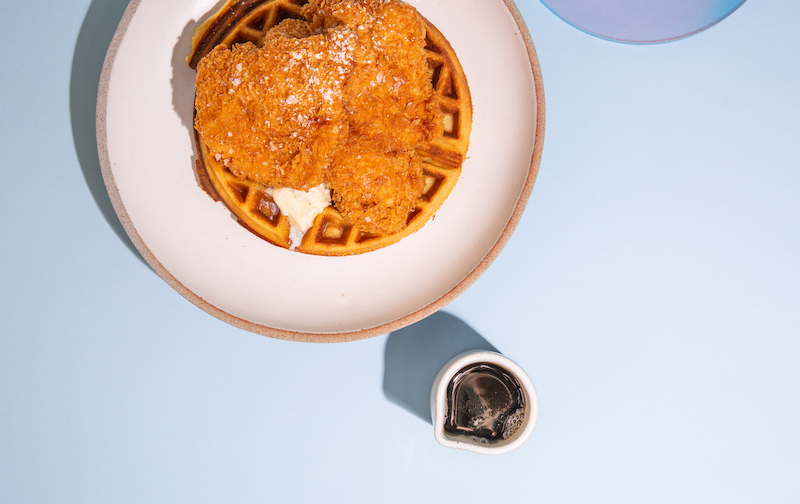 The Space Between Two Cultures
For the Kims, launching their own restaurant was a way to explore their shared cultures and individual past experiences. Angie grew up in Seattle, while Daniel grew up in Busan before moving to San Diego during high school. Home-cooked Korean food was a big part of both of their childhoods. When Angie was a kid, her grandmother prepared Korean dishes with fresh herbs and vegetables from her garden daily. Daniel's mother worked as a chef in South Korea.
Daniel and Angie first met while studying at Santa Monica Community College before Angie transferred to the University of Irvine and Daniel to UCLA. They reconnected through mutual friends and married in 2016.
"After we got married, we decided why not venture out and create something of our own that encompasses all of the experiences we've learned through working and our travels?" Angie Kim said.
Their careers have always revolved around food and coffee. Angie's work history includes studying in Italy, working at a Michelin-star restaurant in Parma, and serving as sous chef at Croft Alley on Melrose. Daniel worked for coffee shops including Coffee Code and The Assembly before being scouted by coffeemaker company Breville.
Taking their skillsets into account, they decided to focus on comfort food and coffee with global ingredients. They named their restaurant Interstellar, which means the space between stars.
"[Our] two stars represent our two cultures, Korean and American," Kim said. "While we were growing up, we kind of felt like we had to kind of choose one or the other. But we really see Southern California as a melting pot of cultural embrace and we wanted to show that through our coffee and food and just our entire vibe."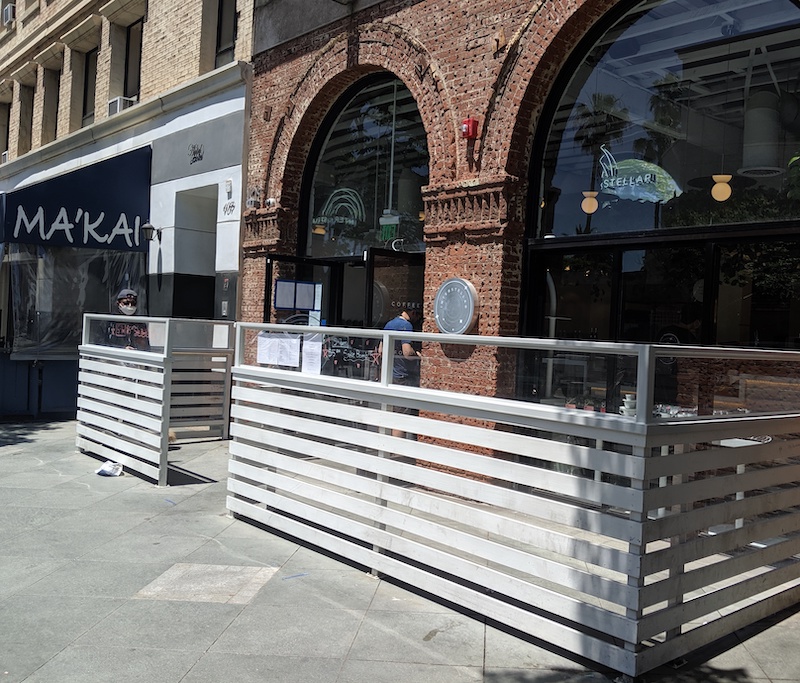 Open, But Not as Planned
On a cool Saturday in May, a few people in masks mill several feet apart around Interstellar's front door. I stand more than the prescribed six feet from a man and his Yorkshire terrier. The county beaches have just reopened, but the Santa Monica Pier remains closed and eerily empty. A nearby liquor store has posted a large sign that reads, "No mask, no entry."
I'd placed and paid for my Interstellar order online in advance and when it's ready, they call my name and I pick up the bag, no contact required. I could have sprung for delivery, but to be honest, I was just excited about seeing the ocean for the first time in months.
Interstellar has been operating like this since April 6. Opening, even for just pickup and delivery, provided an opportunity to recoup costs and retain and pay employees.
"We came to a point where whether we closed or we opened, rent was going out the door regardless," she said. "We ultimately decided [to open] because we wanted to be able to break even on food and employee costs. And, if we can, give back to the community [and] provide food and coffee in a safe, clean, and contact-less manner."
The Kims spent two weeks completely rearranging everything. They implemented even stricter cleaning and sanitization processes. They signed up for third-party delivery app partners. They altered dishes they didn't think would travel well.
For example, you probably can't enjoy an affogato after it melts on the drive to your place. So, Interstellar now offers an affogato kit that comes with a pint of housemade custard gelato packed in an insulated cup, a ceramic latte cup, and a bag of Onyx coffee beans (ground upon request).
Other items were modified because their ingredients became difficult to find. For a while, Interstellar had a hard time getting eggs. Sometimes it's still hard to source burrata. The hot dog-style bun they were originally going to serve their lobster roll on is scarce, too. Now the lobster roll comes on a brioche bun, cut and toasted on both sides to prevent sogginess during travel.
As it is, the lobster roll is a menu standout, and so are the chicken wings. They use a recipe from Daniel Kim's mother, who boils the chicken in beer, Soju, and onions before battering it to make it more tender. They also use her sweet and spicy marinade with garlic, soy sauce, sesame oil, and Korean red peppers.
For brunch, the chicken and waffles is a solid choice. It's a simple chicken breast crushed in panko and seasoned with just salt and pepper, served on a gluten-free waffle with homemade honey maple butter.
You can pair the food with items from the coffee bar, which includes their signature maple and orange latte, or you can order beer and wine to-go.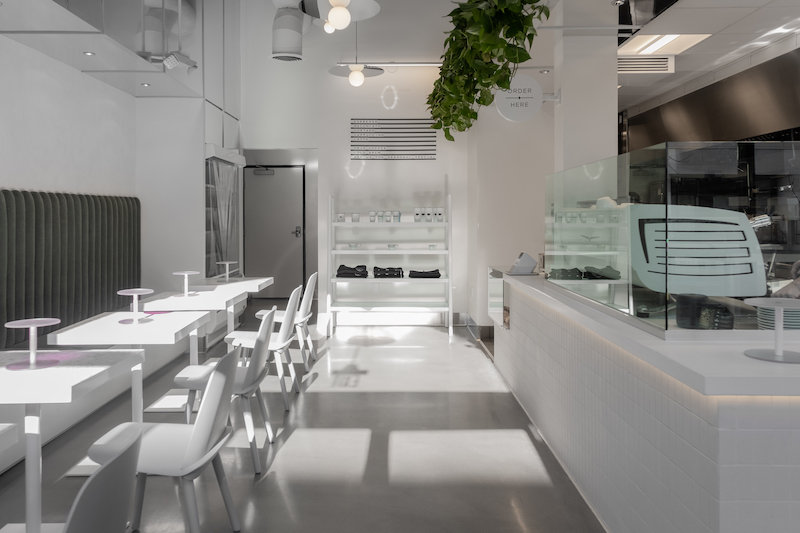 Kim said they've seen an increase in both pickup and delivery in the past two weeks. That's promising because for the foreseeable future, Interstellar may have to stay this way. Even when dine-in service resumes, the restaurant is so small that physical distancing might only allow for a few seats. 
"I think the way we have it set up right now would be the safest both for our customers and employees," Kim said. "I think we're prepared to proceed like this, just for that extra safety, until things return to the way they were before. Although we do wish and hope that it ends soon, we're being realistic and preparing the long run."
Interstellar is located at 109 Broadway in Santa Monica. It's open daily from 10 a.m. to 3 p.m. and on Fridays and Saturdays from 5 p.m. to 9 p.m. See the full menu and ordering options here.