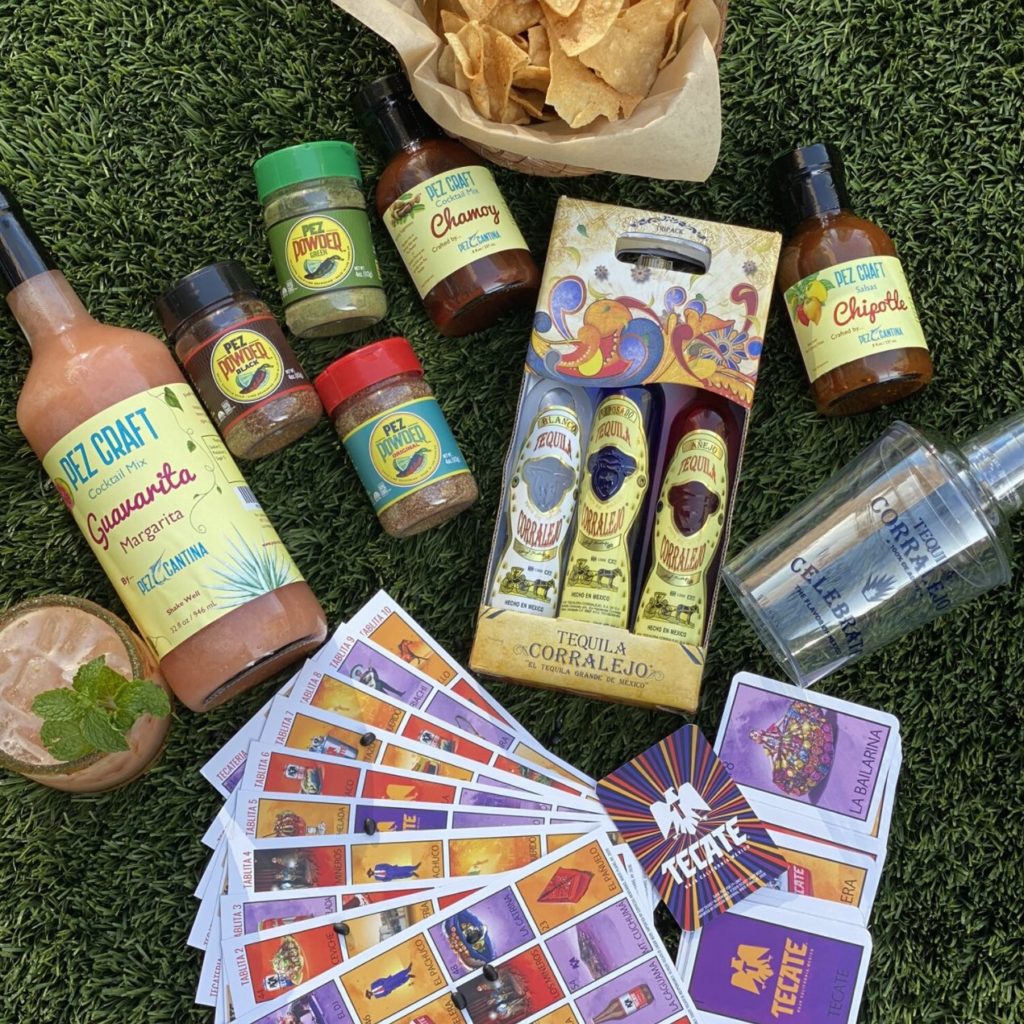 You may not be able to share a meal across the table from your friends and family this holiday season, but you can still share a gift with your foodie friends, be it canned cocktails, sweets, or even a candle that smells like an ice cream shop. Check out our picks of food & bev gifts below and for more ideas, see our local L.A. gift guide here.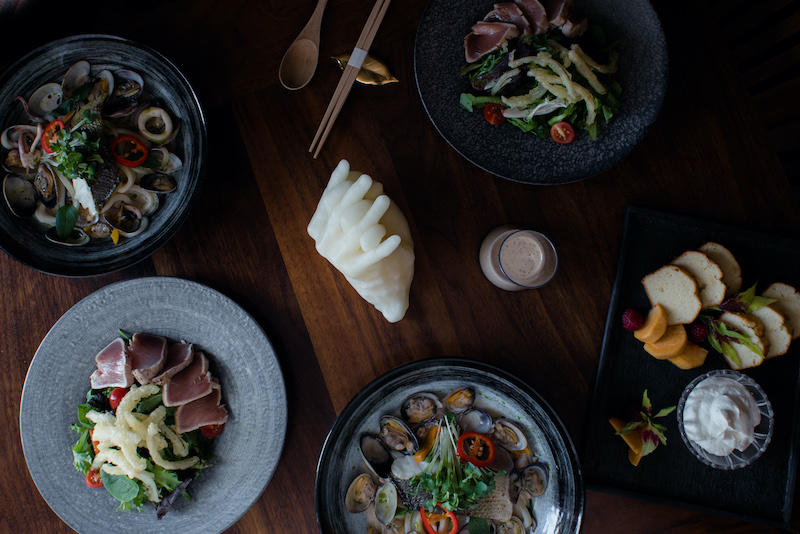 Home Assembly
Chefs Niki Nakayama and Carole Iida-Nakayama of n/naka have partnered with artist Glenn Kaino, DJ Liza Richardson, and nonprofit Active Cultures on Home Assembly, a cook-at-home meal box that pairs art objects with recipes and seasonal ingredients. The kit includes everything one needs to cook a three-course meal for two, candle artwork, and a curated playlist. The meal includes a seared albacore sashimi salad, kelp-roasted branzino with udon vongole, and yuzu pound cake. The box is $175 (serves two) and is available for pickup in Los Angeles.  
Esters Wine Shop
Esters has a holiday guide for quick, easy gift shopping. Choose among DIY tasting packages, single bottles in cute wine bags, or bundles that include chocolates, nuts, and other snacks.
Salt & Straw
Ice cream innovators Salt & Straw partnered with Portland-based perfumery Imaginary Authors on a new scent designed to make you feel like you're in an ice cream shop. A Whiff of Waffle Cone is available as both a candle ($30) or a perfume ($28-$65). Notes of vanilla, heavy cream, and salted caramel, with a little cinnamon, orgeat, and amyris make up this very delicious aroma. You can also order ice cream for national shipping.
Cake Monkey
Send a gift box full of sweet treats. Cake Monkey offers 11 options suitable for both people with diet restrictions and those who have no limit. Boxes include themed samplers for chocolate lovers, plus folks who love cake, cookies, or pies. There's also an epic tribute to Hostess treats. Boxes start at $43, pickup, delivery and nationwide shipping is available. In addition, the bakery recently launched a budget friendly Pie Gram. For $6.75, send friends mini pies with customizable messages on the box. Flavors include Cider Roasted Apple in Double Cheddar Crust or Brown Butter Pecan with Toasted Cocoa Nibs. Pie grams can either be picked-up at the Beverly Grove shop or North Hollywood kitchen, local delivery is also available.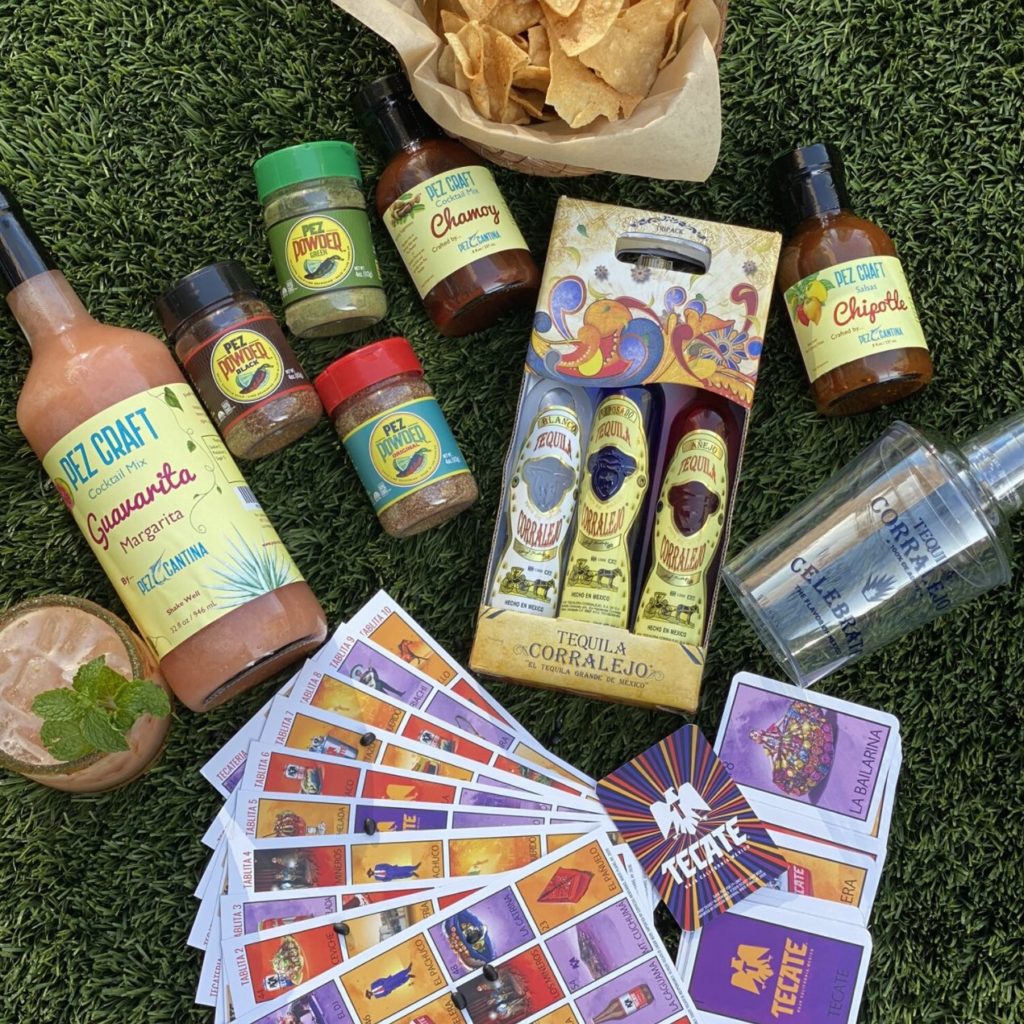 Pez Cantina
Send someone a cocktail, chips, and salsa kit. Downtown's coastal Mexican restaurant Pez Cantina is offering a holiday box with a 32 oz bottled cocktail of your choice, a trio of Pez Powder, Pez Tamarind Chamoy Cocktail glass rimmer, and a cocktail shaker. The restaurant's signature chips and a jar of salsa also come in the box, along with Loteria cards. The box is $75 plus shipping costs.
Destroyer
Jordan Kahn's Destroyer is offering coffee and tea gift boxes for $60 each. Both boxes include a pair of cups from Match Stoneware, a custom blend of caffeine from Destroyer, and the option to add Whiskey Glazed Almond Biscotti for an additional $8 or a Destroyer tote bag for $12. All items are available for pickup and delivery.
Now Serving
Help friends and family up their cookbook game. Now Serving is a bookstore in Chinatown completely dedicated to literature on cooking and food. The store is so beloved that their book drops are sometimes as popular as sneaker drops.
Banh Oui
Chef Casey Felton of Hollywood's Banh Oui offers everything you need for a beautiful charcuterie board. The hosting bag ($65) comes with Jidori chicken liver paté, marinated cow's milk cheese, bread and butter pickles, pickled Fresno chili, buckwheat honey, and a bottle of wine.
Golden Road
LA-based Golden Road Brewing is offering three curated holiday boxes to celebrate the holidays. The Cookie & Cocoa Box ($18), the Hoppy Holidays Box ($25), and the Beer Lovers Box ($30), with the option to add on a guided virtual tasting with a Golden Road beer ambassador. Available for online order and delivery via Toast, and all three kits can be pre-ordered and picked up at the breweries Atwater, Huntington Beach, or Anaheim locations. The last day to order is Thursday, December 17 and the last day to pick up is the following Wednesday, December 23.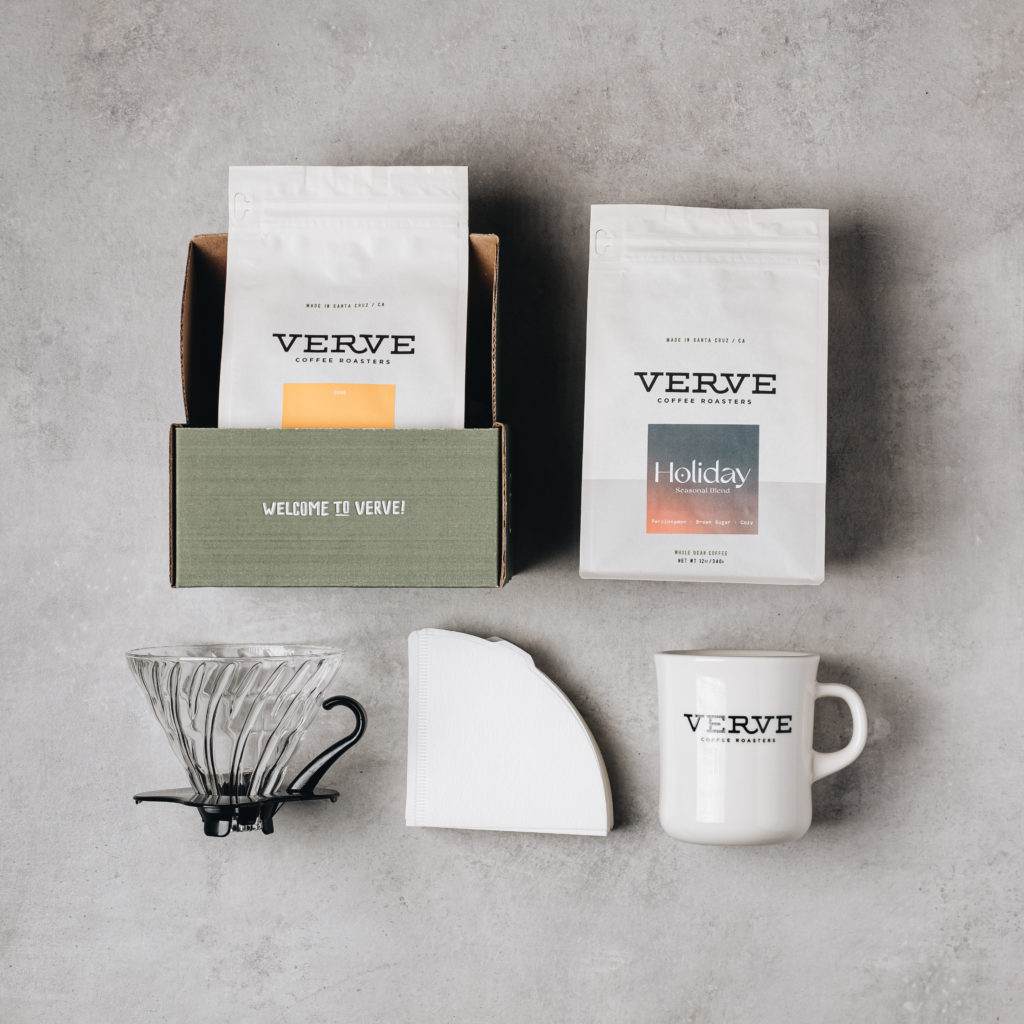 Verve
Verve Coffee has a number of holiday gift bundles available. The Craft Coffee bundle includes a 12 oz. bag of Verve's Holiday Blend and a Kinto diner mug ($30), while the Cozy Coffee bundle ($50) includes the coffee and mug, plus a soy candle and a Verve knit beanie. Other options include a bundle for camping and one ideal for working from home.
1933 Group
1933 Group, the folks behind several local watering holes, have a new online store featuring vintage-inspired collectibles for the holidays. Gift ideas include tiki mugs from Formosa Cafe, a limited edition bowling gear collab between Sanrio Gudetama and Highland Park Bowl, plus lots of apparel options repping all their bars.
Bar Keeper (Silver Lake)
Every household could do with some proper bar tools and glassware. You can find just that at Bar Keeper in Silver Lake. Other gift options include small-batch spirits and vintage bar accessories.
Art of Tea
This Monterey Park tea purveyor hand-blends and custom crafts some of the world's finest organic teas and botanicals. Their tea gifts page features tea sampler sets, specialty holiday teas, and gift boxes. Their beautifully packaged gift box set includes a tin of loose-leaf Earl Grey Creme tea, a journal, an Earl Grey Creme candle, and matches in a reusable wooden box ($75).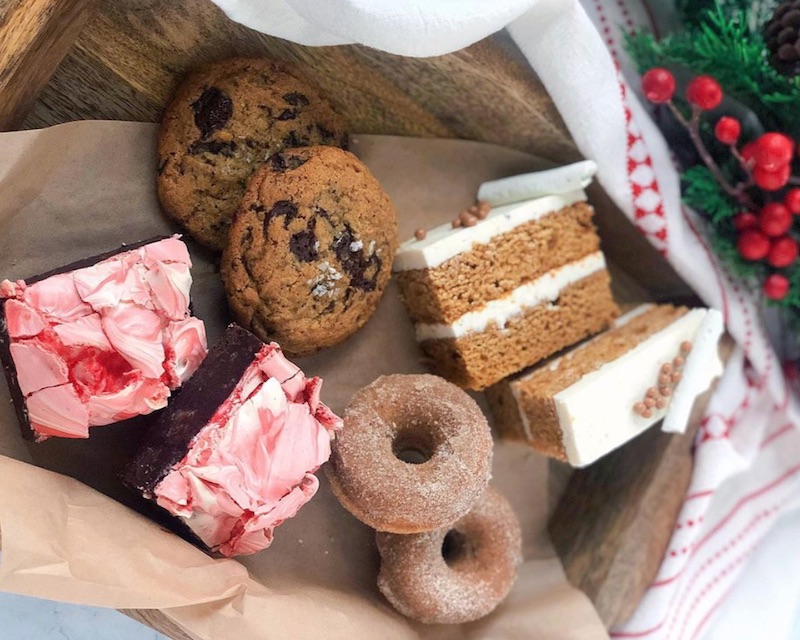 Hotel Figueroa x Flouring LA
Hotel Figueroa is hosting a pop-up event with local bakeshop Flouring LA on Dec. 5, 12, and 19. Traipse through this historic hotel's winter decorations before picking up a dessert box that includes gingerbread cake bars, peppermint meringue-topped brownies, cinna-sugar donuts, and Belgian sea salt chocolate chip cookies ($44 for eight pieces). Available for pre-order and pickup each Saturday of the pop-up from 1-3 p.m., along with other Flouring LA items available at the hotel. Email [email protected] to place an order.
Playa Provisions
Playa Provisions has a selection of beer, wine, merch, bottled house-made hot sauce, and specialty canned cocktails. The new line of cocktails includes a chai-spiced Paloma, spiked seltzers in flavors like grapefruit and mango tajin, and more ($7-$12). It's a perfect way to invite your friends to a Zoom happy hour, if you're not totally Zoomed out. Available on Postmates.
Akasha Restaurant
Akasha Restaurant in Culver City is now offering gift baskets for takeout featuring DIY masala chai and hot toddy kits, jams, chutneys, snacks, ceramic dishes, and more. You can pre-order online for pickup and delivery.
Big Bar
Throughout the entire pandemic, Big Bar has been offering creative cocktail kits that are perfect for a night in. Their current lineup includes tasting flights and DIY kits for Manhattan or Old-Fashioned lovers. Each one comes in a cute package and contains everyone one needs for a great cocktail. Order online for takeout or delivery.
Sky's Gourmet Tacos
Barbara "Sky" Burrell released a full line of sauces and an all-purpose seasoning. The special holiday bundle includes four sauces and the seasoning delivered in a gift box for $34.95. Available on their website.
Madre
Madre Restaurant & Mezcaleria is offering mezcal gift boxes online and at its locations in Torrance, Palms, and West Hollywood. Each box features a selection of mezcals curated by owner Ian Vasquez, copitas (a cup for sipping mezcal) by Omar Hernandez, and chapulines. Prices start at $85.