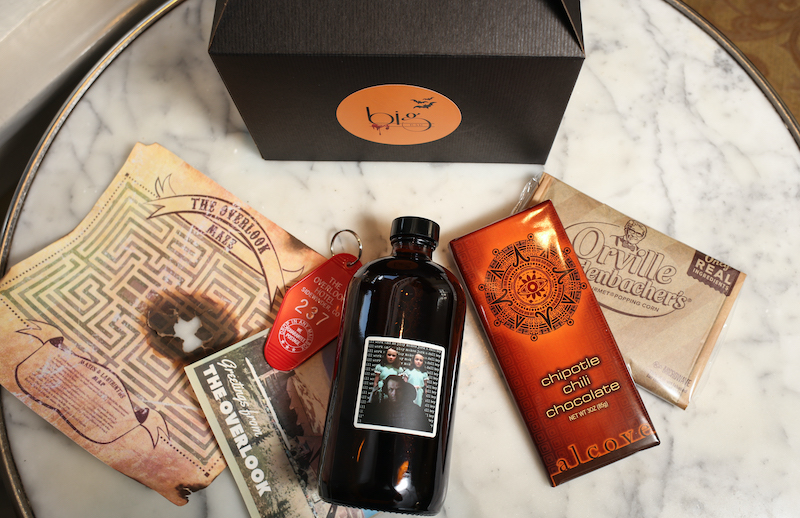 Trick-or-treating may be "not recommended" by county health officials this year, but there are still plenty of local treats, including horror-themed cocktails, pumpkin spice everything, and adorable pastries.
---
Big Bar in Los Feliz is creating cocktail kits themed around horror films including The Shining, Hocus Pocus, and Get Out. Each kit includes one pre-made cocktail for two, popcorn, themed treats, and quirky trinkets like a Room 237 key chain from The Shining or Rodney's TSA badge from Get Out. Available online and in-store.
Chado Tea Rooms' Halloween-themed afternoon tea service includes a glass of Halloween-inspired iced tea, your choice of pumpkin soup or pumpkin spice salad, a two-tiered rack of spooky finger sandwiches and scones with Chado Tea Room cream and jam, macaroons, butter cookies, and one pot of Pumpkin Spice Chai Tea. Available for dine-in or to-go through October, $28.
Golden Road will send werewolves, ghouls, and other monsters to deliver beer and Halloween candy straight to your door. If you live within a six-mile radius of the Atwater Village pub, pre-book a delivery slot online for Oct. 31 between 6-10 p.m.
Bennett's Ice Cream at The Original Farmers Market has award-winning pumpkin ice cream. Enjoy a scoop at the outdoor marketplace or take home a pint.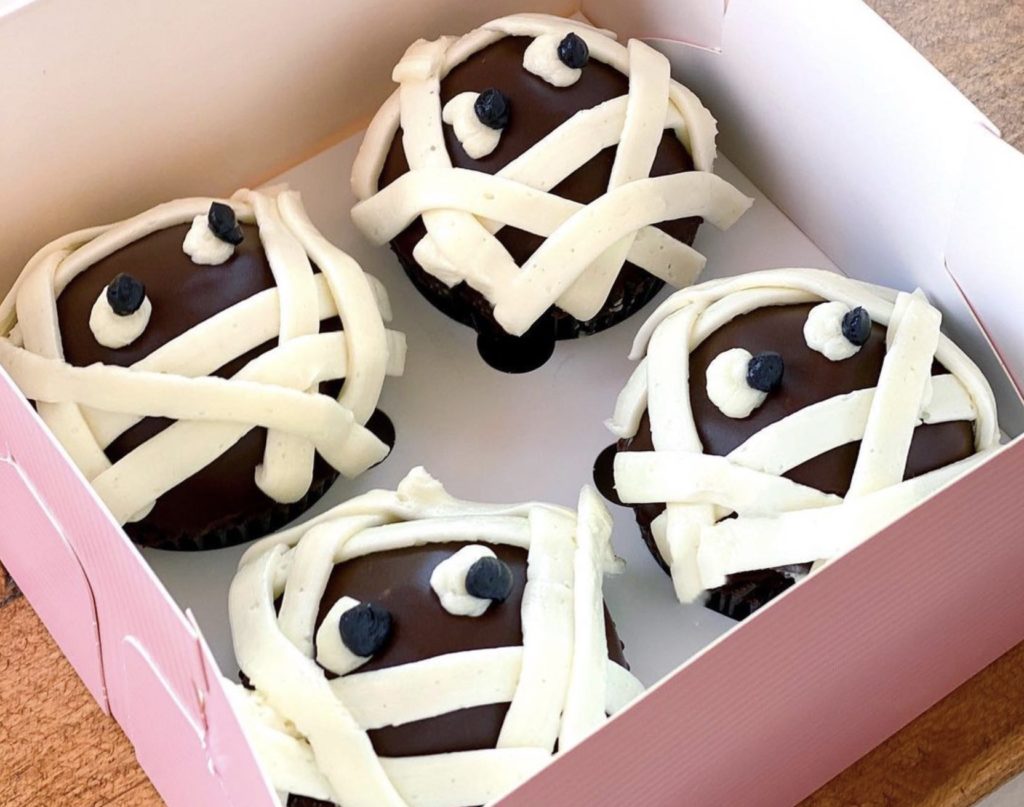 Cake Monkey in Beverly Grove is baking up all kinds of fall and Halloween-inspired treats. Choose among mummy cupcakes, bat cookies, ghost cakewiches, and mini-layer cakes decorated with eyeballs and bones. If pumpkin-flavored everything is your motto this season, try the Pumpkin Lovers Gift Box filled with pumpkin cakewiches, tea cakes, pop pies, and pumpkin spice chocolate chip cookies.
The Mermaid in Little Tokyo hosts a ticketed Fangtastic Feast & Libations Halloween Party on Oct. 31. The 90-minute prix fixe dinner includes a flight of ghoulish drinks and food. Dress up and win the costume contest, and Mermaid will cover your bill (up to $150). Reservations are $96 for parties of two, $180 for four.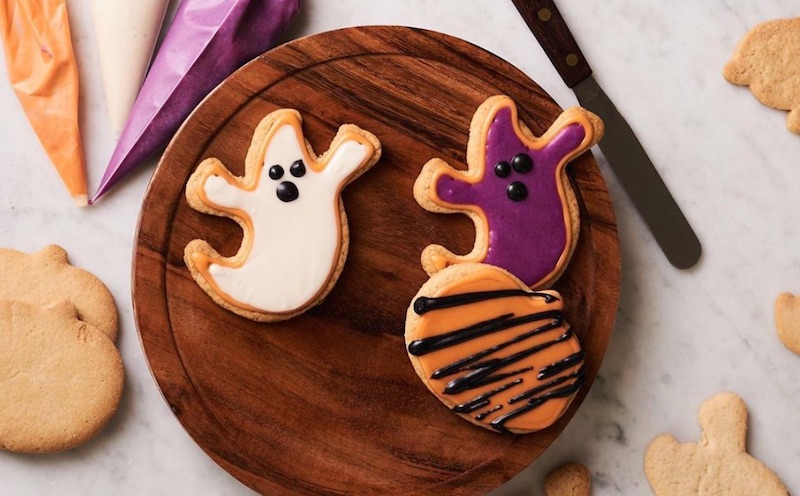 Mykonos-inspired Beverly Grove restaurant Theía will be decked out like a haunted attic Oct. 30 to Nov. 1, offering Halloween-inspired cocktails and nightly DJs. Guests may dine at socially distanced tables on the outdoor patio with a reservation or order contact-free takeout.
Café Gratitude has Halloween DIY cookie kits made with organic and superfood ingredients. Each kit includes nine pre-baked cookies and four pre-made icings. Order online for $25.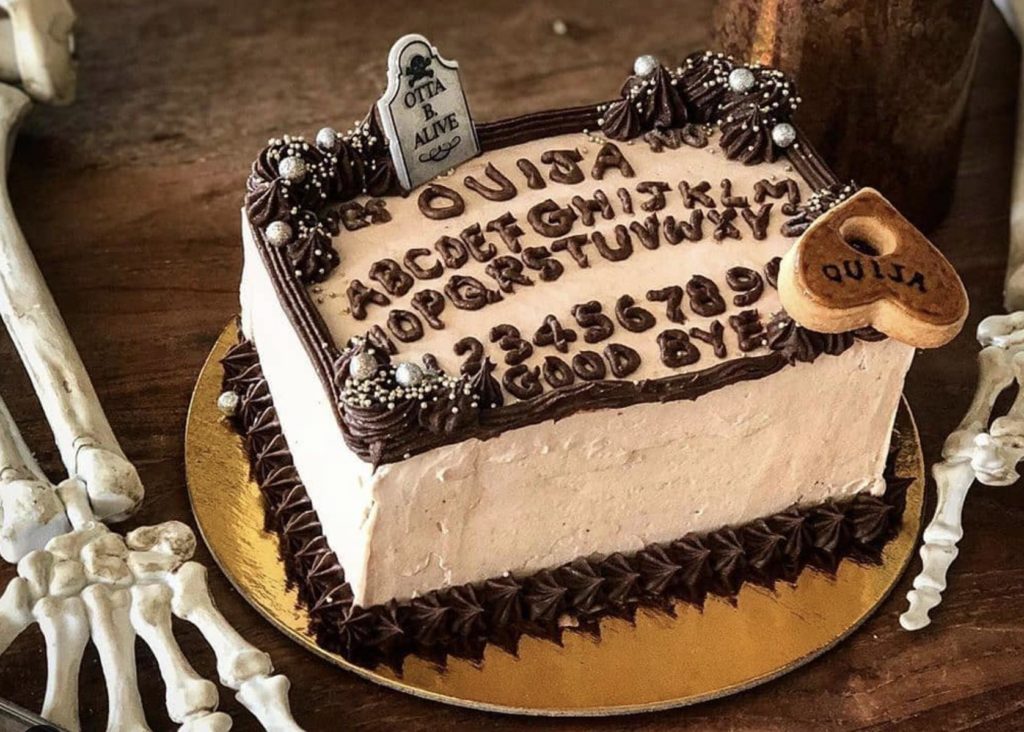 Slasher Pizza is a small, horror-themed pizza joint in Echo Park with fun pie names like the Hellraiser or the Babadook. Order whole or by-the-slice. Open daily 5 p.m. to midnight.
Playa Provisions has adorable Halloween treats at its Playa del Rey restaurant. Sink your teeth into Ouija-themed cakes (pre-order) and cookies, ghost cupcakes, Boston 'Scream' Pie, and creamy frozen pumpkin popsicles.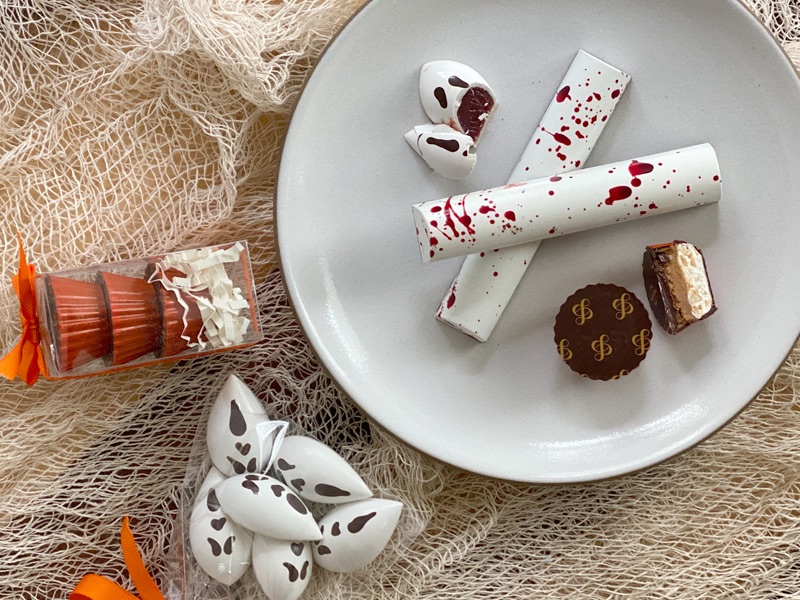 andSons Chocolatiers in Beverly Hills whipped up some elevated sweet treats for Halloween, including spooky raspberry ghosts; bloody bones bars filled with speculoos cookie, hazelnut praline, vanilla rum ganache, and caramel; peanut butter cups, and pumpkin spice milk chocolate-covered cranberries. For an extra splurge, get a dark chocolate pumpkin filled with some of the previously mentioned treats.
West Hollywood's E.P. & L.P.'s two massive rooftop restaurant spaces will transform for Halloween and Day of the Dead. From Saturday, Oct. 31 through Sunday, Nov. 1, new pop-up Las Palmas will be decorated for a two-day Day of the Dead brunch series. Highlights include a Yucatan-inspired menu and specialty micheladas in collaboration with Calidad Beer. Reservations are required. They're available for parties of four to six between noon and 4 p.m by calling (310) 855-9955. On the other end of the space is L.P. Rooftop, where a classic Halloween-themed party will take place with affordable bar bites and festive cocktail specials, including a Bloody Spritz with blood orange juice, prosecco, Aperol, and bitters. Walk-ins for parties of up to six people are available from noon to 2 a.m.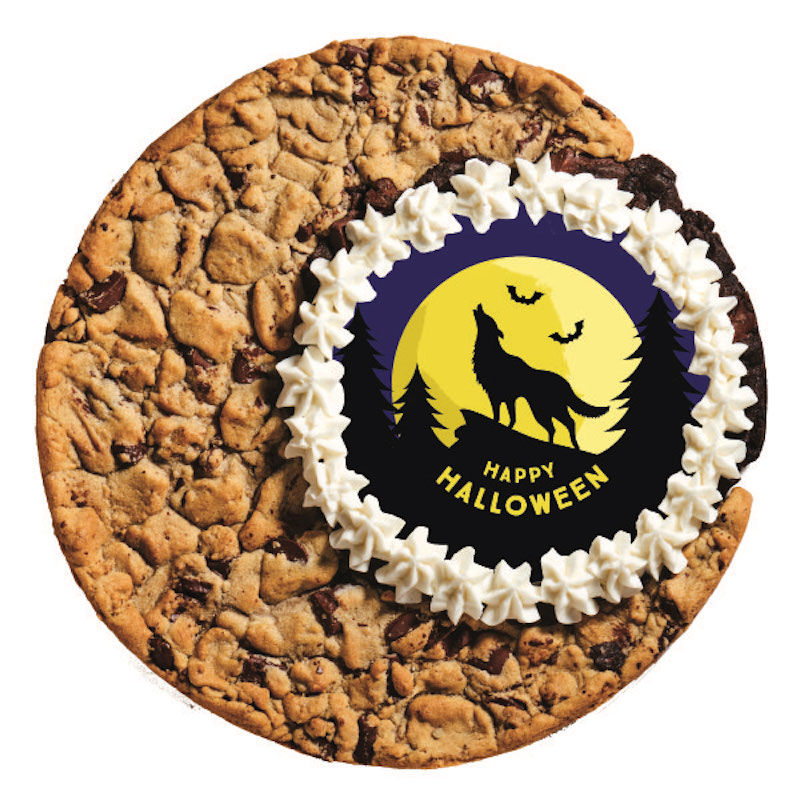 Insomnia Cookies' Halloween offerings include pumpkin cheesecake cookies, made with pumpkin puree, cream cheese chips, and graham cracker bits; peanut butter choco-lantern cookies, made with a double chocolate chip cookie base, peanut butter chips, and pumpkin sprinkles; and moon-shaped cookies with a Halloween cake tucked in the crescent. On Halloween, you can get a free cookie if you're wearing a costume when you stop by their West Hollywood store.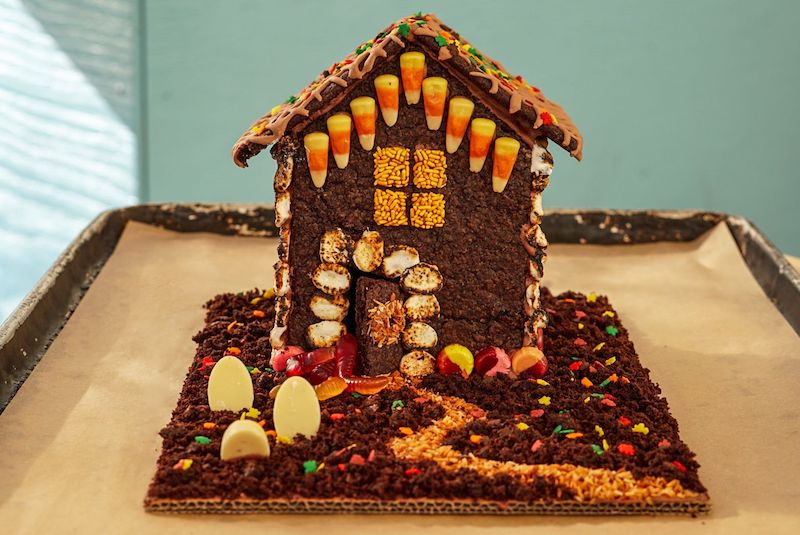 Huckleberry Bakery & Cafe in Santa Monica has DIY kits you can put together at home. For $15, get four skull-shaped shortbread cookies, icing, and candies. Or, get four cupcakes (chocolate, vanilla, pumpkin) plus frosting and candies for $25. Go all out with a haunted house kit, complete with wafer cookie walls and roof, icing, and organic candies for $55. Find more information on this menu under Hucktivities. Make sure to allow 24 hours' notice when you order.
Magpies Softserve, which just opened its third location in Highland Park, is offering Spooky Midnight Pies. They're vegan pies made with midnight chocolate soft serve on chocolate crust with coffee whipped topping, fudge, chocolate crunches, and chocolate sprinkles. $7.95/slice or $39.95 for an entire pie.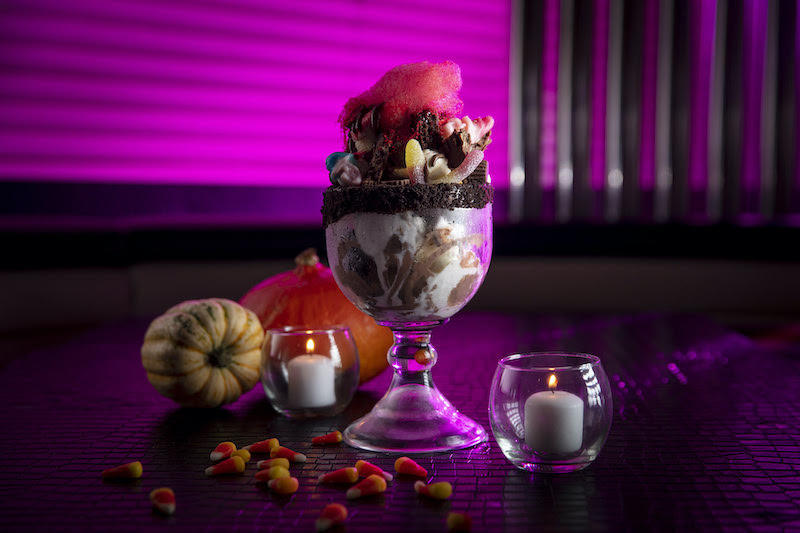 Maybe you just want to share a very large dessert with a special member of your household on an outdoor patio. If so, STK is offering the Junk Chalice for $24. It is a gigantic caramel and vanilla ice cream sundae topped with candy, brownies, popcorn, chocolate, whipped cream, and cotton candy.