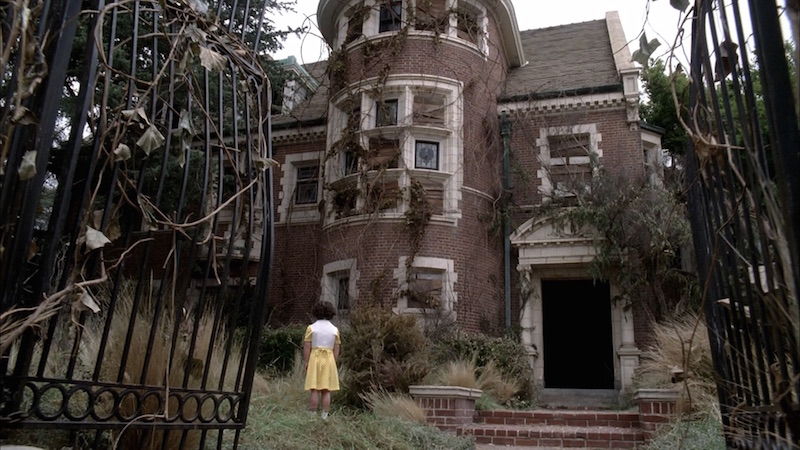 If you can't get them to stop trying to take pictures of your multi-million dollar mansion, join them? Despite attempting to sue their brokers over the unwanted, macabre popularity of their house, the owners of the American Horror Story "murder house" will host a 3-day livestream from inside the supposedly haunted property Oct. 29 to Nov. 1. Ticketholders will be entered into a contest to spend a night in the home's basement. 
American Horror Story: Murder House (2011) was the FX anthology series's first season. It revolved around a gorgeous Los Angeles home that was haunted by several spirits—some nice, many not. 
The Rosenheim Mansion, built in 1908, was cast as the eponymous murder house. In 2015, cardiologist Dr. Ernst von Schwarz and actress Angela Oakenfold purchased the 6-bed, 5-bath beauty at 1120 Westchester Place for $3.2 million. In 2018, they filed a claim against the brokers who handled the sale, saying they never told them the home was a tourist attraction. They complained of trespassers, attempted break-ins, and other annoyances.  The couple also says the house is actually haunted, though that part was not mentioned in the claim.
Now, it appears the owners are ready to embrace the house's spooky nature. This Halloween, they're live-streaming a three-day celebration that, for some ticketholders, might include a night's stay in the mansion's basement.
There are 14 cameras placed throughout the home that will stream 24 hours a day for all three days. Starting at 7 p.m., the home will welcome guests. They include exorcist Bishop James Long, who will conduct a paranormal investigation;  psychic Patti Negri, who will hold a seance; vampire expert and author Michelle Belanger; Halloween historian Lisa Morton; tarot reader Sasha Graham; energy healer Satish Dholakia, who will present a lecture on warding off evil entities; psychiatrist Dr. Waguih Ishak, who will explore the pathology of fear; and von Schwarz himself, who will discuss medieval torture techniques.
Should you win a stay in the home, a doctor will be present to monitor your vitals while a paranormal investigator will keep you apprised of any supernatural activity. Oh, and the audience can watch you. To win, you must purchase a ticket, then tag the murder house on social media. Other prizes include joining Long on his paranormal investigation or Negri during her seance.
Tickets to join the livestream are $25. A portion of proceeds benefits baby2baby, a nonprofit that provides basic necessities for children living in poverty.