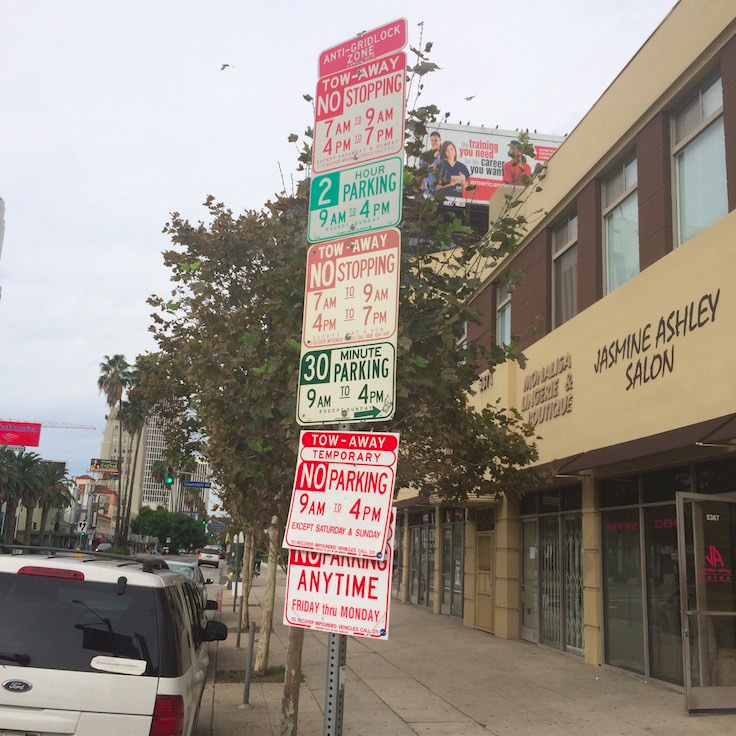 In this morning's brief: L.A.'s lax parking enforcement is about to end, the District Attorney has charged a suspect in the shooting of two deputies, and the governor lays out new rules on rat poison. Finally, racial discrimination in policing by the numbers. First, some news.
Morning News Rundown
If you've been blissfully stowing your vehicle in the same spot for weeks on end, it might be time to think about where you want to move it. Yesterday, the Los Angeles City Council voted to end its relaxed parking enforcement policy starting Oct. 15. This means ticketing will resume for street sweeping, abandoned and oversize vehicles, overnight restrictions, peak-hour and anti-gridlock zones, and expired registration. [LAist]
A suspect in custody from a Sep. 1 carjacking incident has now been charged in the shooting of two LASD deputies on Sep. 12. 36-year-old Deonte Lee Murray has pleaded not guilty to two counts of attempted murder of a peace officer and possession of a firearm by a felon. [CBS Los Angeles]
If you're battling rodents in your home or yard this year, something to keep in mind: Gov. Newsom signed a new law yesterday that bans the use of second-generation anticoagulant rodenticides. These types of poisons can be passed up the food chain from dead or dying rodents to predators and scavengers like mountain lions, bobcats, bears, eagles, and others. [ABC 7]
The wheels of justice continue to grind forward in the Jose Huizar saga. Yesterday, Porter Ranch lobbyist Morrie Goldman pleaded guilty to a felony count of conspiring to commit bribery and honest services mail fraud in connection with a scheme engineered by Huizar. The disgraced Councilman currently faces 34 federal charges for the alleged bribery scheme. [San Fernando Sun]
Remember Pastor MacArthur of Grace Community Church? Over the past weeks, he's been battling a civil contempt lawsuit filed by L.A. County stemming from the Church's ongoing indoor services, which go against the County's ban on large gatherings. Despite a judge's temporary restraining order issued on Sep. 10, MacArthur has continued to hold indoor services. This week, we learned a contempt hearing has been delayed until Nov. 13. And if you look at the church's Facebook page, it doesn't look like they have any plans to stop service between now and then. [Patch]
Racial Discrimination in Policing By the Numbers
In yesterday's brief, I discussed a new report from Buzzfeed News about Palantir Gotham, a mass surveillance software program that LAPD had provided data for and trained officers to use. Among many concerns, one claim I made is that the LAPD's history of over-policing people of color would inevitably taint the data they input into the Palantir system. The algorithm's predictive capabilities would be biased by the network of information provided by a discriminatory system. In a sense, garbage in, garbage out.
Well, if there was any doubt about my claims of systemic discrimination in policing, I'd like to point you to a new story published by The Guardian just yesterday afternoon that highlights both local and statewide racial discrepancies in policing.
Here are three key findings that jump out:
Black residents in California are 9.7 times more likely to receive a citation for local infractions than white residents in their jurisdictions, and Latinx residents were 5.8 times more likely to be cited than their white neighbors.
Black residents in L.A. were 3.8 times more likely to be cited for minor infractions compared with white residents, accounting for 30% of all low-level infractions.
Despite making up 7% of the adult population, Black Angelenos accounted for 27% of "drinking in public infractions," 33% of "sleeping or sitting" loitering tickets, and 63% of "loitering while standing" citations.
I know it's going to sound like I'm beating a dead horse, but if you put systemically biased data into an algorithm like Palantir's, you're going to get systematically biased predictions. Read the reports!