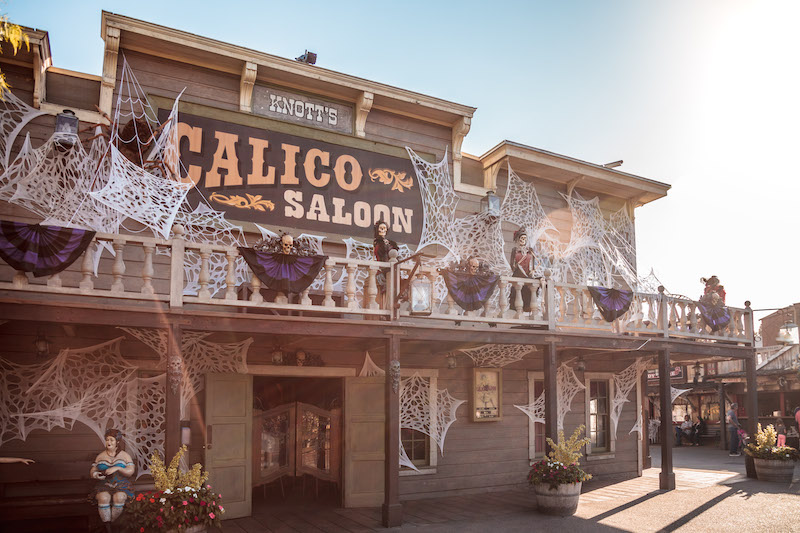 Need stuff to do this month in Los Angeles? We looked ahead on our calendar to focus in on some of the best October events to have on your radar. After all, better to get your tickets now than wait until the last minute and find out your favorite event is sold out.
October 2020 event highlights include drive-thru Halloween haunts, seasonal food fests, art walks, and LOTS more.
And remember, if you want to stay up-to-date on all the events in Los Angeles, sign up for our email newsletter. Enjoy!
Los Angeles Haunted Hayride (Sep. 24 -Nov. 1)
Los Angeles Haunted Hayride isn't canceling this Halloween. Instead, it's coming back with a new "drive-up" experience. This year, you'll stay in your car as you drive down the ominous "All Hallows Lane" to your final destination: a narrative, multimedia show that unfolds via lighting, sound, special effects, creepy sets, live actors, and a 40-foot screen. –> More information
Taste of Fall-O-Ween (Sep. 25 – Nov. 1)
Knott's Berry Farm is hosting a family-friendly Halloween-themed food festival inside a portion of the amusement park. Choose from over 80 food options, including a "Graveyard Funnel Cake" topped with chocolate ice cream and gummi worms, Creepy Cheeseburger Sliders, or the Great Pumpkin Bun"—a deep-fried cinnamon roll topped with pumpkin icing. –> More information
Driven: A Latinx Artist Celebration Presented by Hyundai (Oct. 1-4)
The Museum of Latin America Art, The Art of Elysium, and Hyundai are teaming up to create a free drive-by showcase of works by emerging and established Latinx artists. Driven: A Latinx Artist Celebration takes place at The Palladium in Hollywood Oct. 1-4. As guests drive through the experience, they can tune their radios to special guide tracks from KCRW's Raul Campos. The installation is free to attend, but advanced reservations are recommended. –> More information
Nights of the Jack: Halloween Jack O'Lantern Experience (Oct. 1 – Nov. 1)
Nights of the Jack is back for 2020, but like many of the events on this list, they're doin' it drive-thru style. As in years past, the event features over a thousand hand-carved and illuminated Jack O' Lanterns, including multiple oversized lanterns carved with depictions of famous movie stars, sports figures, and animated characters. –> More information
Halloween at Descanso (Oct. 1-31)
Descanso Gardens' socially distant "pumpkin-filled extravaganza" is suitable for all ages and not scary. Instead, expect a winding hay maze, a house built entirely out of pumpkins, a pumpkin arch that leads to a forest filled with pumpkin-headed scarecrows, and colorful pumpkin mandalas. The pathways that lead to the Hilltop Gardens, the Japanese Garden, and the main promenade will feature hand-carved jack-o-lantern boxes. For maximum pumpkin, we'd suggest booking after Oct. 10. Select dates offer extended hours, too!  –> More information
34th Annual Avocado Festival (Oct. 2-4)
The annual Avocado Festival brought 80,000 people to its three-day festival in 2019. Due to the pandemic and the ban of large gatherings, the festival will go virtual for its 34th year with live musical performances, access to Avocado Festival foods, virtual contests, shopping, and more. A 501c3 nonprofit itself, the festival was created to help support other nonprofits and service organizations. It raises thousands of dollars every year. –> More information
Drive-In Cinema at Hollywood Legion Theater at Post 43 (Oct. 3 – TBD)
Hollywood Legion Theater at Post 43 is opening a drive-in cinema. Operating daily, capacity is set at 30 vehicles per screening and reservations include buttery popcorn, soda, and candy for each guest. Tickets start at $65 for two people. Screenings will extend into November and as the COVID-19 pandemic continues. –>More information
ScreamFest Horror Film Festival (Drive-in)
ScreamFest Horror Film Festival features drive-in screenings October 6-15, kicking off with Hulu's Books of Blood at Calamigos Ranch in Malibu. Other screenings are held at The Plant Drive-In in Van Nuys and include Sins of a Werewolf, Guest, Axe to the Face, Into the Uncanny Valley, Hellevate, Sanzaru, and many, many more. Check out the complete schedule here.
Dinner and a Movie at Ace Hotel Upstairs (Oct. 7)
Dinner and movie with a view of the downtown skyline? The Ace Hotel and Circle Collective promise just that as part of the ongoing Upstairs Cinema Series at Ace DTLA. The Oct. 7 edition screens The Planters (2020), a comedy directed by Alexandra Kotcheff and Hannah Lederabout about two marginalized women who strike up an unlikely friendship. A reservation for two to the screenings costs $80, with $50 of that allotted for a food and beverage credit. –> More information
The Bite LA: Halloween Food Crawl and Creature Safari (Oct. 8-11)
The Bite LA at Legg Lake combines food and creepy entertainment that you'll enjoy from the safety of your vehicle. Along the way, you'll stop to enjoy seasonal foods served by sinister characters. The drive will take you to a virtual 'campfire' where you'll park to hear ghost stories and enjoy campfire desserts and hot cocoa, cider, or coffee. –> More information
Haunt'Oween L.A. (Oct. 9-31)
A family-friendly drive-thru experience in Woodland Hills, Haunt'Oween allows families to trick-or-treat, enjoy photo ops, and take scenic drives through jack-o-lantern tunnels. It'll be spooky, but not scary, so it's appropriate for all ages, and kids will leave with candy and a pumpkin they can carve at home. –> More information
Mr. Jack O'Lanterns Pumpkins (Oct. 3-31)
Mr. Jack O'Lanterns Pumpkin Patch will open its Hollywood location on October 3, offering in-person shopping, online ordering, delivery, and contactless curbside pick-up. They'll also be at the Original Farmers Market on October 10 & 11. –> More information.
Frogtown Art Walk (Oct.16-18)
The art walk will take things online this year with art exhibitions, workshops, artist talks, kids' activities, musical performance, and more, all livestreamed from its home page. –> More information
15th Annual Los Angeles Archives Bazaar (Oct. 17)
The Los Angeles Archives Bazaar is an L.A. history buff's dream. Held entirely virtual this year, organizers plan to maintain the spirit of the event through engaging programming, online exhibits, and virtual tours. The event is free. –> More information
Lexus All Star Chef Classic (Oct. 17)
The Lexus All-Star Chef Classic is going virtual this year. Ticket holders will enjoy a four-course meal with wine in the comfort of their own homes while seeing each course prepared in a live, interactive broadcast by Culinary Master Chefs Dominique Crenn, Ludo Lefebvre, Nyesha Arrington, and ​Jon Shook and Vinny Dotolo. Wine selections are by Master Sommelier Carlton McCoy, Jr. Packages start at $250 per dinner. A portion of the proceeds will benefit Food Forward and The Independent Restaurant Coalition. The live broadcast itself is free to watch. –> More information
Pasadena ArtNight (Oct. 23)
This annual free celebration attracts tens of thousands of annual visitors to a one-night event where close to 20 of Pasadena's arts and cultural institutions offer free admission. This year the event will be held virtually. Over a dozen venues will provide online performances that you can stream from your home. –> More information
Heritage Square Museum (Oct. 24-25)
Heritage Square takes its annual Victorian Mourning Faire outdoors this year with a two-day celebration where you'll learn about Victorian death practices and superstitions, check out some spooky displays, enjoy music, and do a bit of shopping. –> More information
Natural History Museum LA's Spider Pavilion (Oct. 24 – Nov. 29)
You can visit NHM to observe several hundred spiders in real life on select dates between October 24 and November 29, or starting on October 22 if you're a member. The pavilion is entirely outdoors, allowing guests to social distance on its pathways while enjoying plants and a little sunshine. Educators will be on hand to talk about the wolf spiders, jumping spiders, tarantulas, and other bugs that call the pavilion home. Additionally, parts of the museum's Nature Gardens will also be open, while the indoor museum remains closed. Tickets are $6. –> More information
P-22 Day Festival (Oct. 24)
The annual celebration of the beloved mountain lion who crossed two freeways will go virtual in its fifth year. Highlights include a broadcast of a 50-mile hike led by National Wildlife Federation's California Regional Executive Director Beth Pratt. She'll take a similar path to the one that P-22 took to Griffith Park. The event also includes interactive games and more. Free. –> More information
The Fall Brewery ArtWalk (Oct. 24-25)
Billed as the "world's largest art complex," The Brewery is home to over 100 resident artists. For the annual Fall ArtWalk, organizers are planning a virtual experience. More details will be announced soon. -> More information
Free Randy's Donuts (October 31)
Randy's Donuts will be handing out free donuts to anyone 15 and under on October 31. This promotion applies to all locations. –> More information
Appointment-Only Art (All month)
Want to check out some art on your own schedule? We recently compiled a list of 16 Appointment-Only L.A. Art Galleries Open Right Now. Best part? Most of them are free.