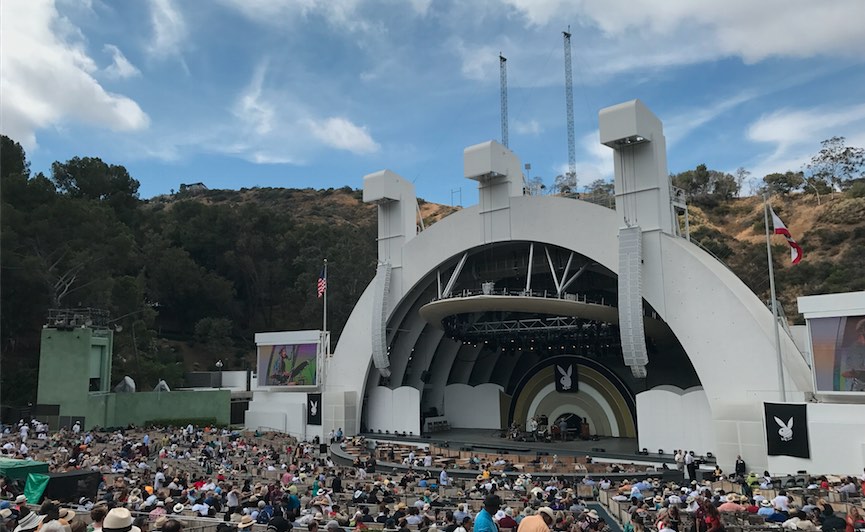 Need stuff to do this month in Los Angeles? We looked ahead on our calendar to focus in on some of the best events happening in June around Los Angeles that you should probably have on your radar. After all, better to get your tickets now than wait till the last minute and find out your favorite event is sold out.
June 2019 event highlights includes KCRW Summer Nights, LA Pride, the Playboy Jazz Festival, BoldPas in Pasadena, Bill Esparaza's Taqueando, the DTLA Donut Fest, KTOWN Night Market, Moonlight Movies on the Beach , and much more.
Our complete rundown starts after the jump. Enjoy!
---
Keep in mind for some of the ticketing options provided we utilize affiliate links and receive a commission if you purchase through our links (affiliates noted in parenthesis), however we retain complete editorial control of our content.
---
1. LA Pride (through June 10)
This year's LA Pride events include the LGBT Night at Dodger Stadium on May 31, the 3rd Annual LA Pride Night at Universal Studios Hollywood on June 1, 2019 Trans Brunch on June 2, The Opening Ceremony with a Weho Vogue Ball & Drag Show on June 7, and the legendary LA Pride Festival June 8 through 10. -> More information
2. KCRW Summer Nights (starting June 1)
KCRW kicks off their summer of free outdoor concerts with a June 1 event at One Colorado featuring Harriet Brown and a June 8 edition of Chinatown Summer Nights with KCRW DJ's Travis Holcombe and Novena Carmel. -> More information
3. 3rd Annual Venice Pride Sign Lighting & Block Party with Thelma Houston (June 1)
The Fourth Annual Venice Pride Sign Lighting & Block Party returns on June 1 from 4 to 11 p.m. for an inclusive celebration of the LGBTQ+ community. Highlights include beats from DJ Victor Rodriguez, dancing, munchies from food trucks, and more. -> More information
4. Pasadena Symphony & POPS Presents 'Music Under The Stars' (June 1)
Pasadena Symphony & POPS presents 'Music Under The Stars' s on June 1 at Pasadena City Hall's Centennial Square. This free outdoor concert also features gourmet food trucks, a musical instrument petting zoo, and other family friendly activities. -> More information
5. FIGFest (starting June 7)
FIGat7th Downtown Festival is back for another festive summer filled with good tunes and good times. Free concerts will take place on four Fridays in June with headliners Cherry Glazerr (June 7), Oddisee & Good Compny (June 14), Buscabulla (June 21) and STRFKR (June 28). -> More information
6. The Groundlings' 3rd Annual Diversity Festival (June 8)
The Groundlings' Diversity Festival returns for its third year on June 8 to to celebrate and explore diversity and inclusion in comedy and entertainment with an array of shows. Sponsored by NBC and Nickelodeon, this comedy fest features a full day of free performances that also include alumni and special guests. -> More information
7. BoldPas in Old Pasadena (June 8)
BoldPas: A Day of Art & Play in Old Pasadena returns on Saturday, June 8 for its third annual installment of temporary street art and engaging public activities. The event, staged in Old Pasadena's historic 19th-century alleys, is free to the public and offers a one-day-only opportunity to encounter artistic, ephemeral interventions in unique urban spaces. This year there will be 17 site-specific art installations spread throughout the 22-block historic district of Old Pasadena including a 60-foot canvas suspended high above one alley, a giant sea of balloons, and a serpentine tube made of beach balls. -> More information
8. Rose Day LA (June 8)
Rosé Day LA returns to Saddlerock Ranch in Malibu on June 8 for an afternoon of pink wine. The inaugural Rosé Day LA will feature crisp bottles of rosé, delicious food pairings, live DJs, luxury brands, music performances, leisure lawn games and more. -> More information
9. DTLA Donut Festival (June 8)
The DTLA Donut Festival returns to Union Station on June 8 for a mouthwatering display of desserts. The event take places from 10 a.m. to 2 p.m. with a showcase of various donut styles, flavors, and forms. The festival features the "Hole Donut Marketplace", with 12 different donut vendors on hand, both cult classics and new trendy establishments. Purveyors include Voodoo Doughnut, Astro Doughnuts & Fried Chicken, California Donuts, Primo's Donuts, Donatsu, Dot & Dough, Dazzling Donuts, DK's Donuts & Bakery, Glazed Donut Bar, Fat Uncle Farms, RING Baked Tofu Donuts and Dream Donut Truck. -> More information
10. Playhouse Block Party in Pasadena (June 8)
The Playhouse Block Party returns June 8 for its second year celebrating of arts and culture on El Molino Avenue in the heart of Pasadena. Featuring over twenty performances on two different stages (a Main Stage and a Family Stage), this free block party also includes family-friendly interactive activities, food, libations, and guided tours. -> More information
11. Playboy Jazz Festival (June 8-9)
The Playboy Jazz Festival returns to the Hollywood Bowl for another year of fast, upbeat and sweat-inducing live music. On June 8 and 9, the L.A. Philharmonic will take attendees through the world of jazz with an all-star line-up of special guests. Saturday's line-up includes Kool & the Gang, Béla Fleck & The Flecktones, Terence Blanchard featuring The E-Collective, Quiana Lynell, Angélique Kidjo, Benny Golson's 90th Birthday Quartet, and more. Sunday's special guests include Boz Scaggs, Maceo Parker: It's All About Love, Starring Maceo Parker, Maceo Parker Big Band, The Cookers, and more. George Lopez will be the master of ceremonies both days. -> More information – Discount Tickets
12. EA Play (June 8-9)
Electric Entertainment (EA) Play returns to the Hollywood Palladium June 8 – 9 for one of the biggest and best opportunities to get hands-on with your favorite games. Fans will be connected around the world to EA's biggest new games through live broadcasts, community content, competitions and more. This year, attendees can check out Respawn Entertainment's new Star Wars game, Star Wars Jedi: Fallen Order, along with a chance to play Apex Legends, Battlefield V, the newest EA Sports games, Anthem and more. -> More information
13. Hollywood Fringe Festival (June 13-30)
Over three dozen of venue such as 2nd Stage, Hudson Theatres, The Broadwater and the Underground Annex Theater will host comedy, ensemble theatre, dance and immersive performances during the annual Hollywood Fringe Festival. -> More information
14. The KTOWN Night Market (June 14-15)
For the 5th year in a row, the KTOWN Night Market is returning to Koreatown for a weekend of live music performances, delicious food offerings and trendy Korean-beauty shopping. -> More information
15. Bill Esparza's Taqueando: A Taco Lifestyle Festival (June 15)
Bill Esparaza, the James Beard award-winning author and taco expert who formerly curated LA Weekly's Tacolandia, is back with a brand new all-you-can-eat taco festival of his own: Taqueando. The list of participants includes Amor y Tacos, B.S. Taqueria , Bar Amá, Barbakush, Birrieria Nochistlàn, Burritos La Palma, Carnitas El Momo, Chicas Tacos, Chichen Itza, Coni'Seafood, Dos Tierras, Erizo Fish House (from Tijuana), Galaxy Taco, Guerrilla Tacos, La Guerrerense (from Ensenada), La Huesuda Tacos, Loteria Grill, Macheen, Madre Oaxaca Restaurant & Mezcaleria, Mariscos El Coraloense, Mariscos Jalisco, Petty Cash Taqueria, Pez Cantina, Poncho's Tlayudas, Puesto, Salazar, SOL Mexican Cocina, Sonoratown, Tacolazo, Taco Maria, Tacos 1986, Tacos Aarón, Tacos Kokopelli (Tijuana), and MORE! -> More information
16. 27th Annual Pasadena Chalk Festival (June 15-16)
The 27th Annual Pasadena Chalk Festival returns June 15 – 16 at The Paseo for a day-long event of art, music, and family fun. Lasting from 10 a.m. to 7 p.m., this free two-day festival will feature hundreds of unique chalk creations throughout the shopping center and sidewalk.. -> More information
17. Alfredo's Beach Clubs "Moonlight Movies on the Beach" (starting June 18)
Moonlight Movies on the Beach brings a summer-long series of free outdoor movie screenings on the shores of the LBC to three different locations near Downtown Long Beach and Belmont Shore. The series opens with The Sandlot on June 18 at Granada Beach and Happy Gilmore on June 20 at Cherry Beach. Screenings continue on select Tuesdays and Thursdays through August 20. All are free to attend. -> More information
18. The El Segundo Art Walk (June 20)
The El Segundo Art Walk returns for three summer nights. Taking place every third Thursday of the summer months, this self-guided walk features more than 35 artists in 30+ venues in downtown El Segundo and in Smoky Hollow, an emerging, eclectic neighborhood that's funky, industrial and artsy. Each art event features fine art, live music, great food, a beer garden, and tours of artist studios. -> More information
19. Silver Lake Picture Show (starting June 21)
Originally founded in 2012, The Silver Lake Picture Show offers free outdoor film screenings on select Fridays at Sunset Triangle Plaza in Silver Lake. This year's series starts on June 21 with a screening of Selena. -> More information
20. Dance DTLA (starting June 21)
The Music Center's Dance DTLA is a free night of dancing featuring live music and/or DJs paired with expert dance instructors providing beginner group dance lessons for attendees. Each night has a different dance theme, and all events are free and open to the public. The series opens on June 21 with a Bollywood theme on the Grand Park Performance Lawn. Dance DTLA continues on select Fridays through August 30 -> More information
21. The Mass Meditation Initiative at Los Angeles State Historic Park (June 22)
The Mass Meditation Initiative returns to Los Angeles State Historic Park on Saturday June 22 for a FREE mindful yoga, music, healing arts and vegan festival featuring an array of live performances. Over 100 conscious brands, 40 healing tents and 20 vegan plant-based food vendors will be present at the festival. This year Bhakti Fest and Shakti Fest will be presenting a stage and Wisdome LA will also be presenting an immersive 360 dome. -> More information
22. Game Changers Outdoor Movie Screening Series at The Ford Theatres (June 27-30)
The Game Changers Outdoor Movie Screening Series comes to The Ford Theatres in Hollywood June 27 – 30 for four-nights of groundbreaking cinema and television underneath the stars. Presented by the SAG-AFTRA Foundation, the goal of the series is to showcase media that has impacted diversity and narrative storytelling in monumental ways. -> More information – Discount tickets
23. 10th Annual L.A. Food Fest (June 29)
The 10th Annual L.A. Food Fest returns to Santa Anita Park on Saturday June 29 for a tasting experience with award-winning top chefs and restaurants, out-of-town headliners, your favorite street eats, and much more. Attendees can sample signature bites from a curated selection of 100+ exhibitors. -> More information
24. CatCon 2019 (June 29-30)
CatCon returns to the Pasadena Convention Center June 29 – 30 for another weekend of feline appreciation and celebration. Highlights include over 200 booths featuring merchandising, cat-world celebrities, a cat adoption lounge, cat-centric seminars, photobooths, Kitty cosplay, special guest speakers, workshops, meet and greets with celebri-cats and more. -> More information – Discount tickets
---
Be sure to check the We Like L.A. Events Calendar for updates on fun things happening around the city throughout June. You can also sign up for our daily/weekly newsletter if you want events sent straight to your inbox.