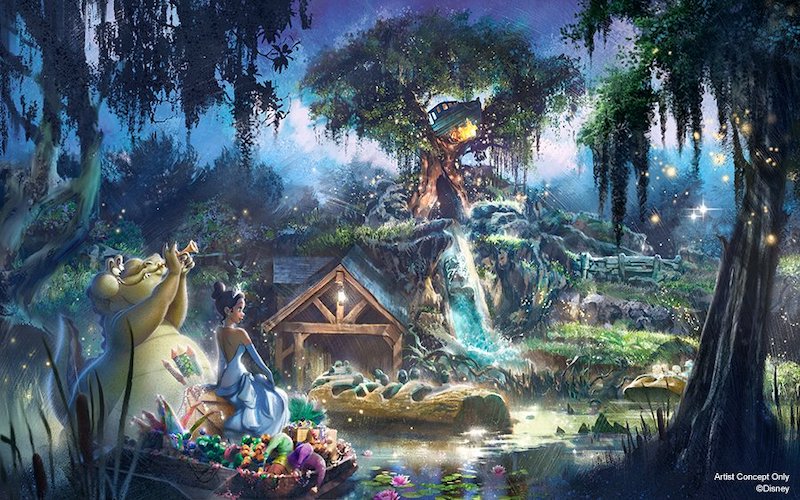 Today, Disney announced that its parks' Splash Mountain ride will transform into a new attraction themed for 2009's animated film, The Princess and the Frog. The change comes after 20,000 people signed a petition asking Disney to retheme Splash Mountain as the movie it comes from is considered racist, and as brands like Aunt Jemima reconsider their image.
Splash Mountain, a log flume ride, is based on Song of the South, a 1946 live-action/animated film set in the Southern U.S. during the Reconstruction era. Many have argued that the film's depictions of Black characters involve racist stereotypes and that the film glorifies slavery. A 2019 Guardian article points to minstrel-style characters and a scene in which protagonist Uncle Remus (James Baskett) reminiscences fondly about the past, during which he was likely a slave. That dialogue leads directly into the Oscar-winning song about beautiful days, "Zip-a-Dee-Doo-Dah."
Per the Guardian: "[T]he rotten heart of Song of the South is the implication that such carefree days were easier to come by in the idealized world of the pre-civil war south. Things are better for everyone, the film suggests, when men like Uncle Remus accept their subservience and benefit from the largesse of white plantation owners, even when they're ostensibly free to leave at any time."
Disney did not release Song of the South on its streaming service, Disney+.
The Princess and the Frog features Disney's first Black princess, Tianna, an aspiring restauranteur in 1920s New Orleans. According to a blog post on D23, Disney has been working on the new ride since last year. It features Tiana and her friend Louis the Alligator "after the final, magical kiss in the movie, and follows Tiana and Louis as they prepare for their first Mardi Gras performance."
Previously, Disney made alterations to its Pirates of the Caribbean ride. Where once it depicted male pirates auctioning off sobbing women to their new "husbands," it now features male and female pirates auctioning off plundered goods.
Yesterday, Disneyland announced it will not reopen as planned on July 17, but will instead wait for further guidance from the state.