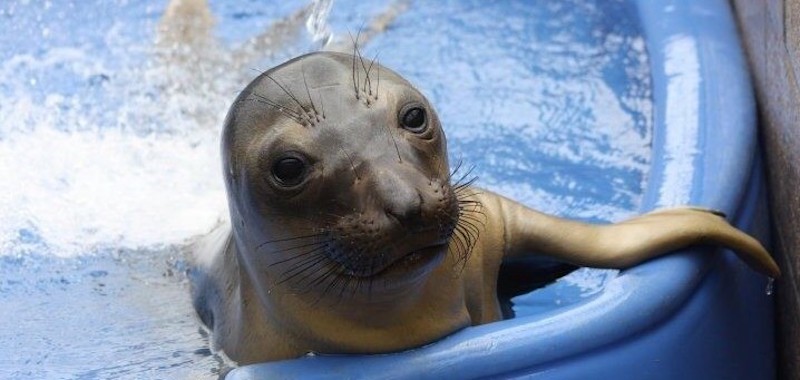 We used to tell you about all the things you could go out and do in Los Angeles on a daily, weekly, and monthly basis. Then, the coronavirus pandemic changed life for all of us, in a thousand small and massive ways. For a while, we posted strictly virtual events to keep you entertained and connected from your home. As the state, county, and city slowly reopen, we'll also include a mix of things you can do outside the house while still abiding by local health orders. We'll still offer plenty of online options for those of you who are self-isolating or who've decided to stay at home for the time being. We'll post a new list of options every Thursday morning. We hope they keep you busy, make you laugh, teach you something, or help you feel less alone.
This week, we've got an online seal celebration, drive-in movies and concerts, dance performances in a park, awesome lectures and workshops, virtual art shows, and more. Have something you want to submit for next week? Hit us up: [email protected].
---
Out-of-the-House Events
Heidi Duckler Dance presents the Ebb & Flow Festival at Los Angeles State Historic Park. This year, guests will walk through the park from "Ebb" to "Flow." In Ebb, guests can use augmented reality on their phones to bring five stationary artworks to life. At "Flow," guests will see an immersive installation from artist Snezana Petrovic. Open 8 a.m. to sunset, June 27-30. Free with RSVP.
The Tribeca Drive-In cruises its way to the Pasadena Rose Bowl for a month-long series of movie screenings July 2-26. Tickets available now.
The Donut Man opens on Friday at Grand Central Market in downtown Los Angeles. Take a bite of their famous strawberry donuts this weekend.
Los Angeles County museums are allowed to reopen. Here's a list we compiled of what's open and what's not so far.
To celebrate the release of Universal Pictures' Trolls World Tour, artist Keith Kaminski has created a life-size, 3D chalk drawing of the character Tiny Diamond at the Grove. Fans can stop by to see it on June 27 & 28 from 11 to 7 p.m. Masks are required.
Concerts in Your Car is a drive-in music series in Ventura. This weekend, you can catch Superduperkyle and Trevor Wallace on June 26 & 27 at 8 p.m. See the full schedule and ticket information here.
Sunnyday Scoot is a tour company that allows you and one other person to take a mini-car on a fun tour of L.A. Sunnyday is open now with modifications including social distancing, mask-wearing, and online check-ins.
Marina Del Rey's Beach Eats to Go is back this Thursday, June 25 from 5-9 p.m. Order online from participating food trucks in advance, then choose a time to pick up your delicious meal. This week, you can order from Roll'n Lobster, StopBye Cafe, Maravilla Latin, and Habibi Shack.
Send a bizarre singing telegram to a loved one courtesy of Disco Dining Club and Some Cult. Performers will come in costumes and masks to sing a song of your choice. You can also tack on a bottle of rosé.
Enjoy a meal or two al fresco style. We recently published a list of over 40 restaurants with outdoor seating that you can enjoy right now.
Are you angry? Break Room has reopened for all your rage-release needs. This particular business allows you to don protective gear, then smash a variety of objects. Reservations recommended.
The CatCafe Lounge has reopened every Saturday and Sunday through June, allowing guests to hang out with adoptable cats and kittens.
Online Events
Support Chicano and Latino artists during Self Help Graphics & Art Annual Print Fair now through June 30. View limited-edition silkscreens online and start collecting art that supports the East L.A. community.
The Roots moves its annual event Roots Picnic to The Roots' YouTube channel. Hosted by Questlove, Black Thought, and Michelle Obama on June 27, the event features music by The Roots, H.E.R., Lil Baby, SZA, Kirk Franklin, and Musiq Soulchild to name a few, with appearances by Lin Manuel Miranda, Chris Paul, Tom Hanks, Kerry Washington, Tracee Ellis Ross, Janelle Monáe, Elaine Welteroth, and more.
On June 25 at 4 p.m., check out Culture Creators: Black Music Reimagined, an online discussion featuring Christina Ackas (VP Research, Octagon), Killian Lewis (Director, Rogers & Cowan PMK), Courtney Lowrey (Founder, CLM Media + Strategic Alliances), and Tremaine 'Six7' Williams (Producer/engineer and Stage Manager for Mariah Carey), moderated by Pamela Chinewah (Manager, Rogers & Cowan PMK). The event also features a set from DJ NiteCrawler. Register here.
Want to ride into the danger zone for a good cause? Kenny Loggins is performing a pay-per-view concert at the Lobero Theatre in Santa Barbara this Sunday, June 28, with proceeds to support both the theatre and the National Independent Venue Association. NIVA's membership includes dozens of L.A.-based venues such as the Bootleg Theater, Dynasty Typewriter, Teragram Ballroom, the Hi Hat, the Viper Room, the Mint, and many more. Tickets are $15 to watch the livestream and support the cause. Buy here.
Natural History Museum's First Fridays Connected returns online Friday June 26 with discussions about the future of food, a Dino 101 seminar, a DJ set from KCRW's Novena Carmel and more.
On June 30 at 6 p.m., The Groundlings and actor Jack Plotnik host the online class "Jack Plotnik's Tips to Booking More Work That No One is Telling You." Plotnik is a working actor who's racked up over 120 IMDb credits over the past 25 years. He'll share his tips on how to book regular acting work. Tickets are $25.
See ace/21 Gallery's online exhibit Post Pride. According to a release, "The nine artists featured in the show reflect myriad meditations on queerness and Pride with a particular focus for some on social and racial issues, highlighting the intersectional themes that Pride has come to represent."
On June 27, The Center for Cultural Power and The California Endowment present "Out at Home," an online LGBTQ+ showcase of art and activism. Join on Twitch here.
The Annual Seal Day celebration at the Marine Mammal Care Center in San Pedro will go virtual this Saturday, June 27 from noon to 1:30 p.m. Learn all about seals and the center's ocean conservation efforts and virtually meet rescue seals. There will be an opportunity to donate to the center live and feed a seal a meal in real-time.
Union Station Summer Sessions features comedy troupe Baby Wants Candy on June 25 at 7 p.m. on Facebook and YouTube.
VidCon Now: Proud Together is a virtual event on June 27 at 4 p..m. featuring online and digital creators like AmbersCloset, Jensen McRae, Rebecca Black, James Charles, Calle y Poché, and more. Join in on VidCon's YouTube channel.
Cocktail Academy's Lost Parrot Tiki is a mobile pop-up tiki bar available for delivery. For $49.95, you'll get a 16-ounce, pre-batched cocktail (4 drinks), a branded reusable cooler bag, two tiki tumblers, straws, and swizzle sticks, crushed ice, and a link to a themed Spotify playlist. See your cocktail options and more info here.
Thinkspace Gallery presents a live preview of its latest exhibition, ERMSY Took It Easy, on Saturday, June 27 via Instagram. A virtual self-guided tour will be available on the gallery's website the week of June 29.
Women Who Whiskey Los Angeles will host a virtual tasting and cocktail class with Jameson Irish Whiskey on July 1.
In honor of Day of the Ancestors: Festival of the Masks, Rene Fisher will lead a virtual workshop on percussion rhythms using household objects on June 27. The free class will also be accompanied by a performance at the Leimert Park Art Walk.
Artist Jim Mazza's "The Long Way" opens online at Gabba Gallery on June 25. Check it out here.
Believe Psychology Film Festival is a 2-day online film fest featuring works about parenting, caregiving, trauma, anxiety, and more followed by Q&As with filmmakers on Zoom. Find out more here.
Generation Pride is a virtual Pride celebration from The Social Impact Center that highlights "the intersections of the LGBTQ+ [community] and minority communities in the cannabis space." Guest speakers and performers include Cleve Jones, Frenchie Davis, Bamby Salcedo, Elijah McKinnon, Laganja Estranja, Cat Packer, and more. Register here.
On Friday, June 26 at 7 p.m., join Madre Oaxacan Restaurant & Mezcaleria founder Ivan Vasquez for a virtual mezcal tasting. Sample four different mezcals available for pickup at three locations, June 23-25, 11 a.m. to 7 p.m. Tickets are $50.
This week from [email protected], check out the Pattern Project, an online collection of free, downloadable clothing patterns of historic dress.
The LA Conservancy offers a virtual tour of Koreatown's Wilshire Boulevard.
Queerentena & Soul: Reclaiming Collective Joy and Authenticity is a virtual Pride program about healing and connecting with one's self from LA Plaza de Cultura y Artes and Tamarindo Podcast. It's on June 28 at 11 a.m. Register here.
Photo L.A.'s virtual Collect + Connect event features over 70 galleries and special projects, lectures, and talks, all viewable online. Check it out June 27-28. Tickets are $20.
Own Your Own Voices Strategy Firm presents Speak to Start a Movement, an online party to celebrate the second season of Own Your Voice podcast, on July 1 at 3 p.m. Speak to Start a Movement is the theme of the podcast's upcoming season. Per the podcast: "As conscious leaders we cannot ignore the echoes of voices from our fellow American's who have been brutalized for too long because of their race. This season, guests are sharing how they are choosing to use their voices to create positive social impact within their own circles of influence." The free event features host Sahar Paz and several of the upcoming season's guests. Register here.
The Institute of Culinary Education is offering free online cooking classes, like Vegan Comfort Food on June 28. Find out more and register for upcoming classes here.
The Indian Film Festival of Los Angeles (IFFLA) will host a new virtual showcase, IFFLA Over the Years: 17 days celebrating 17 years of Indian cinema, June 19 through July 5. Check it out here.
Delicious Little Tokyo will go virtual this year from June 26-July 26. The virtual fest will feature interactive workshops, live chats with community leaders, giveaways and themed weeks with live videos spotlighting Little Tokyo businesses streamed every weekend across Go Little Tokyo's Instagram and Facebook platforms.
Jenny Yurshansky's Blacklisted: A Planted Allegory, Audio Guide consists of narrated stories about plants you might see in your neighborhood, even though they were labeled invasive and appear on California's "Blacklist." Listen at American Jewish University here.
Watch short puppet demos, films, readings, and more from Rogue Artists Ensemble via their new online showcase, Rogue Lab Nano Projects, available on YouTube.
LA Art Tours hosts donation-based virtual graffiti and mural tours in the Downtown Los Angeles Arts District every Thursday and Saturday. Expect a live guide streaming on the streets and interacting with viewers. Guests will also be sent a PDF containing images of artists seen on the tour.
Even more at-home ideas:
Remember that if you want updates sent straight to your inbox, you can sign up for the We Like L.A. email newsletter.