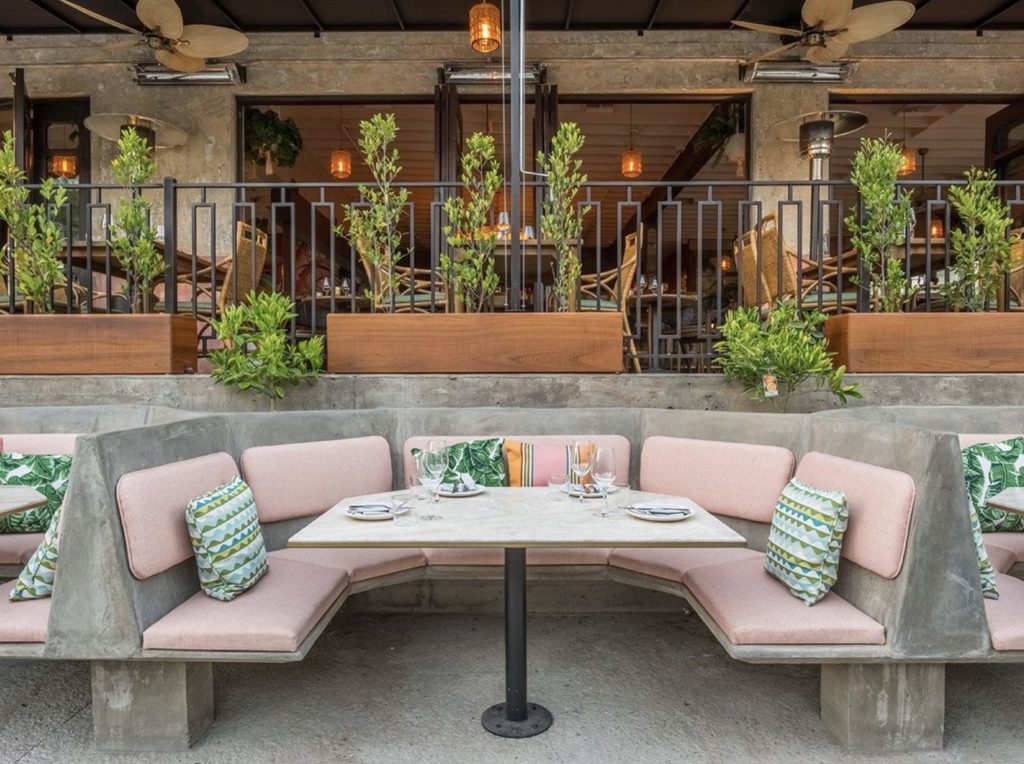 As the days get warmer, spending time outdoors can be hard to resist. Enjoying a meal al fresco is one of the best ways to dine out while we continue to navigate the pandemic.
Here's a list of restaurants with outdoor seating that you can enjoy right now. Keep in mind that some places have opened up their full restaurants. If you are strictly looking to sit outdoors, give them a call to make specific reservations ahead of time.
For the health and safety of restaurant staff and diners, there are rules that guests must follow. We've included some of that information in this list, but we highly suggest also looking over the rules online or calling the restaurant if you have questions. Wearing a mask, social distancing, and cashless payments are among the most common rules we've spotted.
Lady Byrd Cafe (Echo Park)
The new cafe has expanded its parking lot into an outdoor dining oasis filled with plants and individual greenhouse dining pods.–> More information
Hilltop Coffee + Kitchen (Windsor Hills)
This Angeleno owned business offers breakfast and lunch, along with coffee, juices, and pastries. The Windsor Hills location has a patio to enjoy loaded toasts they nicknamed "Droptops" and fresh beignets. Note that the larger Inglewood location seen on HBO's Insecure does not have outdoor seating. –> More information
Alcove (Los Feliz)
The beloved cafe with an extremely popular garden patio is now open for all-day service. More information.
Undergrind Cafe (Beverlywood)
This American comfort food spot has outdoor seating right out front. Open seven days a week, the menu includes shrimp and grits, sweet cream pancakes, and a variety of unique lattes like the Peanut Butter Cup Latte. More information
Counterpart Vegan (Echo Park)
Counterpart Vegan offers sidewalk patio seating. Open daily from 8 a.m. to 8 p.m. for house-made, plant-based all-day brunch, lunch, and dinner.
E.P. & L.P. (West Hollywood)
Multi-level modern Asian hotspot E.P. & L.P. reopens its L.P. rooftop with a new and affordable menu and social distancing configuration. Expect inventive snacks, cocktails and hearty bar bites on the menu. There's even a daily happy hour! More information.
Uncool (Larchmont Village)
New burger spot Uncool has added outdoor seating and offers a back patio. Get burgers, fried chicken sandwiches, vegan shakes, and more here. More information.
Birdie G's (Santa Monica)
Birdie G's has extended their patio to wrap around the building. The dining room inside will have their windows and doors wide open as well. Chef Jeremy Fox and his team have also rolled out a new menu featuring preserved and fermented elements like a Koji-Rubbed Hanger Steak, creamed summer greens with artichoke miso and The Relish Tray filled with shunkiyo radishes fermented in chamomile kombucha, white kimchi sunchokes and more. –> More information
Grand Central Market (DTLA)
All vendors are now open and ready to serve the public inside the historic open-air market place. More information
A.O.C (Beverly Grove)
Suzanne Goin's market-driven, small plates wine bar is open for dinner and weekend brunch. Its rustic European-style patio is a fine place to enjoy Chef Suzanne Goin's famous Spanish fried chicken. More information.
Phat Birds (Silver Lake)
The fried chicken pop-up will return on June 19 with a residency on Kettle Black's patio. More information
Casita del Campo (Silver Lake)
This almost 60-year-old classic Mexican restaurant has a beautiful patio ready for you to enjoy chips, margaritas, and generous plates of comfort food like enchiladas and tamales. More information.
Masa Taco (Whittier)
The vegan-friendly Mexican restaurant has opened its patio for dine-in service on Fridays, Saturdays, and Sundays. You can also pick up N95 face masks, disinfecting wipes, and more at its popular storefront. More information.
Alta Adams (West Adams)
Chef Keith Corbin's ultra-cool soul food restaurant has reopened its patio for brunch. Reserve one of the four patio tables by calling 323-571-4999. A deposit will be taken during the reservation More information.
Dama (DTLA)
Chef Antonia Lofaso's Latin-inspired DAMA has one of the chicest patios in the city. The tropical-themed space is open for dinner Tuesday through Saturday. More information.
Bardonna (Santa Monica)
Chic cafe Bardonna offers sidewalk patio seating in Santa Monica. Brunch is served all day alongside sandwiches, salads, coffee and espresso drinks, tea, and more. More information.
Ester (Santa Monica)
Esters now has a new outdoor addition next to their patio. Sip on one of the 40 by-the-glass wine options selected by Kathryn Coker and nibble on Chef Jessica Liu's new dishes. There's been a reconfiguration of the space with bistro tables, lounge furniture, and rows of potted trees to separate guests from sidewalk traffic. –> More information
Spago Beverly Hills (Beverly Hills)
Wolfgang Puck's restaurant will greet guests with temperature checks and aromatic sanitizing hand spritz upon entering. Face coverings are required when not seated at a table. Virtual menus viewed on your phone, reconfigured distancing seating, and an expanded outdoor dining space are a few of the recent updates. Spago is open Wednesday through Sunday for dinner service and lunch is served Friday and Saturday. Guests are required to make a reservation in advance. More information.
Here & Now (DTLA)
Limited patio space is available for folks to sip cocktails like the Pandan Pistachio Piña Colada and munch on burgers, fries, and other casual bar bites. More information.
Nobu (Malibu)
This sushi restaurant sits right on the beach. The food is high-end and so are the spectacular views. More information.
Rosaline (West Hollywood)
Ricardo Zarate's modern Peruvian restaurant is open for service, both in its open-air dining room and on its patio. All guests will be temperature checked upon arrival. Tables have been spaced out to adhere to social distancing rules. Reservations are recommended. More information.
Georgia's (Long Beach)
The mother and daughter-owned soul food restaurant has patio seating in its Long Beach Exchange location. More information.
Imperial Western (DTLA)
The brewery inside Union Station gets a makeover as a Bavarian-style beer hall featuring German-inspired beers, steins, and sausages. There is ample space for social distancing inside and the patio has added seating areas to the space. There are a few easy guideline for enjoying the beer hall, give them a read here. –> More information
Cassia (Santa Monica)
The Southeast Asian restaurant with a California twist has re-arranged their entire dining room and expansive outdoor patio. There are also directional markers on the floor to help folks navigate the new space. –> More information
Fred 62 (Los Feliz)
The retro 90s diner is back with its huge eclectic menu and all-day breakfast. The sidewalk patio is a fun place for people-watching. More information.
FIA (Santa Monica)
The California Coastal restaurant is now open and its beautiful patio space is ready to serve dinner and brunch. More information.
Broken Spanish (DTLA)
Chef Ray Garcia's unique latin eatery has reopened with an indoor/outdoor space and an expanded outdoor patio. Guests can dine on Tomato Tostada with Yuzu Kosho aioli, Weiser Farm's Rainbow Carrots with mole Amarillo and more. –> More information
Little Beast (Eagle Rock)
The Craftsman bungalow space serves modern American fare. There is a patio on the east wing of the building. It's open Wednesday through Sunday for dinner service. Reservations are highly recommended. More information
Tacos Tu Madre (Multiple Locations)
Mexican eatery Tacos Tu Madre offers outdoor seating at all of its locations, including Los Feliz, West Hollywood, Westwood, and Larchmont Village. Note that its West Hollywood location has the largest patio. More information.  
Margot (Culver City)
This stunning coastal Mediterranean restaurant is situated on the rooftop of Platform. Diners will enjoy a 360-degree view of the city inside the dining room and outside on the patio. More information.
Rustic Canyon (Santa Monica)
This Santa Monica institution has added larger, lower tables and an additional section to their sidewalk seating. Dine on Chef Andy Doubrava's new seasonal dishes, like Steamed Sea Bass with Munak's Sungold Tomato & Smoked Bone Broth and made-to-order Soft Pretzels with mustard. –> More information
The Original Farmers Market (Fairfax District)
All food vendors are now ready to serve the public. Customers are required to wear masks. Social distancing is enforced. Sanitizer stations are available at the entrance. More information.
Little Dom's (Los Feliz)
The Italian eatery has reopened its dining room and cozy street curb patio. You must make a reservation to dine in. More information.
Faith & Flower (DTLA)
Chef Michael Hung is remixing a New American menu inspired by the diversity of our city. Enjoy kimchi deviled eggs, cod slow-roasted in a Szechuan pepper jus, and pork enchiladas in black sesame mole sauce. The entire restaurant is open for service including the front patio. Servers wear face masks, face shields, and gloves. More information.
Tallula's (Santa Monica)
The globally inspired Mexican spot created a "Margarita Garden" by converting the majority of their large parking lot into an outdoor patio. Enjoy new dishes by Chef Saw Naing and crew like Organic Chicken Al Pastor Tacos with spicy pickled jalapeño and pineapple or the Crispy Rice Salad. –> More information
Madre (Palms & Southbay)
Both locations of Madre, an Oaxacan-focused restaurant and mezcaleria, have patios. The South Bay, however, has two. More information.
The Stalking Horse Brewery (West Los Angeles)
The British-inspired pub has an intimate patio in the back. Cornish fare and a selection of British beers are what make this place special. Open Thursday through Sunday. More information.
Bar Amá (DTLA)
There's a new social distancing patio set up in the alleyway of Josef Centeno's Tex-Mex eatery Bar Amá. Officially named Harlem Place, the space offers boombox vibes, cold beer, margaritas, tacos dorados, and more. Open Tuesday through Sunday from 1-8 p.m. Reservations are welcome. More information.
ama citá (DTLA)
Another Centeno space is now open with limited patio seating. Open Tuesday through Sunday from 1-8 p.m. More information.
Bäco Mercat (DTLA)
This Mediterranean fusion eatery has a new to-go window. Limited outdoor seating has been designed for those who want to dine in. Open from 1-8 p.m., Tuesday through Sunday. More information.
Hank's (Pacific Palisades)
Hank's at Palisades Village is open and serving American classics like the Denver Cut Pot Roast and Steak Frites. Its dining room and limited outdoor seating are available. More information.
Huckleberry (Santa Monica)
The bakery cafe implemented a few sidewalk tables and some limited indoor seating for dining on-site. –> More information
Playa Provisions (Playa del Rey)
Top Chef winner Brooke Williamson's beachside restaurant is serving breakfast, lunch, dinner, and weekend brunch on its newly expanded patio. To ramp up on safety, the space has been reconfigured for socially distant dining and plexiglass has been installed between indoor and outdoor booths. More information.
L'Antica Pizzeria (Hollywood)
This Neapolitan pizzeria is open every day for socially distant brunch, lunch, and dinner on its back patio. More information.
Malibu Wines & Beer Garden (Malibu)
The popular outdoor wine tasting spot is open on Friday and Saturdays, serving wood-fired pizzas from Two Doughs. Guests must wear masks. More information.
Interstellar (Santa Monica)
The market driven cafe has a patio for the public to enjoy an iced Orange Maple Latte as well as grab-and-go friendly items like a prosciutto, arugula sandwich with burrata cheese and truffle oil. –> More information
Marino (Hollywood)
Open since 1983, this Italian eatery has created an outdoor dining space with the help of some Astroturf and spaced out tables. Open for lunch and dinner. More information
Milo & Olive (Santa Monica)
The bakery and pizzeria now has sidewalk seating. For those who choose to dine inside, you'll find spaced out tables and glass barriers when you walk in, at the check-out counter and along the bar top. –> More information
The Malibu Cafe (Malibu)
The outdoor California cuisine cafe located in Calamigos Ranch is going above and beyond to assure the safety of its staff and customers. Temperatures are taken in your car upon arrival. Sanitation stations are at the entrance of every facility. The giant yard games aren't available, but paddleboats are open. Dining materials are single-use and disposable. Several functions are touchless including restrooms, payments, and ordering. More information.
BOA Steakhouse (West Hollywood & Santa Monica)
Both locations are open and have patios, but the West Hollywood location has a more spacious patio. More information.
Pasta Sisters (Culver City)
Pasta Sisters has two patios open with social distancing tables at its Helms Bakery location. More information.
Momed (Atwater Village)
The hidden Atwater Village restaurant has a patio larger than its indoor space. Enjoy Mediterranean dishes and possibly a temperature check. More information.
Malibu Farm Restaurant (Malibu)
The oceanside restaurant is open all day for patio dining. Make your reservation online. More information.
The Draycott (Pacific Palisades)
The California Brasserie is open for dinner and brunch on its gorgeous patio. Guests must wear a mask and will have their temperatures taken before being seated. More information.
The Rose Venice (Venice)
The large shaded outdoor patio is the perfect go-to spot for this globally influenced California restaurant. More information
Hawkins House of Burgers (Watts)
This old-school burger joint is 70 years old and offers patio seating. More information.
Sushi Roku (Pasadena)
Reopening on June 18, the contemporary sushi spot has a cozy patio space right in the heart of Old Town Pasadena. More information.
Katana (West Hollywood)
The epic patio overlooking Sunset Boulevard is open for service. The upscale Japanese fusion restaurant will require guests to wear masks. Should a guest find themselves without a mask, they can purchase one on the spot from the restaurant. More information.
Manuela (DTLA)
Manuela will welcome back guests for dining on its patio starting July 1. Hauser & Wirth gallery will also reopen to the public on this day, but you'll need to make an appointment to see the exhibitions. More information.