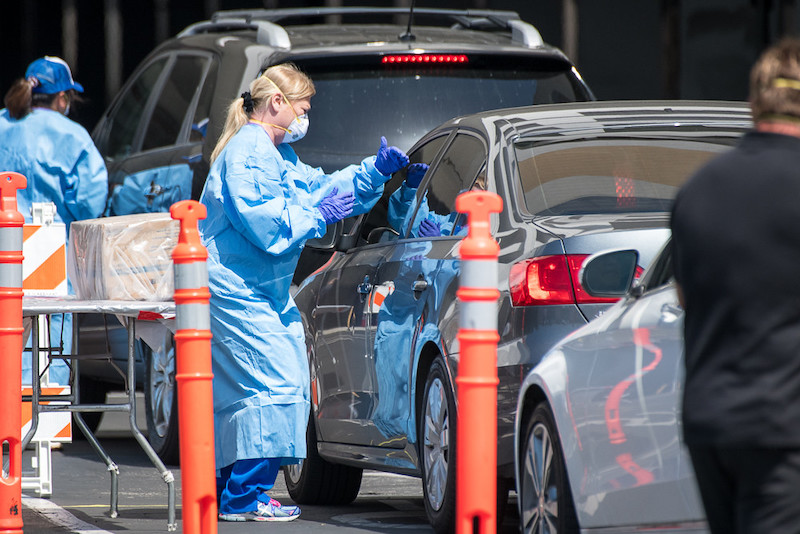 Los Angeles County's positivity rate has been over 8.4% for at least the last five days, according to Public Health Director Dr. Barbara Ferrer, who held a briefing today for members of the media. According to Ferrer, the county's positivity rate has not been that high since the end of April. Hospitalizations have also increased, which Ferrer described as "worrisome."
For reference, the positivity rate is how many people test positive for COVID-19 out of everyone who was tested. So if 100 people are tested and 8 test positive, that yields a positivity rate of 8%. For a California county to be approved for a regional variance, which allows it to reopen sectors faster than the rest of the state, its positivity rate must be lower than 8%.
A couple of weeks ago, Los Angeles County's positivity rate was stable, Ferrer said, "around 6% and even as low as 5.5%." The increase in that figure means "we need to take a very hard look at how the reopening is going."
Ferrer presented data that painted a broad picture of our current situation. In addition to recent protests that saw large numbers of people gather in the streets, people have been going to reopened businesses, including restaurants and bars. An estimated 500,000 people visited nightlife spots on Saturday, June 20.
All reopened businesses must come into compliance with state and county guidelines to ensure the safety of their customers and employees, and county investigators have been visiting these businesses to check. Of the 3,751 establishments inspectors visited on weekends between May 30 and June 14, 83% were not in full compliance.
The most common violation involved a checklist that businesses must fill out, then post in view of the public. But perhaps more troubling is the second most common violation, which involves wearing cloth face coverings. More businesses were in compliance regarding masks in June as compared to May, but Ferrer said "it's still a significant concern."
So far, investigators have been providing non-compliant businesses with information to help them become compliant. This weekend, they'll begin issuing orders to come into compliance.
Not all of the data Ferrer presented today was alarming. L.A. County hospitals still have enough ventilators, ICU beds, and PPE. The average daily deaths have gone down. Testing, which took a dip a few weeks ago due to closed sites amid protests and curfews, is back up. Additionally, the county has started a follow-up investigation within one day of assignment for 99% of confirmed COVID-19 cases. 
All of this data gives officials a better understanding of how businesses and individuals have responded to the pandemic during Safer at Home and during the county's recovery journey. And when those responses are compared to recovery indicators, like hospitalizations and the positivity rate, it shows how well the county is slowing the spread of COVID-19 and maintaining its capacity to care for those who are sick.
Ferrer said the most important goal continues to be making sure our healthcare system does not become overwhelmed. But, that means businesses must follow reopening protocols and people must continue to practice physical distancing, wear cloth face coverings, and stay home when sick.
"Based on this information we're concerned, not only for the people who are out and not wearing their face coverings or keeping their distance from others, but for the people who may unknowingly infect their parents, grandparents, friends, or family who have underlying health conditions and who are at greater risk for serious illness and death," Ferrer said. "If L.A. County's businesses are not following the directives for reopening that make them as safe as possible for employees and residents, and if residents [don't use] the tools to slow the spread, our recovery journey will look very different than what we had hoped."