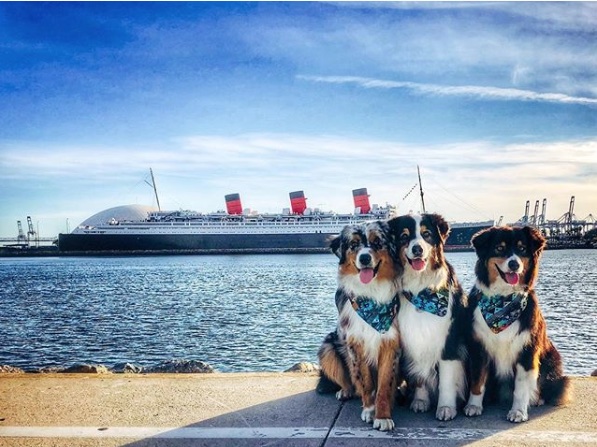 Snoop told you Long Beach was the dog capitol of the world, but nothing could prepare you for this. The Queen Mary is bringing an entire afternoon of dog-friendly delights next month for you and your pup, including splash pools, a canine crafts station, and a bark-filled ball pit.  Your four-legged friend can also get a real Hollywood pampering, including a full wash and manicure at mobile grooming stations. 
The Pawfect Performance Stage features pooch-perfect entertainment all day long and a tail-wagging watermelon eating contest. There are, of course, instagrammable art installations: a giant fire hydrant, flower walls, and a 'dog toy heaven.'
Listen, there's more. There's a prize-filled cutest dog contest, paw painting and paw clay imprinting, scores of small businesses selling dog accouterments, and merchandise from Real Meat Co, Just Food For Dogs, PJs Pet Cafe, and Camp Run A Mutt.
The Bark-eology Tent hosts educational workshops every half-hour, including a Reiki Healing demonstration from Tranquil Pet aimed at reducing your pet's anxiety, stress and depression. You can also pick up tips on training and obedience and learn about pet First Aid and CPR.
Pups from Seal Beach Animal Center and Long Beach Animal Care will be on hand looking for a forever home. You can fill out an adoption application, and also sign-up to volunteer and / or foster.
So there's a lot. This is like Coachella for dogs, but on the ocean, a perfect little get away for you and your bestie. Tickets start at $25 plus a service fee for general admission, an all-access pass that covers one human and one dog. VIP tickets are $50 plus a service fee and will get you a treat bag with matching shirts and bandanas for you and your puppy partner, and a Doggie Paradise pet water bottle. Each additional dog is $5, so feel free to bring additional good boys and girls.
This goes down at Queen Mary Events Park on Saturday, September 14 from 11 a.m. to 5 p.m., a real dog day afternoon. You're gonna want to drive to this, and while you can park off-site and walk over, there's $15 on-site parking in the Queen Mary's massive lot. Find tickets here https://www.queenmary.com/calendar-of-events/doggie-paradise/home/.