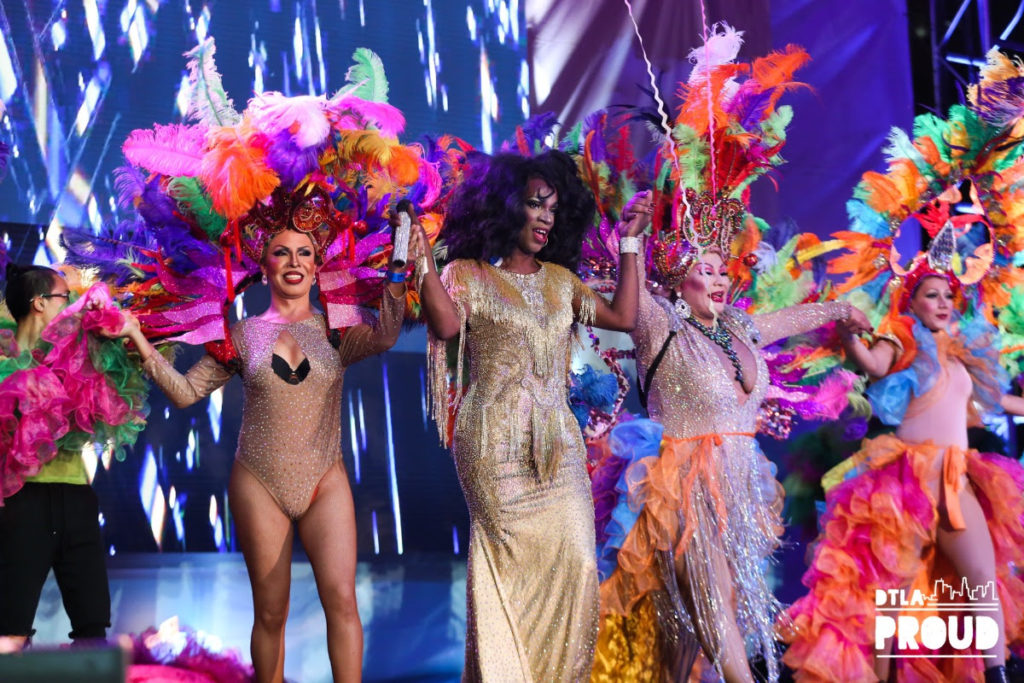 Don't put the rainbow flags in storage just yet. DTLA Proud lands at Pershing Square August 23-25, and it boasts a bevy of diverse entertainment and culturally enriching pop-ups.
Friday is a free, all-ages, alcohol-free affair, with Drag Queen Storytime, a Gaymers Lounge and fierce mainstage performances. More on that later.
Have you ever wanted a water park smack dab in the heart of downtown during Summer's peak? Everyone has, you can admit it. Starting Saturday, Summertramp has you covered.
The brainchild of nightlife impresario Andres Rigal, the monthly outdoor pool party is ramping things up for DTLA Proud, with water slides, an expanded water park, DJs and massive floaties. It's an explosion of color and creativity, or in their words, 'A Magical Brigadoon of Decadence and Delight.'
A DTLA Proud lounge gives you a place to recharge your literal and figurative batteries, while a rehydrate station cools you off and staves off that hangover. There are food trucks, a barber and a clothes check for those who wanna show some skin.
Over on the east side of the park, the mainstage boasts over 100 queer performers, with a focus on local talent; the folks working DTLA clubs year round.
Highlights from this year include Dragula season one winner Vander Von Odd, The Trans Chorus of Los Angeles, Queer as Punk review, the Sisters of Perpetual Indulgence, RuPaul's Drag Race favorite Ongina along with some new to the scene queens and the ballroom bonanza of HIV/AIDS non-profit REACH LA.
The Oakland-based, LA-raised Mimi Tempestt is also bringing her firebrand mix of poetry, rap and stadium-sized vocals to the mainstage Saturday alongside LA's finest DJ Willyouarenot. She came of age in downtown's queer scene, cutting her teeth in half-empty clubs, a diamond in the rough.
'Imma rap, sing all my love songs, and smear lipstick on my face,' says Tempestt. 'This is my goodbye kiss to L.A. for showing me a beautiful summer as I head back to Oakland for the fall.'
The event's promoters stress that this weekend is for the community and by the community, an ethos that separates this gathering from its glitzier WeHo counterpart.
Like many pride celebrations, the event curators here are acknowledging the 50th anniversary of The Stonewall Riots, but are also partnering with the One National Gay and Lesbian Archives to pay tribute to L.A.'s own queer history dating 10 years before that historic event.
There's also a massive marketplace featuring 20 queer entrepreneurs who've partnered with visual merchandisers to present custom stores. Take a trip down artists alley to see the vibrant work of queer artists. Hell, take some home.
Friday runs from 4 to 10 p.m., and Saturday and Sunday run from noon to 10 p.m.
Don't forget that Friday is free. $10 tickets for Saturday and Sunday are on sale here, with all proceeds going toward the DTLA Proud Community Center. 
Pershing Square is super easy to get to by train or bus, and rideshare can drop you right at an entrance. For more info go to dtlaproud.org.