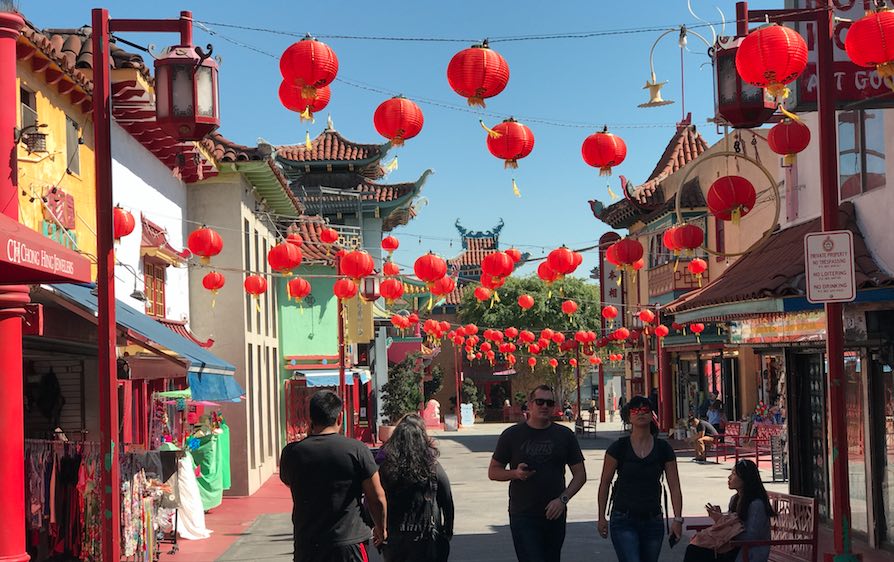 Los Angeles provides no limit of things to do, some awesome and some not so awesome. Since time is precious in this fast paced city we curate a list of things to do in Los Angeles for every weekend that'll help you decide how you want to spend your limited supply of attention (not to mention dollars!).
This weekend in L.A. from Friday, August 23 to Sunday, August 25 features DTLA Proud, L.A. Food & Wine, Roller Skating at Union Station, Chinatown Cinema, LATINAFest, and MUCH more.
Remember you can always go to our L.A. events calendar page to get an updated rundown of what's happening around the city.
Hope you find the rundown useful and, as always, enjoy your weekend!
---
Keep in mind that while we retain complete editorial control of our content, for some of the ticketing options provided we utilize affiliate links and receive a commission if you purchase through our links.
---
Friday August 23rd, 2019
1. DTLA PROUD Festival 2019 returns August 23 to 25 to celebrate the culture, history, and diversity of the LGBTQ+ community in Downtown Los Angeles and beyond. There will be a lineup of local stage talent, community booths, art installations, retail vendors, interactive exhibits, food trucks, a pop up water park, and more.
2. L.A. Food & Wine 2019 kicks off on Thursday with a selection of special dinners at restaurants across the city. August 23-25 the focus shifts to the Barker Hangar at Santa Monica Airport for three days of themed-out events and tastings hosted by top chefs.
3. Due to popular demand, the Annenberg Space for Photography's exhibit – Contact High: A Visual History of Hip-Hop – is extending its run through Sunday, August 25. Free and open to the public, the exhibit includes photos of hip-hop icons like Notorious B.I.G. and Jay-Z, an interactive record shop, and a documentary on the history of this popular music genre. FREE
4. In the mood for a little pastrami this weekend? Uber Eats has teamed up Katz Deli to offer special delivery of make-it-at-home pastrami sandwich kits which will be deployed from Belcampo restaurant locations around the Los Angeles from August 22-25. The delivery includes one sandwich kit plus a Belcampo burger for a total costs of $27. You'll have to log on to the Uber Eats app to see delivery options in your area place your order.
5. Pennywise returns to Hollywood with a second terrifying, immersive event. The Derry Canal Days Festival will open to the public on August 15 at the corner of Hollywood and Vine, drawing from the forthcoming IT Chapter Two, which hits theaters on September 6.  There will be 10 different interactive spaces over the course of a whole 40 minutes for each guests to enjoy. The event runs August 15 through September 8 with daily hours from 2 to 11 p.m. Reservations are free and can be made online. You may join the standby line outside the attraction as well. The event is open to those 18+ or 17-year-olds who are accompanied by an adult. FREE
6. It's a Kill Bill Movie Night at the Wiltern this Friday with a double feature screening of Kill Bill I and II. The evening includes movie-inspired drinks, a DJ spinning the RZA produced soundtrack, Tacos 1986 in the outdoor patio and photo ops. DISCOUNTED (via Goldstar)
7. Summer Nights at the Tar Pits returns for an evening party featuring DJs, cocktails, museum exploration, discussions and more. FREE
8. Ensemble Shakespeare Theater returns to Descanso Gardens Friday and Saturday for an immersive theater production of A Midsummer Night's Dream that will have guests weaving through the Gardens to follow the magical and adventure filled production.
9. Friday Night Block Party at L.A. LIVE presented by Absolut features 20+ pop-up shops, live art and street performers and select $5 food and drink menus at participating L.A. LIVE restaurants. FREE
10. Cinema Botanica: Movies in the Garden happening at Rancho Santa Ana Botanic Garden will feature family friendly movies every Friday in August. Attendees will receive a field guide to plants they can spot in the movies and Garden staff will discuss the plants and landscape during intermission.
11. Asian AF Los Angeles comedy show at the Upright Citizens Brigade Sunset is a night of stand-up, sketch, improv, storytelling, and more by the best comedic Asian American talent in our city.
12. OUE SkySpace LA hosts a summer night party two nights in a row this weekend with guest DJs starting at 9 p.m. with the city lights sparkling nearly 1000 feet above DTLA. The first drink is on the house too.
13. Back for the 16th year in a row, The Independent Shakespeare Co. presents Shakespeare in the Park at the Old Zoo in Griffith Park with free performances of either Pericles or Twelfth Night Wednesday through Sunday. FREE
14. Spend the season sipping wine during sunset hour at Barnsdall Art Park's Friday Night Wine Party Series. Happening on the lawn of architectural gem the Hollyhock House, the evening features a fine selection of wines curated by Silverlake Wine, a live DJ and tours of the house. The series happens every Friday evening till September 6.
15. Pink Martini will take the stage of the Hollywood Bowl this Friday-Sunday with orchestra support.
16. 4th Fridays on 4th Street activates the "Retro Road" business district in Long Beach on the fourth Friday of every month from 6 to 10 p.m. through extended hours, dining specials, discounted merchandise, pop up shops, art shows, live music, double decker bus rides and more.
17. Summer Friday Night Drive-In at the Roadium returns every Friday evening from June 7 to August 30 to revive your favorite films in a classic 1950's drive-in setting. The series continues with a screening of Coco.
18. Ensemble Shakespeare Theater returns to Descanso Gardens Friday and Saturday for an immersive theater production of A Midsummer Night's Dream that will have guests weaving through the Gardens to follow the magical and adventure filled production.
19. The Groundlings' latest hilarious main stage show, Groundlings Treasure Hunters runs every Friday and Saturday through September 14.
20. The Department of Beaches and Harbors presents Beach Movie Nights at Dockweiler Youth Center every Friday. This week they will screen Ralph Breaks the Internet. FREE
Saturday August 24th, 2019
21. Union Station is transforming the historic ticket course into a Retro Roller Rink from August 24-25. The 3200 square foot pop-up rink will be soundtracked by a DJ spinning classics from the 70s, 80s and right now. As an added bonus, the renowned LA Roller Girls will be on hand giving hot tips to skaters of all levels and showing off their moves, presumably.
22. Chinatown Cinema will be debuting their first movie screening on August 24 featuring Kung Fu Hustle. The series aims to highlight diversity and inclusivity in movies. There will be a food truck, bubble tea, free photo booths, giant games and a short film before the main feature begins.
23. Festival Chapin Celebrating Guatemalan Culture highlights the diversity and beauty of Guatemalan culture August 24 and 25 with culinary demonstrations, an artisan market, live traditional marimba music, folklore and more at the La Fayette Recreation Center. FREE
24. Hermosa Beach Summer Series, presented by KROQ is a two-weekend long free community event August 17-18 and 24-25 each offering a lineup of music, comedy, movies on the beach, wellness activities and family-friendly experiences. FREE
25. 2019 Taste of Brews Long Beach features dozens of microbrews and hard ciders, along with snack samples from food trucks and live entertainment. This year, the oceanfront event is selling a limited number of tickets, meaning shorter lines.
26. The Leimert Park Village Book Fair comes to Baldwin Hills Crenshaw on August 24 for an all-day literary extravaganza.
27. San Cha performs at the Getty Center Courtyard as part of the museum's Off the 405 summer concert series. FREE
28. Beverly Hills third annual BOLD Summer closes out their annual series on South Beverly Drive with "Next Night – The BOLD Finale." Enjoy live entertainment, dancing, food, and more. FREE
29. Brick Fest Live, the #1 LEGO event in the U.S., returns to the Pasadena Convention Center for two days of insane builds, hands-on activities, and sets to buy.
30. ALL THAT 90's Art Exhibition comes to Phylm Studios (free RVSP until the day of the event, according to the Eventbrite listing).
31. Summer Film Series at LA Plaza de Cultura y Artes screens American Me (1992). FREE
32. The Bob Baker Marionette Theater will revive their original 1963 show Bob Bakers Sketchbook Revue at their new home, the historic York Theater in Highland Park. The show runs Saturday and Sunday.
33. Eat|See|Hear returns for 2019 with a screening of Do The Right Thing at Santa Monica High School Amphitheatre. Check for discounted tickets before making your purchase. DISCOUNTED (via Goldstar)
34. The Actors' Gang will once gain bring back Free Shakespeare in the Park for Families with a production of Toy Story Tempest an original play inspired by William Shakespeare's "The Tempest" and the characters of Toy Story. Taking place at Media Park in Culver City, the 45 minute, all‐ages production will run every Saturday and Sunday this month through August 26. FREE
35. Los Angeles Magazine's FIT LA is a morning wellness event featuring a workout led by celebrity trainer Mary Miller, healthy bites, beauty and nutrition samples, mini spa treatments and more at The Victorian in Santa Monica.
36. Street Food Cinema returns this weekend with a screening of Beauty and the Best at Brand Library Park in Glendale. (DISCOUNTED) via Goldstar
37. This Sunday Westside parents can bring their little ones to the Mar Vista Kids & Craftz Festival. The free back-to-school event features a story circle, arts and crafts, a poetry corner, face painting, a community mural with Mobile Graffiti Yard, and swag giveaways from LAPL. FREE

Sunday August 25th, 2019
38. LATINAFest returns to La Plaza de Cultura y Artes to bring thousands of women together for a one-day event featuring 100 Latina entrepreneurial vendors, discussion and panels with thought leaders, a cocktail garden, workshops, and more.
39. Poolside is a new immersive abstract painting show at Rhythm Visuals gallery in Downtown L.A. The exhibition features multiple rooms and visual experiences, including one where guests throw water balloons at a white wall to reveal a hidden painting. The exhibit is open Sundays, Mondays and Thursdays from noon to 4 p.m. through September 5. FREE
40. LA's Got Talent (a youth-focused showcase) comes to the Levitt Pavilion Los Angeles concert series. FREE
41. The 4th Annual BBQ Day at Smorgasburg LA is coming this Sunday and they're brining the best BBQ from Texas-style brisket to Memphis style rib sandwiches and even vegan BBQ. Cool down at Ice Cream Alley, a special area dedicated to awesome scoop vendors, one-of-a-kind collaborations, plus its own dedicated beer garden with extended hours until 6 p.m.
42. The 17th annual Garden Jazz Festival comes to Rowley Memorial Park, featuring two stages of music and headlined by the Stanley Clarke Band.
43. Manhattan Beach Concerts in the Park presents Hot August Night at Polliwog Park. FREE
44. Free museum day: Craft and Folk Art Museum (pay what you can) and Museum of Latin American Art
Food Pick for the Week
This week's pick by Brian Champlin, Co-Founder of We Like L.A.
Legit bagels are a rare find in Los Angeles. Those who have eaten the east coast fare and then had to subsist on our west coast versions know there really is no comparison. Is it the alkaline in the water? The boil before bake process? A family recipe so sacred those who know it would die to protect it? Whatever it is, most of the time, it escapes us here in L.A. But Maury's Bagels has the goods. Maury's is the baby of Jason Maury Kaplan, who first offered bagels to the masses via a pop-up at the Hollywood Farmer's Market before his brick and mortar opened this past March on the southern tip of of Silver Lake, just north of the 101 on Bellevue Ave. Kaplan's bagels are, in a word, great. A slightly golden crust gives way to a soft and chewy interior that is mellow and not overly sweet. The bagels taste pretty good on their own so I like to keep it simple: plain bagel, cream cheese, ice vanilla latte. Then again, I'm probably one of the most boring people you'll meet. Whatever you choose I doubt you'll go wrong. Just keep in mind there isn't a ton of seating and it's all on the patio, so if you choose to take your bagels to-go and grab coffee elsewhere I wouldn't blame you. This is Silver Lake, after all.
Maury's Bagels is located at 2829 Bellevue Ave., Los Angeles 90026.
---
Want to get our to-do lists straight to your inbox every week? Sign up for our email program. Have an upcoming event you'd like suggest for listing? Drop us a line at [email protected]